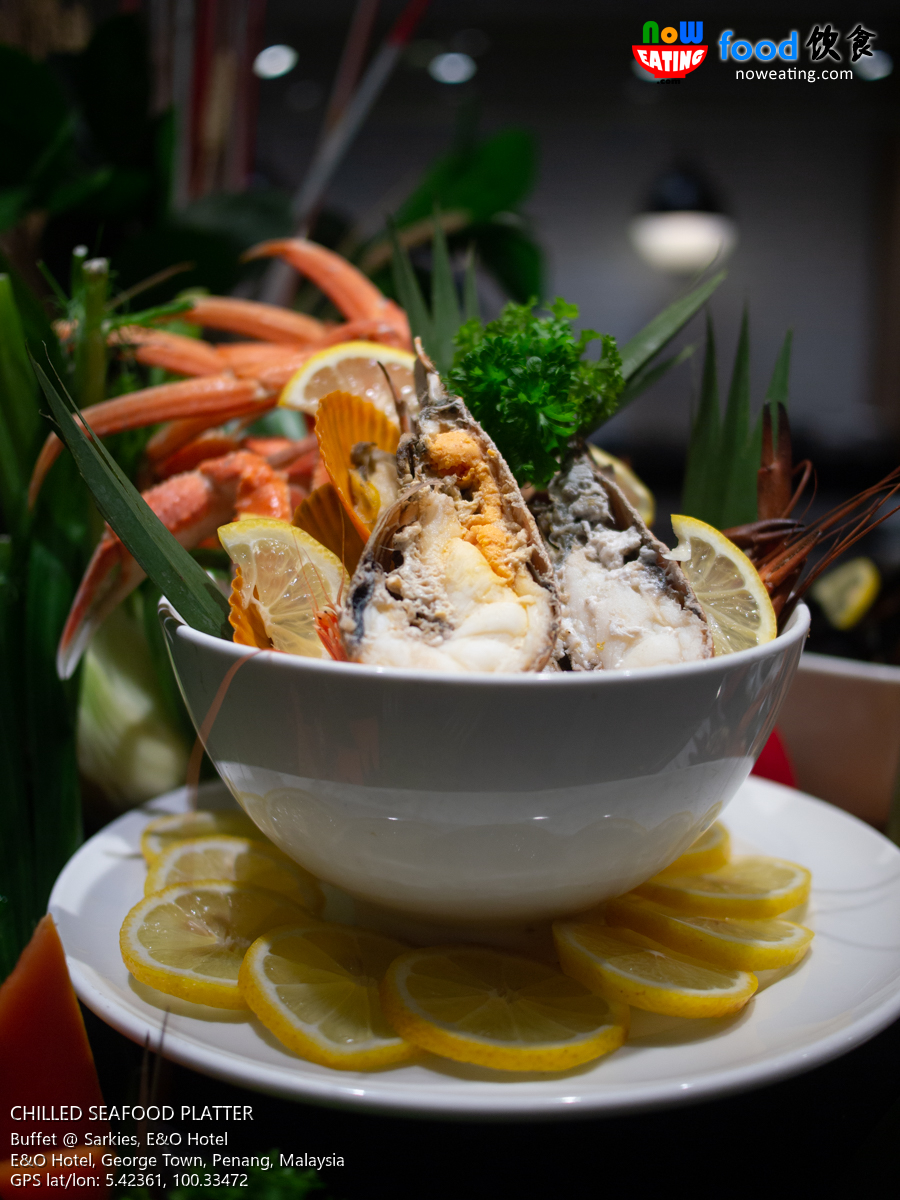 Buffet at Sarkies, Eastern & Oriental Hotel is back! Starting 1-Dec-2021, instead of unlimited a la carte, guests can now enjoy their lunch/dinner on buffet-spread offering wide selection of Malaysian and international delights, or better known as "Seafood and International Dinner".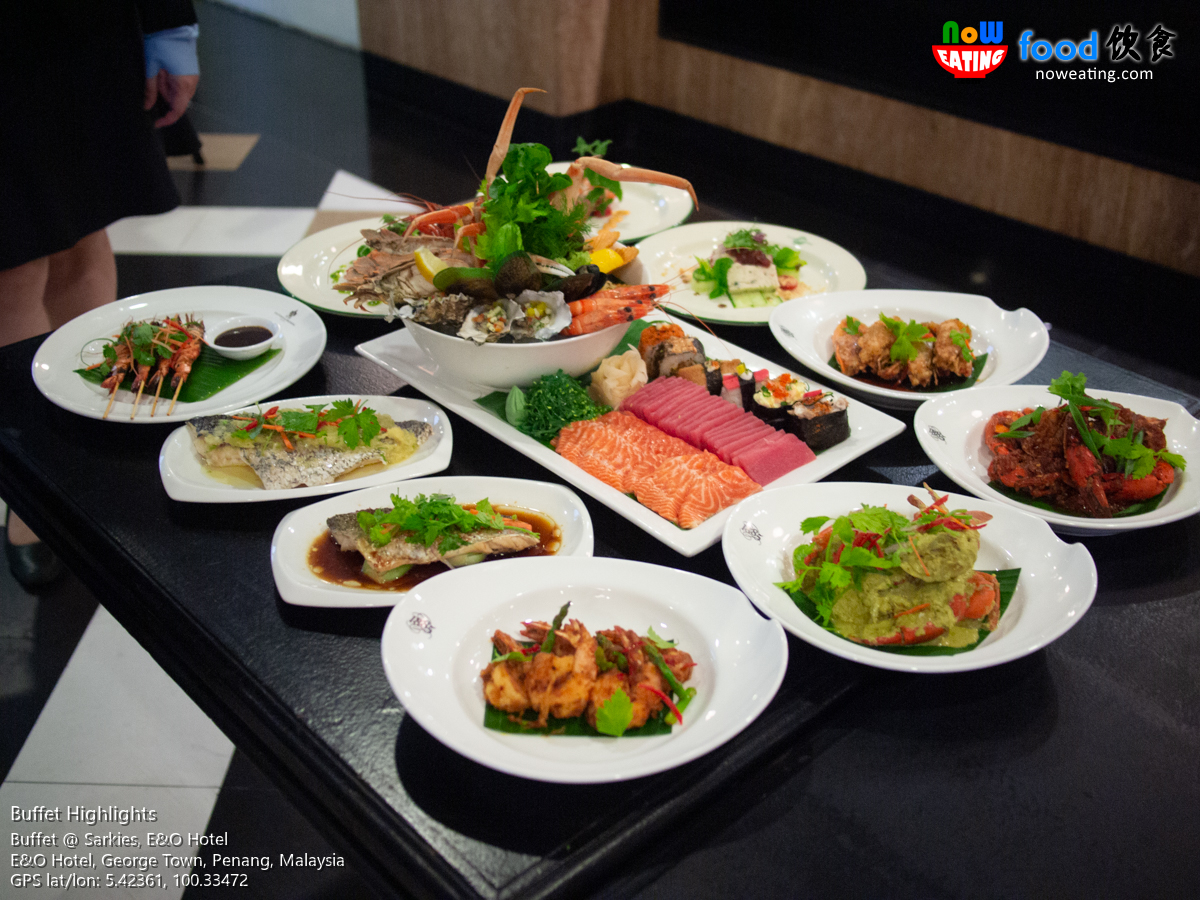 It was our first buffet after Movement Control Order (MCO) 3.0. During past MCO, Sarkies offered "Unlimited A La Carte Dinner" in which guests were given a menu containing all items available for the evening. They can then place order by calling waiters/waitresses. While such approach ensures that food is always prepared based on orders, it also provides less "freedom" as long as food portion is concerned. Occasionally, staffs forgot our orders too and we had to remind them again.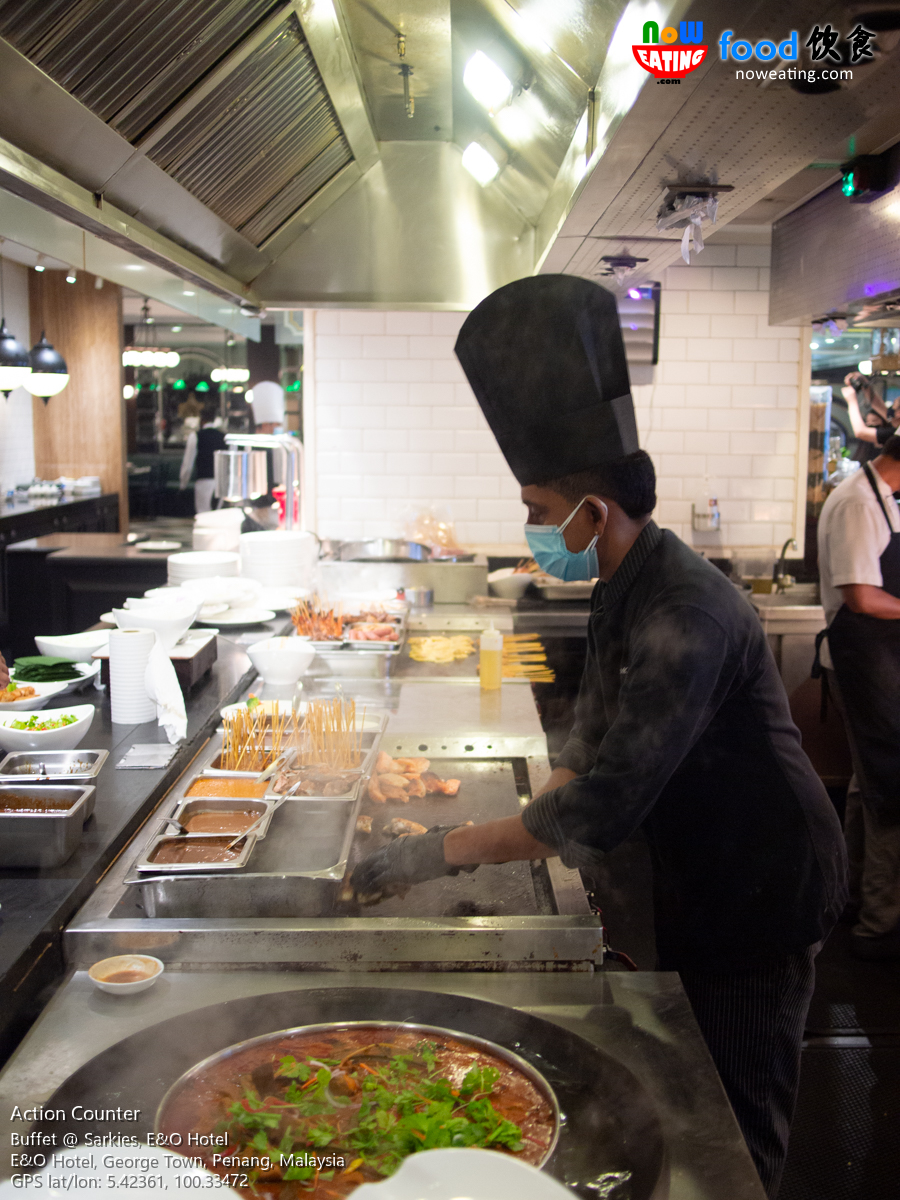 As most Malaysians had taken 2 doses of COVID19 antibody, after careful consideration, Sarkies finally brought back dinner in buffet style, that is, guests can now walk to action stall, hot tray counter, dessert corner and salad bar to pick up their favorites food, with condition that SOP is followed.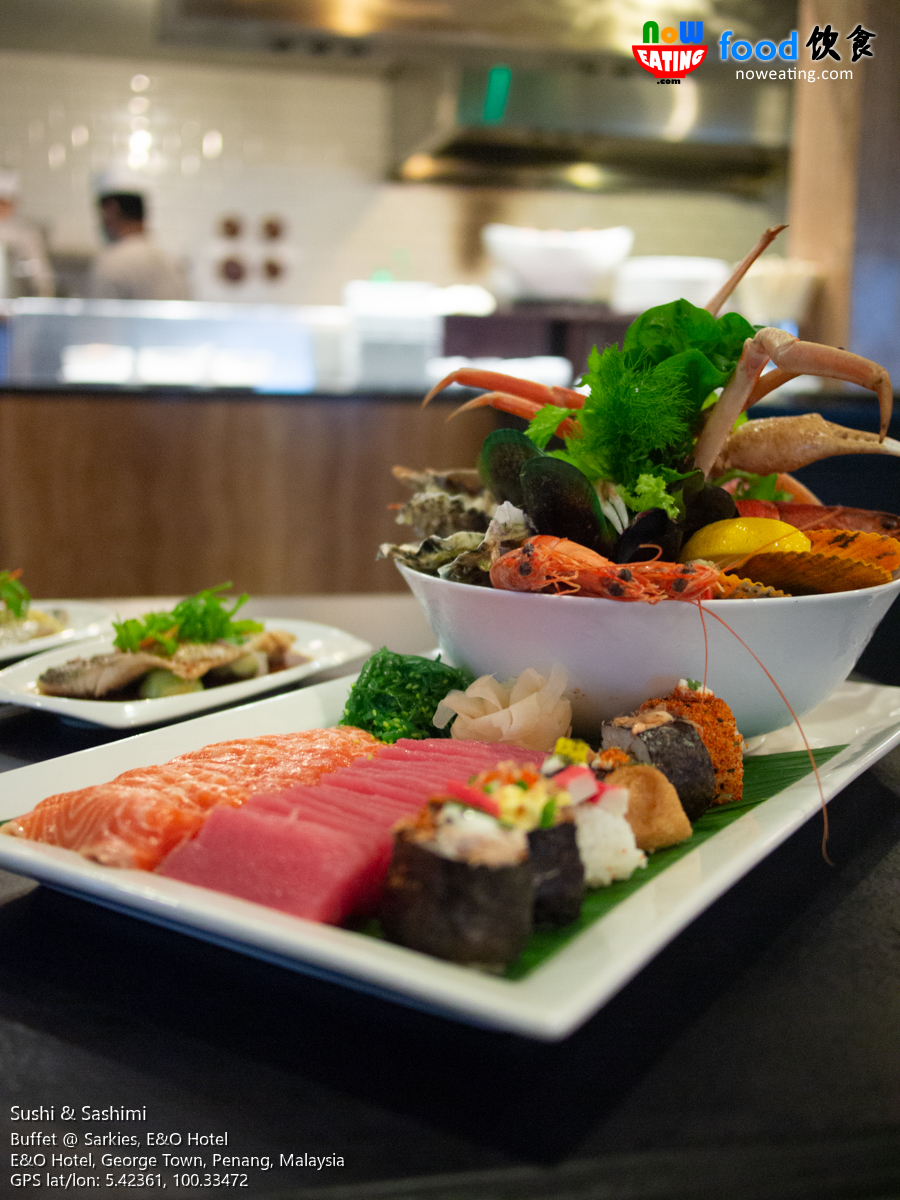 For Sarkies buffet "strategy", personally we will begin with Salad Bar in which one will find mouthwatering appetizers there including THAI GLASS NOODLE SALAD WITH POACHED SEAFOOD and COLD POACHED SALMON FLAKES WITH SHAVED FENNEL AND GREEN APPLE. Next, pay a visit to Seafood-on-Ice and Sashimi counters.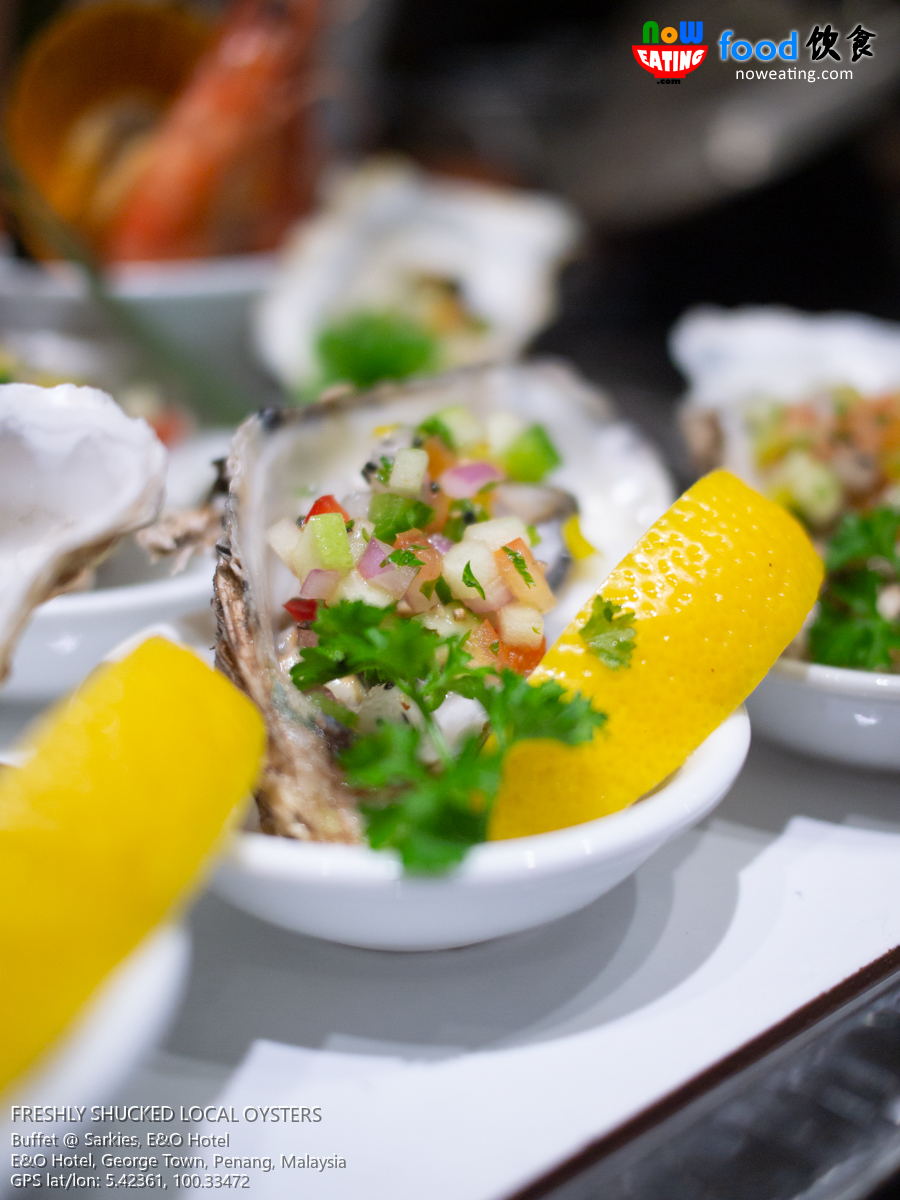 Perhaps the most eye-catching item is Seafood on Ice including freshly shucked local oysters, Alaskan crab leg, slipper lobster, crayfish, scallops, prawns, green mussels and black mussels.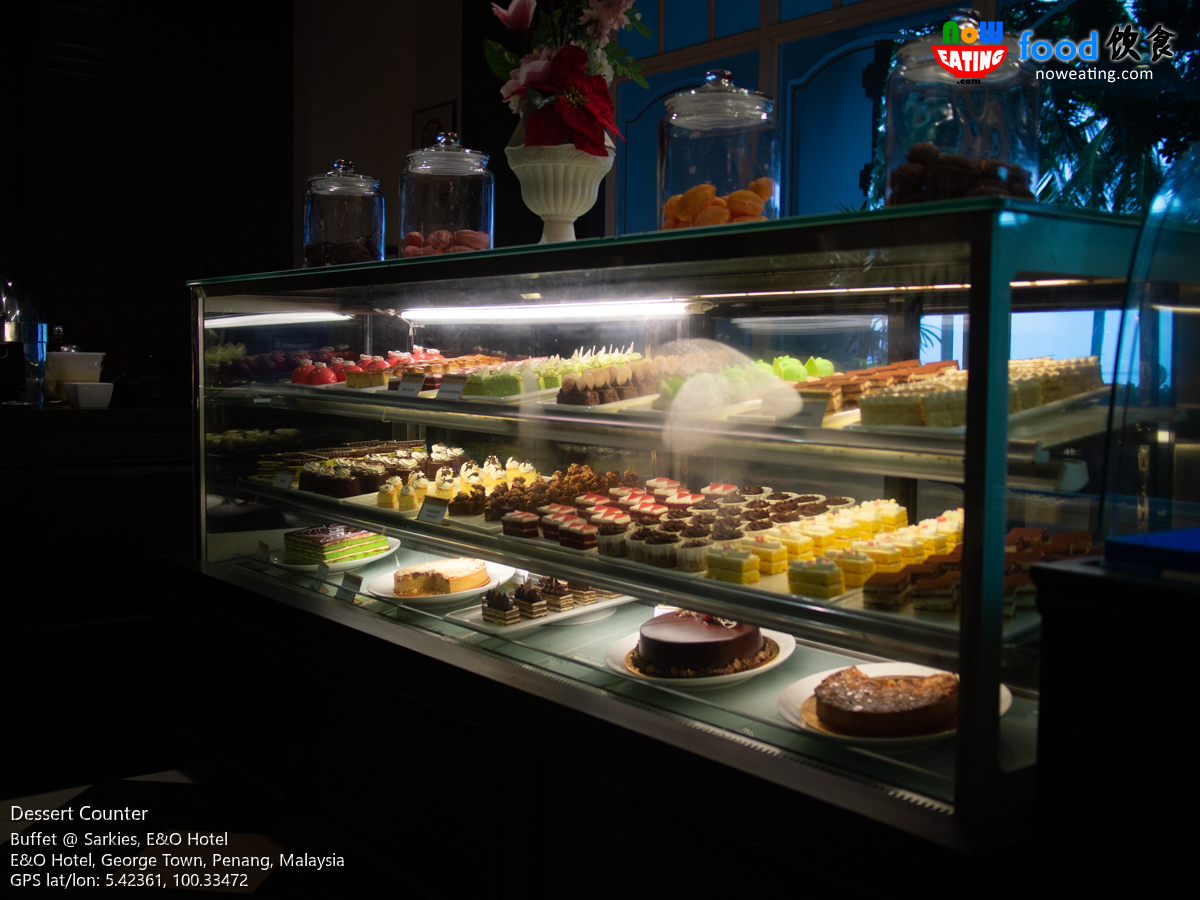 Instead of visiting Dessert Counter at the end, we recommend our readers to grab some cakes and ice cream there first. From past experience, some desserts finished fast with ice cream melting due to freezer's door get opened rapidly toward the end of buffet.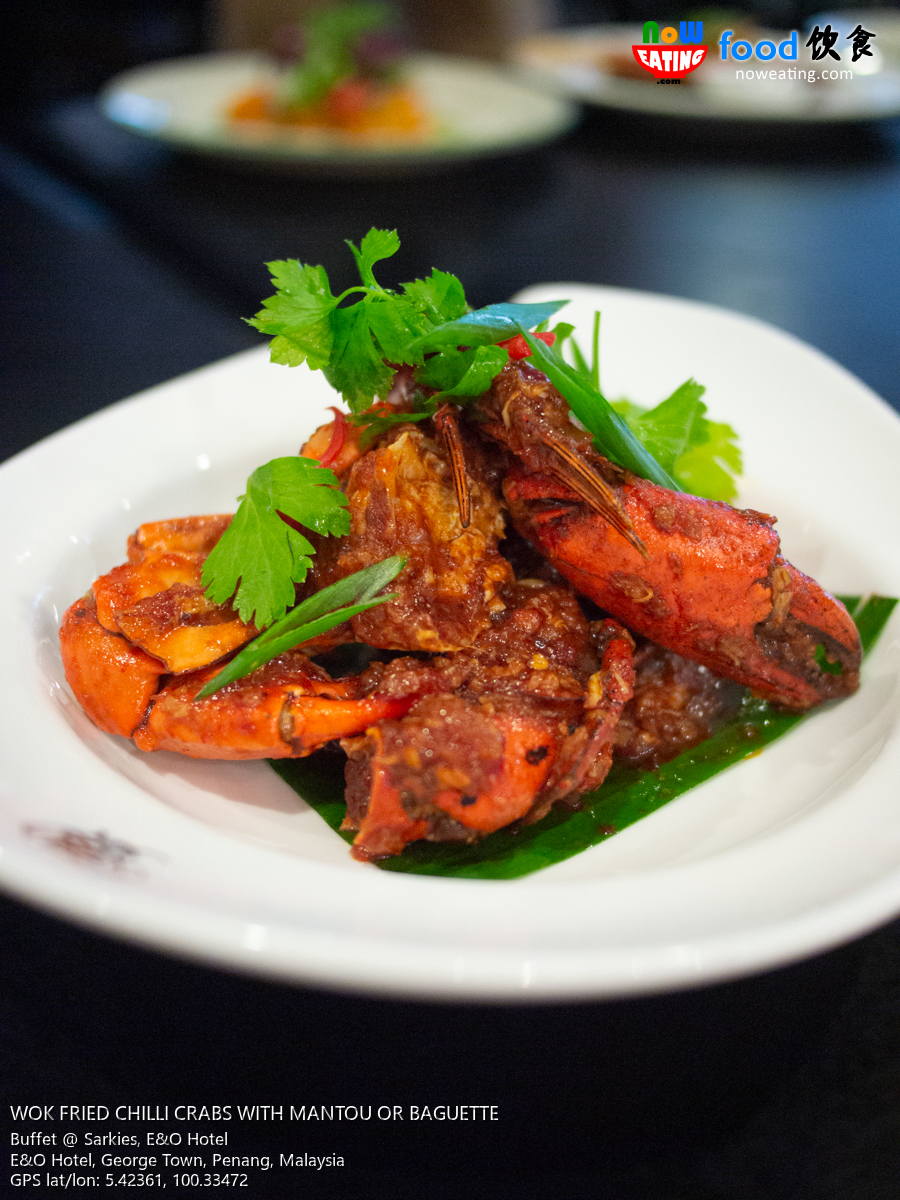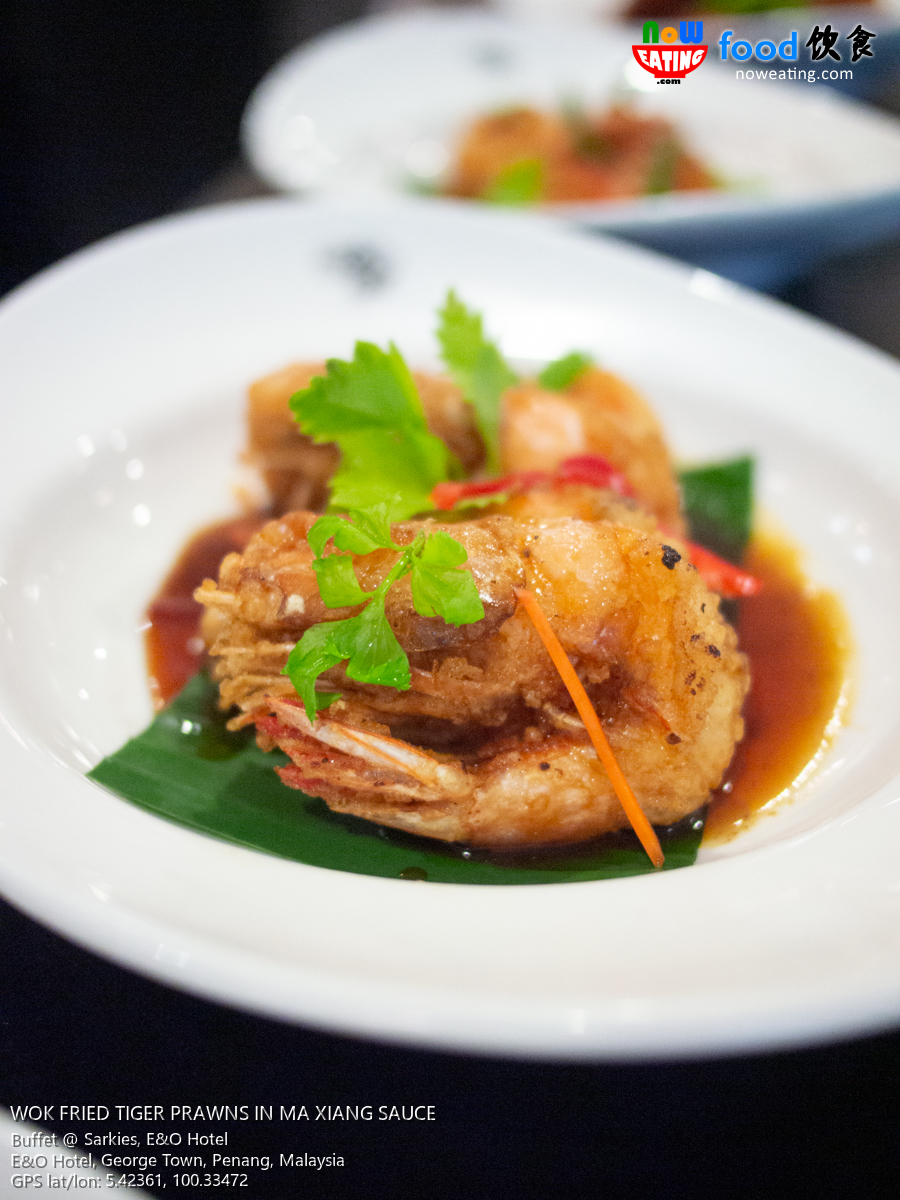 Not to be missed are their hot tray items. During our recent visit, we were introduced with few new dishes, including WOK FRIED TIGER PRAWNS IN MA XIANG SAUCE and WOK FRIED CHILLI CRABS WITH MANTOU OR BAGUETTE.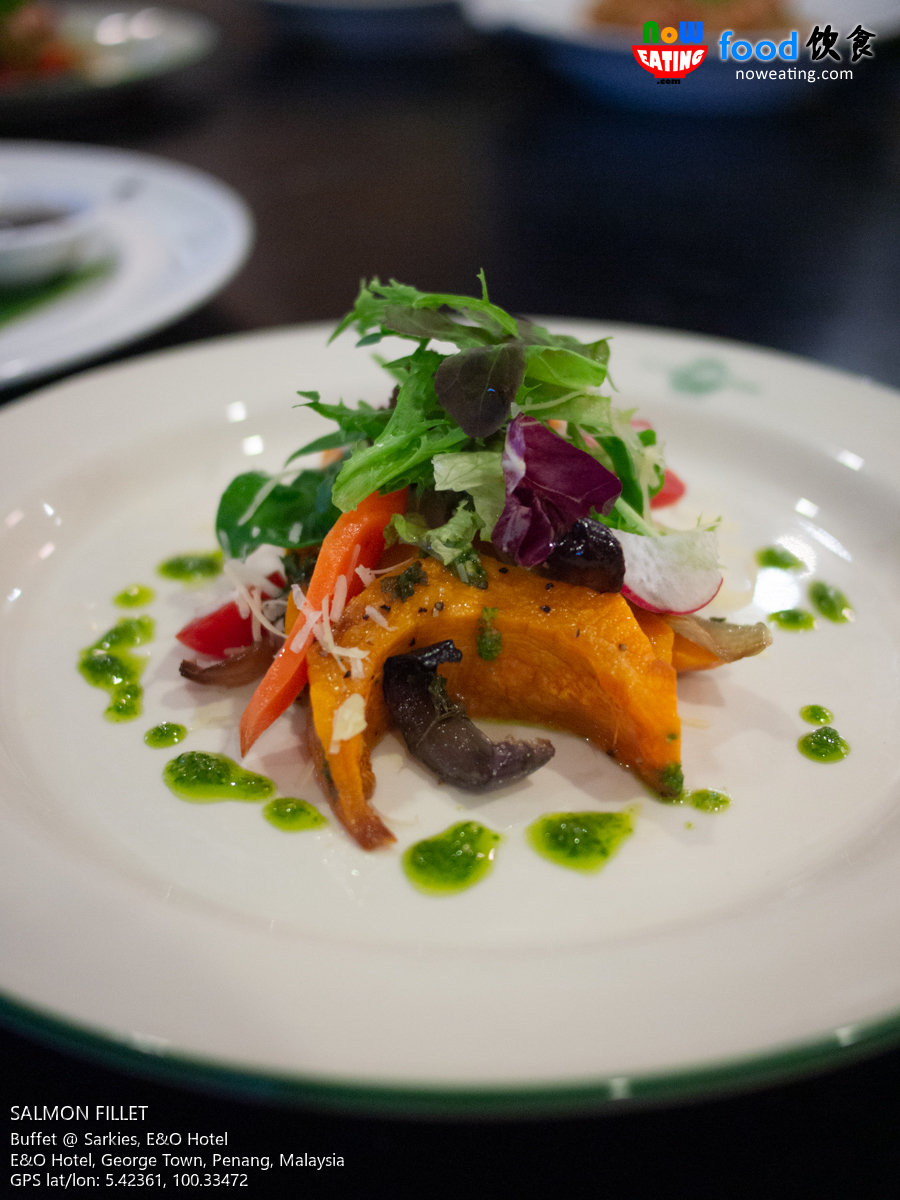 It is basically a seafood and International buffet so guests can expect abundant choice of seafood including salmon prepared in multiple ways such as grilled salmon fillet, sashimi, SALMON EN CROUTE, and SALMON FISH HEAD CURRY .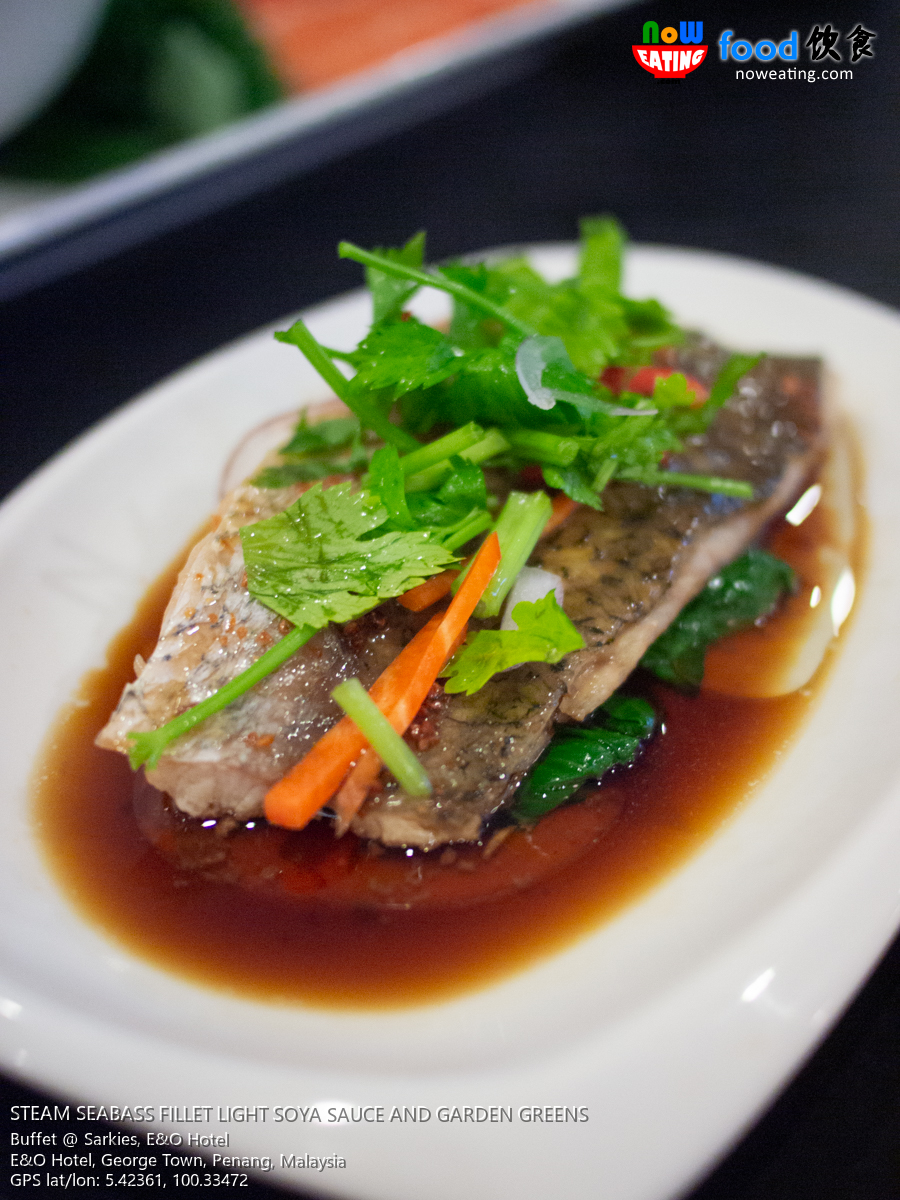 Another new item is STEAM SEABASS FILLET LIGHT SOYA SAUCE AND GARDEN GREENS.
Hot tray items may change daily but usually they are satisfactory. Some "staple food" you must try include but not limited to:
ROASTED DUCK SERVED WITH HOI SIN SAUCE
CHICKEN SATAY CORNER
WOK FRIED PENANG CHAR KUEY TEOW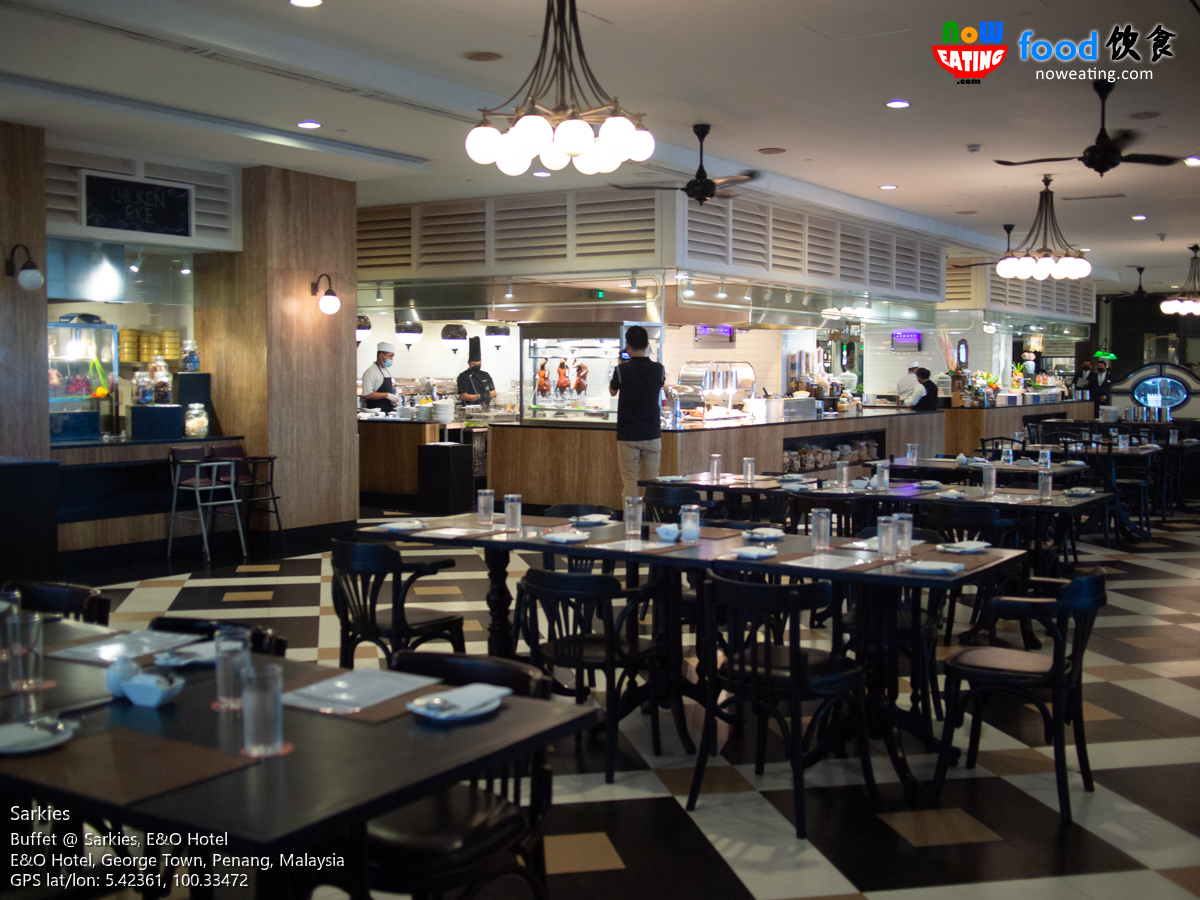 Is the buffet worth the price? We would say "Yes" considering food choices one can have! The buffet starts at 6:30pm so be sure to reach there early. No time limit. For reservation and enquiries, kindly call +604 222 2000 ext 3151. For the ease of our readers, we also provide all dining promotion in E&O Hotel below. We recommend readers to also download ECHO – E&O Hotel's bi-monthly brochure on dining promotion.
Sarkies
International Lunch
Monday to Friday | 12:00pm – 2:30pm
RM99 nett (Adult), RM50 nett (Child/Senior Citizen)
Seafood & International Dinner
Daily | 6:30pm – 10:00pm
RM168 nett (Adult)
RM88 nett (Child/Senior Citizen)
Dim Sum & International Lunch
Saturday & Sunday | 12:00pm – 2:30pm
RM108 nett (Adult), RM58 nett (Child/Senior Citizen)
Palm Court
Asian and International Favourites
Embracing the rich cultural history of Penang, diners can expect Indian and Malay inspired dishes, Chinese noodles and casual international favourites
Daily | 12:00pm – 11:00pm
English Afternoon Tea
Daily | 3:00pm – 5:00pm
RM88 nett perperson
RM388 nett per person for free flow of champagne
Java Tree
The best of tradition, spanning Straits Nyonya recipes to classic European cuisine.
Daily | 6:30pm – 11:30pm
Weekend Roast
Saturday | 6:30pm – 10:00pm
Sunday | 12:00pm – 3:00pm
A La Carte
Add RM99 nett for free flow of wines, beers and house pouring spirits.
Add RM180 nett for free flow of Prosecco.