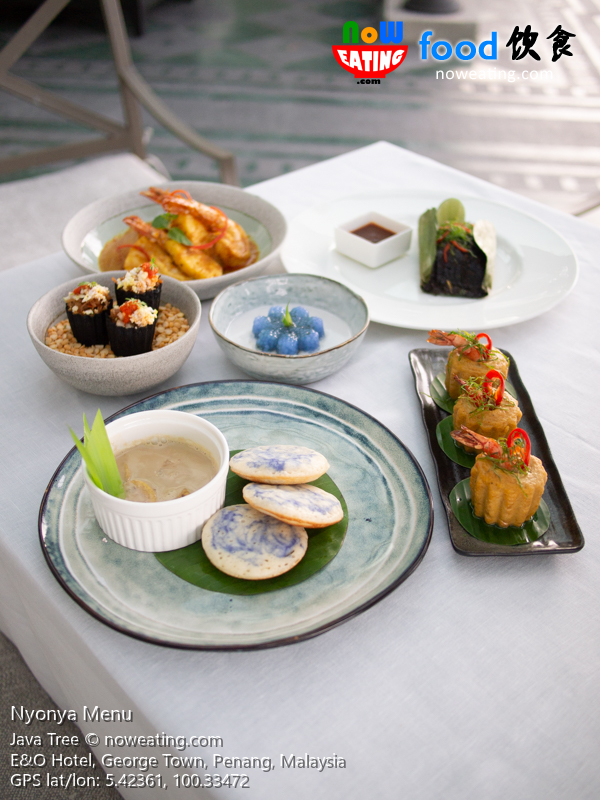 Eastern & Oriental (E&O) Hotel (GPS: 5.42361,100.33472), the grande dame of British colonial heritage hotels on Penang island has stepped up its dining experiences boasting a touch of heritage flair.  We recently visited its "new old wing" for one-of-its-kind Nyonya/European meal.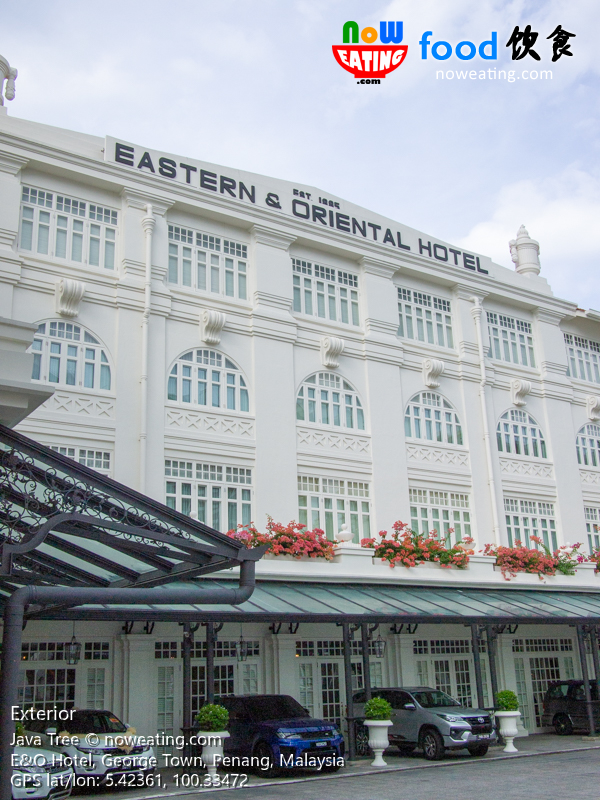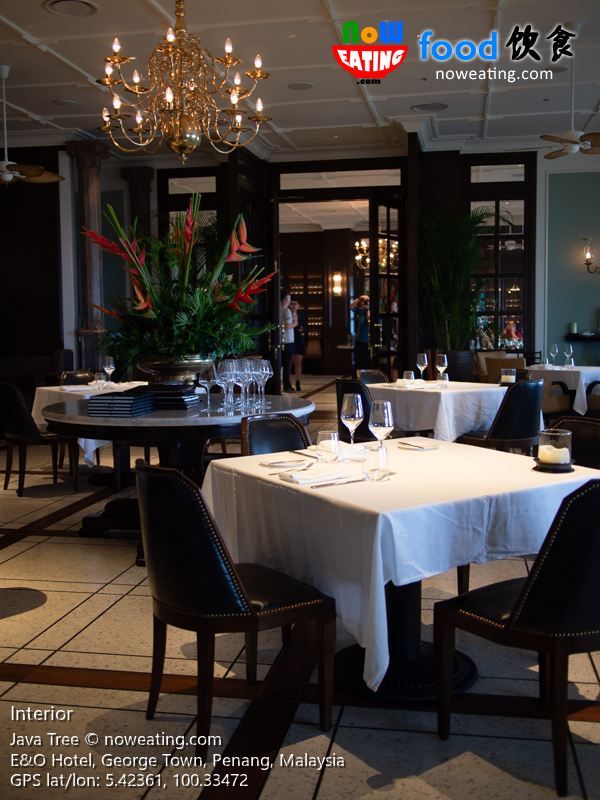 Three new dining outlets, namely Java Tree, Palm Court and Farquhar's Bar are introduced in conjunction with the reopening of the hotel's refreshed Heritage Wing last December. With the introduction of these new outlets, guests can expect a new whole level of culinary experience as the E&O celebrates both classic and heritage flavours. While Palm Court is  offering a la carte menu featuring assorted Indian and Malay inspired dishes, Chinese noodles and casual international favourites, Java Tree, on another hand, will be serving an assortment of Straits Nyonya recipes and classic European dishes.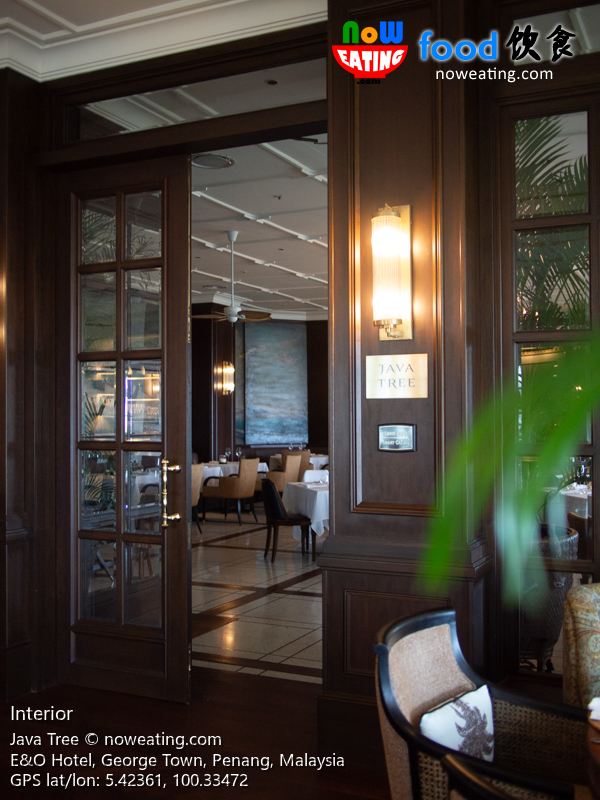 The focus of this post will be on Java Tree. Java Tree holds a special significance as it is named after one of the key historical elements located at the garden area of the hotel's promenade, which is the oldest living species of the Java Tree on the island. The tree was planted before the establishment of the hotel in 1885 and has since became an important part of the E&O. (Personally, we did not notice the tree during our visit.) We must admit that Java Tree was difficult to spot as it was located INSIDE of Palm Court. Both Java Tree and Palm Court replaced previous Sarkies and 1885.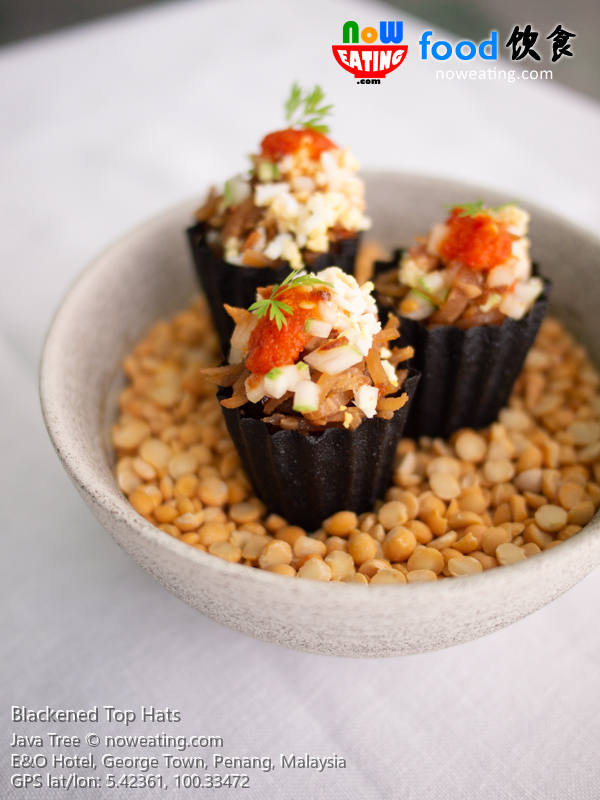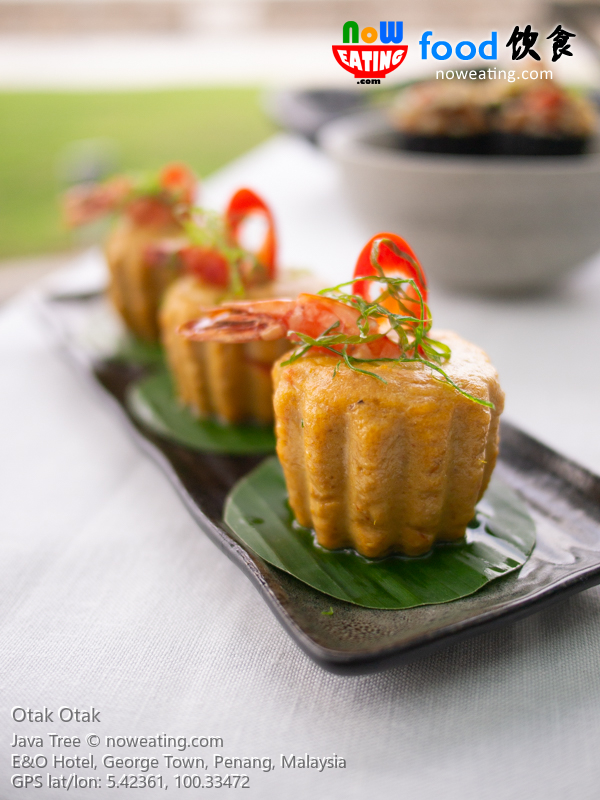 Nowadays, Nyonya cuisine usually comes with a premium price tag regardless of its food quality or dining environment. Having said that, one might as well enjoy the Peranakan dishes in a better environment such as Java Tree. Even better,  Java Tree now offers Nyonya Set Meal consisting of an appetizer, main course, and desserts at an unbeatable price of RM135 compared to original price of RM323. A total saving of RM188 or 58%!
For the appetizer, total of 3 items are included (price in brackets denotes a la carte price):
Blackened Top Hats (RM15) – Shredded jicama, carrot, cuttlefish, egg, salmon roe in pastry shell.
Lobak (RM25) – Deep fried beancurd skin stuffed with minced chicken, shrimp, carrot, yam, and Chinese 5-spice.
Otak Otak (RM30) – Spongy fish cake made of ground local mackerel, coconut cream, tumeric, and kaffir lime.
For main course, one may choose from: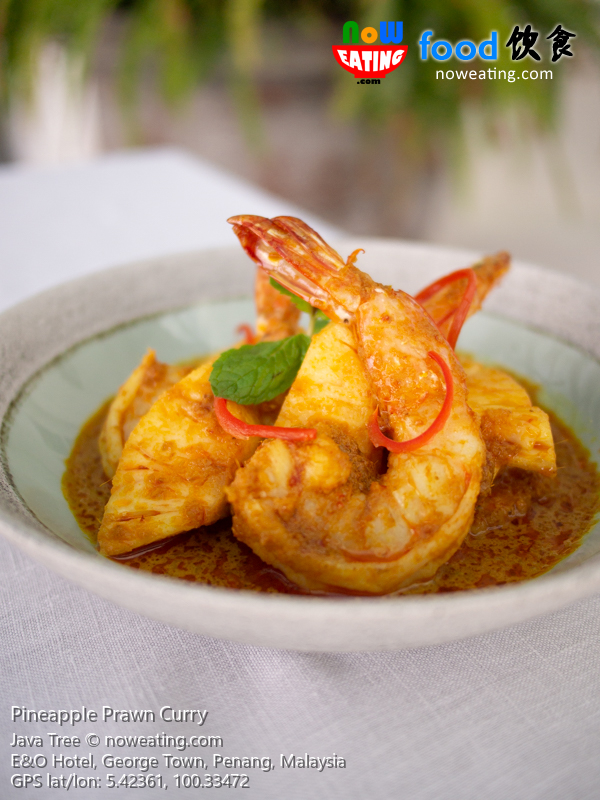 Itik Tim (RM30)
Oxtail Gulai (RM55)
Pineapple Prawn Curry (RM75)
Terung Tempura (RM65)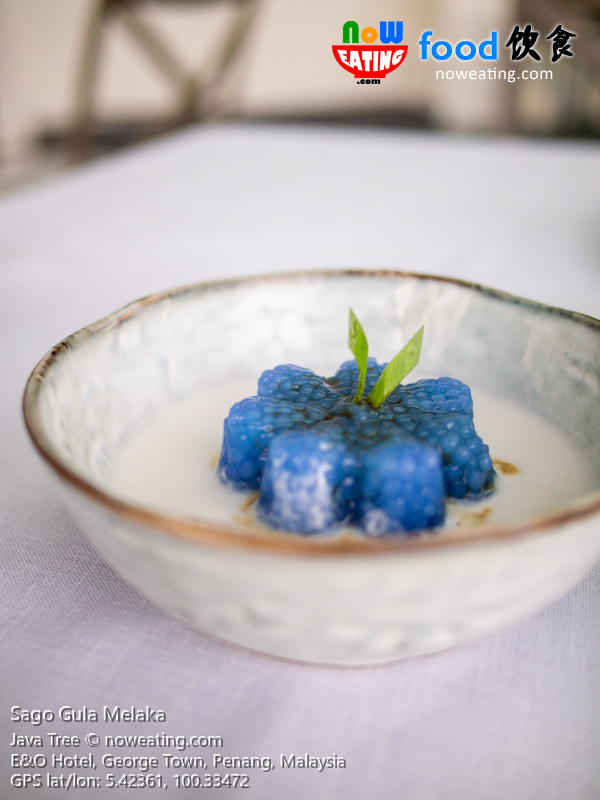 For the dessert, enjoy Sago Gula Melaka (RM28) made of Sago Pearls in Coconut Milk and Palm Sugar Syrup.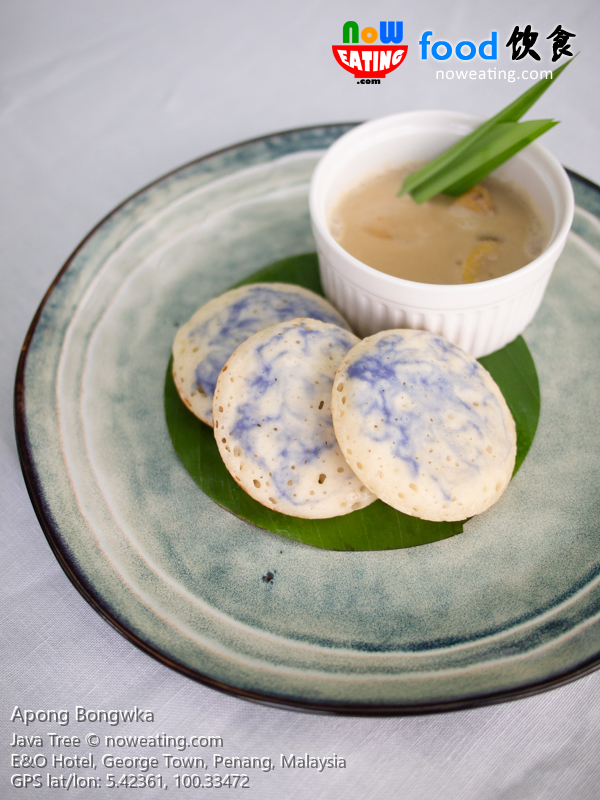 Of course, a la carte items are also available. Apong Bongkwa (RM28) which is mini rice pancakes to dip with homemade warm coconut and banana sauce.
Pais Buah Keluak (RM65) – Grilled Snapper, Asian Truffle, Nyonya Spices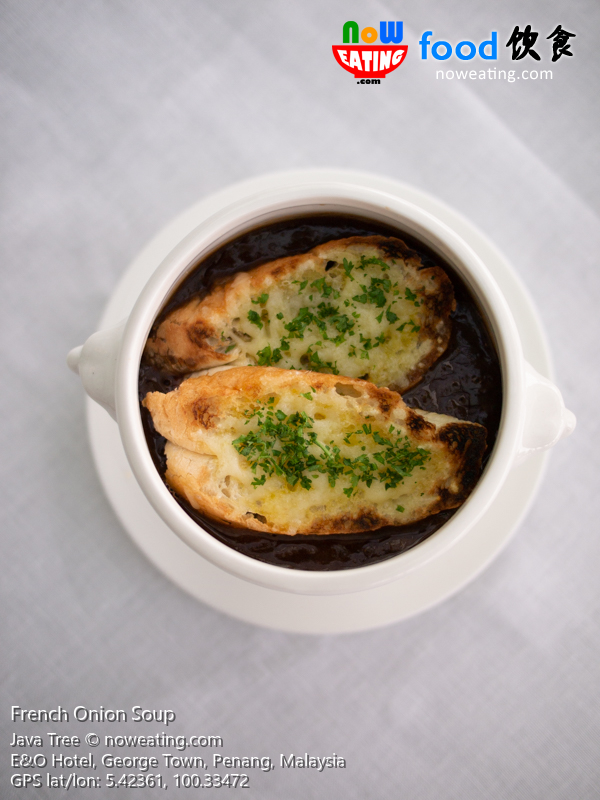 Dining in Java Tree was like dining in fine dining restaurant. If Nyonya cuisine is not your cup of tea, you may opt for European Classic cuisine. As a starter, we have French Onion Soup (RM30) made of caramelized onion in beef stock and gratinated Gruyere on toast welcoming us.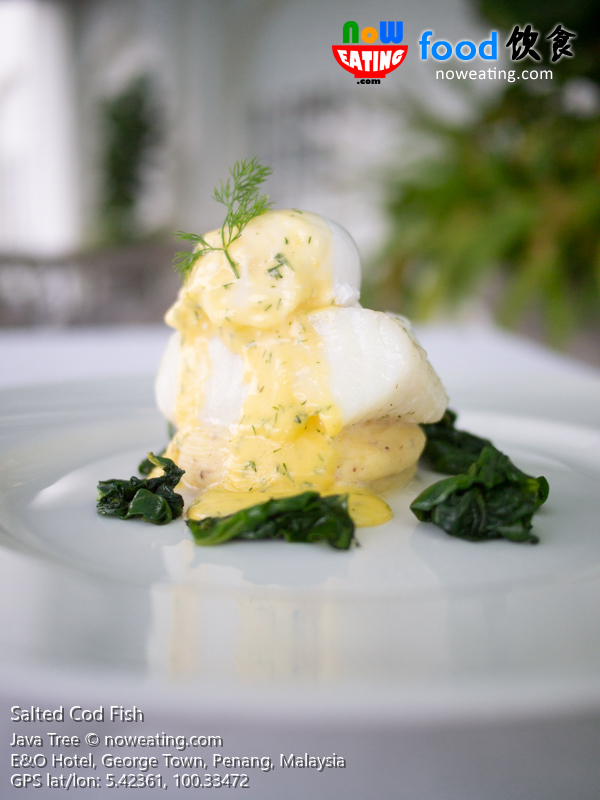 Salted Cod Fish (RM125) – Poached in Milk, Whole Grain Mustard Mash, Baby Spinach, Poached Egg, Hollandaise Sauce.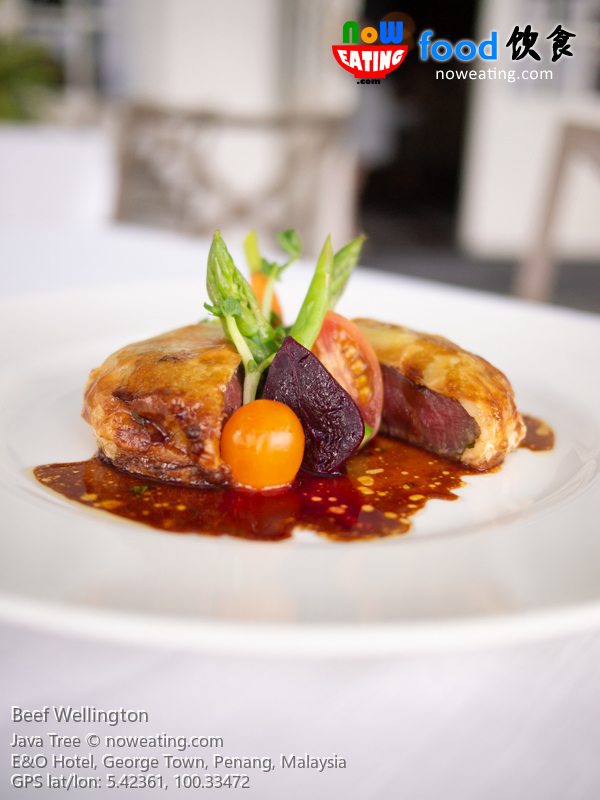 Beef Wellington (RM85) – Beef Tenderloin Wrapped in Puff Pastry, Baby Vegetable, Neutral Jus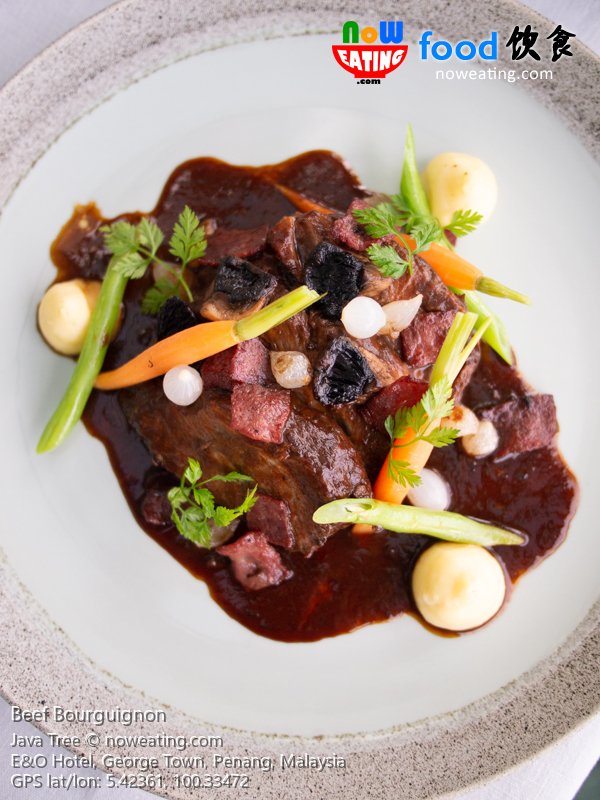 Beef Bourguignon (RM85) – Slow Braised in Red Wine, Pomme Mousseline, Baby Carrot, Sugar Snaps, Pearl Onion, Mushroom, Beef Bacon.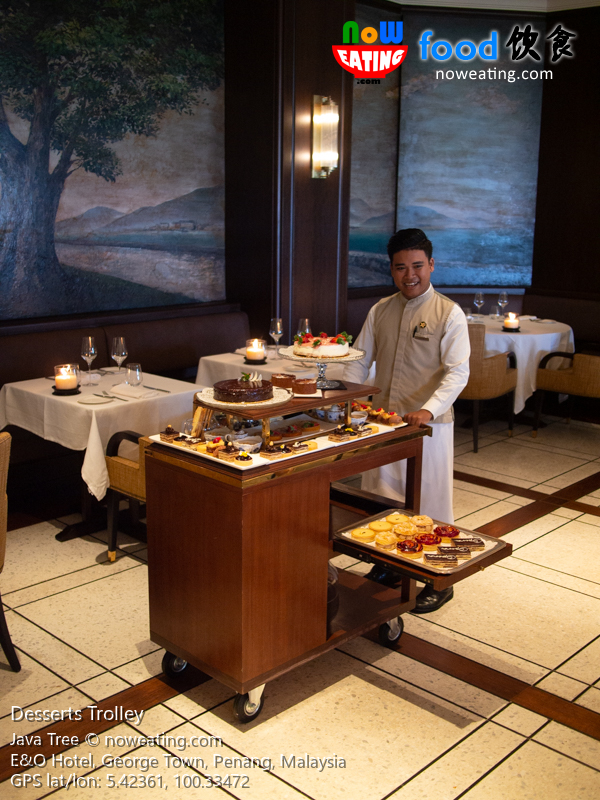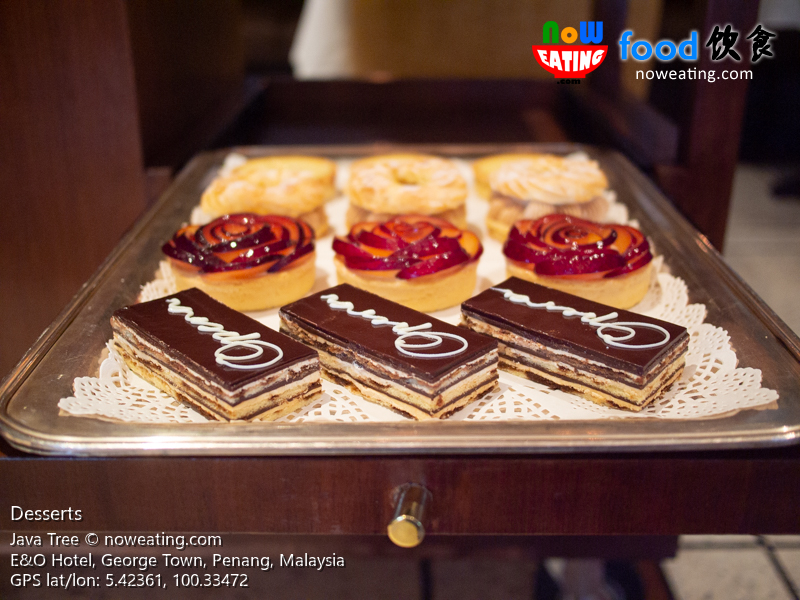 Fine dining usually comes with one "disadvantage" – the portion can be too small for big eaters like us. If this is the case, a trolley containing desserts of the day are readily available. Be sure to ask for the price as different desserts come with different price.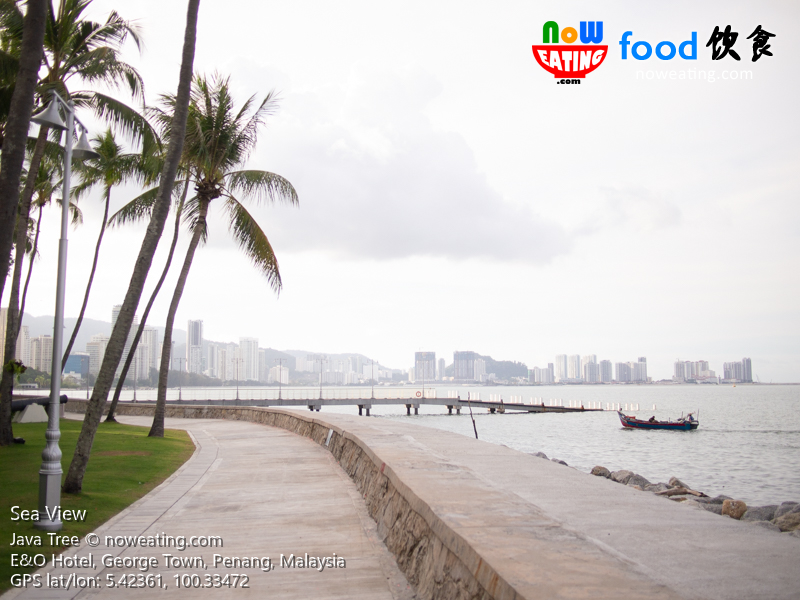 As a whole, Java Tree in E&O Hotel offers truly luxurious and one-of-its-kind Nyonya dishes hardly found in any other Nyonya restaurant. We strongly recommend one to try out their Nyonya set, including Otak Otak, Pineapple Prawn Curry, and Apong Bongkwa. Java Tree is opened daily from 6:30pm – 11:00pm. Smart casual dress code is required. For further F&B enquiries and booking, please contact 04-2222000 or e-mail [email protected]
| | |
| --- | --- |
| Place Name: | Java Tree |
| Cuisine: | Western, Nyonya |
| Address: | 10, Lebuh Farquhar, George Town, 10200, Penang, Malaysia |
| Tel: | 04-2222000 |
| Email: | mailto:[email protected] |
| Website: | www.eohotels.com/dining-promotion.php |
| Working Hour: | 6:30pm-11pm daily |
| Last Visit: | 20200215 |