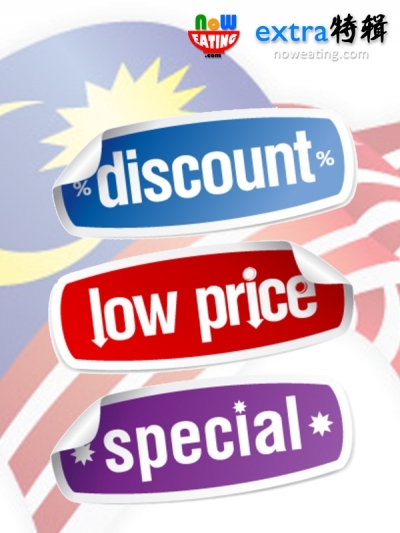 Occasionally we received emails of some great deals. Instead of keeping them, we decided to share out with our readers. Note that deals usually end fast and old deals may no longer available. This list will be updated whenever we receive new deals for both products and services.
Note that Now Eating only provides link to those deal sites. For any issue, complaint or  inquiry regarding the deals, kindly contact the merchants or the deal site. Thanks.
1-Dec-2014
Zalora
URL: Here
Offer: 18% off. No minimum purchase.
Sale Period: 1-Dec-2014 – 31-Dec-2014
Code: FESTIVEOFF18
9-Aug-2014
Hotels.com
URL: Here
Offer: Japan & Korea 101 hour sale
Travel Dates: 11-Aug-2014 – 26-Sep-2014
Sale Period: 11-Aug-2014 – 15-Aug-2014
URL: Here
Offer: Refresh and Relax in Thailand
Travel Dates: Varies
Sale Period: 11-Aug-2014 – 5-Sep-2014
Valuebasket Malaysia
URL: http://www.valuebasket.com/
Offer: Offers RM19 off any order value of RM650 or more
Code: OMGVBM19
Expire: 20-Aug-14
Groupon Malaysia
OLDTOWN White Coffee: RM25 Cash Voucher for RM20. Valid at All Outlets Nationwide
[Up to 83% Off] True Fitness: 1-Month Membership + 1 Session Personal Training / Power Plate
[Up to 78% Off ] Royal Hotel 100% Cotton 1,000-Thread Count Queen/King-Sized Bed Sheet Set
Phuket-Krabi Cruise & Hotel Stay
[Up to 34% Off] D24 OR Musang King Snowskin Mooncakes from RM68
[85% Off] 2-Hour Full Body Massage for RM29
[Up to 55% Off] Star Field Effect Projector from RM29
Stay in Bukit Gambang, Kuantan
Pathlab Health Screening + Helicobacter Pylori Test + Digital Thermometer for RM128.
[Up to 52% Off] Snack / Meat Platter at E42T (Forty Two East), TTDI from RM28 for 4 People
[Up to 91% Off] 1-Month Access to Gym Facilities & Classes at e-fitness, One City from RM38.
31-Jul-2014
Zalora Malaysia
AUGOFF10 – 10% Off no min spend
AUGOFF15 – 15% Off. RM 150 min spend
Validity: Aug 1 – 31, 2014
1 use per customer
Brand exclusions apply
Not valid on sale items
Groupon Malaysia
[50% Off] Chappati.com: RM20 Cash Voucher for All Food and Drinks for RM10
[Up to 83% Off] True Fitness: 1-Month Membership + 1 Session Personal Training from RM58
[Up to 64% Off] 4-piece Luggage Organiser from RM29
Stay in Tudor Style Resort RM245
Bayers Dual Stage Slow Juicer from RM399
[61% Off] Spa Package at Award-Winning The Sompoton Spa for RM128. Multiple Outlets
[42% Off] Simple Life Healthy Vegetarian Restaurant: RM50 Cash Voucher. Valid at 9 Outlets
[Up to 62% Off] Access to Equipment & Classes at 7 Days Fitness from RM38 for 1 Month
[45% Off] Pork Cheek Ramen for 2 People at Hokkaido Ramen Santouka, Pavilion for RM59
Award-Winning Resort in Siem Reap for RM368
[Up to 72% Off] Learn To Be a Barista / Make Basic Latte Art from RM158
25-Jul-2014
Groupon Malaysia
[50% Off] Tain Siang Hui Wei: RM100 Cash Voucher for Steamboat for RM50
2x TGV Cinemas: Movie Tickets for Any Movie + Popcorn & Drinks for RM32
[62% Off] 2-Hr Full Body Spa with Massage & Jacuzzi at Novotel KL City Centre Hotel for RM98
Multi-Function Projection Clock from RM35
[41% Off] 20L Hypergear Waterproof Dry Bag for RM75
Beijing 5* Stay + Flights + Tour for RM1168
Tai Thong Snow Skin / Baked Skin Mooncakes: 1 Box of 4 Pieces from RM46
[Up to 62% Off] Access to Equipment & Classes at 7 Days Fitness from RM38 for 1 Month
5*[email protected] Trawangan off Lombok
[Up to 97% Off] Glow & Glamour Lipo Ginger Tummy Slimming Treatment from RM38
[45% Off] Shoot a Handgun (50x ammo) for up to 2 People for RM269
8-Jul-2014
Hotels.com
Coupon Code – OMG5
Discount – 5% on hotels excluding hotels listed on below URL:
Excluded hotels: http://www.hotels.com/deals/hotel-exclusions_apac/
Countries where this coupon will be applicable at:-
– Thailand
– Singapore
– Malaysia
– Indonesia
Validity- Till 30th September'14
6-Jul-2014
Zalora
Code: HARIRAYA18
Get 18% Off
No Minimum Spend
Url: http://www.zalora.com.my/new-products/
Validity: 1 July 2014 – 31 July 2014
T&C: 1 Use per Customer. Not Valid on Sale. Brand Exclusions Apply
Groupon
[40% Off] RM9 for RM15 Cash Voucher for Food & Desserts at Hui Lau Shan
 [Up to 30% Off] KidZania Kuala Lumpur: 1-Day Admission Ticket
20kg Chrome Dumbbell Set for RM168
Redang:Full Board Beachside Stay for RM758
Hanoi + Halong Bay: Flight + Stay for RM1498
[44% Off] Teeth Whitening and Gum Care Set for RM39.90
[35% Off] International Weekend Hi-Tea Buffet at Essence Restaurant, Hotel for RM57
[50% Off] 3 Games of Laser Tag at Laser Warzone for RM27
Suite Stay with KL Skyline View for RM328
[Up to 86% Off] Ticket to 'The Wolf of Wall Street at Hotel Istana Kuala Lumpur