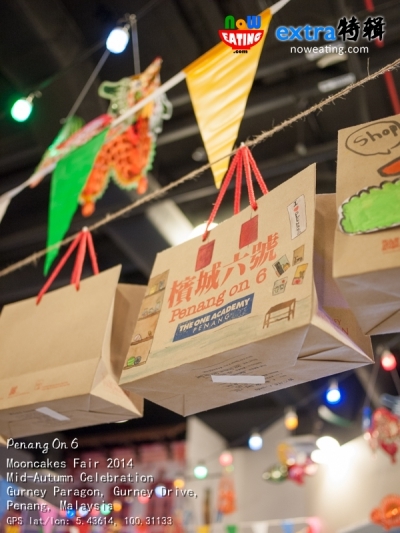 This year, Gurney Paragon Mall is organizing a mooncakes fair which features an exquisite selection of mooncakes in baked skin and snow skin from the all-time favourite brands such as Kum Lun Tai, The Baker's Cottage, Leong Yin, Foh San, Fai Fong, Purple Cane, Dragon-i, Hong Kong Mei Xin, and a few more.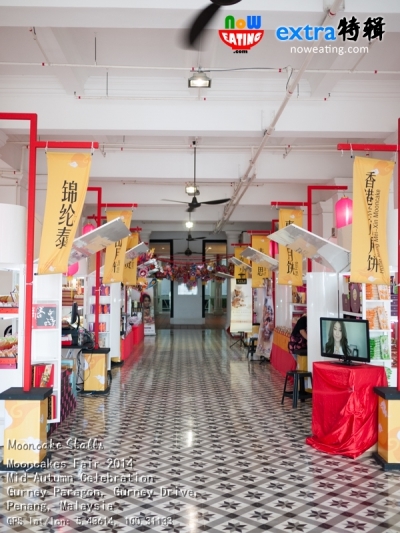 The Mooncakes Fair is held in front of St. Jo's building and Penang On 6 at level 6 from 16-Aug-2014 until 8-Sep-2014. We managed to sample some of the mooncakes during our recent visit.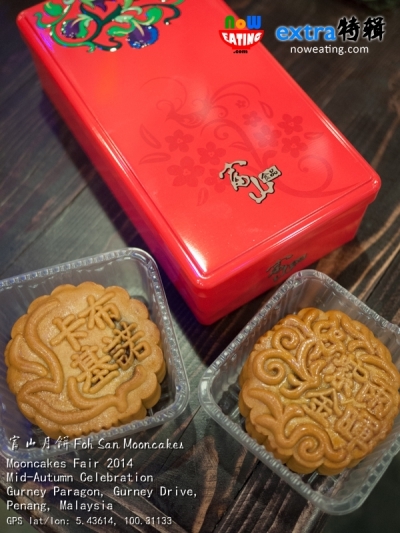 Let's begin with "restaurant" brands – 锦纶泰 Kum Lun Tai, 富山 Foh San, and 龙的传人 Dragon-i. Each of them have Chinese restaurants as their main business. KLT is more famous with its mooncakes whereas Foh San should not be a stranger for Ipoh folks as one of the top Dim Sum restaurants there.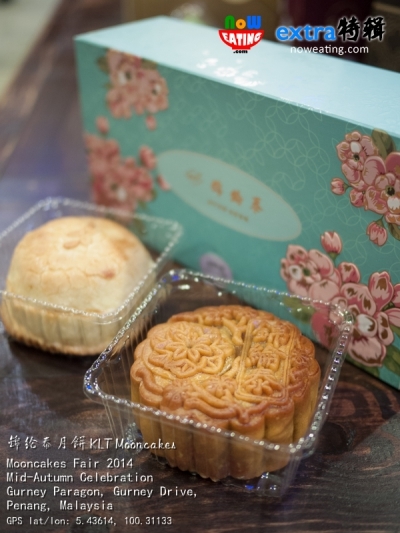 Packaging-wise, Foh San comes with an elegant red metal box. They do offer Shanghai Mooncakes made of shortcrust pastry instead of normal baked skin.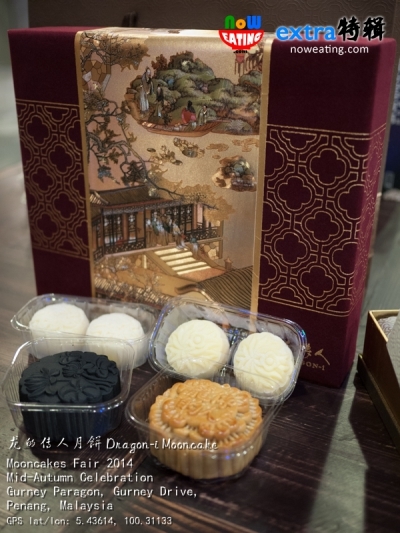 Dragon-i has the most luxurious packaging and you should try its Frosty Durian Musang King 冰皮榴莲猫山王 made of real Durian Musang King pulp.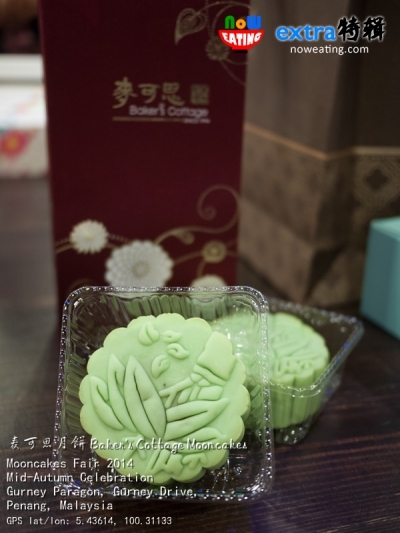 Next are "Bakery" brands – Baker's Cottage 麦可思, Casahana 喜月堂 and Fai Fong 惠芳. Baker's Cottage can be considered as revolutionist which introduced new variants of mooncakes years ago (e.g. Precious Black 黑龙珠 in year 2009) and since then, many other brands started following the trend by creating recipe of their own. This year, they have 4 new flavours such as Blueberry Opus 法式蓝莓, Jewels of Nature 日式紫薯, Ultimate Jujube 红枣晶环, and Bubur Pulut Hitam 椰香黑糯.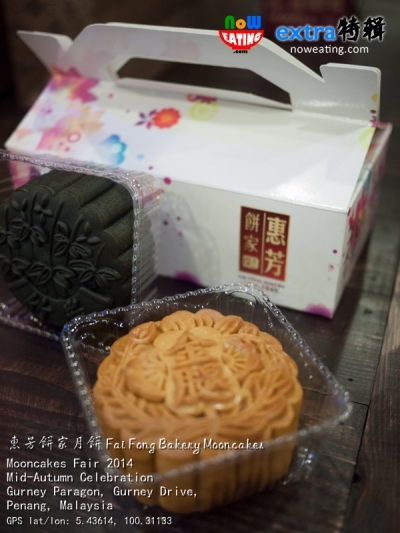 Fai Fong is pretty new to us with its signature mooncake being Assorted Fruit Nuts & Ham 招牌金腿.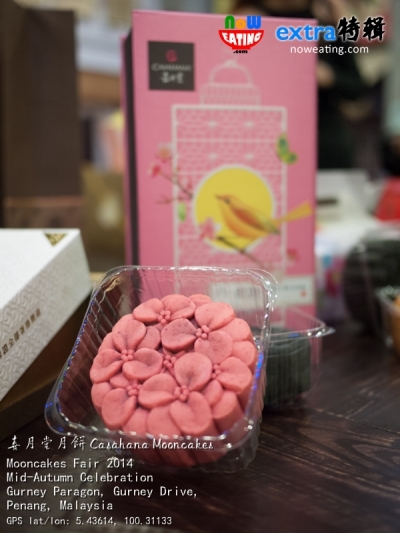 For Casahana, the highlight for this year is Crimson Opera made of beetroot, cheese, and creamy white chocolate.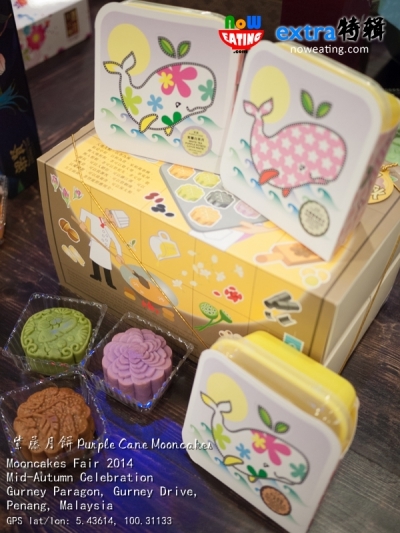 Normal mooncakes can be too sweet for some. If you are seeking for less sugar, less oil and no preservative mooncakes, the famous tea house, Purple Cane 紫藤 is your best choice. In general, it is more delightful to enjoy compared to others. Other than pick-and-match, it has single mooncake version with air-tight plastic container and collection box containing a box of tea and four mooncakes. Both have fixed flavors. Best of all, all their mooncakes are vegetarian with added tea leaves. We pretty like their Puer Tea, Dang Gui, Chinese Wolfberry, Assorted Nuts Paste 枸杞当归伍仁普洱茶月 which surprisingly won't stuck in your teeth after consuming.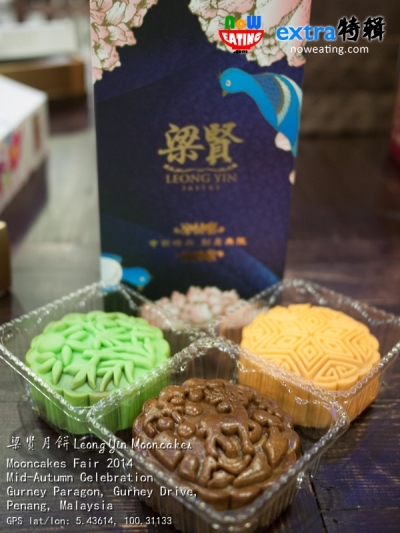 The low profile Leong Yin 梁贤 is perhaps the only "Made in Penang" mooncakes in the list. It has its factory located at Juru, Penang. We were fortunate enough to meet with its Managing Director – Dr. Leong during our visit. This year, Leong Yin introduced 6 new flavors including Intense Wheatgrass Jujube Splendor 春彩月御兔 with skin made of wheatgrass (thus the green skin) and filling made of jujube.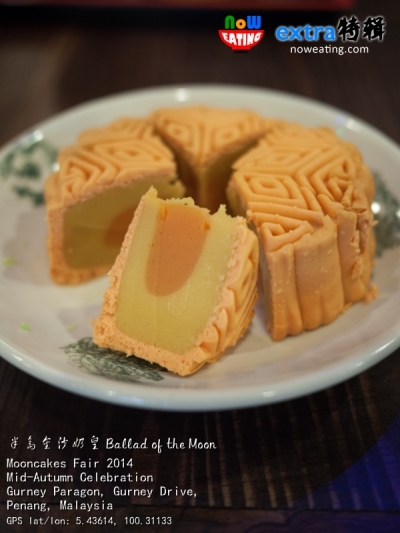 Ballad of the Moon 半岛金沙奶皇 has the content made of custard and egg yolk. Eating it is like eating Hong Kong Custard Bun 奶黄流砂包.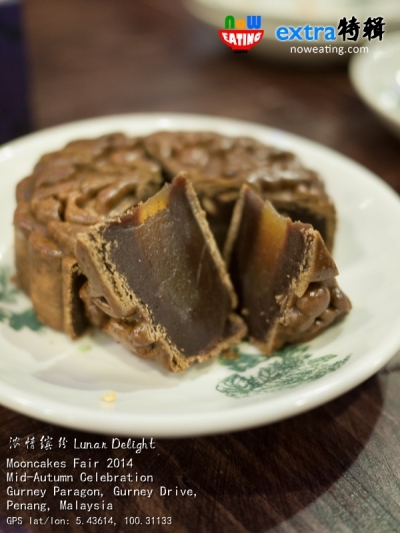 Coffee and durian lovers should not miss Leong Yin's new Lunar Delight 浓情缤纷 made of pure durian pulp and white coffee. It has the sweetness of durian and the bitterness of coffee bean – the perfect match for those seeking for heavier taste.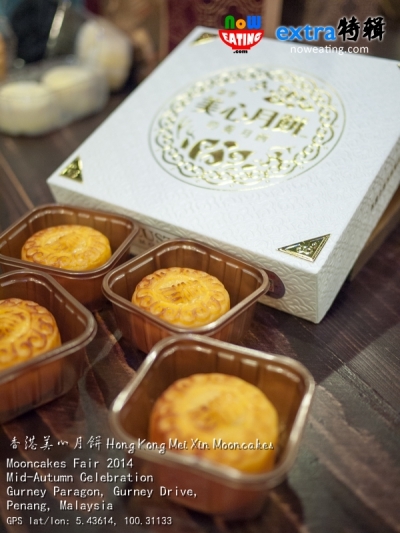 Mei Xin 美心 is the only mooncakes imported from Hong Kong. Their mooncakes are the smallest among others in which it can easily be finished in one or two bites. Suitable for those looking for something premium and special this year.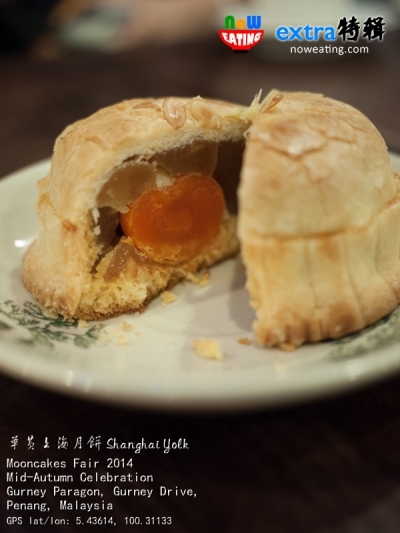 For the ease of Now Eating readers, we spent two days, collected and scanned their menus so that you can do your homework before marching to Gurney Paragon Mall to select your desired mooncakes.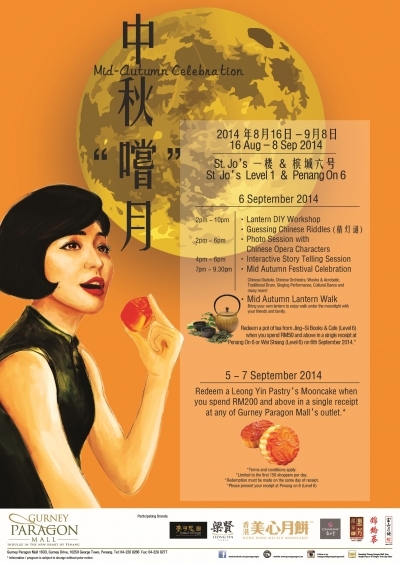 MID-AUTUMN FESTIVAL CELEBRATION
Date: 6 September 2014, Saturday
Time: 2 pm – 9.30 pm
Venue: Penang On 6, Level 6, Gurney Paragon Mall
Bask in the glow of Mid-Autumn atmosphere when Penang On 6 is transform into a realm of celebration with heart-warming lightings and colourful lanterns.  Family and friends are invited to enjoy a fun-filled day at Gurney Paragon Mall.
2pm – 10 pm     : Lantern DIY Workshop & Guessing Chinese Riddles
2pm – 6 pm       : Photo session with Chinese Opera characters
4pm – 6 pm       : Interactive story-telling session
7pm – 9.30 pm :
Mid – Autumn celebration (Chinese Diablo, Chinese Orchestra, Wushu and Acrobatic, traditional drum, singing performance, cultural dance and many more)
Mid – Autumn Lantern Walk (Bring your own lanterns to enjoy walk under the moonlight with your friends and family)
* Redeem a complimentary pot of tea from Jing-Si Books and Café when you spend RM 50 and above in a single receipt at Penang on 6 or Wei Shiang (Level 6) on 6 September 2014
For more information, please visit https://www.facebook.com/gurneyparagon