"Chu Yoke Weng" is a real Chinese martial art character under a famous sifu called Huang Fei Hong (黄飞鸿). Initially he is a butcher selling pork. In Penang,  however, you can see a restaurant with his name and surprising their main dish is Pi Pa Duck. It is located at Jalan Pekaka (opposite to Tesco Extra) and is called 猪肉荣琵琶鸭专卖店 in Chinese.
As the shop name suggest, you should try its Pi Pa Duck. It is well roasted and the skin is crispy. The dark sauce is delicious as well with little rice wine added. The shop also provides ordinary roasted duck which come with rice or noodle. The noodle is just average in size and taste. Pi Pa Duck, however, is slightly expensive (RM8.50 per quarter) compared to competitors.
There are other dishes as well if you do not like duck, such as steam vegetables with oyster sauce. The fried seafood bean curd and fried dumpling are nice and are recommended by chef. Both are fried into golden color yet not oily.  Since fried stuff may be too dried for some, the host will give you little dark soup to pour on your rice. My favourite drink is called Ginkao Nut.
Due to high competition (there is a cheaper and popular duck rice stall just a few unit away), most of the time the shop is not full. As a whole, you should try its Pi Pa Duck as it is better than the competitor in my opinion. Attached below is the order list in which you can use it as a reference on items available in the restaurant. Bon Appetit.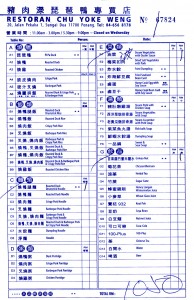 | | |
| --- | --- |
| Place Name: | 猪肉荣琵琶鸭专卖店 Restoran Chu Yoke Weng |
| Address: | 20, Jalan Pekaka 1, Sungai Dua, Penang, Malaysia |
| Tel: | 04-6568178 |
| Working Hour: | 11.00am - 3.00pm/5.30pm - 9.00pm (Close on Wednesday) |