Preview: 28/Nov/2008, Review: 30/Dec/2008
You may have seen Old Town Cafe booming out everywhere recently. Island Red Cafe (红岛) is another restaurant of its type. It is located in Krystal Point, on the left of the Krystal Point Hotel. It is adviced to be there around 12PM for lunch or else it may be too crowded with mostly working class. WiFi is provided and you will usually see some people turning their laptop on inside.
I went there for the first time when I sent my HP laptop for service in the hotel (5th floor by the way in case you would like to know the location of HP service center in Penang). The food is quite similar to Old Town Cafe and I ordered Island Red Nasi Lemak (RM6.90), Penang Chicken Lor Bak (RM3.30), and Island Red Coffee (Hot) (RM2.40) during my first visit.
The nasi lemak is big and come with a chicken drumstick. I can't give comment yet in comparison with the one in Old Town Cafe until I tasted the later one. IMHO, it is quite delicious.
The Lor Bak is also well-fried and taste good. My friend in KL suddenly missed the Lor Bak here after seeing the picture. The Boxing Chicken (拳头鸡) (RM7.90++) is actually wing drummettes made into hammer shape before frying. It was, however, overfried. It makes me wonder whether it is by purpose (to make it as hard as hammer) or accidentally overfried.
Restaurant of this type cannot escape from promoting its signature coffee. I am not a coffee lover but the Island Red Coffee has its own unique taste, which definitely not made from commercial products. Its Espresso (RM4.50++) is thick, slightly bitter, and makes you await at night.
Other characteristic foods include Prawn Mee, Kuay Teow Soup, Tom Yam Soup, Chicken Curry, and Claypot Porridge. I have scanned an ordering list here so you can have a glance on the food offering there. The Kuay Teow Soup (RM5.40++) is just average (probably due to pork-free).
There was no service charge the time I visit in Oct 2008. However, 10% service charge applied during my last visit in Dec 2008, and the wait time becoming longer (about 30 minutes) even though I ordered food before 12pm with only few tables of customers. What's the point of paying service charge while we have to wait longer?
:noword:
As a whole, due to the lower price compared to other cafes in that area, Island Red Cafe becomes a popular place for white-collars to gather during lunch and to access Wi-Fi facilities (there are some desktop PCs readily available for customer to surf).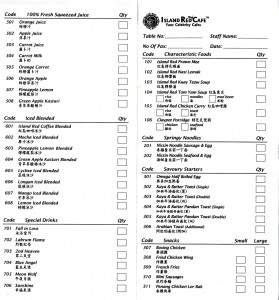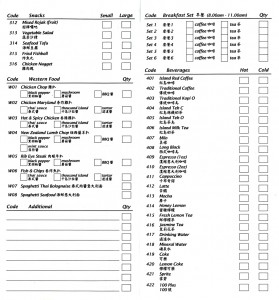 | | |
| --- | --- |
| Place Name: | Island Red Cafe 红岛 |
| Cuisine: | Malay, Chinese, Western |
| Address: | 1-1-12, Krystal Point Corporate Park, Jalan Tun Dr. Awang, 11900 |
| Tel: | 604-6421133 |