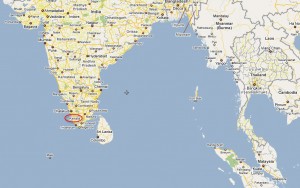 According to Wiki, Kerala is a state on the tropical Malabar Coast of southwestern India. Today, we save some bucks by enjoying the passion of Kerala here in Penang.
It has been years since my last visit to any Nasi Kandar stall. The curry served in buck and 24/7 may not be everyone's taste, and the price can be expensive. I will sweat a lot if the food is too spicy.
:sweat:
This time, as a foodie, I braved myself and entered a house of spice – Passion of Kerala. The restaurant is located at New World Park, Burmah Road, Penang. Its specialty is…. meal on banana leaf. There are wide range of side order in the menu, such as seafood, chicken, beef, and mutton.
For turtles living in the mountain like me, those meals do not come with rice. For rice, you need to order the "Vegetarian Set" (RM5.50), which come with appetizers such as lime, ladyfinger, pumpkin, and salad. You can choose between tomato rice and plain rice. The host also provides you Papadam (a must-have Indian snack usually comes with Nasi Kandar) and 3 kinds of curry: mild, sour, and hot.
The prawn sambal (RM12) is delicious. It contains 4 prawns served in a flavorful hot and sweet sauce garnished with leaves. We actually ordered Fish Molly (RM12) as well but I accidentally forgot to take the photo of it (too hungry). Anyway, it is delicious as well.
For the drink, I ordered Mango Lassi (RM5), which tastes like yogurt. It is nice but is kind of small.
If this is considered as Nasi Kandar, then this is the best Nasi Kandar I ever enjoy. My first impression is that this restaurant provides a variety of curries in one house. Surprisingly I did not sweat a lot during my first visit.
| | |
| --- | --- |
| Cuisine: | Indian |
| Address: | New World Park, Penang, Malaysia |