Looking for a dim sum shop in town early morning? Try Dim Sum House 点心之家 at Anson Road. This food court is full of people as early as 8am so make sure you come earlier than that to avoid disappointment.
Judging on the crowd, this could be one of the best dim sum restaurants in the island. The standard har gau/shrimp dumpling 虾饺 and siu mai 烧卖 taste better than some shops out there.
Char Siu Baau 叉烧包 tastes average.
The shrimps in Hong Kong Chee Cheong Fan 香港猪肠粉 are also fresh and big. Some restaurants just offered you one  little prawn in the whole plate. The lotus leaf rice 荷叶饭 is rich in ingredient as well but is slightly dried.
The staffs are quite hardworking and there is no take-and-record system as seen on most restaurants. All dishes taken will be calculated at the end of the meal. Sadly, if you park behind the food court, RM1.00 will be charged, which is a big drawback.  A better way is to refund RM1.00 if you really had your breakfast over there.
:relief:
Quite full during first visit. Will try their noodles, porridge, and roasted duck/pork in future.
It appears that there are 3 other restaurants under the same management (see brochure below). Will try them one day.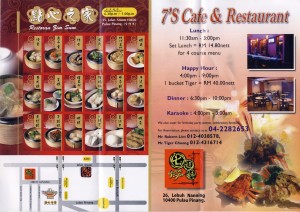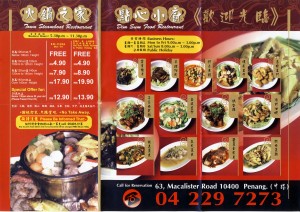 | | |
| --- | --- |
| Place Name: | Dim Sum House 点心之家 |
| Cuisine: | Chinese |
| Address: | Anson Road, Penang, Malaysia |