Hello,
I was invited by my fellow classmates to Time Square on one Friday to enjoy a promotion by Swensen's. I had a review on it previously and my comment is that it is expensive. Thanks to its current promotion which ends in 31-May (hurry!), you will entitle for 100% rebate. Read more to see how it works!
Basically, 100% rebate means that if you purchased e.g. RM100, you wil get RM100 discount on your next bill. Having said that, you need to visit the restaurant twice. Thanks to my friend, here's a trick on how to enjoy it on the first visit. To do so, ask the cashier to separate the bill into TWO, each of them RM50, and you only need to pay one of the bills (e.g. RM50 for RM100 meals). Got it?
8 of us went there to celebrate birthday and here's my food: Clam Chowder (baby calms in soup) (RM11.90++) and Ocean Crunch Salad (seafood + salad) (RM18.90++). It sounds a bit small (a soup + salad = kid stuff… haha) but beware that you can actually eat the "bowl" of Clam Chowder. Furthermore, Ocean Crunch Salad is gigantic. I won't be able to finish it if it is not shared. Both tastes nice.
I also ordered this coffee called Mushy Mallow Coffee (RM7.90++) but I can't tell the different between normal coffee and this one. Can someone tell me?
One of Swensen's signature dishes is Fish and Chips. Even though it tastes nice, it is not an "everyday" Fish and Chips as it costs a whoopy RM21.90  :stunt: One of my friends ordered Grill Fish Sambal (RM19.90++) and it was spicy until tear come out. Don't order this if you plan to propose to your another half when dining in.
We also ordered some pastas, including the one I ordered previously, Salmon Pasta (RM23.90++). The different is that, instead of salmon + pasta, it now has added calms. Good try, but still too small and too expensive. I did not really taste both Chicken Mushroom Spagetthi (RM17.90++) and Black Pepper Seafood Pasta (RM22.90++) in detail but they are presentable and looks bigger than Salmon Pasta.
Mega Burger (beef) (RM24.90++) is perhaps the biggest burger in the menu and almost as big as the one in Chili's. Unfortunately I can't try it as I did not eat beef :loser: My friend had difficulty in finishing it.
Sadly, one of the dishes – Fried Vegetables (RM7.90), is just average. For me, it is like they took overnight vegetables and fried.
I really did not try on Deep Fried Mushroom so can't comment much, but they looks yummy.
:relief:
We are almost full. In order to make both bills tally, we order two set of Topless 5 (RM22.90++ each), which consist of 2 x 5 scopes of ice creams of your choice. We splits them into 3 plates so that they are easier to share (and less messier). The only remarkable ice cream for me is my all-time-favorite – Rum and Raisin. Other than that, the ice cream is just too pricey.
Unfortunately (again), the service is poor. We asked to clear the table before our dessert arrive, and here is the screenshot: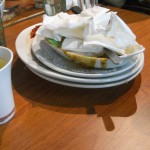 30 minutes later….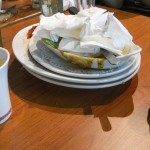 :yellow:
One good thing is, we ordered so many seafood and most of them are satisfactory (fresh).
As a whole, the restaurant offers various kind of menu including Asian cuisine such as noodle soup etc. The service could be better. For long term, they should make their price competitive.
| | |
| --- | --- |
| Place Name: | Swensen's Time Square |
| Cuisine: | Fusion |
| Address: | 77-G-5 Jalan Dato Keramat, 10150, Penang, Malaysia |
| Tel: | 04-2272915 |
| Website: | www.swensenspg.com.my |