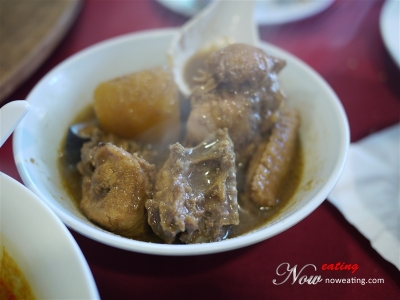 One of my ex-colleague who lost contact for more than a year suddenly IM me. She now works in KL and she still knows my latest status by reading my blogs :shy: At least now I know I got some loyal "divers" (those visited but rarely leave comments) and this encouraged me to write more. Anyway, this is an old but not-bad Nyonya restaurant I visited in Malacca during last Xmas holiday – Bayonya.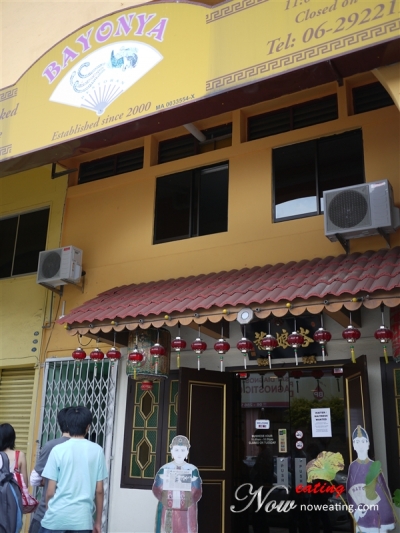 Being the first time in Malacca, We were hunting for a Nyonya restaurant during one of the afternoon. Bayonya is located in Taman Melaka Raya. Fortunately it was crowded with people (got people means the food can eat… and less chance to get "slaughtered").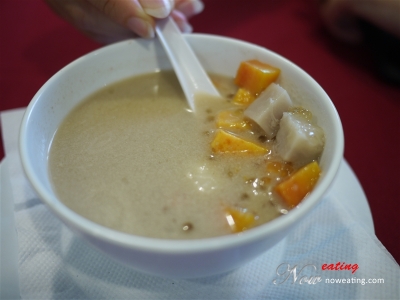 Firstly we ordered "Bubur Chacar" (RM2.50) – mixture of yam, sweet potato and sago stewed in coconut milk and gula Melaka. Tasted okay but the portion was small.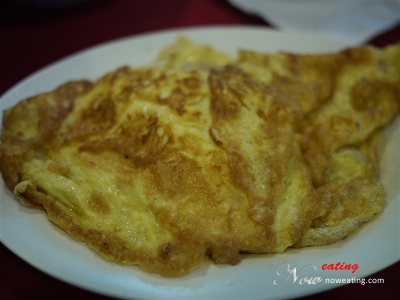 Next is Telur Cincaluk (Cincaluk Omelet) (RM 6.00) – fermetted shrimp omelet. The ingredient was similar to Foo Yong Egg.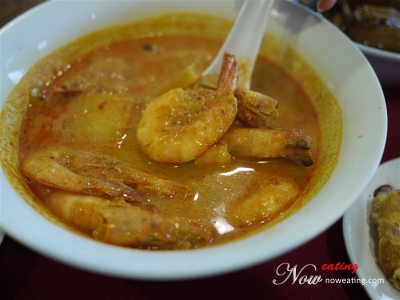 Now this is something special – Udang Masak Lemak Nanas (RM21.00) – fresh prawns cooked in rich and slightly spicy coconut gravy with pineapple. It has mild spiciness and more toward sweeten side.  The pineapple were juicy and the prawns were fresh.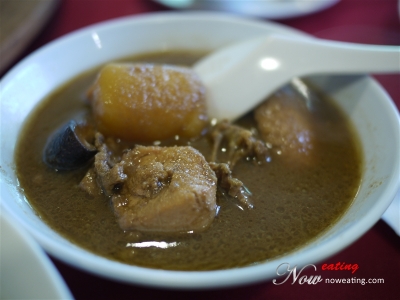 Another specialty is Bayonya Pongteh (RM8.90) – chicken stewed in preserved soya bean gravy, with potatoes and mushrooms. The chicken was slow cooked and served in hot (you can see the steam flowing out). Best served with rice.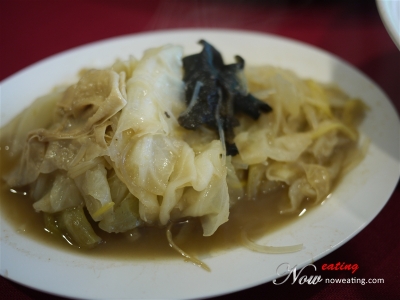 Finally is Nyonya Chap Chai (RM7.50) – mixed vegetables with cabbage, fungi and glass noodle. It was similar to Loh Hon Joi.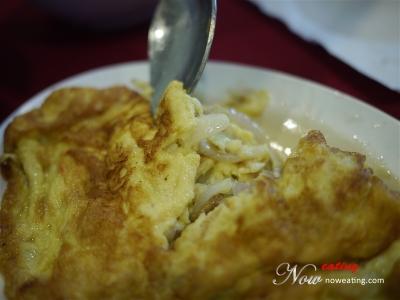 If you ask me to rank the food I ate – Undang Masak Lemak Nanas > Bayonya Pongteh > Telur Dadar Cincaluk > Nyonya Chap Chai. The restaurant did offer authentic nyonya cuisine. Some of them you may familar with them since nyonya food is basically a mixture of Chinese and Malay cuisines. The way they cook was mature enough (The restaurant already opens for quite some time). Pricing-wise is slightly expensive but should be acceptable considering the location. Service is okay as well.
| | |
| --- | --- |
| Place Name: | Bayonya |
| Cuisine: | Nyonya |
| Address: | 164, Taman Melaka Raya, Melaka, 75000, Melaka, Malaysia |
| Tel: | 06-2922192 |
| Email: | [email protected] |
| Website: | bayonya.awardspace.com |
| Tax: | Yes (5%) |
| Last Visit: | 20091225 |