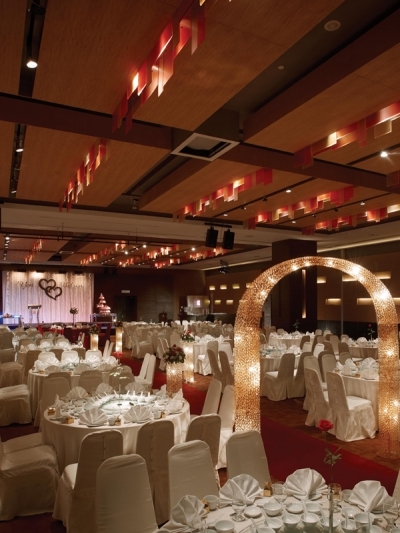 Since 2007, G Hotel at Gurney Drive, Penang, Malaysia has been a well known venue for weddings. It handles an average of 70 weddings per year. Personally, we attended few wedding dinners there and our overall experience was a positive one. The waiters were attentive and the Halal food was one of the best in Penang's hotels. Recently, we were being invited for a wedding dinner package preview session for year 2015.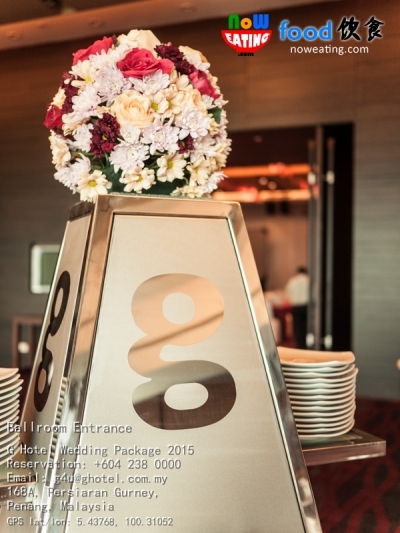 Recently, G Hotel's ballroom has undergone renovations. The ambience, decor, and service are sure to leave a lasting impression. The floor is refurbished with new stylish maroon carpets. The new silver, cream and black color chair cushion and linens make the dining experience more elegant and luxurious. For year 2015, G Hotel offers three types of modern set dinner wedding packages:
Sensual – RM988++ per table
Intimate – RM1188++ per table
Passion – RM1388++ per table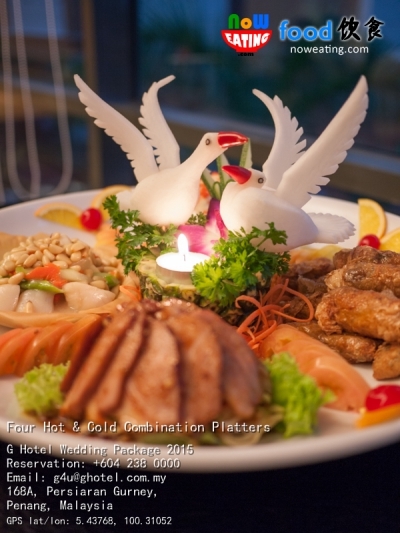 Wedding packages comes with 8 or 9 courses of Chinese set dinner menu specially created by their experience chefs. Free flow of Chinese tea or fruit punch will be provided. During our preview session, we were being introduced with the ultimate RM1388++ Passion package.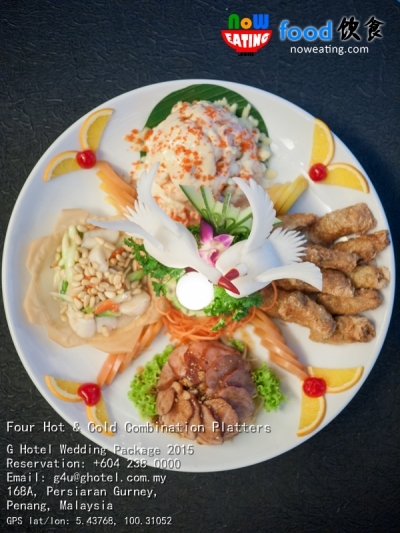 For starters, G Hotel will serve Four Hot and Cold Combination Platter including cold dish, deep fried dish, baked & steamed dish, and stir-fried dish. Each of them is customization  Some choices are Mango King Prawns Salad 芒果沙律虾, Oyster Rolls 蚝士卷, Baked Sliced Smoked Duck Meat 焗熏鸭片 and Fresh Scallop with Asparagus 露荀炒带子.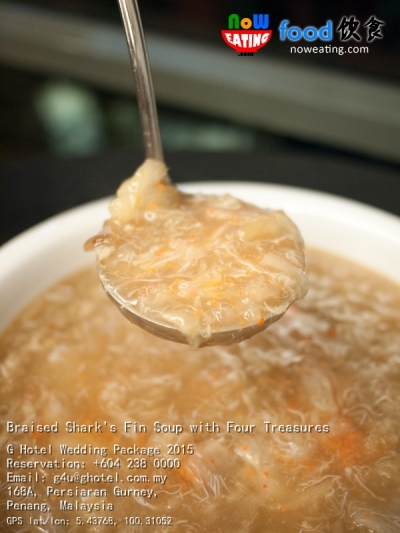 We were fortunate enough to meet with the banquet chef behind those delicious food – Mr. Ooi Kok Kang. He has been with G Hotel for a long time. Braised Shark's Fin Soup with Four Treasures 四皇蟹肉翅 consisting of real shark fin, dried scallop from Japan, crab meat and sea cucumber is a recommended course by Chef Kang. Shark's Fin soup is simmered in rich flavorful broth. Environmentalist? No problem! G Hotel provides you options to switch to braised seafood soup or double boiled chicken soup.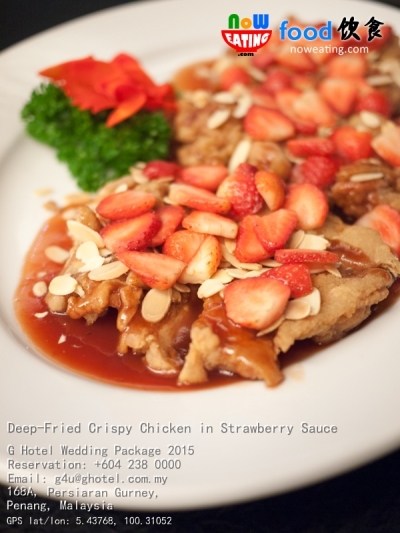 Deep Fried Boneless Chicken with Strawberry 草莓酥鸡 is another recommended dish and is G Hotel's signature dish. Boneless chicken is stir fried until crispy and served with a special recipe strawberry sauce. This course is a must-try dish among the Chinese set dinner menu.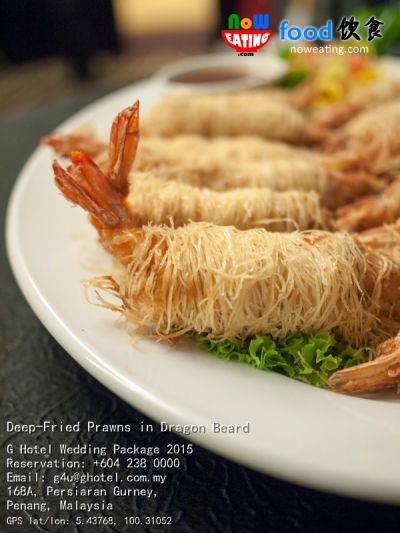 The Deep Fried Prawns in Dragon Beard 龙须果炒虾球 is also one of our favorite choices. The peeled prawns wrapped with the dragon bread and mango are stir fried until crispy. Best dipped with with the Thai chili sauce provided.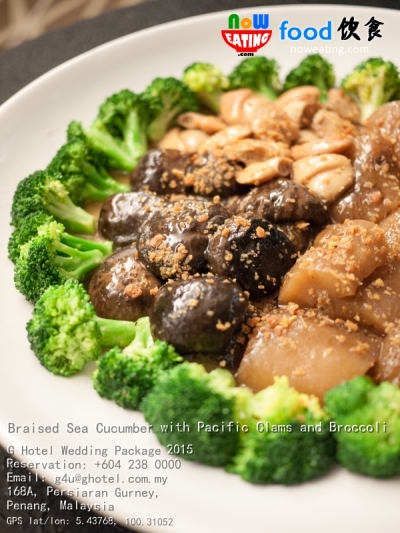 Braised Sea Cucumber with Pacific Clams and Broccoli 海参鲍贝西兰花 – a common vegetable dish for wedding dinner but every single item in it is pretty luxury, especially the sea cucumber which scientifically proven having 0% cholesterol and traditionally well-known of its skin smoothing effect.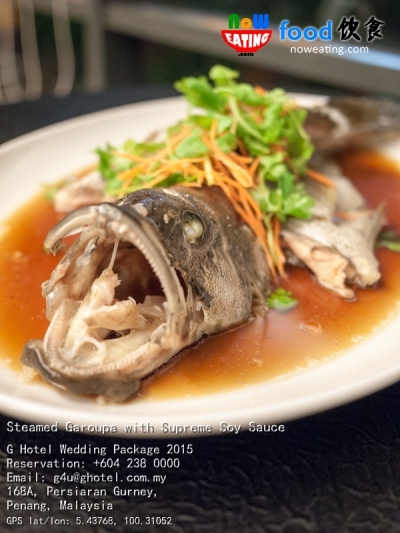 Steamed Grouper in Supreme Soy Sauce 清蒸石斑鱼. This fish is cooked with special homemade soy sauce by the chef. Other fish options include Red Lion Fish, Seabass and Cod Fish.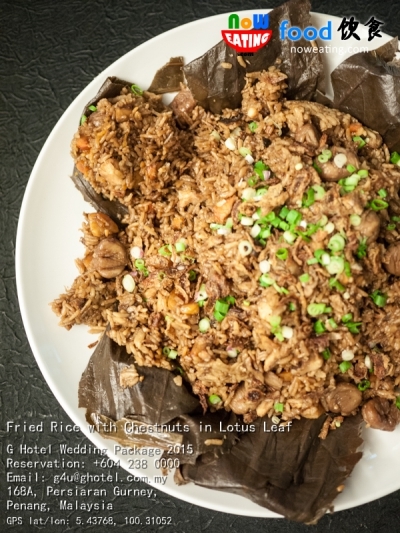 The Fried Rice with Chestnuts in Lotus Leaf 栗子荷叶饭 is cooked with chopped chicken and salted egg yolk which has been stir fried with mushrooms and other seasonings. It is then wrapped with a dried lotus leaf and steamed for at least 45 minutes until the chicken becomes tender and the rice is infused with the flavor of the lotus leaf.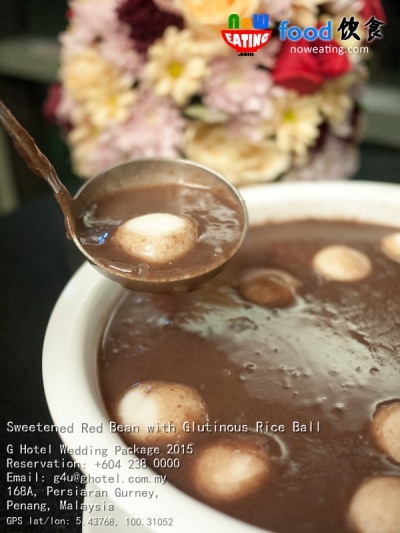 As for the dessert, for those who crave for a little tang of sweetness, remember to try the dessert of Sweetened Red Bean with Glutinous Rice Ball 红豆沙汤圆. This dessert is served with the red bean soup with black sesame in glutinous rice ball.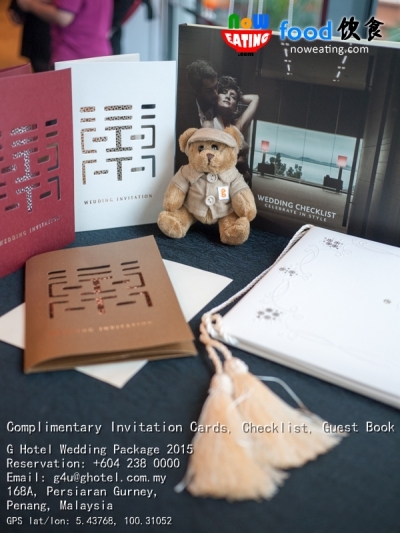 One of the special benefit when you have your wedding in G Hotel is an exclusive complimentary stay at Owners Suite with breakfast included. You will also get an exclusive VIP parking lot for the bridal car at the hotel facade. Other than that, all Chinese wedding packages come with:
Complimentary backdrop
Complimentary usage of multimedia projector
Red carpet and fresh flower display at the entrance of the function room, all dining tables and reception tables.
For the main table, there will be a special yet elegant set up with fresh flowers.
Complimentary pre-dinner cocktail tidbits and 3-tier wedding cake for cake cutting ceremony.
Champagne fountain set-up with 2 bottles of sparkling juice for toasting
Complimentary wedding invitation cards
Complimentary guest's signature book
Delectable cake giveaway to all wedding guests
Special room rates on the wedding night for precious guests
20% discount on wedding night at G Spot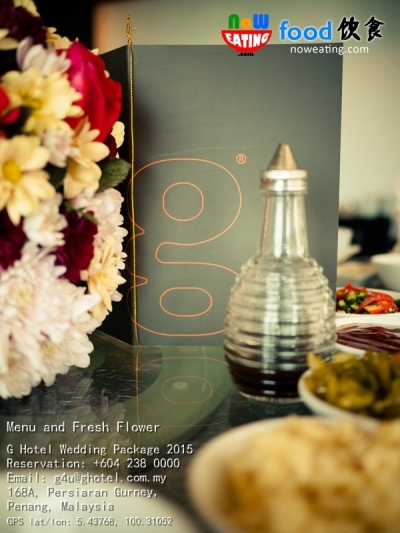 Can't wait to get married? You may start doing your homework by downloading a copy of the package detail from the link below. For any wedding dinner reservation at G Ballroom, please call 604-238 0000 or email [email protected].
Download: Quotation for G Hotel Wedding Dinner Arrangement 2015