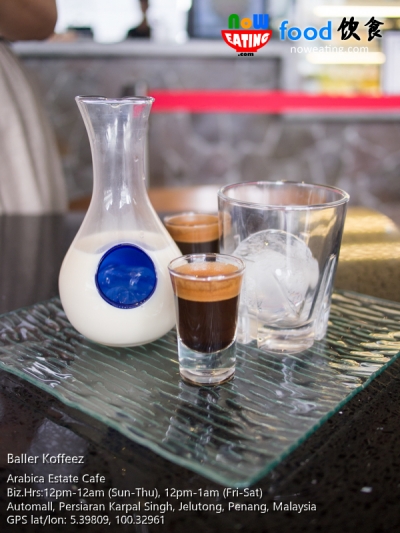 Baller Koffeez (RM15) – Arabica Estate Cafe's signature coffee with double shot of espresso, an ice ball better known as Whiskey ball, and home recipe creamer. If you happen to catch Pokemon at Karpal Singh Drive, Penang, be sure to visit the premise for a glass of it to recharge yourself.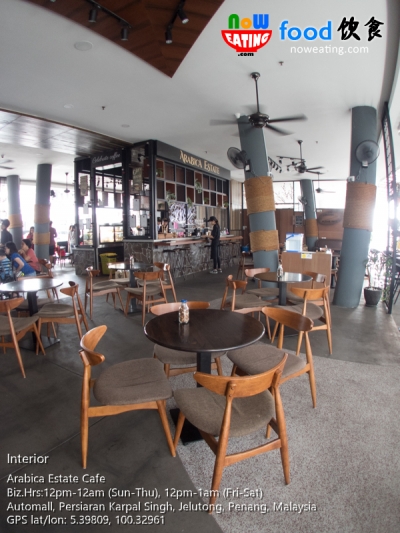 Arabica Estate Cafe is located at first floor of Automall in Karpal Singh Drive, Jelutong, Penang. Despite being an open air cafe, we found it absolutely no problem dining in there thanks to the shaded and cozy environment. We visited it one afternoon for some coffees and proper meals.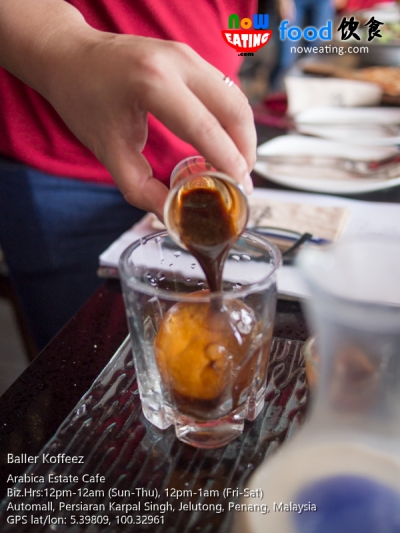 Back to the Baller Koffeez, other than having nice presentation, the Whiskey Ball also has better cooling effect compared to ordinary ice cube. The heavier body allowing the ice ball to sink into the glass and chill the beverage faster. Depending on your liking, you may pour one or two shots of espresso into the Whiskey glass.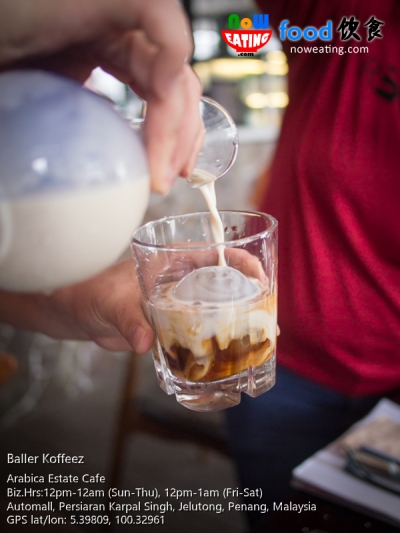 Then, pour the creamer depending on preferred level of sweetness.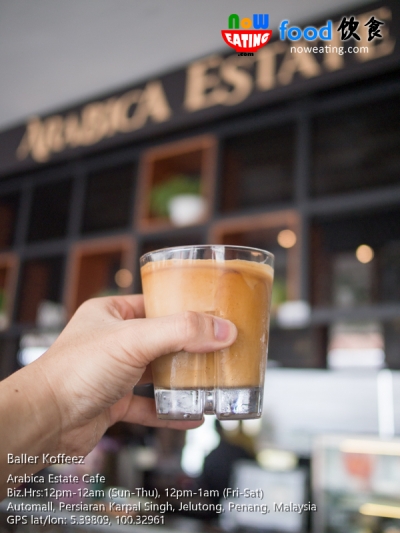 The result? A unique and personalized handmade coffee.
Arabica Estate is not just a cafe, the main company provides one-stop coffee solution including a barista academy, coffee bean products and coffee machines. You can't go wrong with a glass of coffee prepared by baristas graduated from the same barista academy. Figure: Cappucino (RM11)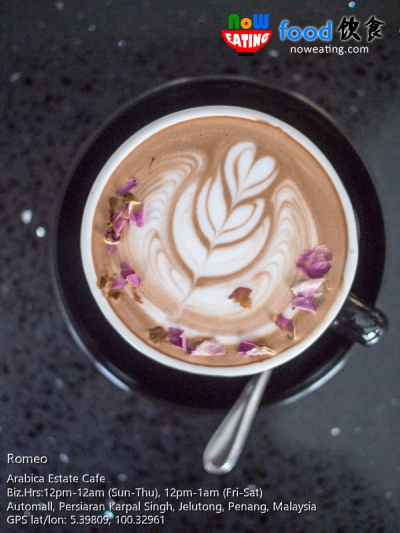 Other than astonishing latte art, Arabica Estate also has some special latte, including Romeo (RM11) with the blend of mocha and roses.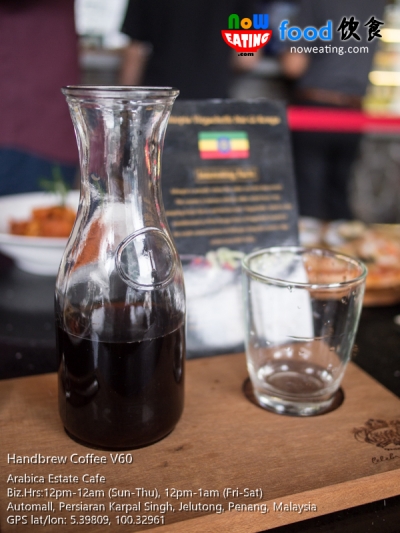 Customers can also opt for Handbrew Coffee at RM18 each with preparation methods ranging from V60, Aeropress, Syphon, Chemex, to Cold Drip.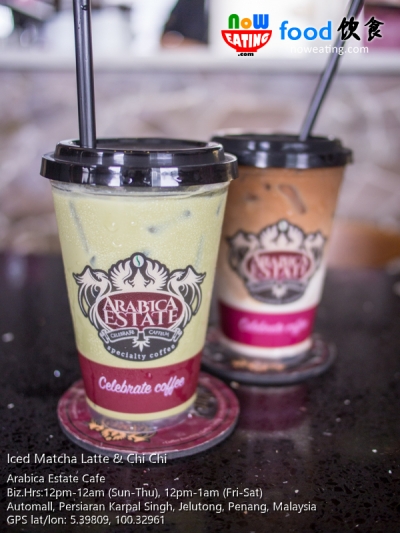 Of course, cold coffee are also available, including the signature Chi Chi (RM13). As stated in the menu, it is a sensual Asia recipe, sweet as life should be.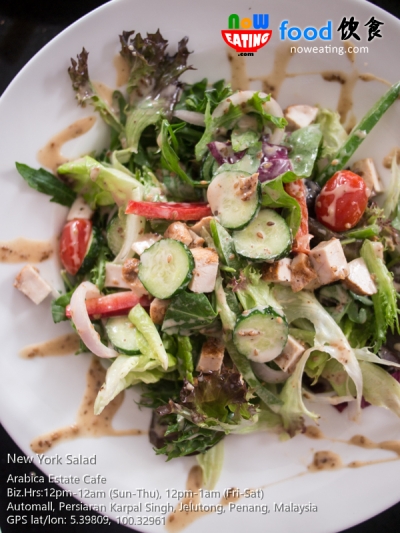 Arabica Estate is not only a coffee house, but also a decent dining place providing Weston cuisine, from appetizer to main course to desserts. We begun our meal with healthy New York Salad (RM17).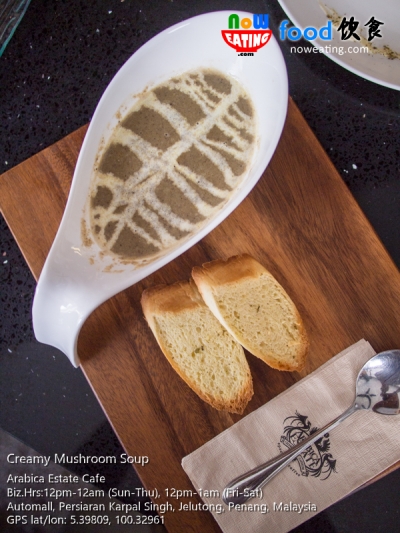 Had a bowl of Creamy Mushroom Soup (RM10) made of wild mushrooms.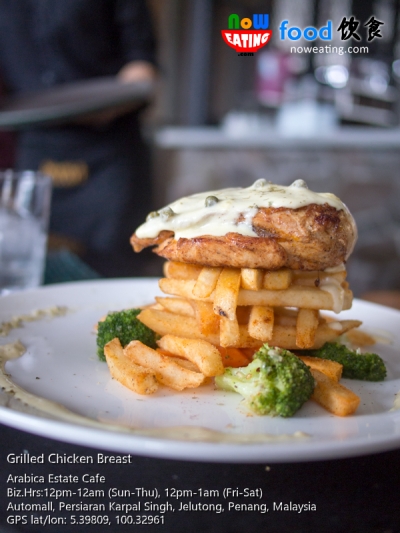 Arabica Estate offers two Chef's Grill – Grilled Chicken Breast (RM26)…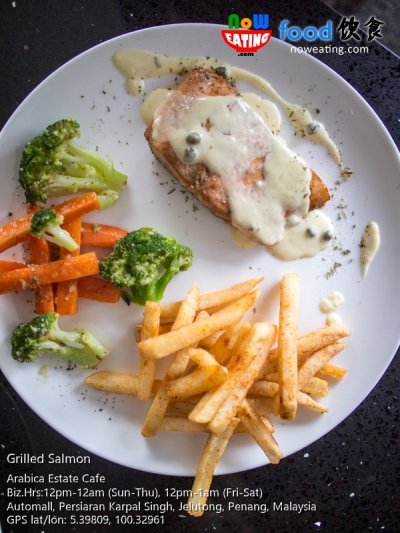 … and Grilled Salmon (RM28). Between them, we prefer Grilled Salmon as the white creamy sauce goes well with salmon.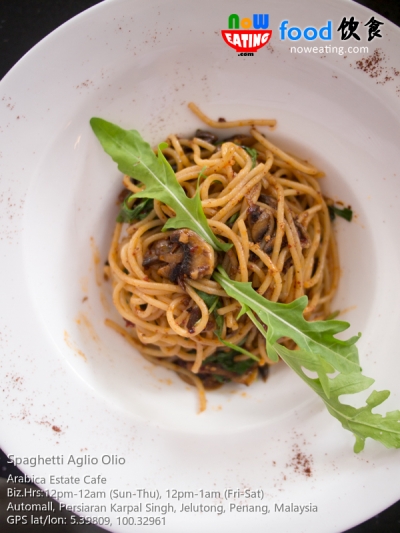 Pasta series are also available, including Spaghetti Aglio Olio (RM18).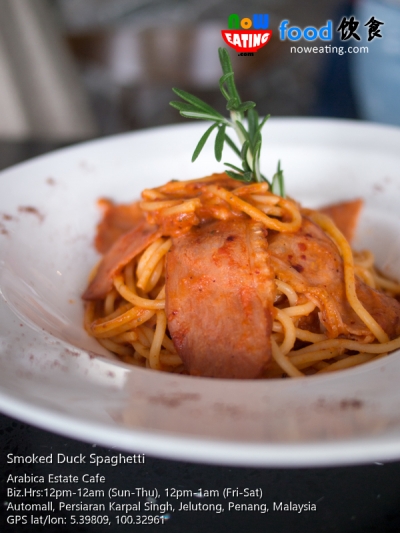 Looking for something spicy and special? Try Smoked Duck Spaghetti (RM22) sprinkled with paprika powder designed for Penangites with stronger taste buds.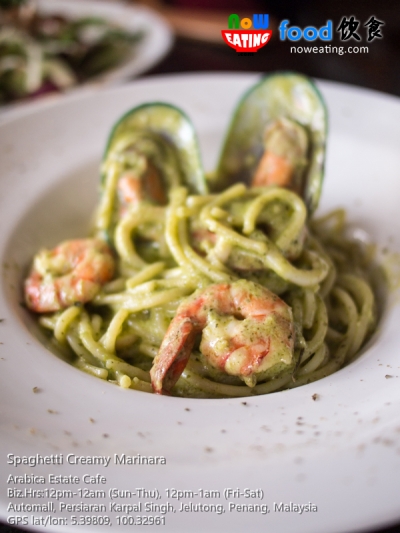 Our personal favorite for pasta series being Spaghetti Creamy Marinara (RM25) with pesto sauce and mouthwatering seafood including prawns and mussels.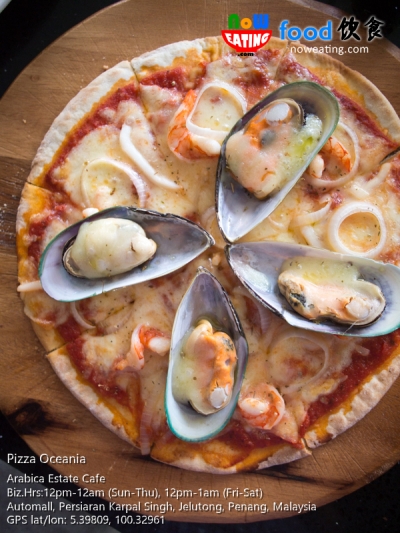 Alternatively, seafood lover can opt for Pizza Oceania (RM27) – a real seafood pizza hardly found in other restaurants with whole mussels, prawn, and calamari on it.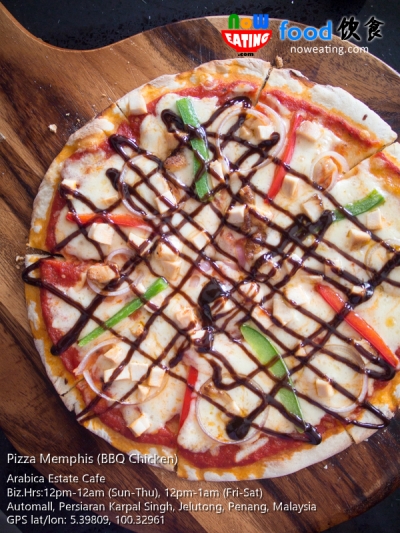 Total of 5 types of pizza are available in the menu and they all come with thin crust which mean less flour and more toppings to enjoy with. Figure: Pizza Memphis (BBQ Chicken) (RM25)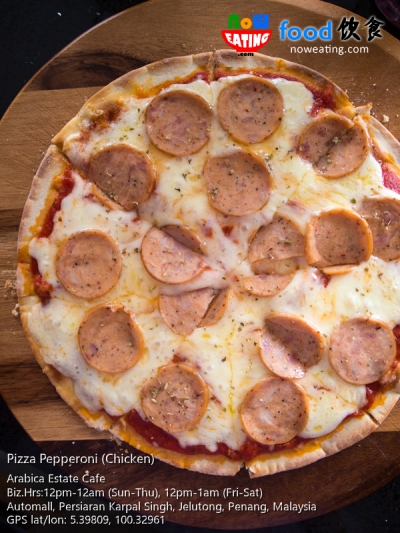 For those looking for traditional pizza, try Pizza Pepperoni (RM25). For non-beef taker like us, chicken variant is also available and is a plus for us as most restaurants only offering beef version of pepperoni.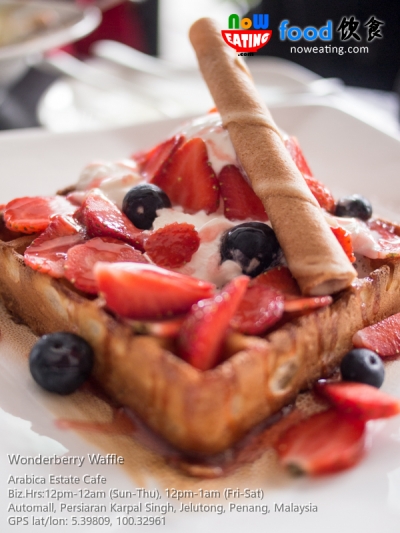 We ended our afternoon with two waffles. The first one being Wonderberry (RM16) – rose-infused waffle with torched meringue, topped with strawberries and blueberries, toasted nuts, a loveletter, whipped cream and vanilla ice cream, drizzled with a strawberry coulis.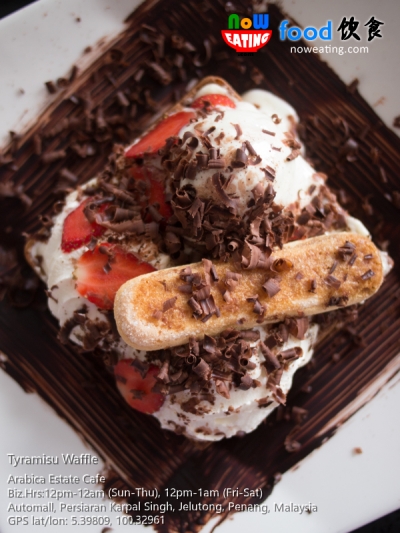 Last but not least, for coffee lover, Arabica Estate introduces Tyramisu Waffle (RM16) – espresso-infused waffle topped with mascarpone (an Italian cream cheese), dark chocolate shaving, strawberries, whipped cream, vanilla ice cream and espresso-dripped ladyfingers with a dusting of Arabica powder.
As a whole, Arabica Estate is a great place for coffees and definitely worth multiple visit thanks to additional proper meals. Perhaps a minor drawback is the limited parking space in Karpal Singh Drive, which appears to be a norm since day one (not to mention after Pokemon GO was launched). The cafe opens daily from 12pm until 12am. The operation hour is further extended to 1am on Friday and Saturday.
| | |
| --- | --- |
| Place Name: | Arabica Estate Cafe |
| Cuisine: | Western |
| Address: | Automall, Persiaran Karpal Singh, Jelutong, 11600, Penang, Malaysia |
| Tel: | +604-296 9165 |
| Working Hour: | 12pm-12am (Sun-Thu), 12pm-1am (Fri-Sat) |
| Last Visit: | 20160806 |