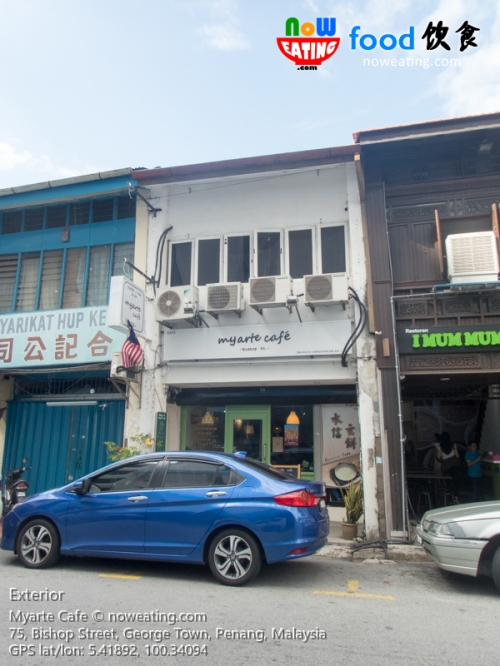 In George Town, Penang, if you fold one's eye and let him/her walk, there is a high chance that he/she will walk into a cafe (if yet to be hit by cars). Yes, cafes are everywhere in the heritage city. Myarte Cafe (GPS: 5.41882, 100.34094), however, is rather special for us.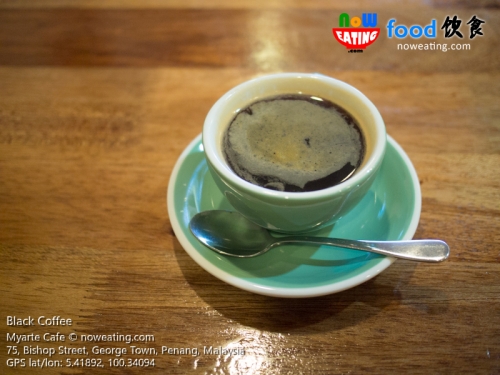 Located at Bishop Street adjoining busy financial district of Penang, Myarte Cafe is surprisingly a serene and cozy place for a sip of coffee. Trust us, getting a quiet cafe is strenuous in the tourist area. To prove it, we finished reading a book in Myarte Cafe and we could go on until 7pm if it was not due to overdue parking coupons.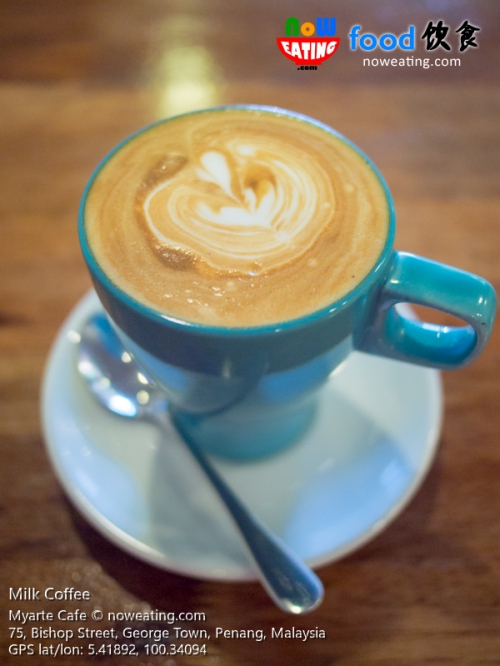 Similar to most cafes, Myarte Cafe offers gourmet coffee as well. Instead of offering different kind of espresso, only black coffee (RM8) and milk coffee (RM12 medium). No complaint from us as both of them are our favorite as long as gourmet coffee is concerned. Milk coffee is basically our beloved cappuccino by the way.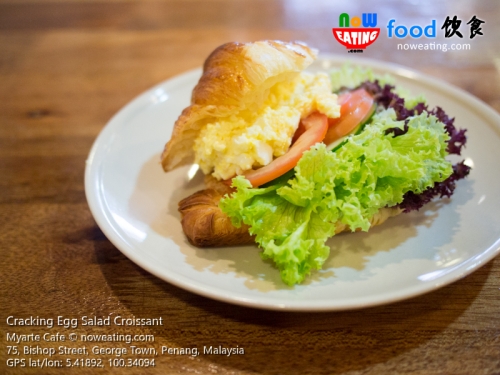 Opens as early at 9am, Myarte Cafe is also a good place for breakfast and brunch with one of their signatures being Cracking Egg Salad Croissant (vegetarian) (RM11) – Free-range Egg Mayo, Tomatoes and seasoning in all-butter croissant.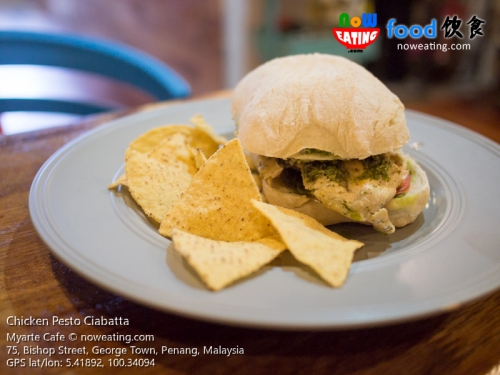 Chicken Pesto Ciabatta (RM18) – Chicken breast, Mozarella cheese, Pesto mayo and Tortilla chips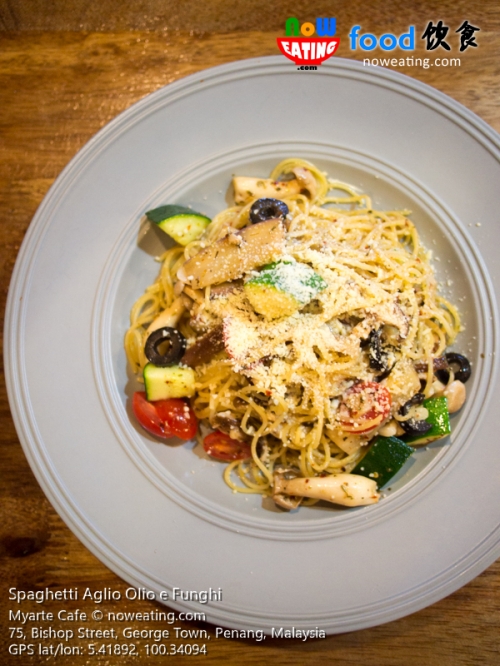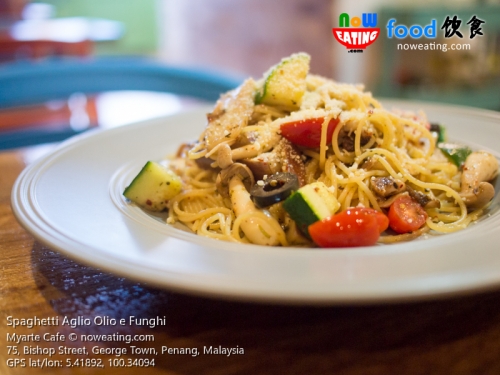 Spaghetti Aglio Olio e Funghi (vegetarian) (RM16) – Saute Swiss Brown and Shimeji mushroom with Chili flake, Zucchini, Cherry tomato, Eggplant and Black olive.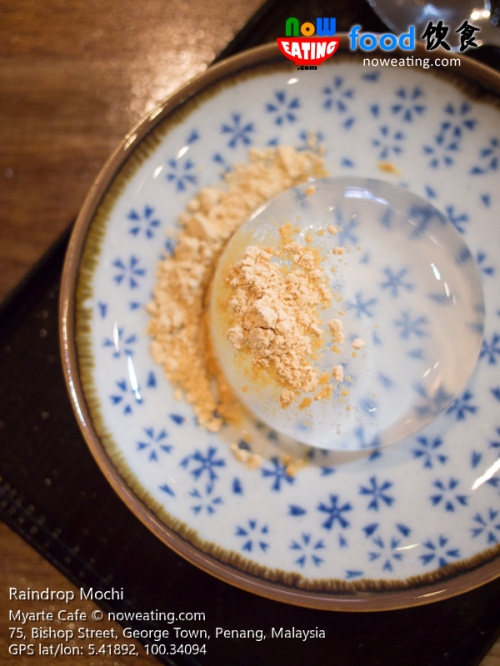 Perhaps things making Myarte Cafe stands up from others are their Wagashi series. As quoted from Wikipedia, Wagashi is traditional Japanese confections that are often served with tea and in Penang, you can only find them in some Japanese tea houses. Who would expect to find mouthwatering Japanese desserts such as Raindrop Mochi (RM6) here?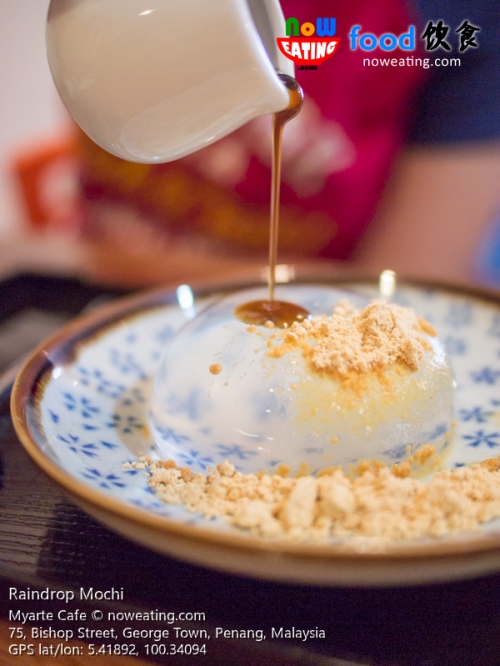 Raindrop Mochi is like our ordinary jelly except it has softer and bouncier textures to an extend that you may feel that the "raindrop" may explode the moment you put your teaspoon on it. It may taste plain on its own and the proper way to consume it is to mix it with Kinako and brown sugar. Trust us, the sweetness is heavenly good.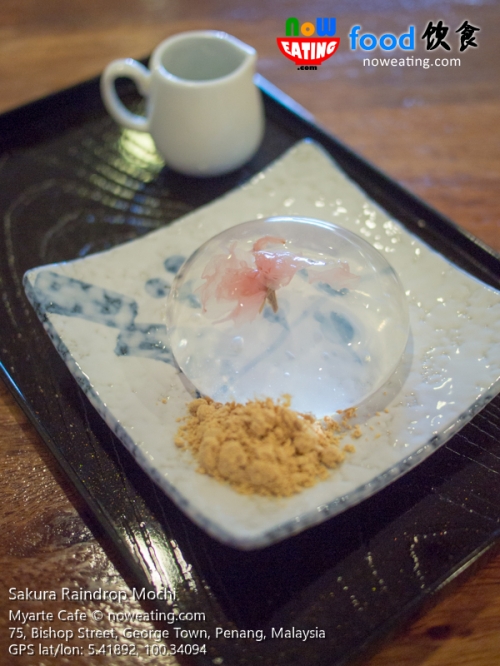 During our most recent visit, we sampled the improved version – Sakura Raindrop Mochi (RM10) with added cherry blossom flower. The flower is edible by the way and in fact, the essence is in there.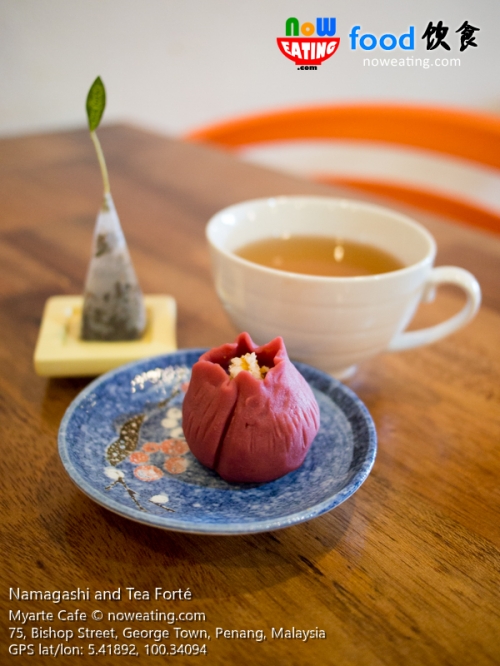 If you visiting the cafe on Friday, Saturday or Sunday, we strongly recommend you to try out Namagashi Set (RM25) served with Namagashi of the day and a cup of tea from Tea Forté. Namagashi is a freshly made Wagashi using natural ingredients and thus contains more moisture compared to other Wagashi. Our "Tulip" Namagashi looks like a mochi but the softness is unmatched to an extend that the soft skin and bean paste just melt in your mouth effortlessly.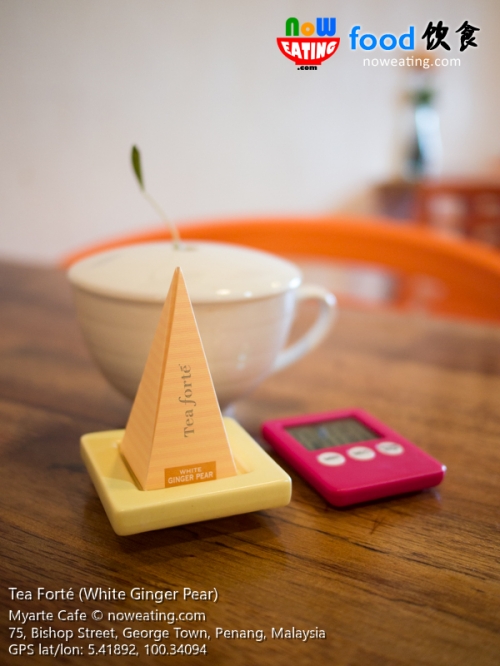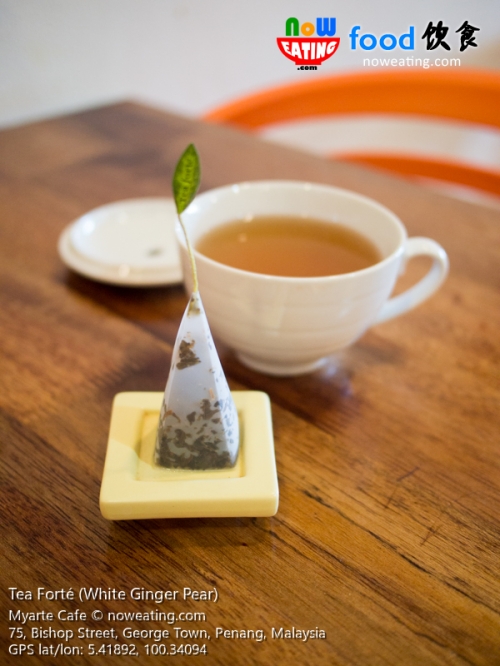 If you have been to Baskin Robin for some teas (for whatever reasons), Tea Forté should not be a stranger to you. Yes, Myarte Cafe uses the same product with its signature pyramid-shape tea bag. Each Namagashi Set comes with Tea Forté of your choice and for our case, we selected White Ginger Pear 白姜梨花茶 which is also available for RM15 individually. Similar to French press coffee, the timer is to measure time taken to infuse the tea (not for taking home).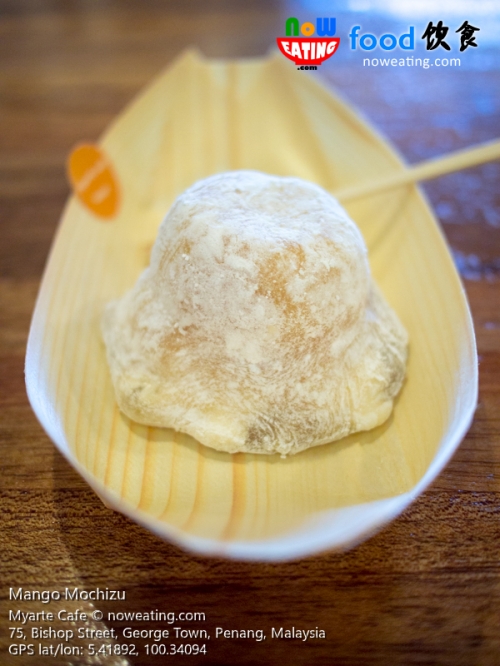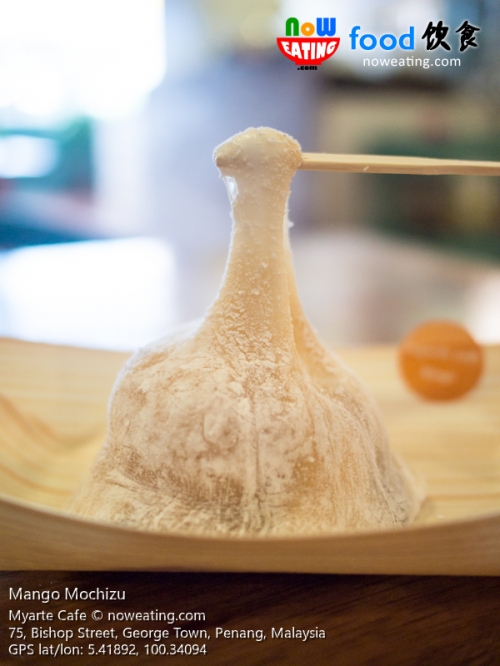 Mochizu (RM12.50) is probably the coolest and gooiest "mochi" we have ever encountered but it was fun to play eat with. We opted for Mango Mochizu and we were blown away on the fact that they were using fresh mango cubes as the filling. Note that this item is fairly new and may not available in the menu so be sure to ask your barista.
As a whole, Myarte Cafe is a great place in George Town for some Japanese desserts with your books or laptop thanks to it serene environment and friendly service.
Myarte Cafe
Address: 75, Bishop Street, George Town, Penang.
Business Hours: 9am-7pm (Mon-Sat), 9am-5pm (Sun)
Website: Facebook page
| | |
| --- | --- |
| Place Name: | Myarte Cafe |
| Cuisine: | Western, Japanese |
| Address: | 75, Bishop Street, George Town, Penang, Malaysia |
| Working Hour: | 9am-7pm (Mon-Sat), 9am-5pm (Sun) |
| Tax: | No GST. No service charge. |
| Last Visit: | 20180331 |