Those living in Malaysia and owning a car sure knew that RON97 fuel price had increased to RM2.70 last month. Even though yesterday PM announced that the price is dropped to RM2.55 (down 15 cents) starting today, it is still at expensive side. For food stores out there, it is common to see their price increase as well. I remember once Fillet O'Fish in McDonald is selling at RM4.00. Now, you can only enjoy it at RM4.00 in McSaver menu.]
It is not my first time visiting Swensen's at Queensbay Mall, Penang. Last Thursday, I visited them again after about a year. The menu is changed and there are more choices nowadays. The management in Queensbay's branch seems changed also. There is 20% discount if you present student card (from any school I believe) when ordering…. ala carte only (Fxxx!). I noticed that the price is kind of expensive. Anyway, I ordered set lunch, which is RM20.90++ and by adding RM2.00, you can add a soft drink or ice lemon tea. The set lunch comes with clam chowder soup and one single scoop ice cream. I order salmon and mushroom pasta and it tastes just okay. I hope it comes with oyster instead of mushroom.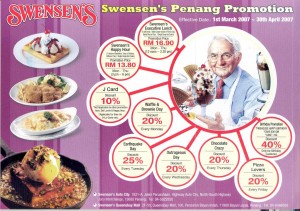 When I returned to my office, I found a brochure forwarded by my colleague more than one year ago. It is regarding Swensen's Promotion, and the set lunch that time is only RM16.90 including soft drink. It even has 10% discount for Jusco Card members. The later is no longer available now. Definitely, you can't get this price nowadays.
As a whole, Swensen's should make its price competitive with other retail chains, such as Baskin Robbin and Haagen-Dazs. An advantage for Swensen's is that it provide western food as well. If it is able to create more specialty on its western food, and create new marketing strategy on ice-cream business (such as opening an ice-cream counter outside of the restaurant or somewhere else), I see no reason why Swensen is unable to compete with Secret Recipe, Breeks, Baskin Robbin, Haagen-Dazs, etc.
Name: Swensen's
Address: 2F-50 2nd floor Queen's Bay Mall, Persiaran Bayan Indah, Sungai Nibong 11900, Pualu Pinang, Malaysia.
Tel: 04-6466593
Web: http://www.swensens.com.sg