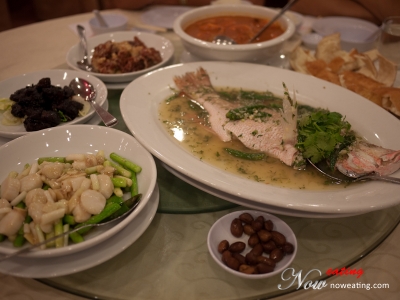 My relatives returned from Australia and would like to try seafood. From my memory, good seafood with reasonable price in Penang island usually don't have aircond. Most probably you will end up standing with left hand holding crab, right hand holding hammer, with a tuala on your shoulder to absorb sweat. After deep consideration, I ended up inviting them to Everyday Supreme located inside Red Rock Hotel.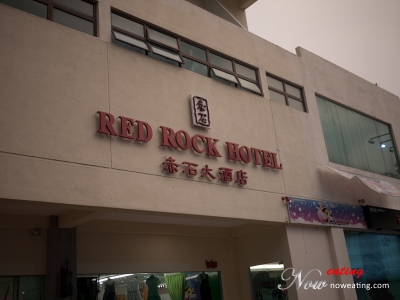 You can't miss this building as it is just at the corner of Abu Siti Lane. One thing I don't like is the parking nearby which was operated by illegal aunties… charged me RM1.00 even I parked at illegal lot (maybe I parked illegally so charged as a summon…. nevermind…).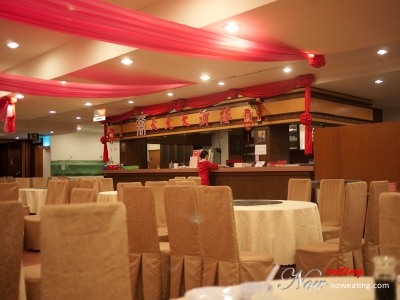 Getting back to business…. the restaurant is nicely decorated and can hold up to 50 tables. Good for wedding dinner.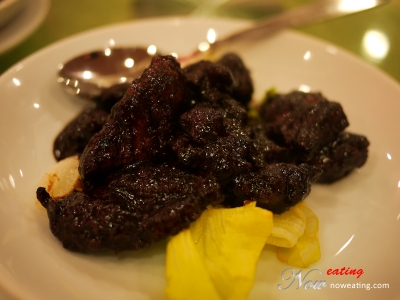 There are many items on the menu but sadly some specialties need to pre-order first. We just ordered some "ordinary" food that night, including this Grilled Black Pepper Pork (黑椒肉扒) (RM12.00). Looked dark and tasted spicy.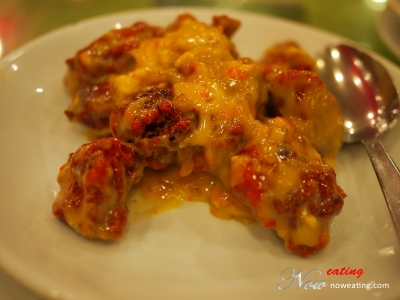 Next item was Fried Chicken with Mayonnaise and Nutmeg (川岛鸡) (RM12.00). Now, this is something special and tastes good.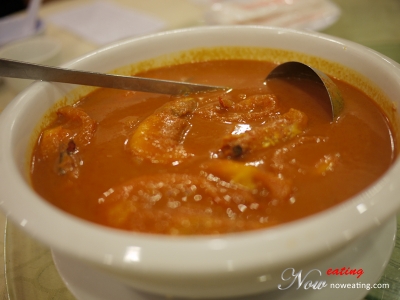 Curry Prawns with Bread (咖哩面包鲜虾) (RM45.00). It was too spicy for my type of liking but fortunately the sauce still hold its aroma. The prawns were fresh.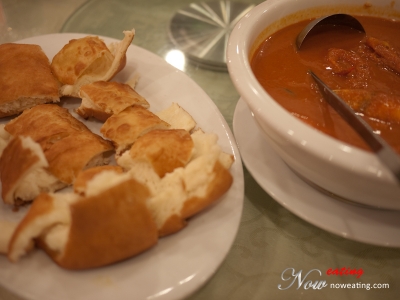 It came with a plate of bread for you to dip with the sauce.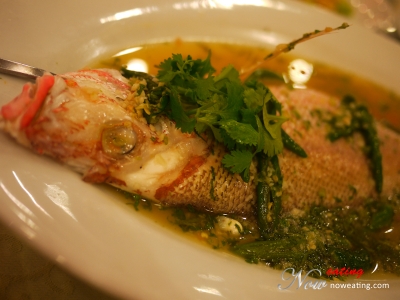 Red Snapper Steamed with Homemade Lime Sauce (酸柑蒸红狮) (RM28.00).  This was another spicy dish. Perhaps the spiciest I ever encountered compared to other restaurants with the same steaming style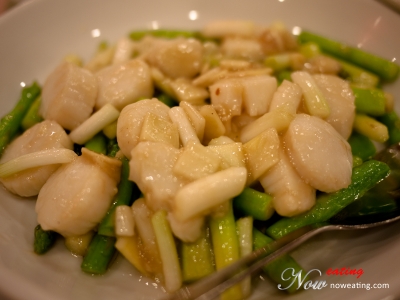 This was the most expensive dish of the day – Stir Fried Vegetables with Scallops (鲜带子芦笋) (RM50.00). The scallops were generous.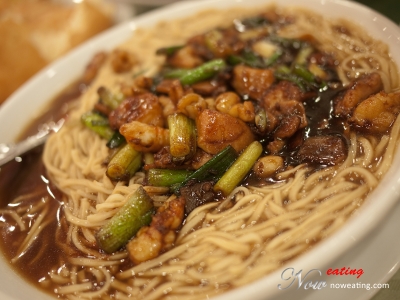 Some of us don't like to eat rice so we ordered Braised Noodle with Seafood (什锦伊面) (RM10.00). An ordinary noodle for me.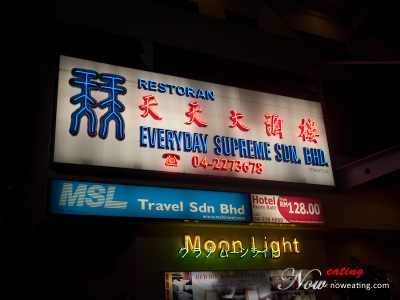 :sweat: The restaurant did offered some very delicious food (at very "delicious" price as well). Too bad they need to pre-order. Hope they have a website for me to pre-order. Sweating in this kind of high class restaurant usually only happened when you pay your bill…. but I already sweat when the food arrived. Perhaps not the best combination (too many spicy foods) I ordered.  Will visit again… if someone want to treat me.
| | |
| --- | --- |
| Place Name: | 天天大酒楼 Everyday Supreme Restaurant |
| Cuisine: | Chinese |
| Address: | 202-A, Macalister Road (Red Rock Hotel, 1st Floor), George Town, 10400, Penang, Malaysia |
| Tel: | 04-2270678, 2273678, 2274678. Fax: 04-2260678 |
| Email: | [email protected] |
| Tax: | Yes (5% Govt, 5% Serv) |
| Last Visit: | 20100331 |