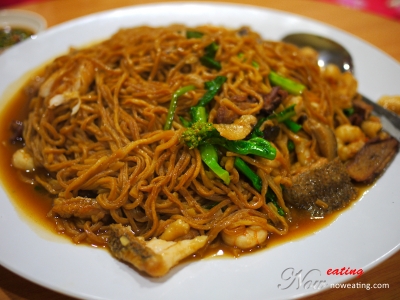 I had dinner with Criz and friends last night. One of my friends said, "Waco usually very efficient one! This restaurant's blog probably in his blog tonight." 😯 Dunno is teasing or what… Anyway, guess is time for me to get back to business – blogging. Today, I bring you to one of the Choo Char restaurant recommended by Criz – Chin Bee at Lebuh Noordin (a.k.a Ji Tiao Lor 二条路).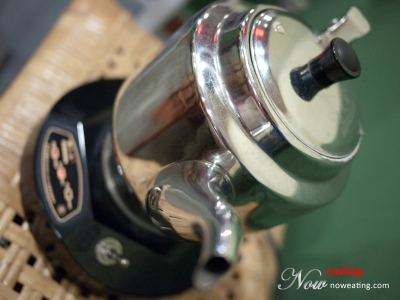 One thing special about this restaurant is that it has a teapot next to each table, allowing you to boil water if you are ordering tea. Having said that, this restaurant also selling various tea leaves.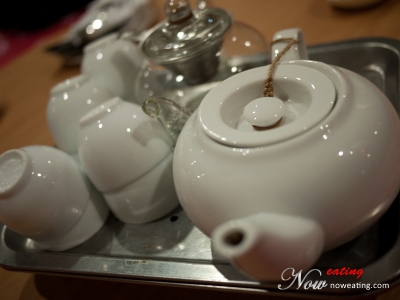 The teapot they gave us also quite special, in the sense that there was a filtering pot given as well.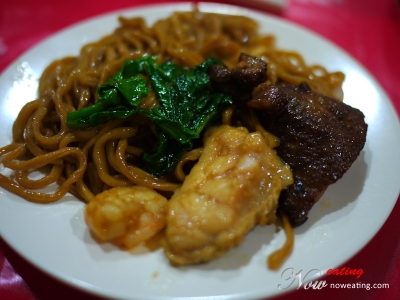 The first dish to arrive was this Duck Noodle (鸭面) (RM25.00). It looked like ordinary Yee Mee, but rich in topping, such as braised duck slices, mushroom, peeled prawns, and fish fillet to name a few. Not so salty. Tasted just perfect. It served 8 persons.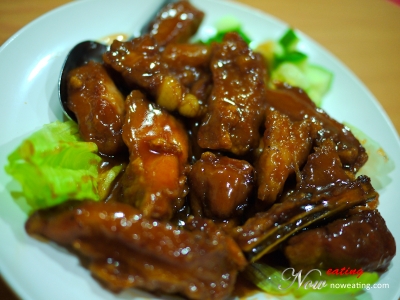 We almost full with the first dish. Here came Special Pork Ribs (家好骨) (RM20). This is another good dish of the night. The meat was tender. The ribs seemed like coated with a layer of honey. Tasted sweet and sour.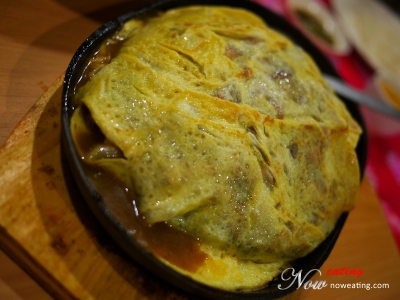 This reminded me of Hot Plate Veggie my family usually ordered at my hometown. This is called 铁板袈裟 (RM20).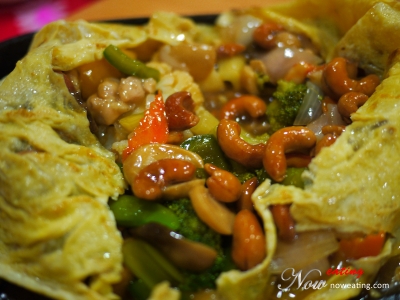 Yup, after opening the egg cover, I can see generous chestnuts, broccoli, green capsicum,  mushroom, chicken fillet, and etc. Not bad.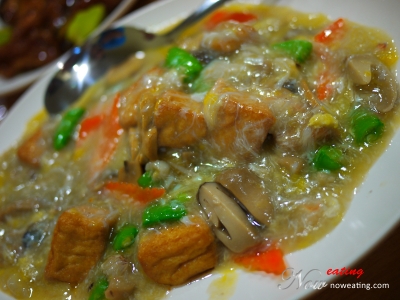 Money Toufu (金钱豆腐) (RM18) was just average.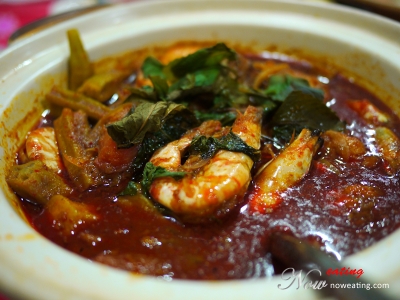 Another good dish was Curry Seafood 咖哩海鲜 (RM40). The spice was nicely mixed and minced. A bit spicy for me but should be okay for most of Penangites. It had fish fillets and prawns inside. Sadly there was no cuttlefish in it.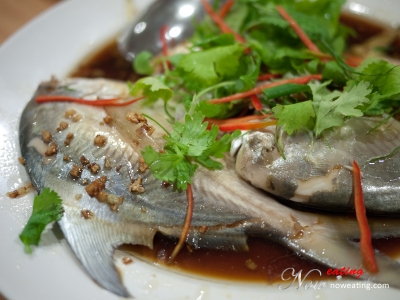 Finally, this is steamed pomfret (上汤浸斗底) (RM50). The pomfrets were fresh. It was like Cantonese style steam which use special soy sauce as the base soup.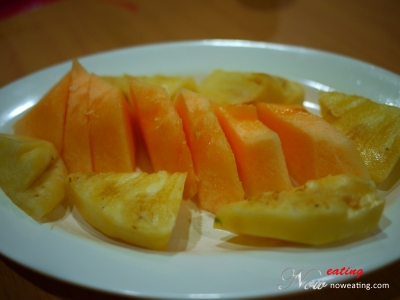 If lady boss happy, she will give you a plate of free fruit dessert.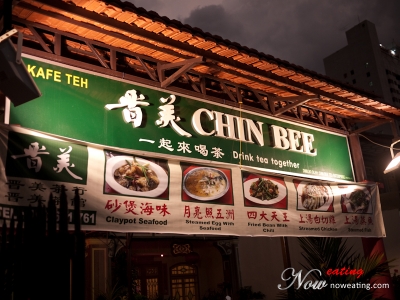 Even though this is just my first visit, I can nearly conclude that this should be a Choo Char restaurant to consider in town area. It serves some delicious home cook dishes. Perhaps an area of improvement was on the rice, in which it looks as small as sushi for me. Parking also can be a problem there during peak hour. Heard from my friend that there is another restaurant opposite of it but at slightly expensive price. Will visit both restaurants in future.
Place Name:
Chin Bee 晋美
Cuisine:
Chinese
Address:
124, Lebuh Noordin, George Town, 10300, Penang, Malaysia
Tel:
04-2611761 Fax: 04-2639967
Working Hour:
12:00pm - 2:30pm, 6:00pm - 9:30pm
Every alternative Wednesday will be closed
Tax:
No
Last Visit:
20100506