My friend's wedding is at PJ so I booked a budget hotel nearby (already :poor: so can't afford high class hotels). I reached PJ at 8:30am and I cannot check in until 1pm. At first, the hotel looked a bit scary (like for "open room" that kind). Surprisingly there are quite a number of convenient shops around…. including 7-11 (for you to buy rubbers), tires shop (in case your tires went missing), vegetarian shop (this looks good but I don't have a chance to try), and this Lammeeya… which looks kind of familiar…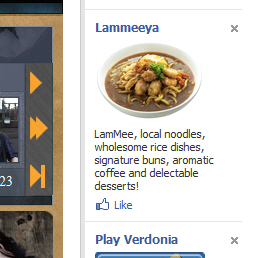 That's it! I saw its advertisement in Facebook! To kill time, I plan to have my second breakfast of the day here (My first breakfast is in Ipoh).
The restaurant was quite hygiene.
I ordered Original Lam Mee 原汁淋面 set (come with 1 soy sauce and 1 small bowl of "yong tau foo") (RM9.80). A not-so-cheap price tag… but let's see how's the noodle tasted like…
Obviously the addition of two fresh prawns was a welcoming sign. The noodle was similar to the one used in Tai Luk Mee 大碌面. The base soup is similar to Hokkien Char 福建炒.
The chili was just okay.
The soy bean drink was nice.
Here came the Yong Tau Foo, which consists of "satu batang and dua biji" (Fried Foo Cheok 炸腐竹 and 2 x meat balls 肉丸). The Fried Foo Cheok was fried on the spot but  personally I feel that the Yong Tau Foo was just average. Maybe I had tried some better ones in Penang with better price.
When paying for the bill, I asked for a name card, and I just found out that this is actually one of the 3 outlets. Other two are in One Utama and Lot 10 (Doh!). At first glance, this is another restaurant with repackaged local food. There are many varieties of Lam Mee in the menu. The food quality is good but they also could be too common for locals. I do hope to see more food other than noodle.
This is the location in case you wish to visit it.
:relief:
I was almost full. I still need to meet friend later and have lunch. Time to continue driving and venture around.
| | |
| --- | --- |
| Place Name: | Lammeya 淋面屋 |
| Cuisine: | Chinese |
| Address: | Section 8, H1 Jalan 8/1E, Petaling Jaya, Selangor, Malaysia |
| Tel: | 03-77259513 Fax: 03-77269513 |
| Email: | [email protected] (KC Lai - Operation Manager) |
| Tax: | No |
| Last Visit: | 19-June-2010 |