After the Plus One Shabu Shabu lunch, we continued walking and chatting. We had so much to talk until we need to find another place to sit down. We passed by a "stall" at the center in which we found quite interesting… a dining place specialized in chocolate. We were already full and I was sick of coffee so we decided to give Theobroma Chocolate Lounge a try.
We sat down on a nice sofa, open up the menu, and ordered this Ms Coco (Belgian Dark Chocolate). There are two type of cups. One is simply a cup (RM9.90) (the cup for you to drink, not to wear one), while another one consists of a mug on top of a candle (a.k.a Mug n' Warmer) (RM12.90). We knew that we will chit chat for quite a while so we order the later one. Furthermore, cold chocolate is not that nice anymore.
Now this dark chocolate is not bitter at all. It is rich in chocolate. Unlike Starbxxx in which their chocolate drink is more like Milo to me, the chocolate drink in Theobrama Chocolate Lounge is melted on the spot, and not made by powder. It is quite smooth and creamy. The two line of chocolates were made by purpose so that your girlfriend and you can "lick".
Sadly, the candle went off many times and we had to call the patron to lid it up again… until eventually we gave up.
:relief:
At first glance, if you like chocolate, you should try Theobroma Chocolate Lounge. Its high quality chocolate made this a place worth second visit. Sadly we were too full that day and could only order one drink. It is a good place for chit chat and for couple as well. Coincidentally, I was flipping through some old newspapers before selling them off for this month's meal, and found an article about it in Chinese. You may view it for more details.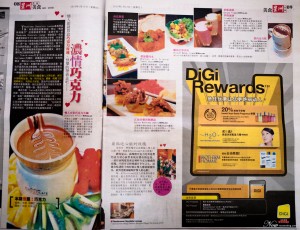 | | |
| --- | --- |
| Place Name: | Theobroma Chocolate Lounge |
| Cuisine: | Western |
| Address: | FK3, First Floor, 1, Lebuh Bandar Utama, Bandar Utama City Centre, Bandar Utama, Petaling Jaya, 47800, Selangor, Malaysia |
| Tel: | 0377250623 |
| Email: | [email protected] (Sylvia Kong - Operations Manager) |
| Website: | http://www.chocolatelounge.com.my |
| Tax: | Yes |
| Last Visit: | 19-Jun-2010 |