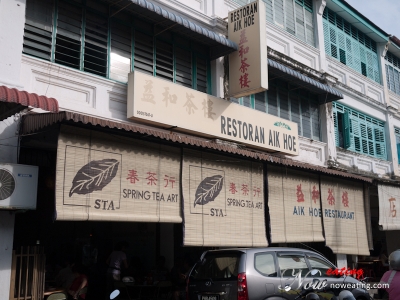 Usually I will go back hometown on Friday. If not, then I stay overnight in Penang and go for jogging the next morning. Recently got many :ghost: so if you asked me what I did on Saturday morning – dim sum. Getting bored of those commercialized dim sum restaurants, I searched around and found this old dim sum restaurant – Aik Hoe Restaurant 益和茶楼 (N05°25.076′, E100°20.166′) at Carnovon Street, George Town, Penang.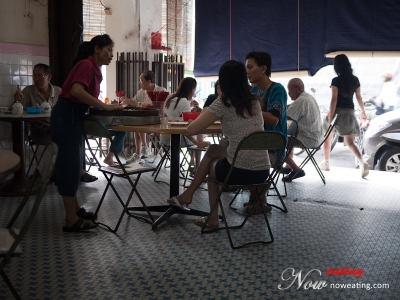 In newer restaurants, you usually will notice a order chit placed on table. In busy days, you need to select dim sum from a counter. Items you taken will be recorded on the order chit. After the meal, some even want you to pay at the counter. This is not the case in Aik Hoe, in which maids will bring a basket of dim sum to your table for you to select. This kind of style is nothing special in my hometown, but in Penang island, it is rare. The price is quite reasonable. Normal dim sum only costs RM1.60 while special one is only RM2.00.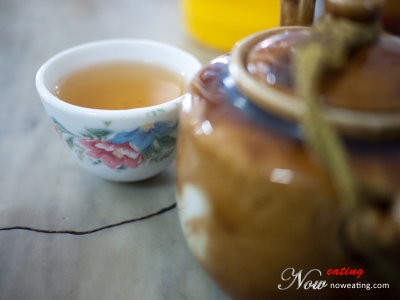 Tea is counted by headcount. I ordered Tie Guan Yin 铁观音 and it was only RM0.90 (versus RM1.00 in most restaurants).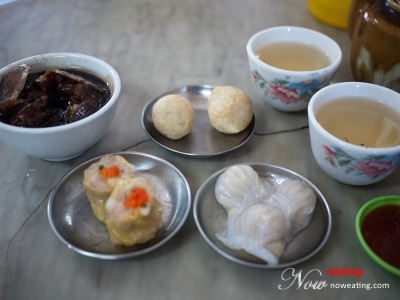 These were what I ordered that day. The har kao 虾饺, siew mai 烧卖, and fish balls 鱼丸 were fresh but slightly smaller. For me, they are okay considering the price.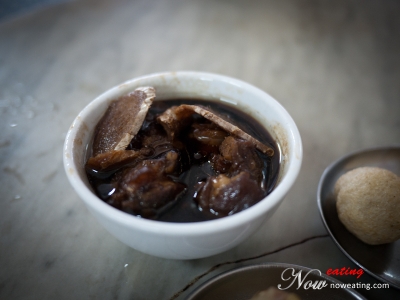 The tu kar chor 猪脚醋 was slightly disappointing – lack of vinegar taste (probably due to overcook) and lack of oily skin – which I like.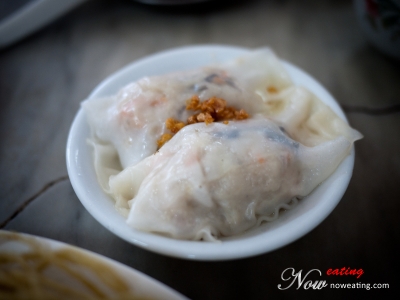 What is this? It consisted of minced pork wrapped in thick rice noodle. The taste was a bit dissapointing as it tasted more like the content of "Tua Bao" 大包… and was a bit sour. Yeww….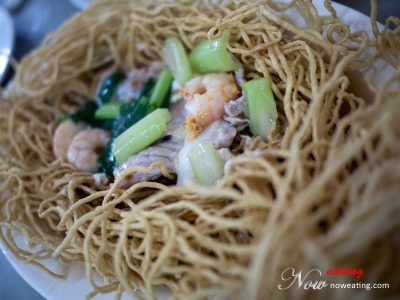 They do have some "choo char". I did order fried noodle 煎生面 (RM4.50) – my favorite. It came with fresh peeled prawns and fish fillets. I noticed some tables ordered Wan Tan Noodle as well. Will try that next time.
It was Saturday morning and surprising it was not crowded. Parking could be a bit far since there is a morning market there. It is hard to find dim sum shops cheaper than this in the island (except the colorful dim sum in night market, of course). The female owner was friendly. It is a daily gathering place for old folks. For them, it is their happiest moment of the day. For me, it is another restaurant I need to share with you.
:stress:
| | |
| --- | --- |
| Place Name: | Aik Hoe Restaurant 益和茶楼 |
| Cuisine: | Chinese |
| Address: | 6 & 8, Lebuh Carnovon, George Town, 10100, Penang, Malaysia |
| Tel: | 0164720971 |
| Tax: | No |
| Last Visit: | 20100814 |