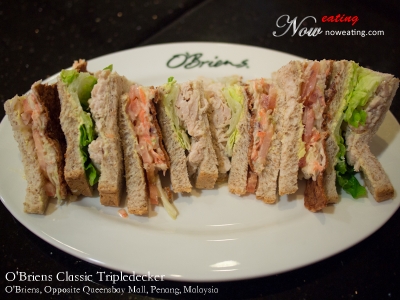 O'Briens Classic Tripledecker at a promotional price of RM10. It consists of 4 triple layer sandwich. Tasted good especially with the addition of chicken crisp in it… but wait… where is my chips?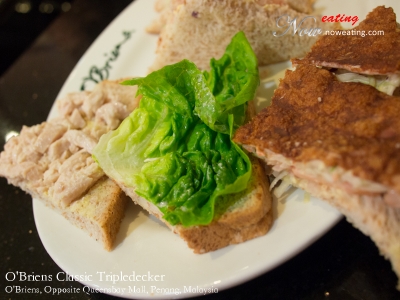 Here's the content, from left to right: chicken cubes, lettuces, chicken crisp and tomato/onion slices beneath it to name a few.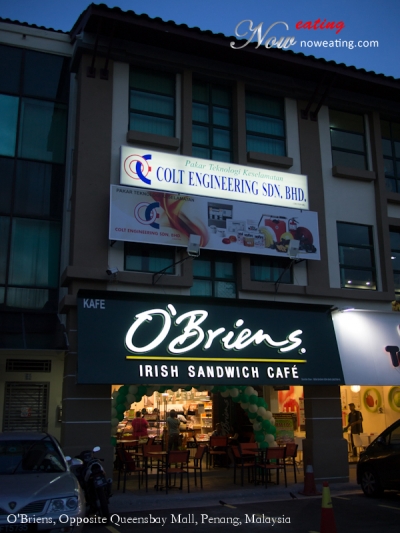 The new O'Briens Irish Sandwich Cafe is located opposite of Queensbay Mall. If not wrong, it is the same shop that Wolloomooloo previously opened… another cafe that I was not managed to review it before closing. Beside the shop is the Tutti Frutti yogurt ice cream shop.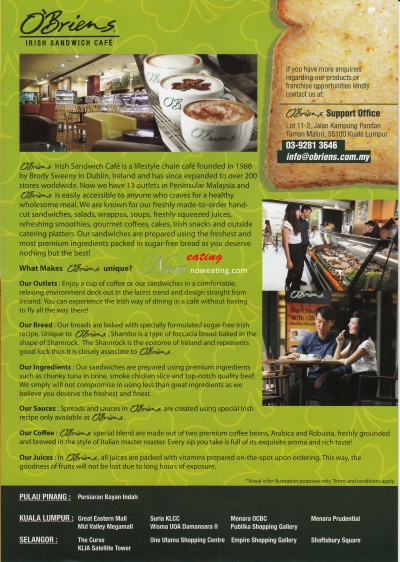 Here's an introduction to the O'Briens Irish Sandwich Cafe (click to enlarge, right-click and "Save Link As" to download).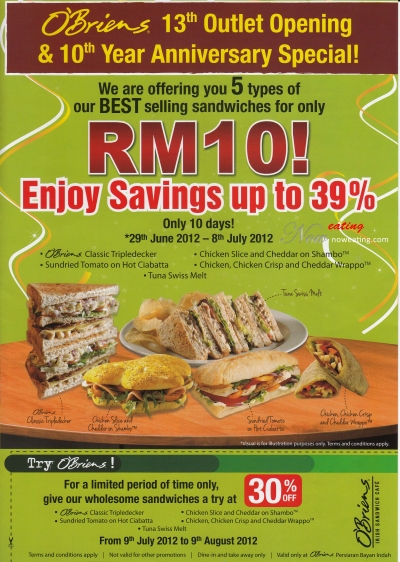 Until 8-July-2012, you can select one of the five types of sandwiches at the nett price of RM10. Don't worry if you missed the offer as for Penang's branch, you are still entitled for 30% off for these items until 9-August-2012. Not sure whether you can use the coupon here (right-click and "Save target as…") but you may grab it from O'Briens counter.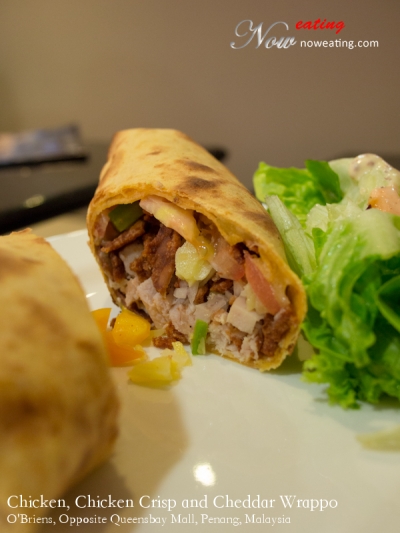 The operation was not as smooth as expected when we first visited it on 6-Jul (common issue for newly opened shops). First of all, some breads were not available and we ended up ordering Chicken, Chicken Crisp and Cheddar Wrappo as our second item.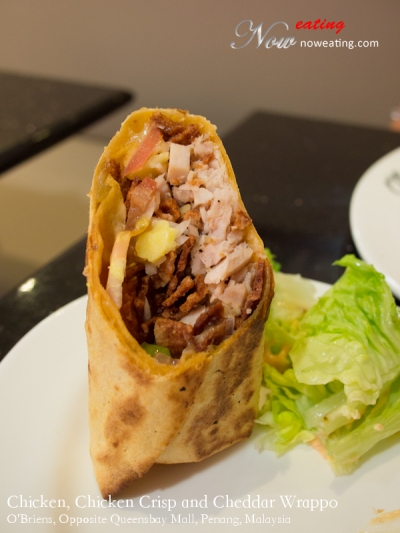 Fortunately the Wrappo tasted good. I like the chicken crisp (again) and cheddar cheese in it. The wrapper was lightly baked to crispy. The salad beside it? It was the thing I fight for when I found out that their chips were finished 🙁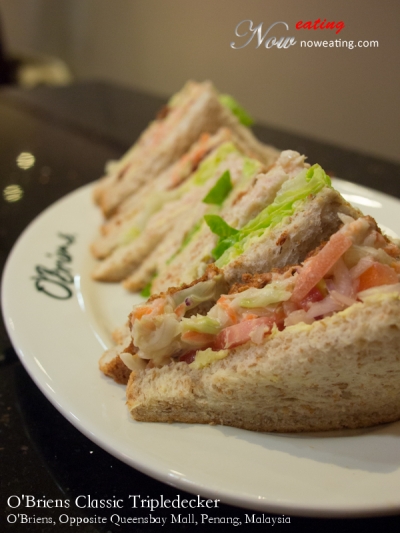 Secondly, as mentioned, each sandwich should come with chips. The chips, however, were finished that evening. The cafe "silently" gave us the sandwich without any chips. We didn't aware until another customer sitting next to us told us so. He visited this cafe four times since opening and was still ranting that evening on slow service, food mismatch, missing side dishes, cold soup, etc etc (I hope I won't deal business with him in future :p ) Also, based on pictures on the menu, the wheat bread should be lightly toasted as well instead of serving cold.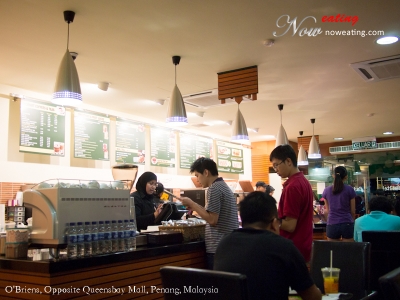 Thirdly, we were told to wait for 15-20 minutes before our number was called to collect the food. We were fairly okay with it since the cafe was full of customers that time. However, we noticed that the numbers were jumbled up when calling such as late comers got the food first.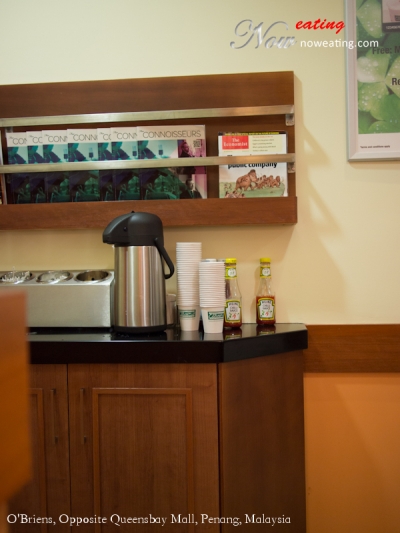 While waiting, you may grab a cup of water from the counter behind.
O'Briens serves breakfast as well. At first glance, they are pricey compared to competitors such as competitor S. In "S", you can grab a chicken/tuna/beef sandwich with vegetables of your choice, and a cup of coffee at RM6.30. Here, you get butter & jam toast and a cup of coffee at RM7.80…
If you would like to enjoy RM10 sandwich offer, go to O'Briens this weekend. Else, we recommend you to wait until the management has ironed out their processes. No doubt O'Briens is new healthy choice for Penangites but at the same time it is pricey compared to competitors.
| | |
| --- | --- |
| Place Name: | O'Briens Irish Sandwich Cafe |
| Cuisine: | Western |
| Address: | C-21-G, Persiaran Bayan Indah, Bayan Bay, Sungai Nibong, Bayan Lepas, 11900, Penang, Malaysia |
| Tel: | +604 611 1885 Fax: +604 644 9662 |
| Email: | [email protected] |
| Website: | www.obriens.com.my |
| Tax: | No |
| Last Visit: | 20120706 |