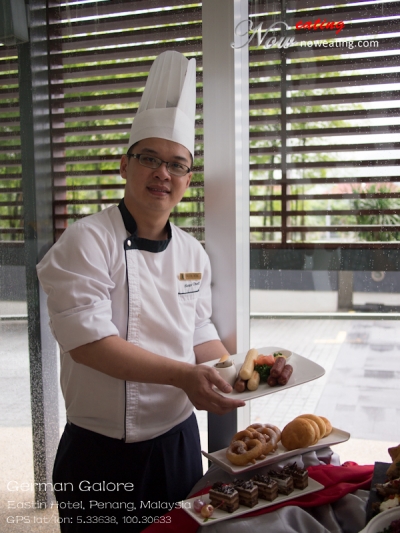 Eastin Hotel – a business hotel that Free Trade Zone (FTZ) managers like to allocate their foreign visitors here. Seriously I never visited their cafe, namely Swez Brasserie before. In October 2012, they are having new buffet theme called German Galore so we paid a visit to it (Chef above is Kelvin, the star of the day).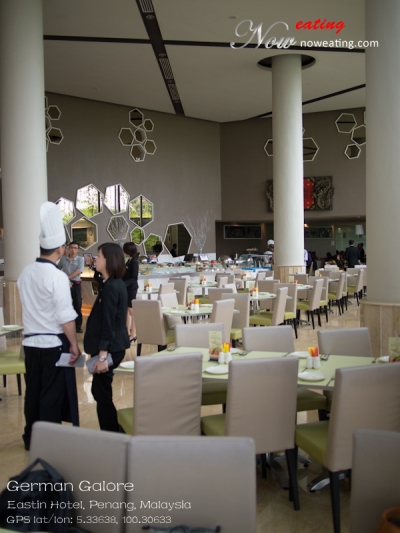 Swez Brasserie cafe is located at lobby area with spacious dining area. Most of the time you will see some smart executive officers dining there. Cheap labour like me who only can afford "3 for RM10" T-shirt should feel glad if nobody call me to collect plates or refill water in the restaurant.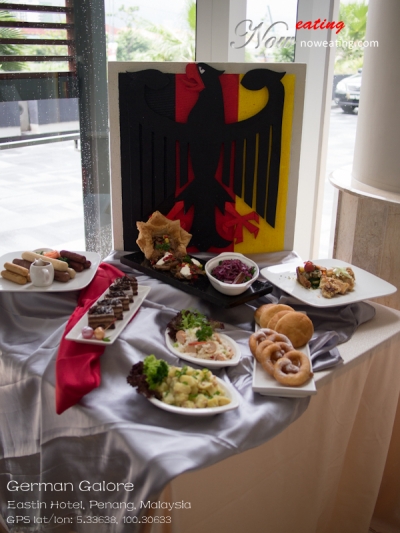 Picture above shows special dishes for October. Don't get a wrong idea that these are the only items available for October. There are still many tray items out there.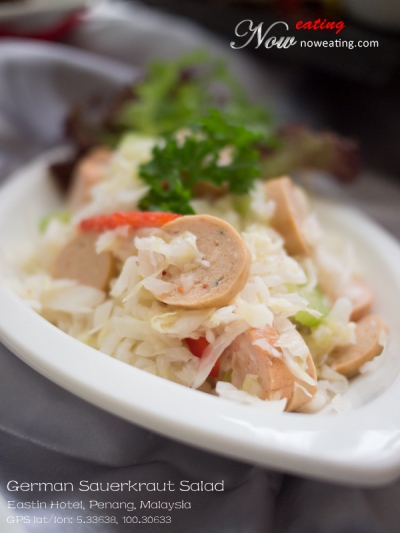 Let's begin with some appetizers. In German, sour vegetable is a must-have as their appetizers. We had German Sauerkraut Salad (德式酸菜沙拉) containing chicken sausage, cabbage, onion, and celery mixed with vinegar. Definitely appetizing.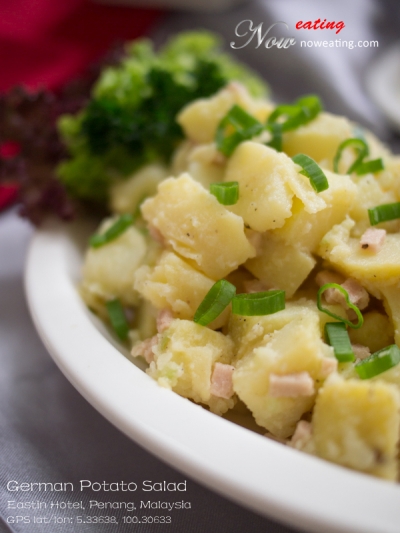 Another appetizer is German Potato Salad (德式马铃薯沙拉). It is similar to those potato salad found in western restaurants except this one with added turkey ham.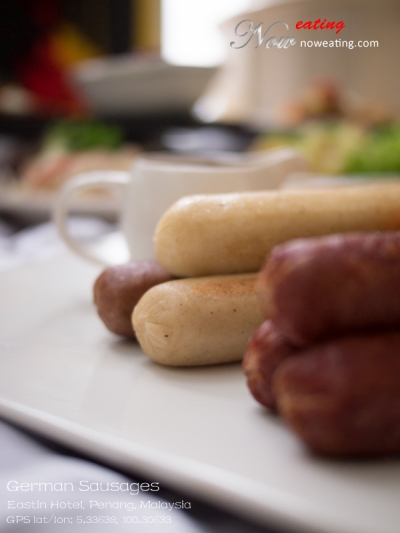 As long as German cuisine is concerned, first thing comes into my mind is giant sausages. Yes, they do have big sausages, even though not in gigantic size, including Chicken Footlong Bratwurst, Chicken Chorizo, and Beef sausage. Note that since Swez Brasserie is a Halal restaurant, you won't find any pork sausage or dish here.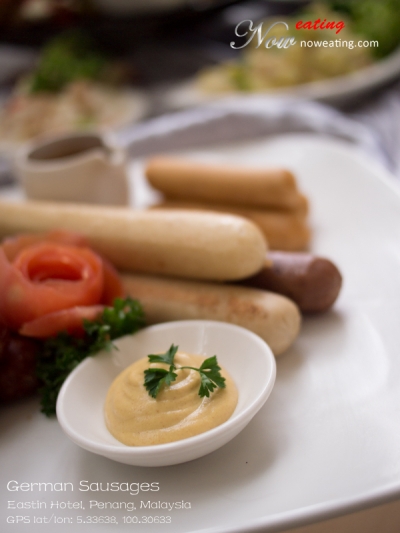 The sausages are best dipped with Dijon mustard provide, which tastes sour with very mild spiciness. Also available is onion sauce with added turkey ham. The choice is yours.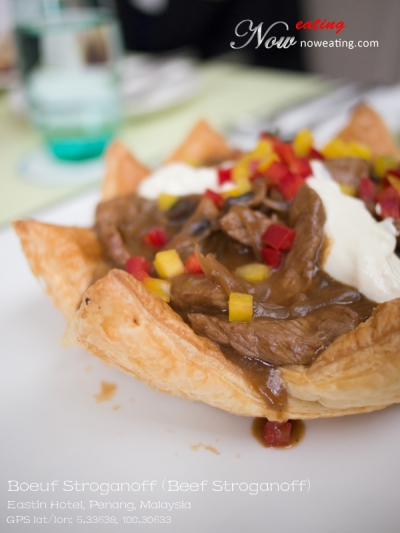 For those beef lovers, try their Boeuf Stroganoff (Beef Stroganoff 沙拉酱牛肉). The puff below is an edible decoration and best consumed with the gravy. If you are lucky enough you may still get it from the food tray.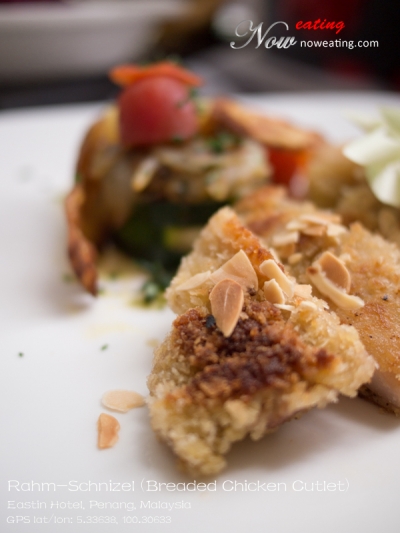 The best item of the day was perhaps Rahm-Schnizel (Breaded Chicken Cutlet 德式鸡排) made of bread crumb, cheese, and almond. The chicken was tender.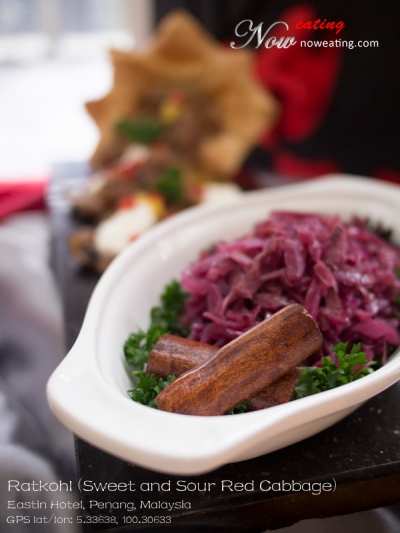 Ratkohl (Sweet and Sour Red Cabbage 酸甜红菜心) is another sour dish with added turkey bacon and Star anise. The reason I know it has Star anise added was because I accidentally bite it once. Eieewwww!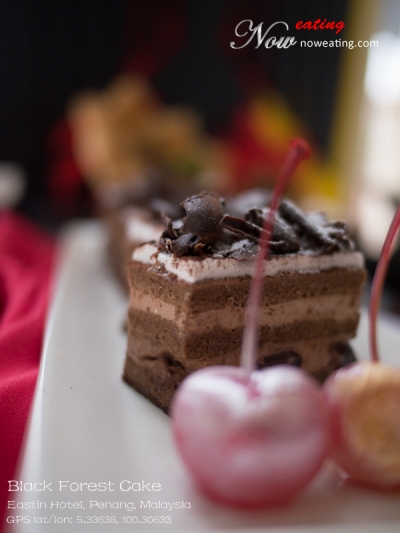 What does this Black Forest cake have to do with German cuisine? After googling, it appeared that Black Forest cake is originated from German. It is basically a multi-layered chocolate cake with whipped cream and cherries between each layer. In German, it has liquor (yummy!) added and the liquor is originated from a place called Black Forest (and hence Black Forest cake). Of course, it is not added in Eastin Hotel's version.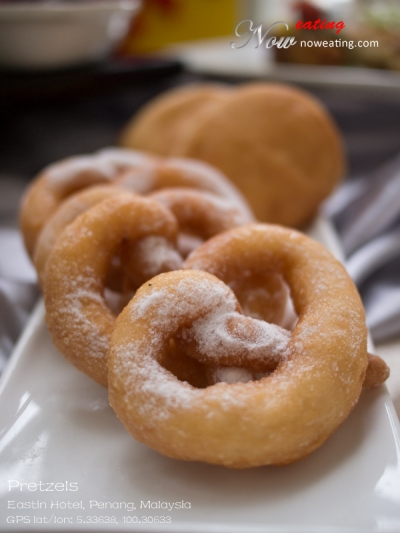 Pretzels (椒盐卷饼) is also known as "Berlin donut". It was kind of hard. Best dip with coffee first thing in the morning… I guess.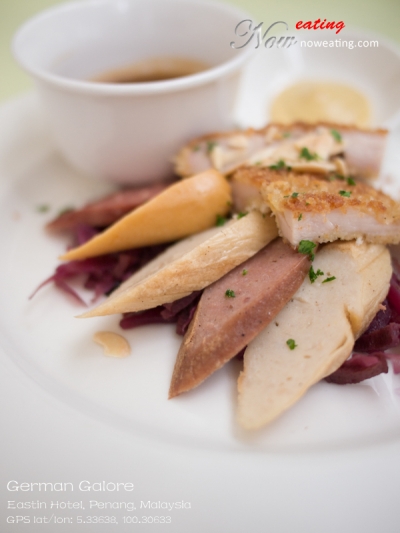 German Galore is available during lunch, hi-tea and dinner from 1 – 31 Oct 2012. If you are a sausage lover, you should try this. Of course, there are other tray items other than those mentioned here. The only drawback is that no pork and beer available or else this can be an October Feast!
Lunch: Monday – Friday
12.00 pm – 2.30 pm
RM48++ (adult) RM24++ (child)
Hi-Tea: Saturday, Sunday & Public Holidays
12.00 pm – 3.00 pm
RM55++ (adult) RM28++ (child)
Hi-Tea: Festive Occasions
12.00 pm – 3.00 pm
RM68++ (adult) RM34++ (child)
Semi Buffet Dinner: Monday – Thursday
6.30 pm – 10.00 pm
From RM48++ per person
October Credit Card Promotions
MAYBANKARD, VISA, CIMB and UOB card members, guests can enjoy 15% discount for German Galore Semi Buffet Dinner (Monday to Thursday) and Weekend Buffet Dinner (Friday to Sunday) from 6.30pm – 10.00pm.
| | |
| --- | --- |
| Place Name: | Swez Brasserie @ Eastin Hotel |
| Cuisine: | German |
| Address: | 1, Solok Bayan Indah, Queensbay, Bayan Lepas, 11900, Penang, Malaysia |
| Tel: | +604-612 1128 (Swez Brasserie) |
| Website: | www.eastin.com |
| Last Visit: | 25-Sep-2012 |