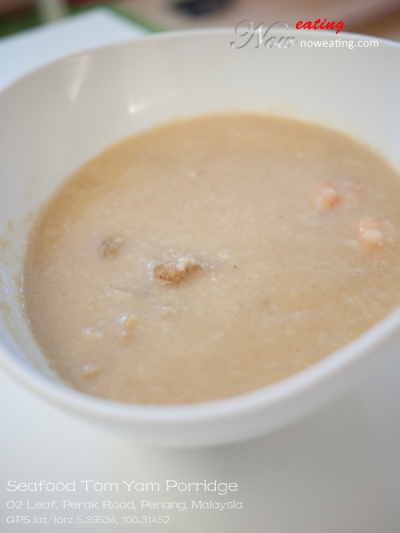 What's this? A bowl of oat meal? Gandum dessert? Vomited stuff? As you can see from the picture, this is Seafood Tom Yam Porridge (RM8.90), one of the hazardous food we ordered in O2 Leaf Cafe at Perak Road, Penang.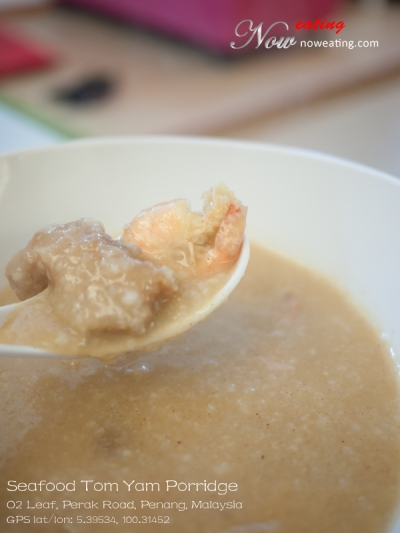 While the seafood was acceptable, there was no Tom Yam taste at all for this Tom Yam Porridge. It was just plain spicy.  I wondered what kind of Tom Yam paste they used.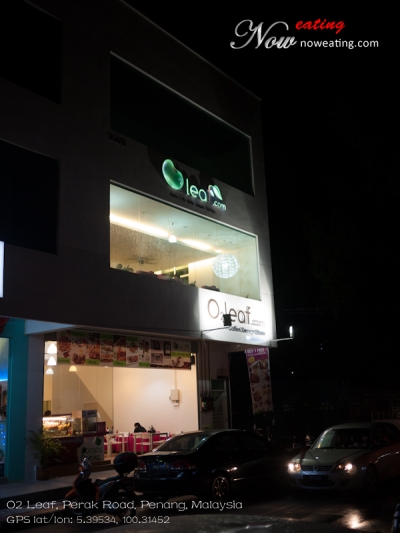 I first knew of O2 Leaf cafe from a newspaper cut. According to the newspaper, it was opened by a pretty IT engineer. A uniqueness of this cafe is that the ordering can be made via iPad app developed by nothing more than the owner herself. My first thought was that it will be like Sakae Sushi, in which each table is installed with an iPad and you can flip through its menu and place order from there.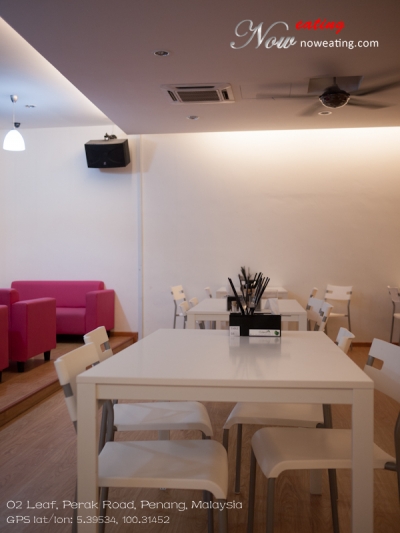 Sadly, there was no iPad at all on any table and we were provided with hardcopy menu with an ordering chit. When it was time to pay for our bill, we noticed there were a row of iPad laying next to the counter. Feeling curious, I asked:
Me, "Don't you suppose to have iPad?"
Cashier, "Huh? They didn't provide one to you?"
:noword: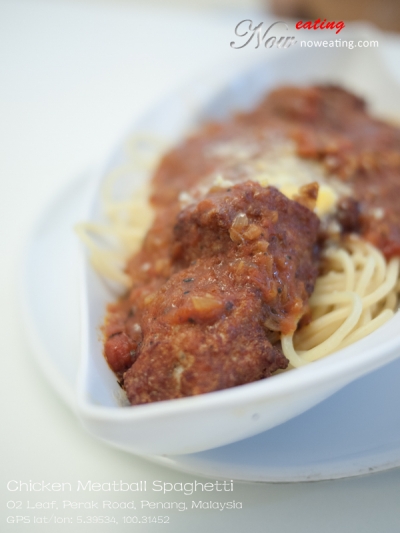 Anyway, we placed order using order chit. It was a long wait even though there are only three tables that time. Our next item was Chicken Meatball Spaghetti (RM12.90). According to the menu, the chicken meatball was their signature dish. Again, it was too dry, as it was kept in refrigerator for quite some times. Even Secret Recipe's one is better than it.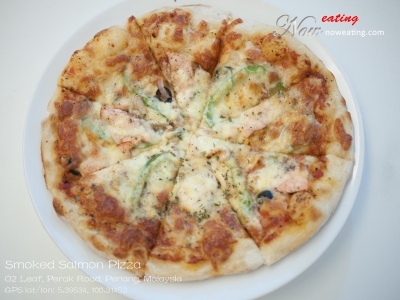 One of the items in the menu caught our attention – Smoked Salmon Pizza (RM20.90 – Regular). Too bad, it was another disappointing item.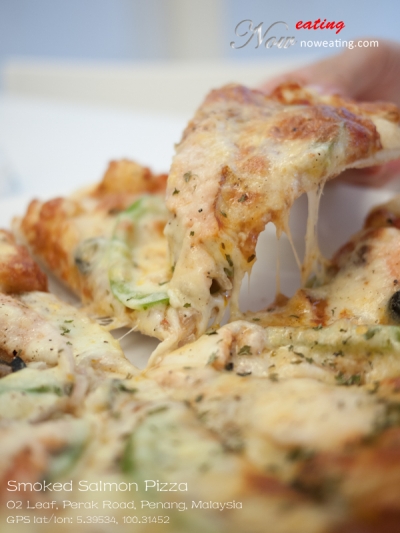 The pizza tasted plain in general, probably due to the use of normal cheese and lack of sweetness from the salmon. Also, the picture in the menu was misleading (e.g. looks much nicer with thin crust).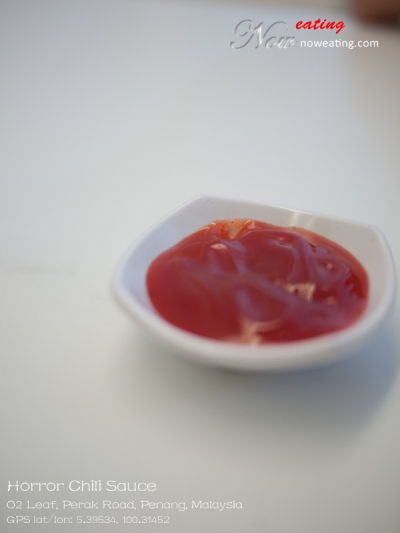 Since it was so plain, I asked for some chilli sauce. I was expecting at least a bottle of Maggi chilli sauce on my table. Who know…. (see picture above). Worse, it tasted nothing like a chilli sauce even though they are selling Tabasco sauce downstairs. WHY THERE IS NOTHING RIGHT ON MY FIRST VISIT?
:turntable: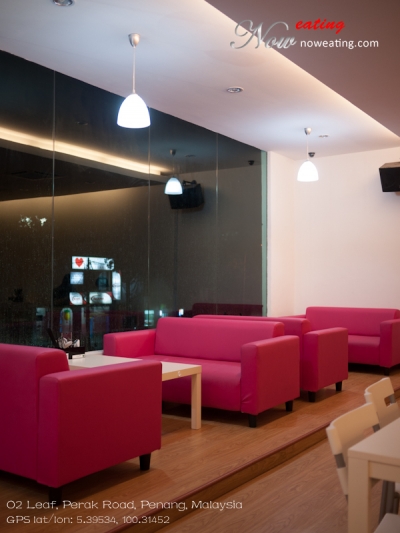 Even though O2 Leaf has nice environment and many choices in the menu, the slow service, substandard food, poor BGM selection (mostly Jay Chou's), and "there-are-iPads-but-I-won't-give-you" attitude make it nothing more than an average cafe. If you really like to visit it, you may go "like" their FB page and get a free drink, or cut down the RM 5 voucher below. I wish you bon appetit.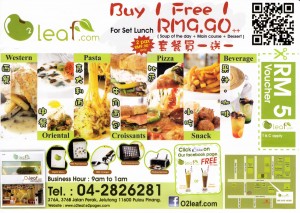 | | |
| --- | --- |
| Place Name: | O2 Leaf |
| Cuisine: | Western, Chinese |
| Address: | 376A, 376B, Jalan Perak, Jelutong, 11600, Penang, Malaysia |
| Tel: | +604-2826281 |
| Website: | http://www.o2leaf.e2pages.com |
| Working Hour: | 9am - 1am |
| Last Visit: | 20121110 |