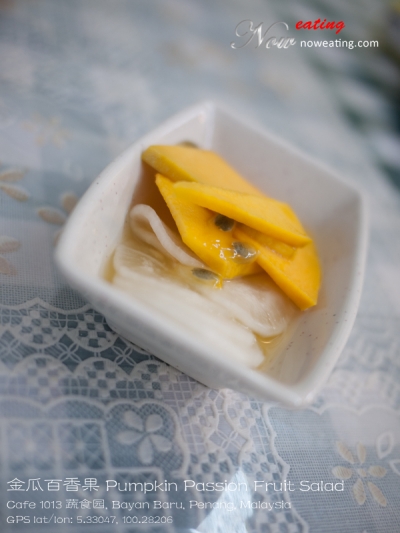 Yummy! Pumpkin Passion Fruit Salad. They are pickled in sugar + lime juice, making this a really good appetizer. It came along with set lunch we ordered in Cafe 1013 Vegetarian Restaurant at Bayan Baru.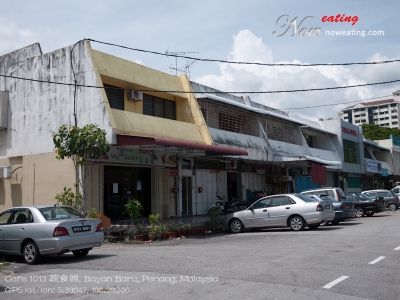 The shop is located opposite of PISA (or soon to be called SPICE 失败… I wonder who gave this name) but to get there, it is a bit difficult now thanks to some morons who created a traffic island between PISA and Sungai Nibong Kecil resident area. You can no longer turn right if you coming from D-Piazza/PDC direction (unless you make an illegal turn, which I usually did) :evilsmile:
UPDATE 14-Jul-2013: Turning to all directions is now possible at the traffic island.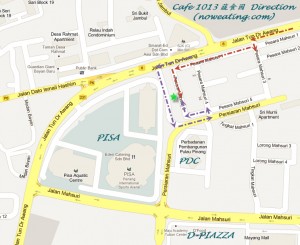 Best way is to come from Bukit Jambul and turn left into resident area before traffic light to EQ Hotel. An alternate way is to turn left left before PISA. Refer to the map I created above.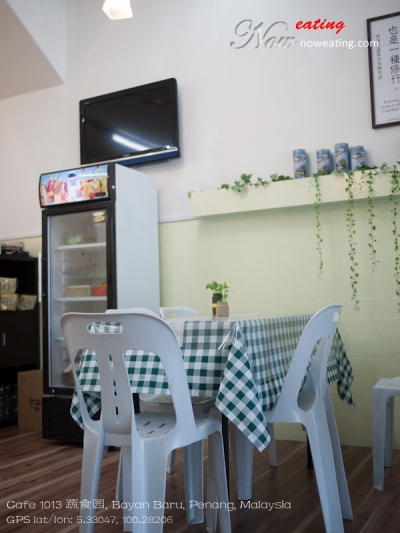 Even though outside looks a bit old, the interior is decorated in simple yet delighted way with Namo Amitabha music in the background :sweat: Why they named their cafe as 1013 is beyond my knowledge (maybe they like 101.3 FM radio).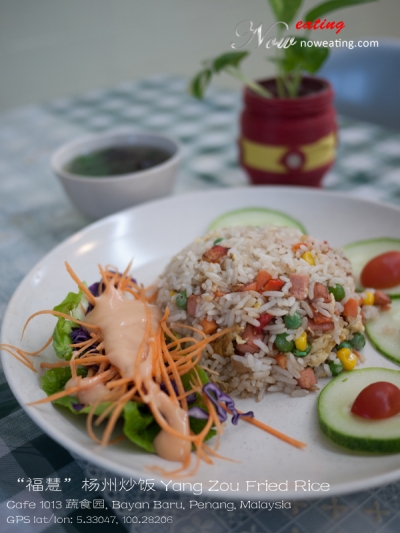 They have a very simple menu – fried rice, porridge, and noodle. Fried rice comes with soup of the day and the Pumpkin Passion Fruit appetizer. Each set priced at RM6.50. Fried rice comes in 6 varieties – Yang Zou 扬州, Balacan 马来煎, Tomyam 东炎, Chinese Toon 香椿, pineapple 黄梨, and salted fish 咸鱼.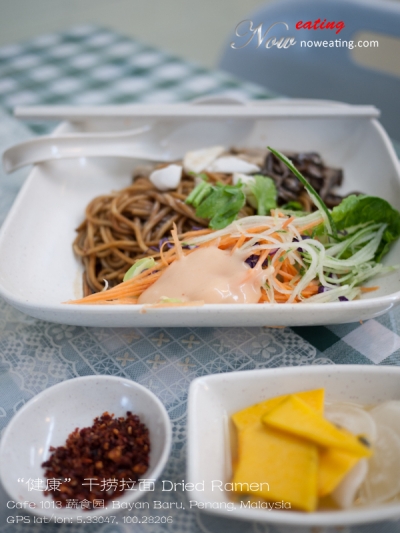 As for the noodles, there are two type of noodles – ramen and udon. We ordered Dried Ramen (RM6.50) came with the Pumpkin Passion Fruit appetizer. Tasted good. Not too salty, not too oily.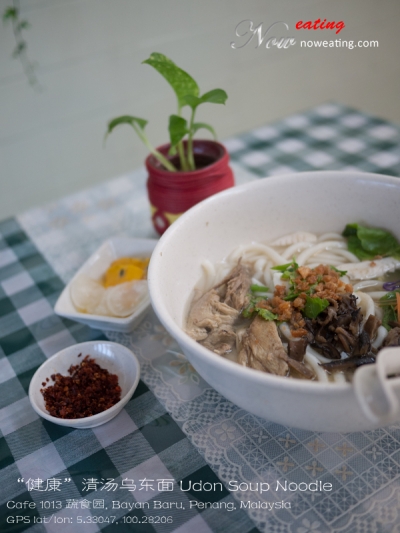 The food portion is a bit small for two of us so we ended up ordering another item – Udon Soup Noodle (RM6.50). The soup tasted like Koay Teow Th'ng with added "fake" chicken slices which tasted almost like non-vegetarian meat. Of course, it came with Pumpkin Passion Fruit appetizer as well.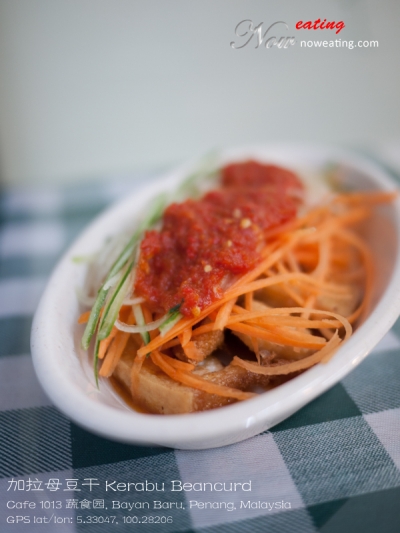 Hungry ghosts asked whether they have any snack and they did have Kerabu Beancurd (RM2.00). A bit spicy but the bean curds were fried to golden crispy.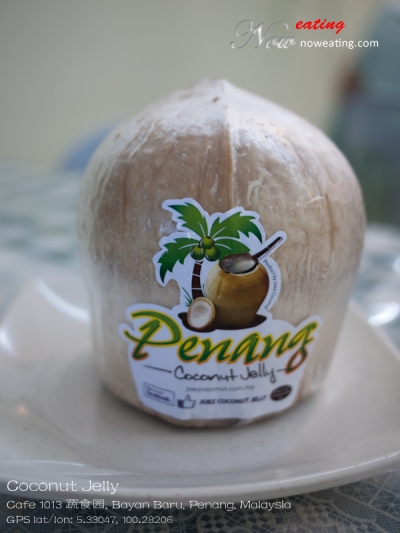 When being asked for drinks, we were surprised that they did have Coconut Jelly (RM5.00), in which the only place I know selling it in Penang island is Joez at town area. Thinking of this could be their home-made coconut jelly, we ordered one. It turned out to be… the exact Joez coconut jelly.
:dissapoint: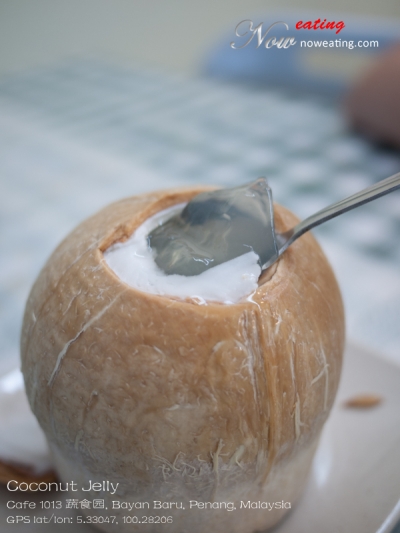 Well, at least I no need to travel to town for it. The Joez coconut jelly is always nice to eat. The owner kept on recommend us their blended lemon drink. Too bad we just had honey lemon early that morning so we opted for this coconut jelly.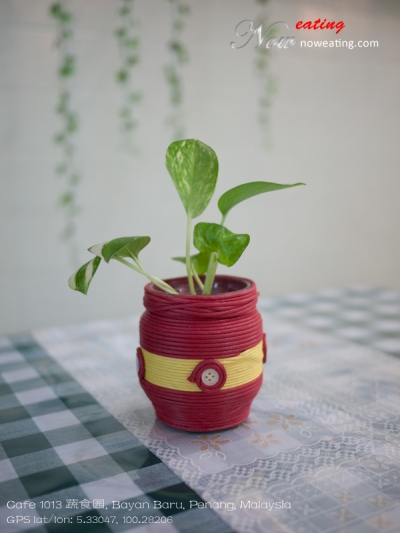 With addition of Cafe 1013, Bayan Baru workers now have a new place for healthy food. The menu is limited at the moment but it can be a good way to begin business with. Pumpkin Passion Fruit appetizer is a must try.
| | |
| --- | --- |
| Place Name: | Cafe 1013 蔬食园 |
| Cuisine: | Chinese, Vegetarian |
| Address: | 15, Persara Mahsuri 5, Sungai Nibong Kecil, Bayan Lepas, 11900, Penang, Malaysia |
| Tel: | +60164440110 |
| Email: | [email protected] |
| Website: | https://www.facebook.com/pages/Cafe-1013-蔬食园/ |
| Working Hour: | Mon-Sat: 11.30am -2.30pm, 5.30pm- 8pm |
| Tax: | No |
| Last Visit: | 20121110 |