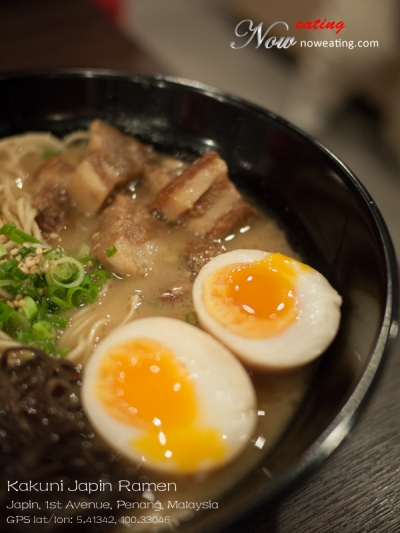 Kakuni Japin Ramen – stew pork & rich soup with noodle (RM16.80), a signature dish in Japin Restaurant. The soup was boiled with big bones for 72 hours before serving (and hence the "rich" soup). This is just one of specialities in Japin restaurant.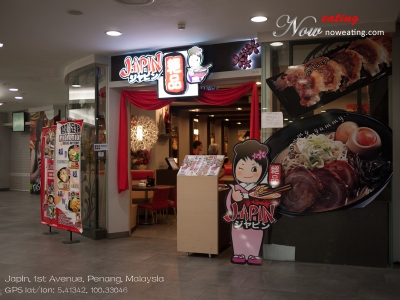 Queensbay Mall frequent shoppers should know about this restaurant as there is a branch in it. I was surprised when seeing many customers patronage the place even during weekdays. After surveying, it appeared that most people like the price and the food there. A new branch in 1st Avenue was opened in May-1-2012 at lower ground, just in front of Kim Gary. Not many shops opened at LG, though.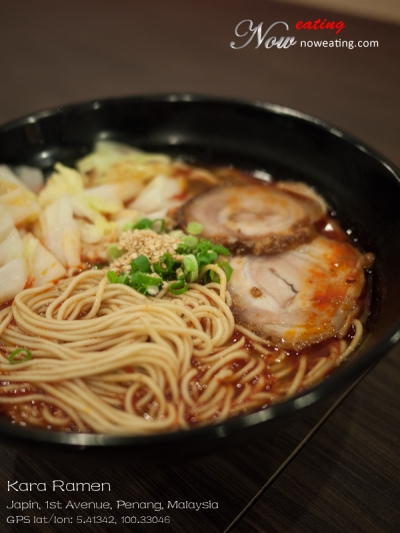 If you prefer something hot, you may try their Kara Ramen (香辣拉面/Spicy Soup with Noodle) at RM13.80. The soup has a fragrant of spices.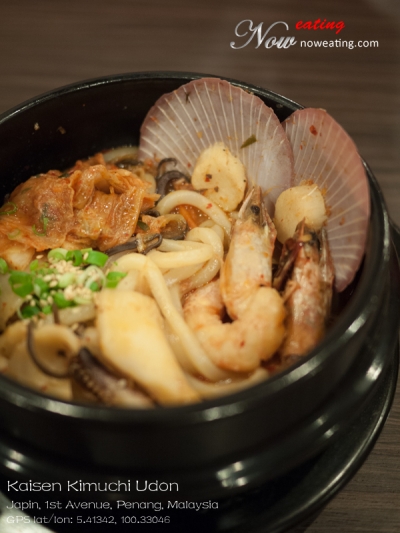 If ramen is not your type, you may try their Udon series. Basically the menu is almost the same, except one is ramen while another one is udon. For instance, this is Kaisen Kimuchi Udon (海鲜泡菜乌冬面/Seafood & Kimuchi Soup with Udon Noodle) – RM20.30.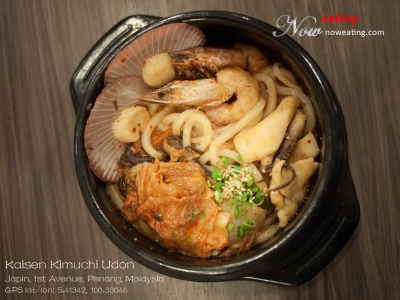 It consists of scallops, prawns, squids, and Kimuchi (famous Korean fermented cabbage). Personally I prefer Kara Ramen than this one as this one is just plain spicy.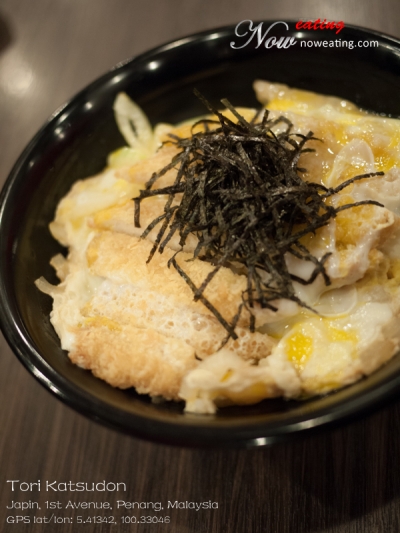 Craving for rice? No problem. Tori Katsudon (炸鸡扒盖饭/Fried Chicken Chop & Egg with Rice) (RM12.80) is one of the examples. It looks like a normal bowl of rice topped with fried egg but in fact it is juicy with sweet sauce penetrating the rice. Did I mention that it is Japanese rice?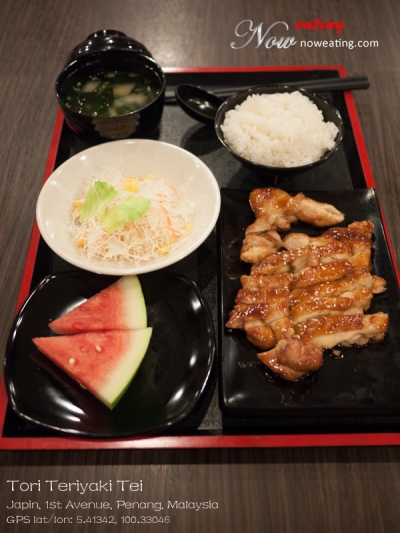 I visited Japin couple of times and I usually ordered set meal which usually come with main course of your choice, appetiser,  miso soup, and fruit dessert. Above is Tori Teriyaki Tei,aka Teriyaki Chicken Set (RM17.80). The tender chicken is coated with barley sugar.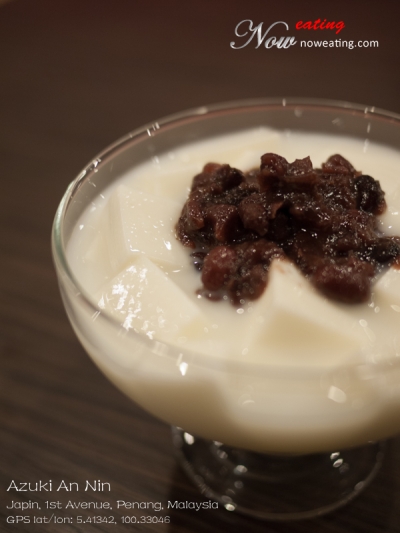 Azuki-An-Nin (甜豆杏仁/Almonds Soup with Red Bean) (RM6.80) looks like Tau Fu Hua from the menu. Beware that it has a mild Chinese Almond taste, just like our almond drink in good old day. If you can accept almond taste, this is definitely a dessert to recommend.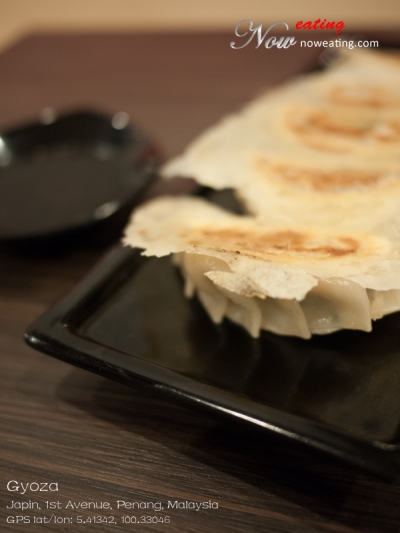 Gyoza (日式饺子/Fried Dumpling) (RM6.80) is a side dish you may order. Best consumed when hot and best dipped with vinegar provided.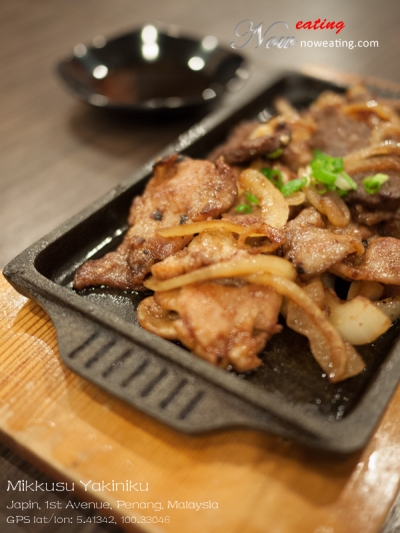 Mikkusu Yakiniku (日式酱烧/BBQ Sauce Fried Mixed Meat) (RM13.80) is too good to be put under "Side Dishes" area. Mixed Meat means it consists of pork, chicken, and beef. You can mix-and-match among them (e.g. pork+chicken only if you cannot take beef).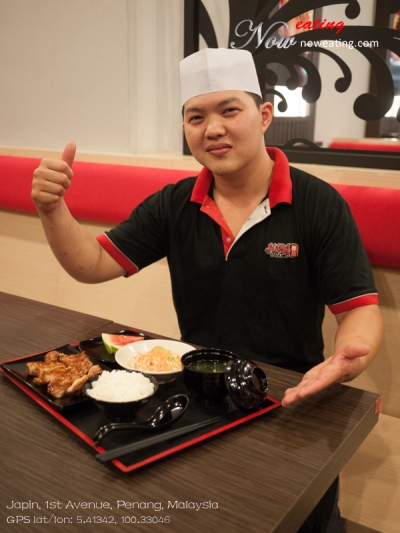 Special thanks to Japin and its chef. Looks at his hand muscle, it means business.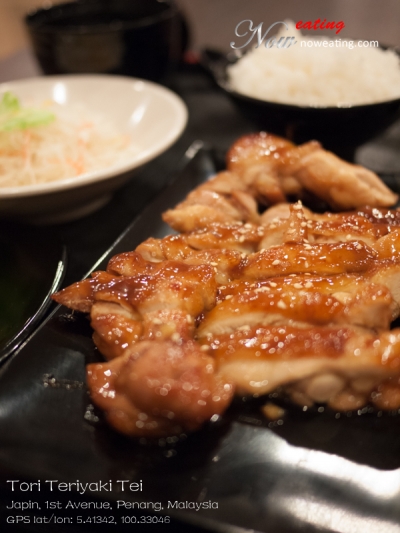 My first visit to Japin was back in year 2008, in which there is still a branch in Island Plaza. Until now, I am still patronizing their place. Japanese ramen is no stranger in Malaysia nowadays but for Japin, consistency and affordability make Japin definitely worth multiple visit.
| | |
| --- | --- |
| Place Name: | Japin Restaurant |
| Cuisine: | Japanese |
| Address: | LG-10, 1st Avenue, 182, Jalan Magazine, Georgetown, 10300, Penang, Malaysia |
| Tel: | +604-2615098 |
| Email: | [email protected] |
| Website: | http://facebook.com/japinrestaurant |
| Working Hour: | 11.00am - 10.00pm |
| Last Visit: | 20121220 |