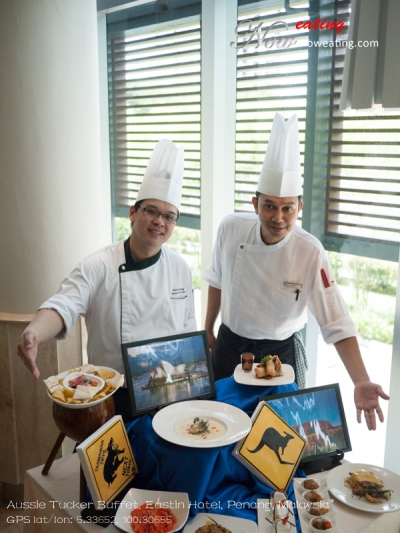 In conjunction with the January promotion, Eastin Hotel Penang is pleased to introduce you an array of Aussie cuisine.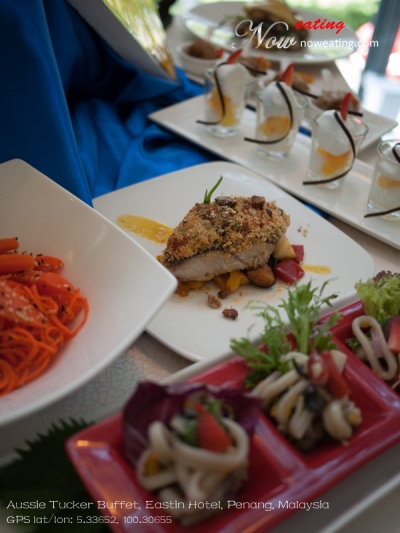 If you ask me what is Aussie cuisine, seriously I dunno how to answer that. Perhaps a plate of Kangaroo meat and a bowl of crocodile tail soup. Anyway, I would say Aussie cuisine is a mixture of food from various countries, as Australia is a multiracial country.
Appetisers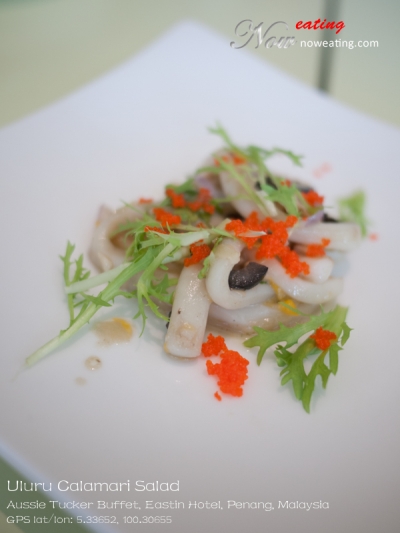 Uluru Calamari Salad 乌鲁鲁鱿鱼沙拉 – quite appetising with added vinegar.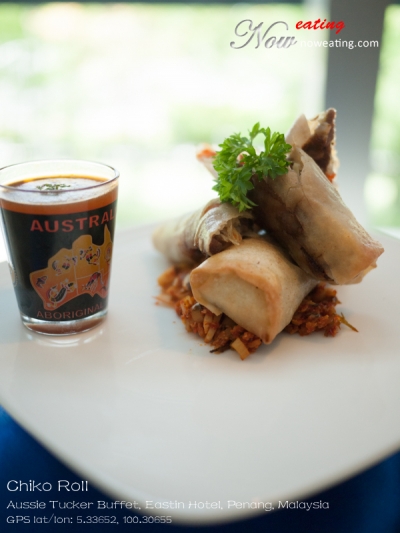 Chicko Roll 澳式鸡蛋卷 – It is like Chinese springroll, except this one has lamb in it. It comes with special sweet sauce. It has strong milky taste from lamb.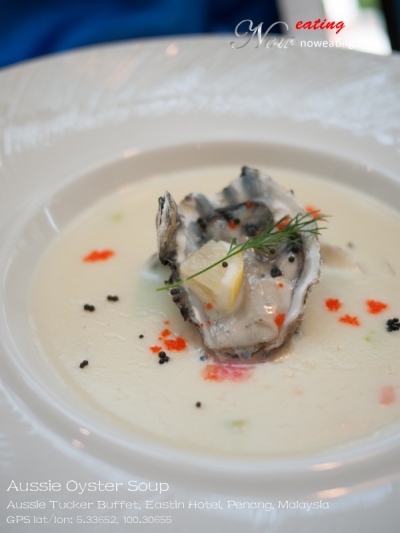 Aussie Oyster Soup 澳洲牡蛎汤 – the soup tastes like mushroom soup but has strong fishy taste. Best is to squeeze lemon provided into it before enjoying.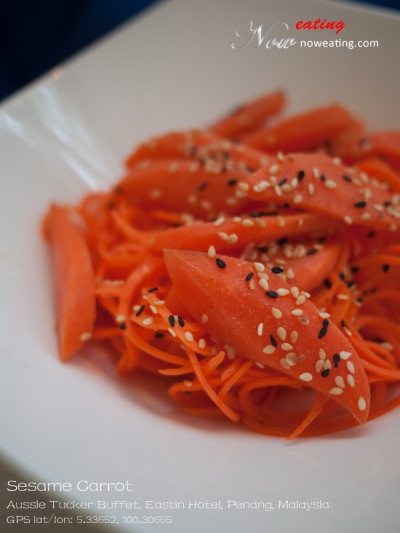 Sesame Carrot 芝麻胡萝卜 – It looks like ordinary shredded carrot but the different is on those bigger cubes, which tasted like it was nicely roasted until soft.
Main Course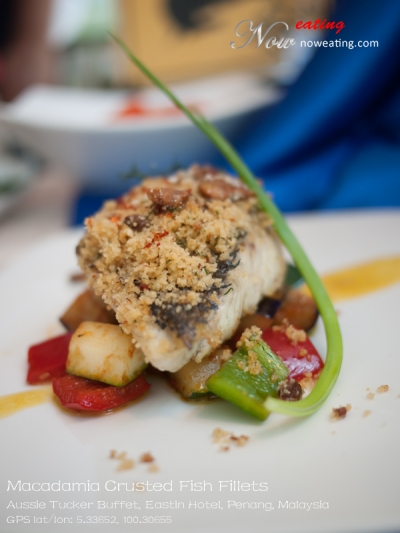 Macadamia crusted fish fillets 坚果酥脆鱼片 – The sea bass fish is grilled to perfection and topped with crunchy macadamia, which is a native in eastern Australia.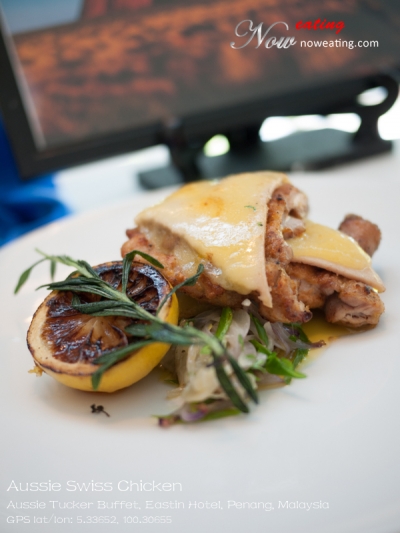 Aussie Swiss chicken 澳洲瑞士鸡 – The grilled de-boned chicken drumstick is "bottomed" with orange ginger sauce and vegetables, and topped with a slice of cheese.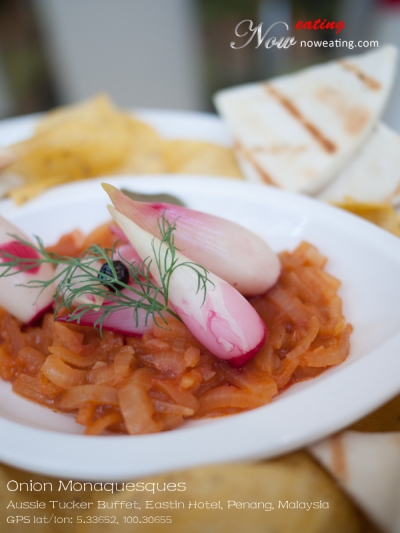 Onion Monaquesques 摩纳哥甜洋葱 – Seriously, onion for main course? It did accompany with nachos and pita.
Desserts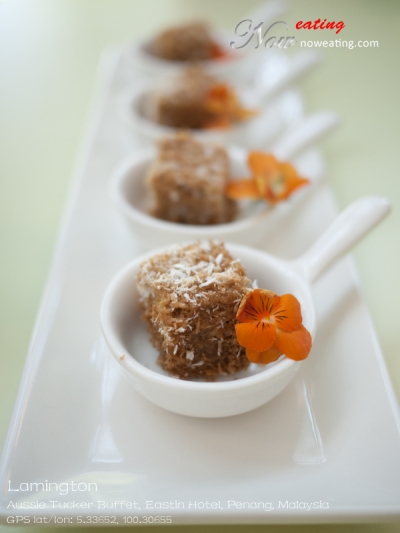 Lamington 拉明顿蛋糕 – Lamingto is originated from Australia. It is a sponge cake covered with desiccated coconut.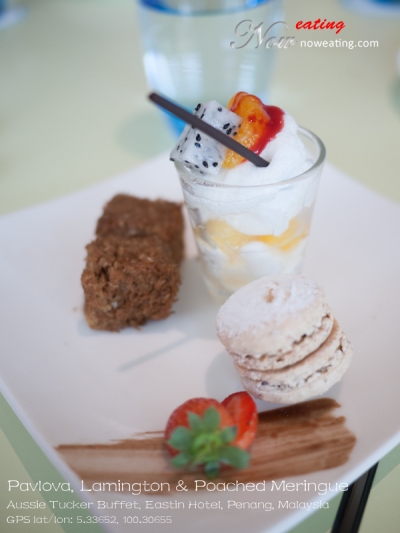 Pavlova 帕芙洛娃甜品 – It is the macaron lookalike in the picture. It was named after a Russian dancer and the dessert was invented during her tour to Australia. Tastes like Ferrero Rocher. An item not in the menu was Porched Meringue with Fruits (The tiny glass behind). The white foam thing is egg white.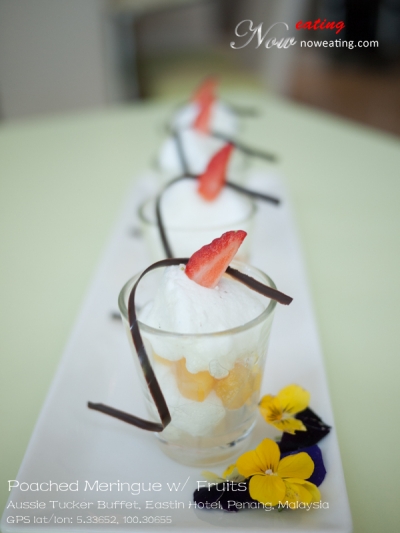 Aussie Tucker is available during lunch, hi-tea and dinner at Swez Brasserie from 1 – 31 January 2013.
Lunch: Monday – Friday
12.00pm – 2.30pm
RM55++ (adult), RM28++ (child)
Hi-Tea: Saturday, Sunday & Public Holidays
12.00pm – 3.00pm
RM68++ (adult), RM34++ (child)
Hi-Tea: Festival Occasions
12.00pm – 3.00pm
RM68++ (adult), RM34++ (child)
Semi Buffet Dinner: Sunday – Thursday
6.30pm – 10.00pm
From RM48++ per person
Before ending this, some readers asked me what is "semi-buffet" about. I asked Eastin Hotel and according to them, "Semi-buffet" is available during dinner time from Sunday to Thursday. Only appetiser and dessert are buffet style. For main course, you need to pick one out of 8 items in the menu. Depend on which main item you choose, price starts from RM48++ (mean the cheapest item is RM48++).
January Credit Card Promotions
MAYBANKARD, Standard Chartered Bank and VISA card members, guests can enjoy 15% discount for Aussie Tucker Semi Buffet Dinner (Monday to Thursday) and Weekend Buffet Dinner (Friday & Saturday) from 6.30pm – 10.00pm.
For inquiries or reservations, please call Eastin Hotel Penang, Swez Brasserie at +604-6121128
| | |
| --- | --- |
| Place Name: | Eastin Hotel Penang |
| Cuisine: | Buffet |
| Address: | 1, Solok Bayan Indah, Queensbay, Bayan Lepas, 11900, Penang, Malaysia |
| Tel: | +604-6121128 (Reservation and inquiries) |
| Email: | info.pg[email protected] |
| Website: | www.eastin.com |
| Tax: | Yes |
| Last Visit: | 20121228 |