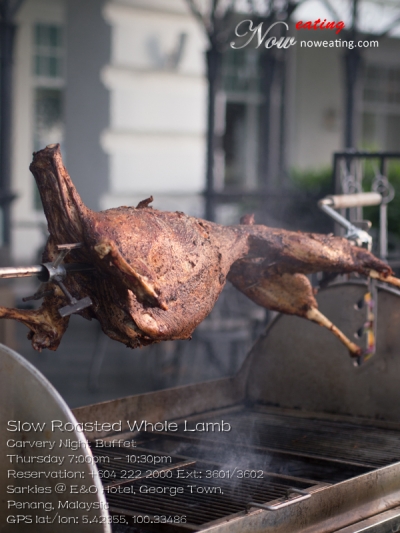 When was my last time seeing whole animal roasted on a stove? From the picture above, the lamb looks creepy as it looks like survival food in post-apocalypse world but trust me, you will hardly find a roasted lamb so tasty and juicy in any buffet restaurant except E&O Hotel.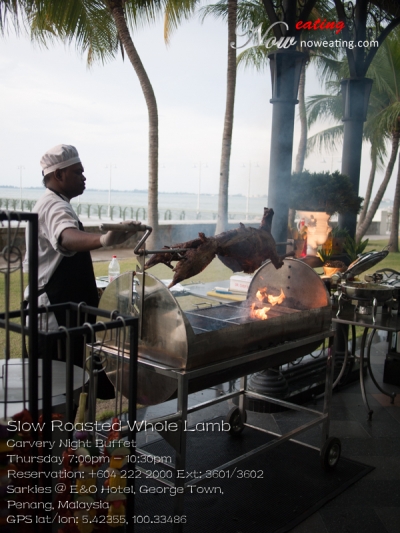 The Slow Roasted Whole Lamb is the highlight of Carvery Night buffet at Eastern & Oriental (E&O) Hotel of George Town, Penang. Based on Wikipedia, Carvery is a restaurant where cooked meat is freshly sliced to order for customers, sometimes offering unlimited servings for a fixed price. Carvery Night buffet is available every Thursday in the new Sarkies cafe of E&O Hotel at the price of RM110++ for adult and RM48++ for children.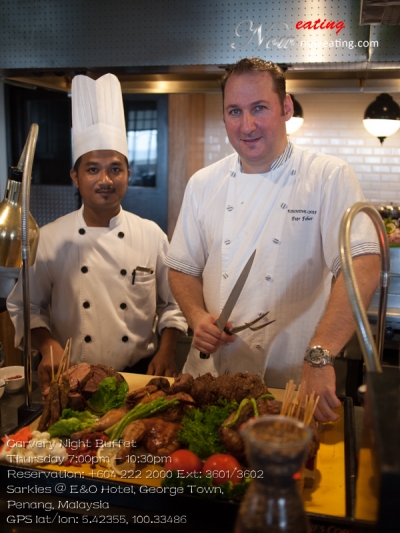 Similar to Chef Petr's Catch on each Wednesday, the friendly Chef Petr himself will supervise the crews to ensure guests having best experience dining in the cafe.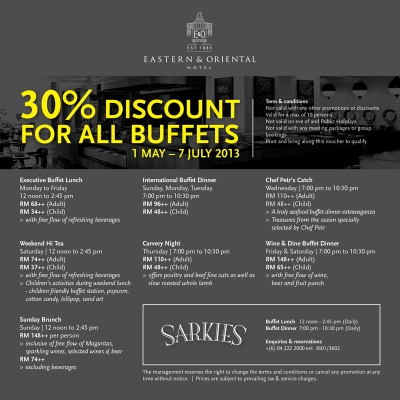 In my personal opinion, RM110++ is rather expensive. However, with 30% discount, it is only RM77++ which is quite reasonable considering roasted whole lamb and other items which I will show you later. If you missed my previous post, quickly grab this 30% discount coupon above, print it out, and show it when dining in. For easier reference, I listed down buffet theme for each day in table below:
Day
Time
Theme
Adult (RM)
Child (RM)
Mon – Fri
12pm – 2:45pm
Executive Buffet Lunch
68++
34++
Sun – Tue
7pm – 10:30pm
International Buffet Dinner
96++
48++
Wed
7pm – 10:30pm
Chef Petr's Catch
110++
48++
Thu
7pm – 10:30pm
Carvery Night
110++
48++
Fri – Sat
7pm – 10:30pm
Wine & Dine Buffet Dinner
148++
65++
Sat
12pm – 2:45pm
Weekend High Tea
74++
37++
Sun
12pm – 2:45pm
Sunday Brunch
148++/74++ *
* RM148++ included free flow of Magaritas (a cocktail made with tequila and citrus fruit juice), sparkling wine, selected wine and beer. RM74++ is excluding beverages.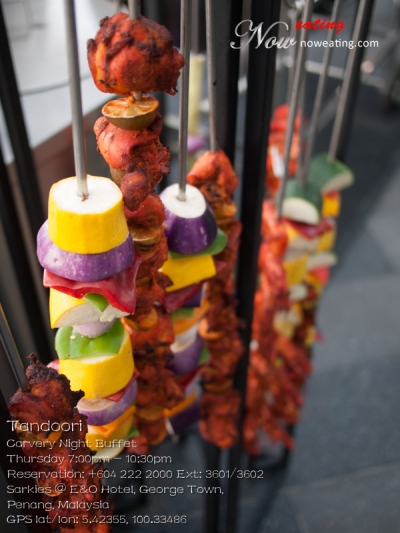 Another highlight is Tandoori – an Indian cuisine usually prepared with chicken marinated in yogurts and spices. Here, not only Tandoori Chicken is served, you will also find Tandoori "Prawns", Corns, and Assorted Vegetables.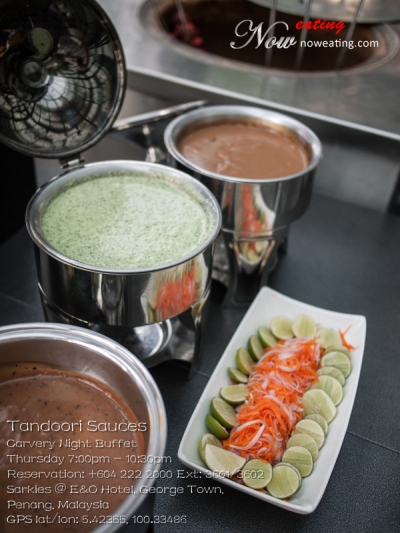 Just like Tandoori in Nasi Kandar restaurants, dipping sauces are available. Personally I prefer the Green Chutney which primarily made of garlic, ginger, mint, yogurt, and green chilies.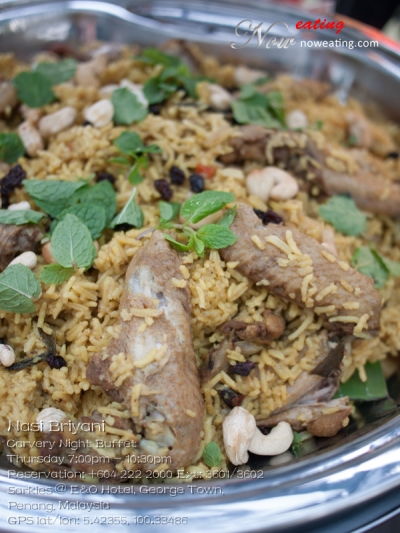 Also available are Nasi Briyani which was recommended by the crew. Personally I found it a bit dry.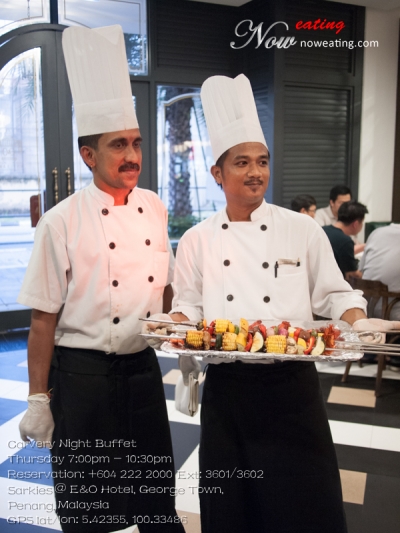 Since both Slow Roasted Whole Lamb and Tandoori are prepared outdoor, you may easily missed them. Don't worry as the crews will walk around in the cafe and serve you.  Anyway, they usually finishes fast so it is better to grab it outside by yourself.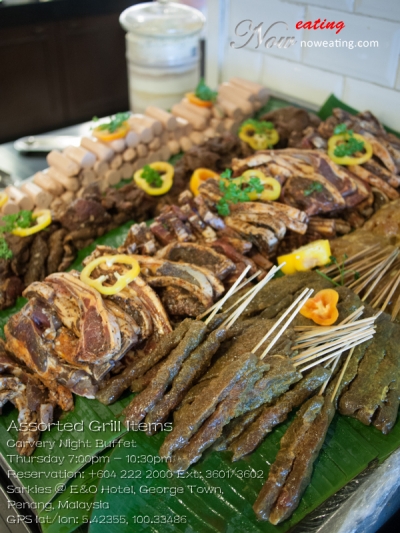 Inside the cafe you will find a grill counter offering assorted seafood and meats, such as grilled lamb, beef, sausages, and beef/chicken satays.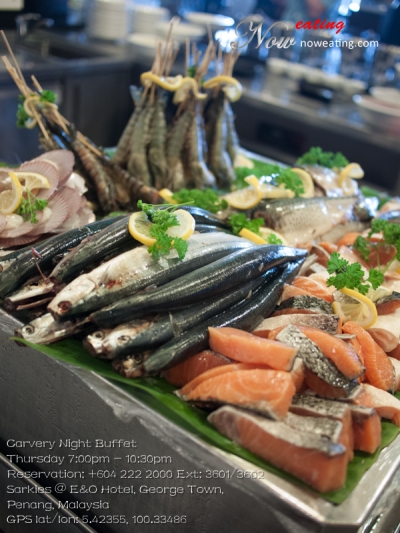 Grilled seafood includes salmon, scallops, prawns, and whole fish. Make sure you dip them with the special spicy sauce provided in front of the grill counter.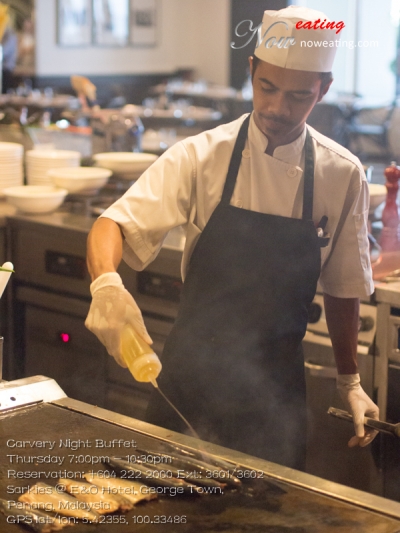 Since some items are prepared upon request, you may need to queue up during peak period.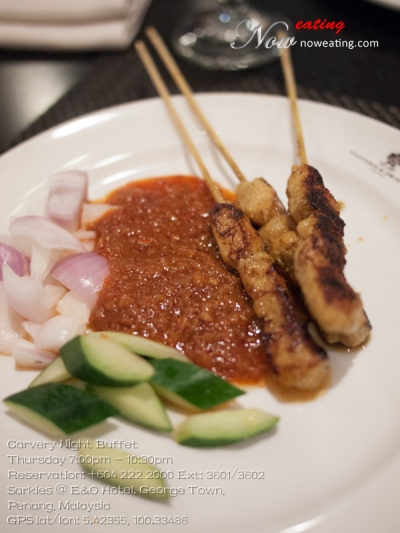 Among grilled items, I like their chicken satay.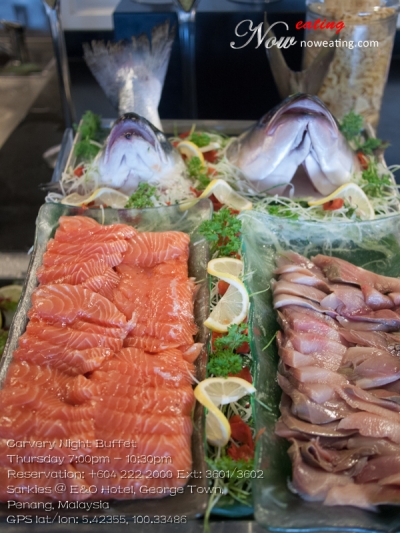 The reason I said this Carvery Buffet is quite reasonable is because you will also find Sashimi here and it is quite generous.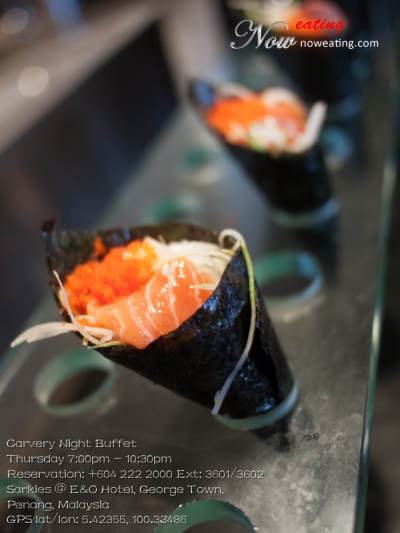 Together with some Japanese cuisine, such as this Salmon Handroll – my favourite.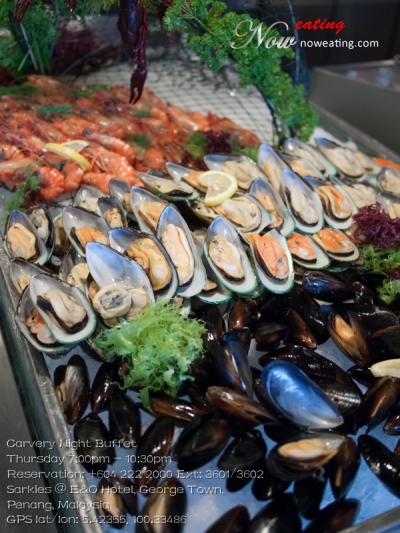 Other items include fresh prawns, crayfishes and mussels in which you will find it in Chef Petr's Catch buffet on Wednesday. The only fresh item not available during Carvery Night is raw oyster.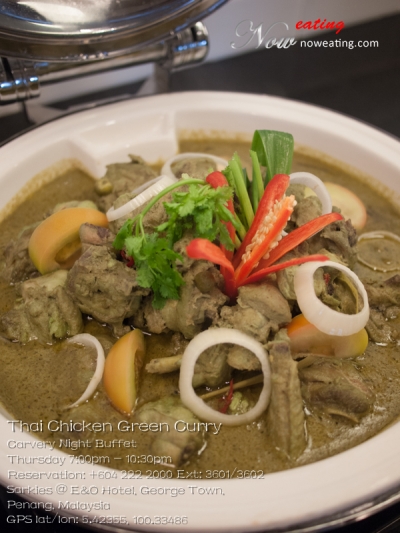 Other than those counters, more than 10 tray items are also available for you to choose for.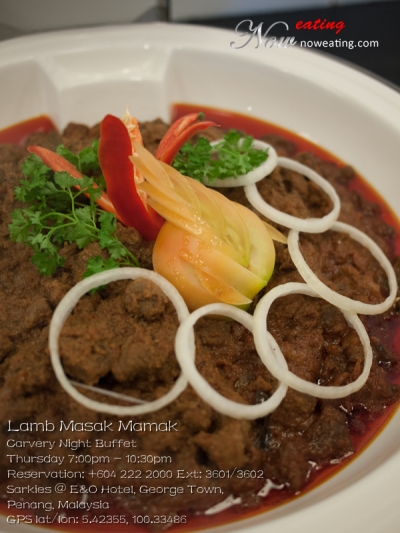 I wonder how many lambs they killed that night.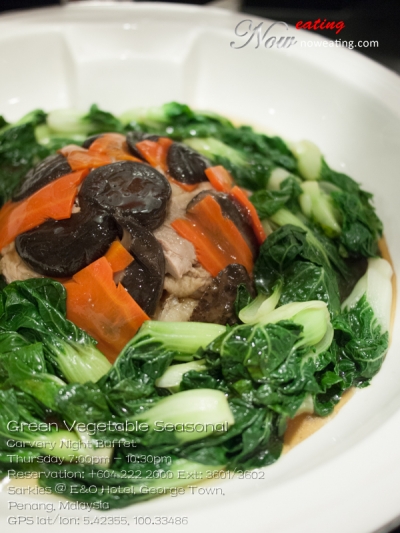 Sick of all the white and red meats? Carvery Night is not only serving meats, but also some vegetables. Ratio-wise, I would say 70:30 (70% meats, 30% vegetables).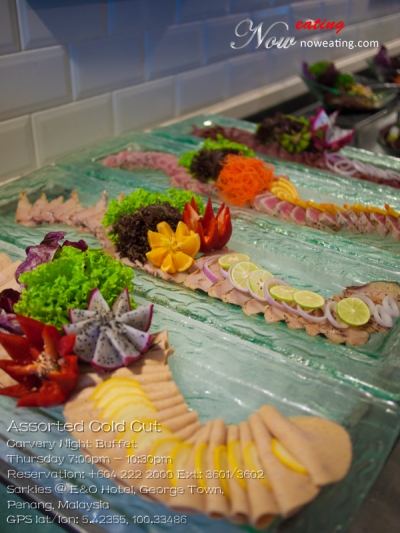 I like some of their cold cuts.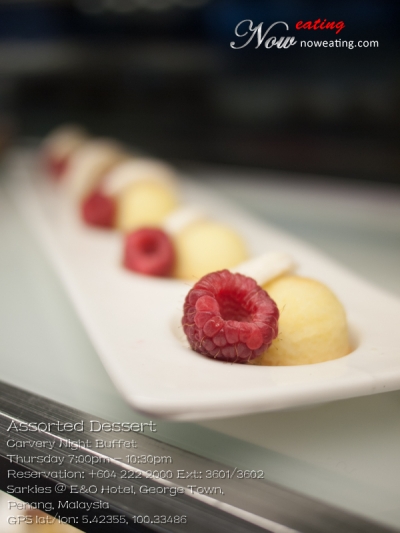 Not to be missed is their desserts. I would suggest you grab them before your meal to avoid disappointment at the end of your meal since most delicious/tempting desserts are already taken by others.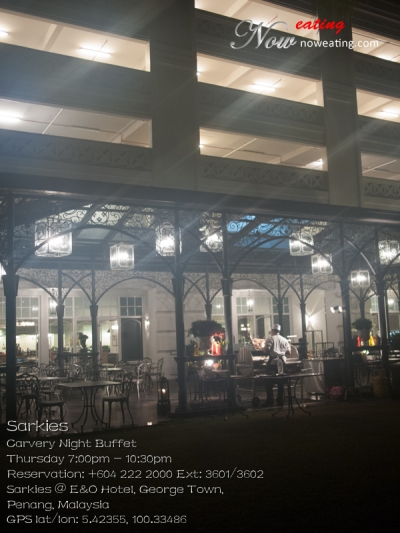 Carvery Night @ E&O Hotel is a buffet theme available each Thursday and is worth trying especially with 30% discount coupon. Unlike other themes, Carvery Night offers poultry, beef fine cuts as well as slow roasted whole lamb. The lamb usually finishes fast so make sure you grab your portion early. Now, where is my red wine?
| | |
| --- | --- |
| Place Name: | Sarkies @ E&O Hotel |
| Cuisine: | Buffet |
| Address: | 10, Lebuh Farquhar, George Town, 10200, Penang, Malaysia |
| Tel: | +604 222 2000 Ext. 3601/3602 |
| Website: | http://www.eohotels.com/ |
| Tax: | Yes |
| Last Visit: | 20130516 |