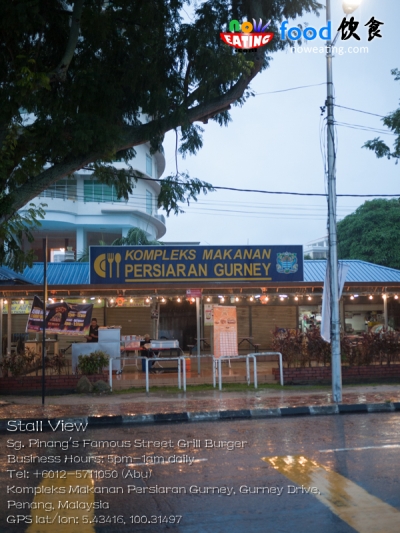 It was raining day. Imaging driving a water-leaking 21 years old car, all the way from Bayan Lepas area to Gurney Drive (not to mention after gas increased 20 cents), one hand holding a big Pasar Tani umbrella, one hand holding camera. All these hassles are just to introduce you all a new burger stall – Street Grill Burger at Kompleks Makanan Persiaran Gurney.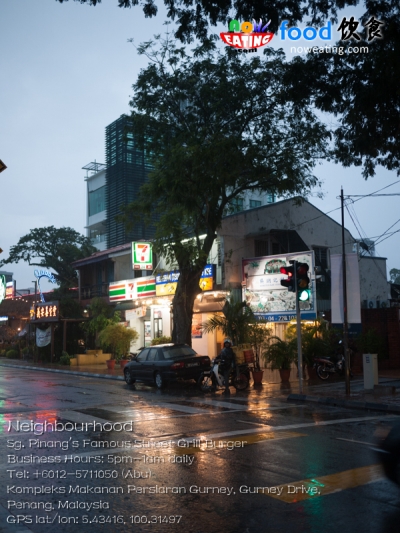 It should not be confused with the food court next to Gurney Plaza. The burger stall is next to 7-11 near famous Bali Hai Restaurant. The stall was officially launch on 30-August-2013. Currently, the business hour is from 5pm – 1am daily and there is a plan to open from 12pm to 1am daily.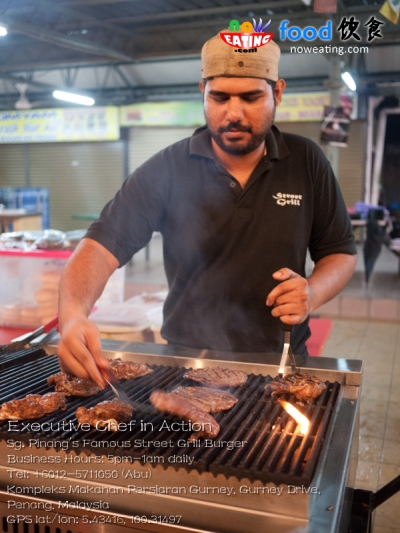 The stall is operated by the famous executive chef – Abu who operated a burger stall at Sungai Pinang for more than 2 years. The Sungai Pinang stall is still handled by his brother-in-law and this is the second outlet.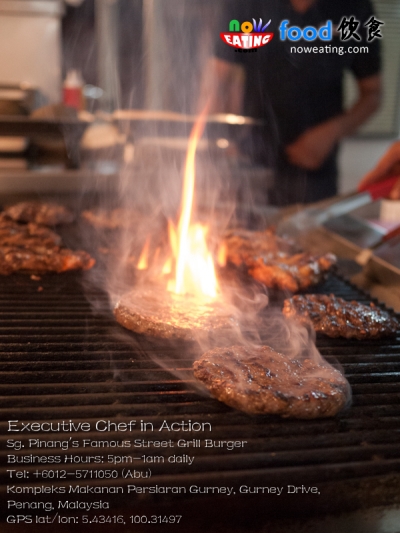 Locals call this "Burger Bakar" or BBQ Burger. The deboned chicken/beef/mutton is first marinated using chef's secret recipe then grilled on a grill stove.  This is unlike Burger Ramly in which the flat patty is pan-fried on flat surface with cooking oil. Grilling patties like this usually will "smoke" the patty and thus enhance its overall taste.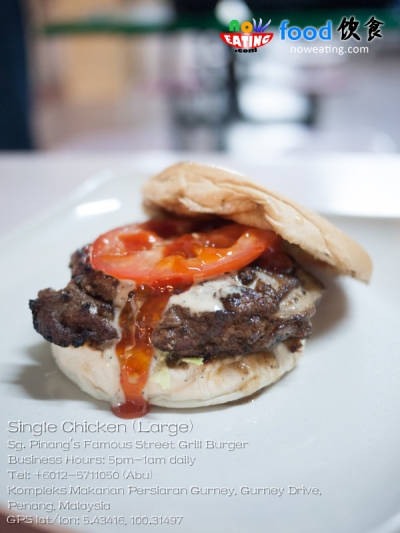 Most people eat burgers for enjoyment and not to lower cholesterol so let's forget about those unhealthy facts about burgers. First is the most simple burger – the juicy and tasty Single Deck Chicken (Large) (RM6.50). The chicken patty was seasoned with great amount of blackpepper and herbs, making it tasted like Prosperity Burger of McD except this one is more original thanks to the use of whole chicken thigh as patty.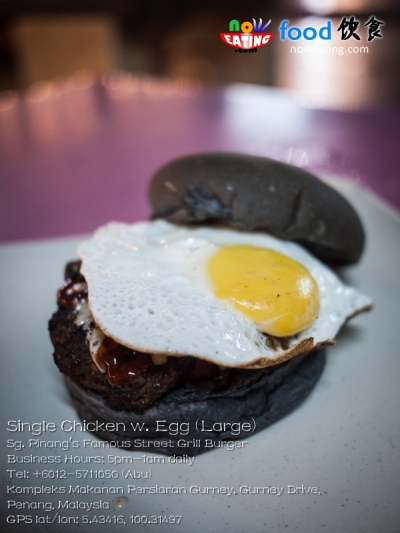 The different between regular and large burger is on the size of the patty. If you are egg lover, try Single Chicken with Egg (Large) (RM7.50). The egg was fried on separated frying pan. Expecting a messy meal once you break the egg yolk. By the way, they have two type of buns – normal and famous charcoal buns. Taste-wise, there was not much different between them.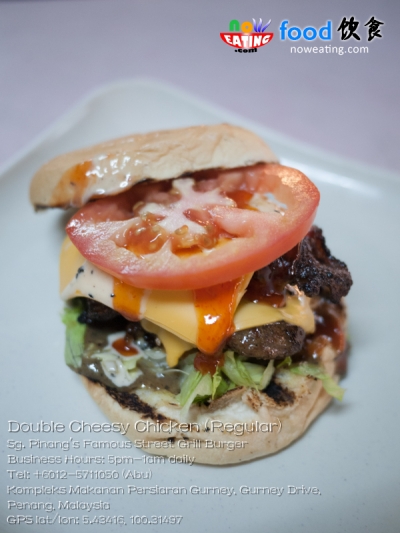 Like cheese? Try Double Cheesy Chicken (Regular) (RM10.00).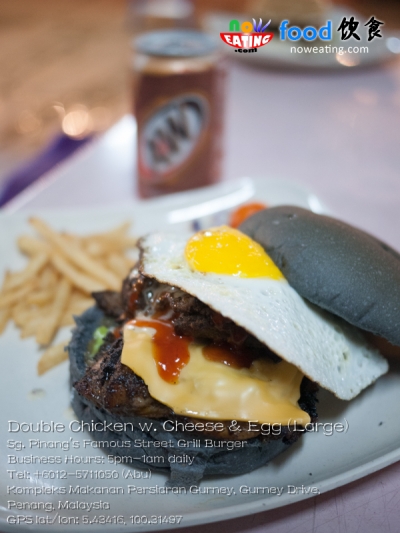 Single patty not enough for you? No problem. Try their Double Chicken with Cheese and Egg (Large) (RM11.50). See the French Fries and a can of soft drink behind? They are planning to launch set meal menu in which by adding few ringgits, you are entitled for French Fries, homemade salad, and soft drink of your choice. Price is not confirmed yet.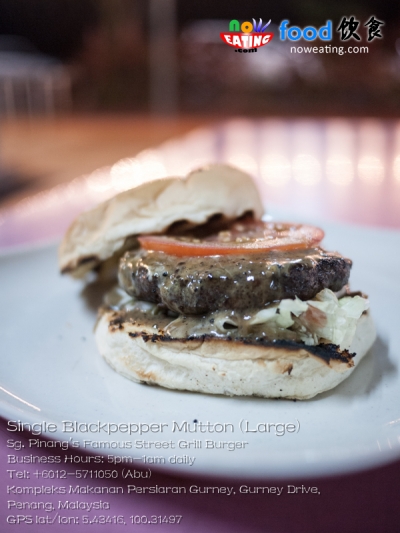 Most burger stalls just sell chicken or beef burgers. Street Grill Burger is a bit special such that they serve mutton burger as well. Compared to chicken patty, mutton patty was firmer and tasted a bit gamy (羊骚味). The added blackpepper sauce in Single Blackpepper Mutton (RM9.00) was just perfect to cover the gamy taste.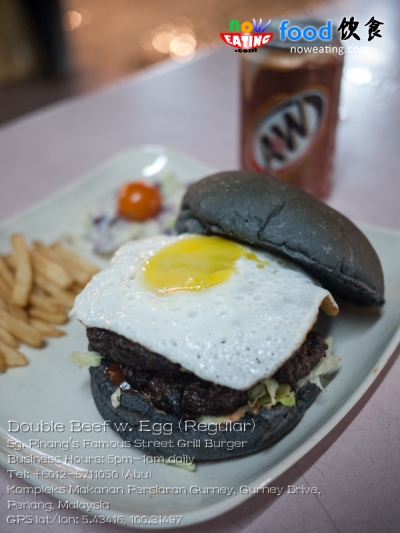 This is Double Beef with Egg (Regular) (RM9.00). Honestly, all burgers look alike. We spent some efforts in identifying all of them.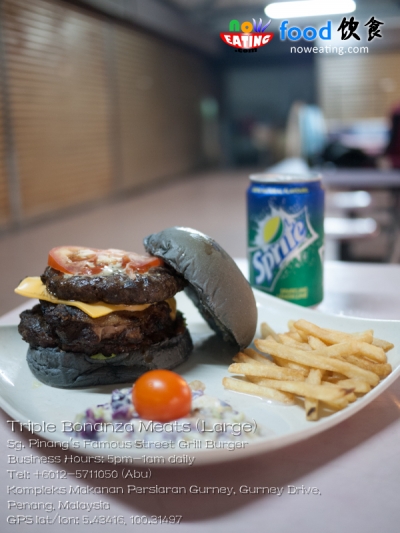 Like 3P? Try Triple Bonanza Meats (Large) (RM15.00). With this burger, you can enjoy chicken, mutton, and beef at once. Our overall conclusion is that chicken burger tasted the best, followed by mutton and beef.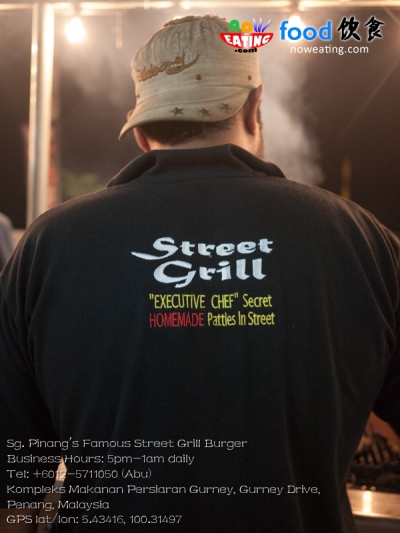 Street Grill Burger offers a better… street grill burger at street price thanks to its secret homemade patties. Do give this Sungai Pinang's famous burger bakar new outlet at Gurney Drive a try.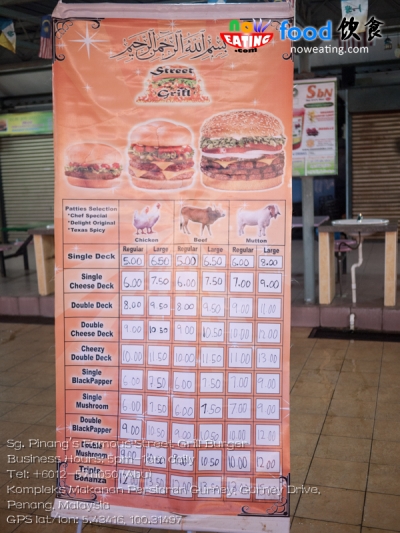 Refer to figure above for price list.
| | |
| --- | --- |
| Place Name: | Street Grill Burger |
| Cuisine: | Western |
| Address: | Kompleks Makanan Persiaran Gurney, Gurney Drive, Penang, Malaysia |
| Tel: | +6012-5711050 (Abu) |
| Working Hour: | 5pm-1am daily |
| Tax: | No |
| Last Visit: | 20130905 |