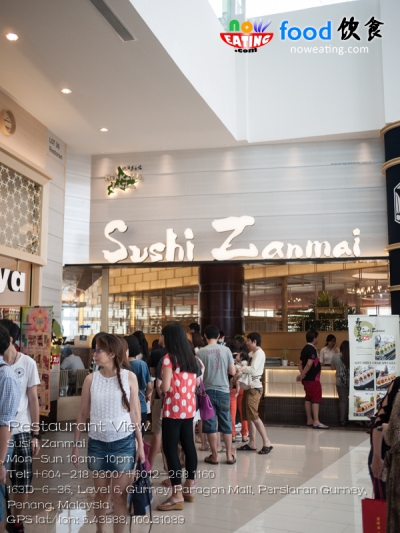 Sushi Zanmai is not new in Malaysia. It has 7 outlets in PJ/KL area. For Penang, however, the first outlet is just opened in July 2013 at Gurney Paragon Mall – the new mall in Penang. Like Chinese said, "Sin Jamban Ho Pangsai (New toilet bowl nice to poo)". People will queue up as early as 11.30am just to try out this new restaurant in Penang. Is it worth the effort? Let's see.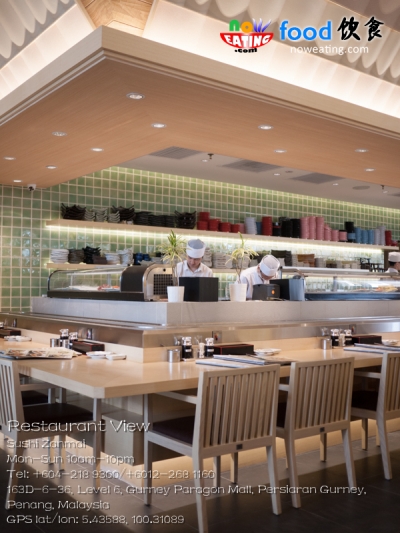 The restaurant opens from 10am to 10pm. We woke up early one Sunday morning to try out this new restaurant. We reached there around 10.50am and fortunately there was no queue. By the way, you can always call to make reservation instead of queueing up.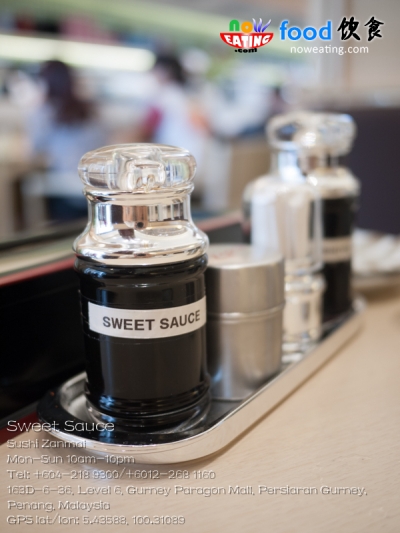 Let's talk about some "facilities" they have. Unlike Sakae Sushi in which you need to ask for sweet sauce, Sushi Zanmai has sweet sauce (unagi sauce) on each table. The metal box behind sweet sauce is chilli powder. I will show you on how to apply it later.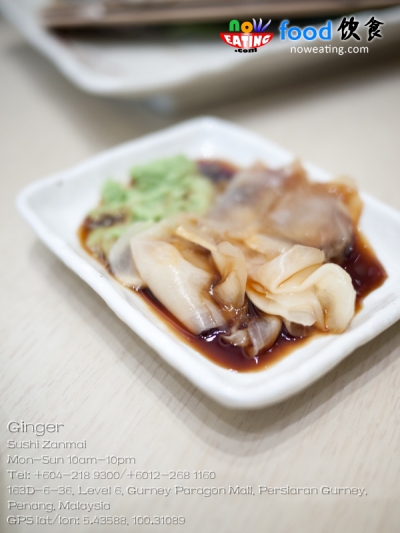 Sadly, in return, you need to ask for the pickled ginger as it is not available on each table.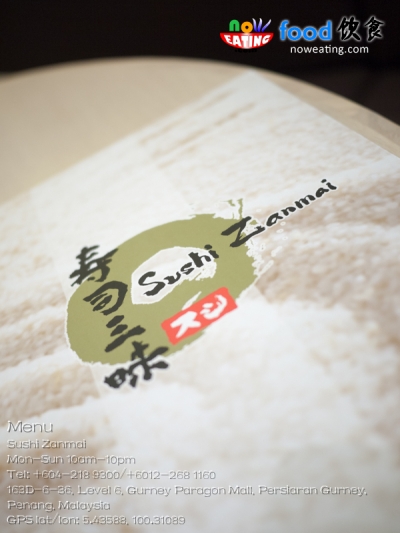 The menu was kind of big and I was not able to snap everything and put a copy here. At first glance, the price looks reasonable compared to Sakae Sushi and Sushi Tei.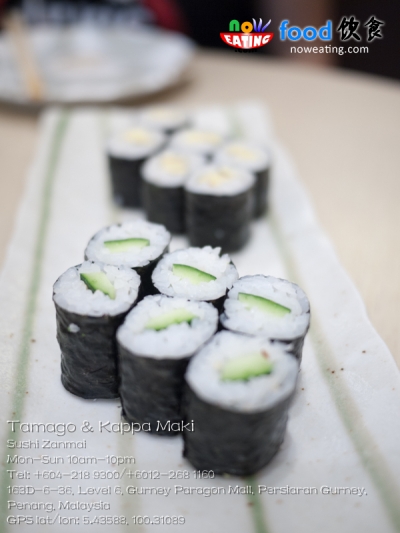 To our surprise, the Kappa and Tamago Maki only priced at RM1.80, even lower than both competitors. Both are our "survival food" in many Japanese restaurants as they are usually the cheapest among others. Together with pickled ginger, two persons can spend less than RM20 for one meal.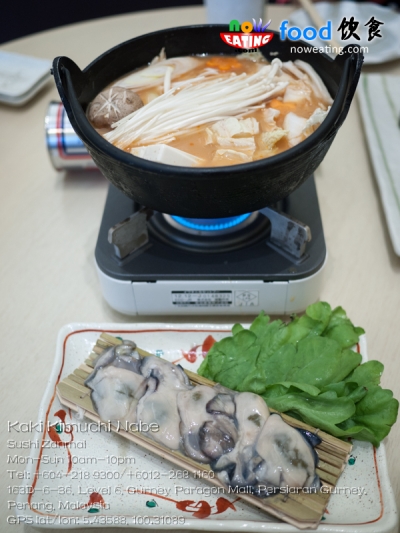 We decided to order something special, something which are hardly found in other Japanese chain restaurant. First item caught our attention was their hot pot series, such as this Kaki Kimuchi Nabe (RM18.80) which came with Hiroshima oyster and vegetable hot pot with kimuchi-based soup.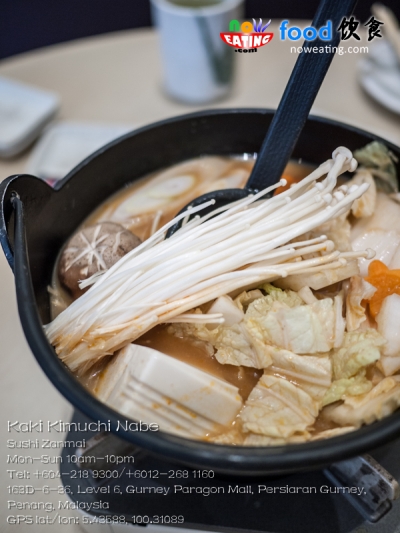 Kimuchi is Japanese version of Korean Kimchi. The hot pot came with assorted vegetables including mushroom, cabbage, tofu, carrot, and enoki mushroom. However, it tasted mild compared to Korean Kimchi.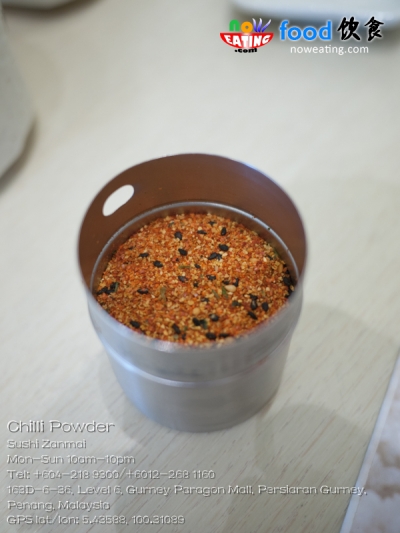 Now, the chilli powder comes into picture. Simply put adequate amount of chilli powder into the soup and stir it well. It will taste more like Kimchi soup this way.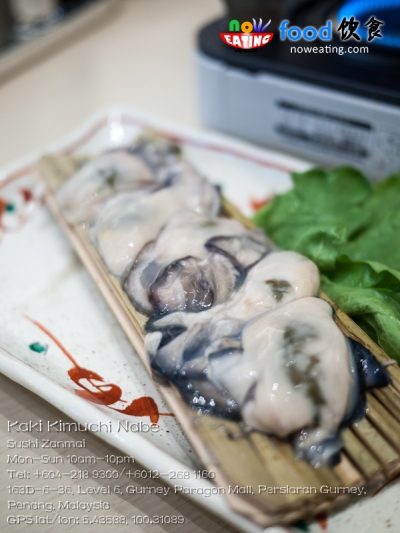 It came with 6 pieces of fresh oysters.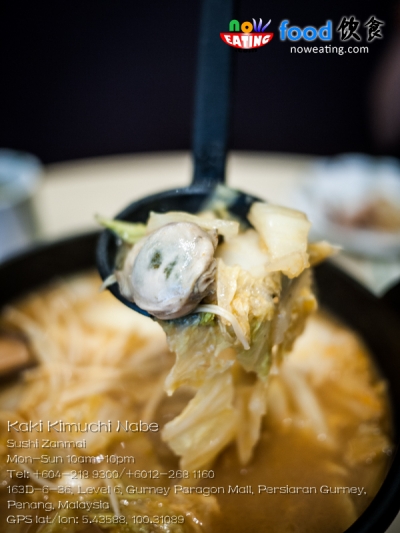 To really enjoy it, make sure the soup is boiled. Then, put one oyster at a time and monitor it. Wait for about 10 seconds and you are ready to enjoy the juicy oyster. Submerge it too long will shrink the oyster.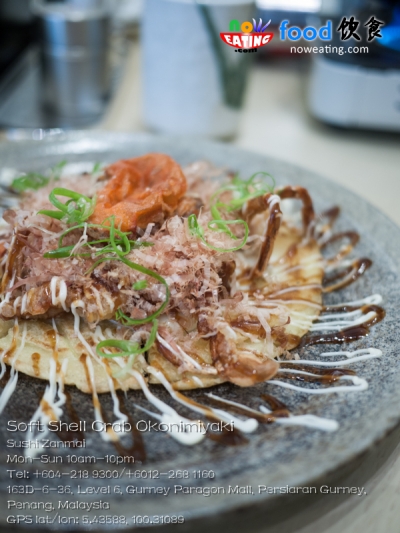 Recently, many Japanese restaurants start to coming out Japanese pizza/pancake. We found the same category in Sushi Zanmai as well. Soft Shell Crab Okonimiyaki (RM12.80) was rather special and tasted good with whole soft shell crab on top of a Japanese pancake.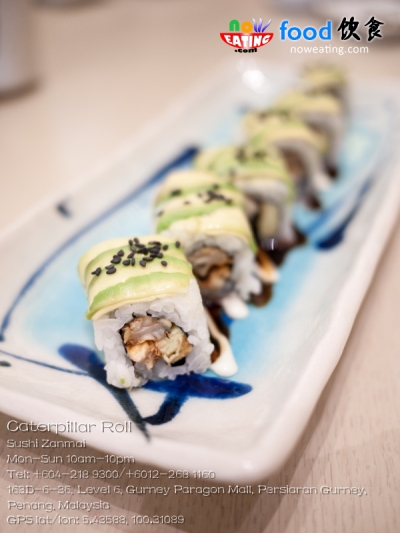 Caterpillar Roll (RM13.80) – roasted eel & omelette sushi roll topped with avocado. We liked eel and this is perhaps one of the cheapest eel items available. Best dipped with sweet sauce on the plate.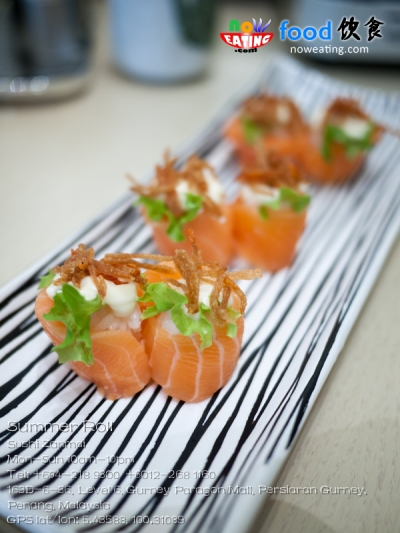 Thinking of trying their fresh salmon, we ordered this Summer Roll (RM13.80) – sushi roll wrapped with salmon topped with fried crabmeat. Unfortunately, the portion was small and the chef's sushi skill can be better. We ended up eating both salmon belly slices and rice separately.
While there is still room of improvement such as service speed and some staffs who are still new, Sushi Zanmai is worth a try thanks to its competitive price and some special items.
| | |
| --- | --- |
| Place Name: | Sushi Zanmai |
| Cuisine: | Japanese |
| Address: | 163D-6-36, Level 6, Gurney Paragon Mall, Persiaran Gurney, George Town, 10250, Penang, Malaysia |
| Tel: | +604-218 9300/+6012-268 1160 |
| Website: | www.supersushi.com.my |
| Working Hour: | Mon-Sun 10am-10pm |
| Tax: | 10% Service Charge, 6% Tax |
| Last Visit: | 20130811 |