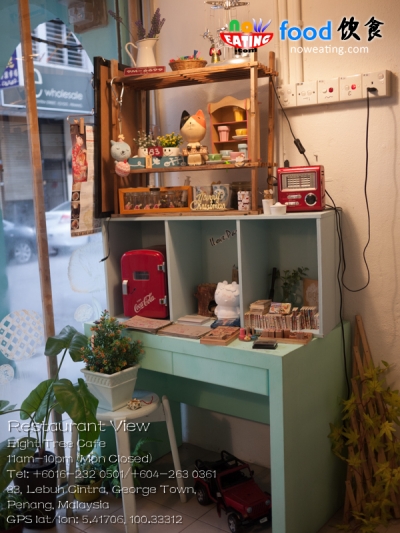 Recently, there is a type of cafe caught my attention – a type of cafe which looks like gift/handicraft shop with many cute decoration items, such as Eighty Tree cafe which I am going to introduce to you in this post. I couldn't find its origin nor give it a name until I did some studies on Internet.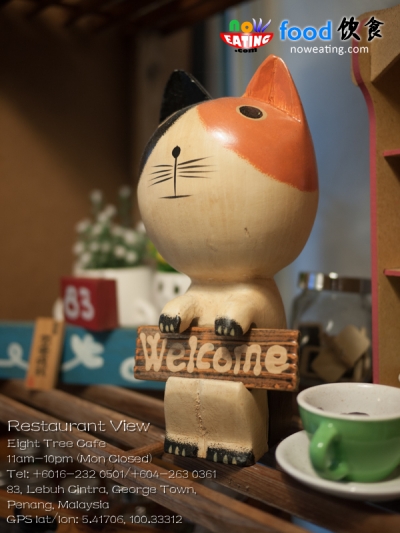 After some researches, it appears that this "cute decoration" cafe is also known as "zakka 杂货 cafe" originated from Japan. Japanese has strong cultural background and they actually reinvented western cafe concepts (e.g. Starbucks and Coffee Bean franchises) from a takeaway and meeting place to a fun place to dine in:
| | |
| --- | --- |
| Western Cafe | Zakka Cafe |
| Working and meeting place | Dining and playing place |
| Coffee with snacks | Main course, desserts, and snacks. |
| Self-service | Taking order from tables/Use order chit |
| Elegant, wooden furnitures | Romantic, artistic decoration items and menu |
| Dim environment | Bright to dim environment |
| Customers prefer takeout | Customers prefer dining in |
| Target for adult | Target for younger generation |
| No photo-shooting opportunity | Photo-shooting with background/decoration |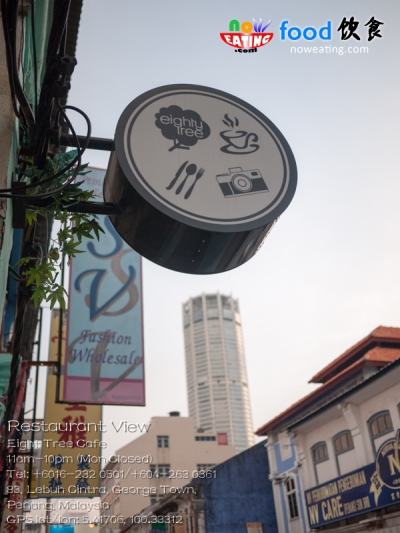 Eighty Tree is actually referring to their house number of 83. It is located at Lebuh Cintra opposite of the coffin shop (coffee opposite coffin shop, anyone?). It is also located at a walking distance from Komtar.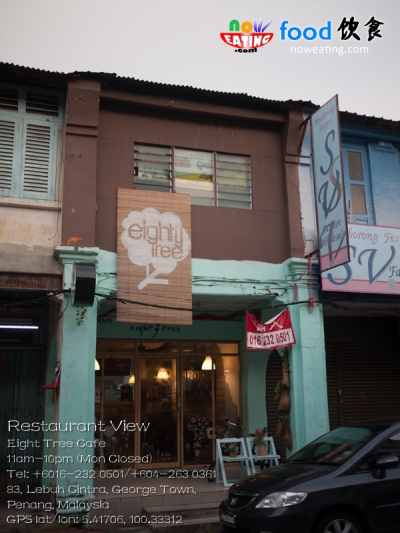 Eighty Tree is not the only cute cafe in Penang (others included Yellow House Sharing and Sushi Kitchen). We stumbled upon this cafe when we were purchasing Sugar Cake 白糖糕 at Lebuh Cintra one evening and we decided to give it a try one day.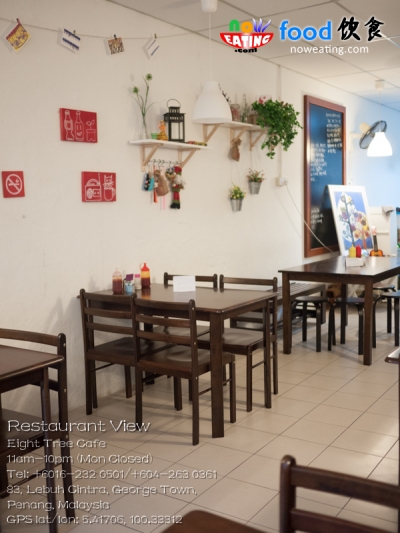 Since decorations did take up some space, Eighty Tree only has 6-7 tables. The dining area is air-conditioned.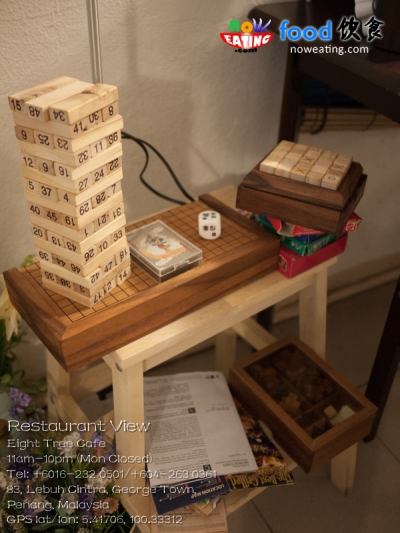 Similar to most cute cafe, Tumbling Tower, board and card games are provided for customers to kill some times.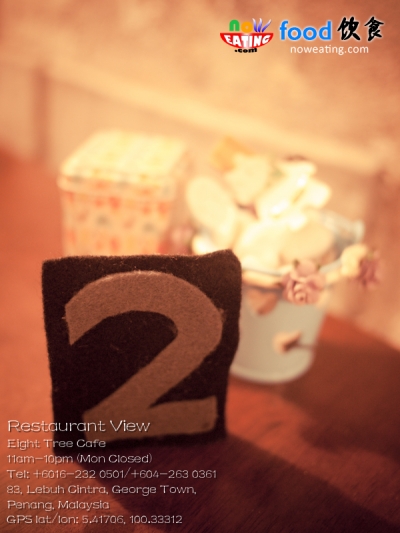 The cafe also has many books for reading. However, due to limited space, there is hardly a quiet corner for patrons to enjoy reading without diners staring at you. It is still better to take the books/games and read/play on your table. Speaking of tables, there are small decoration items (e.g. table number, tiny box) on it as well. Order chit is used for food order.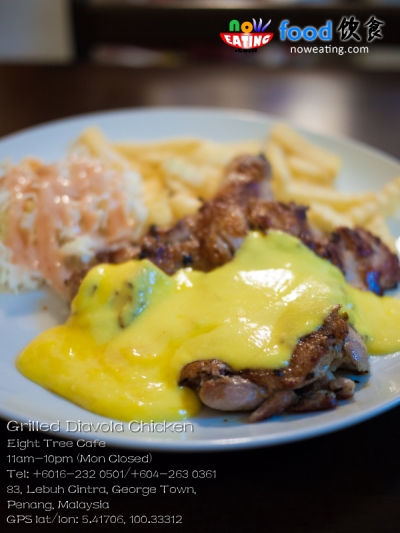 Anyway, we were here for the food. Eighty Tree served a series of western food. During our first visit, the friendly owner recommended us their Grilled Diavola Chicken 柠檬烧烤鸡扒 (RM12.90). Diavola means "devil". However, I saw nothing devil on this plate except the homemade sour sauce made of orange and lemon. No doubt it was a rather unique sauce which hardly find in any restaurant.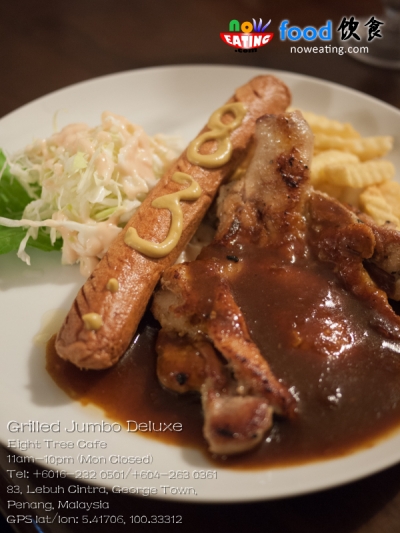 As for the side dishes, they were common french fries and salad. They came with most grilled chicken dishes. Grilled Jumbo Deluxe 珍宝至尊鸡扒 (RM17.90) was another item we ordered during our first visit. It comes with cheesy chicken frankfurter and grilled chicken whole leg, topped with BBQ sauce. The "83" figure was made of mustard sauce.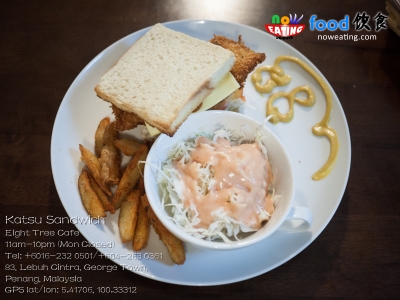 We noticed that most chicken dishes are grilled version, except this Katsu Sandwich 咔兹炸鸡三文治 (RM13.90) (Katsu = Fried in Japanese). Surprisingly it came with potato wedges instead of wavy fries.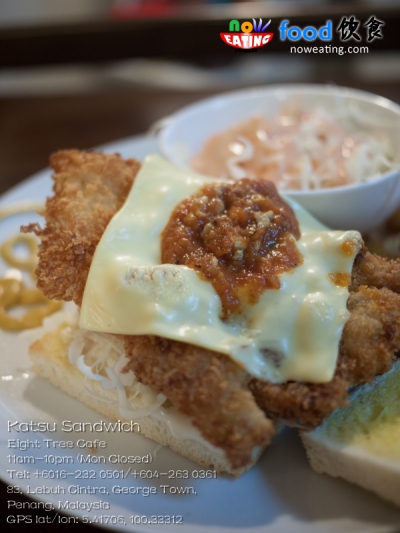 We found that this Katsu Sandwich tasted pretty nice thanks to its fried yet juicy patty and crispy bread. On top of chicken patty is a slice of cheese and a bit of spaghetti sauce.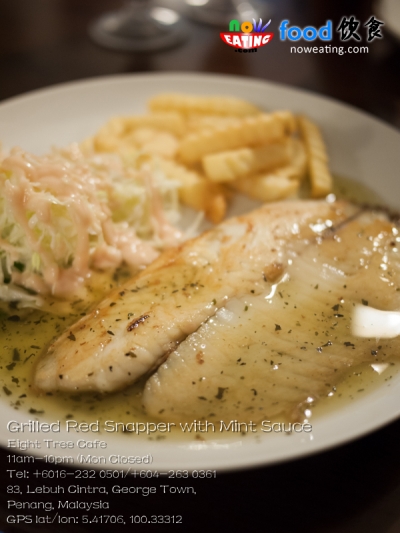 They do have fish series. Instead of using common dolly fish, red snapper was used instead. A good attempt but was slightly fishy compared to dolly fish. Fortunately, we ordered Grilled Red Snapper with Mint Sauce 薄荷烧烤鱼扒 (RM12.90) and the sauce contained taste of mint which was able to even out the offensive taste.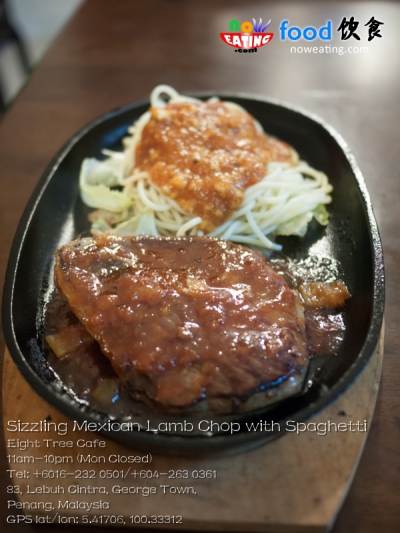 We were surprised that even though Eighty Tree is a cute cafe, it served sizzling lamb chop and steak as well. Having said that, the dining area will be a bit smoky if customers (including me) ordering this item. We ordered Sizzling Mexican Lamb Chop with Spaghetti 铁板墨西哥羊扒配意大利面 (RM16.90).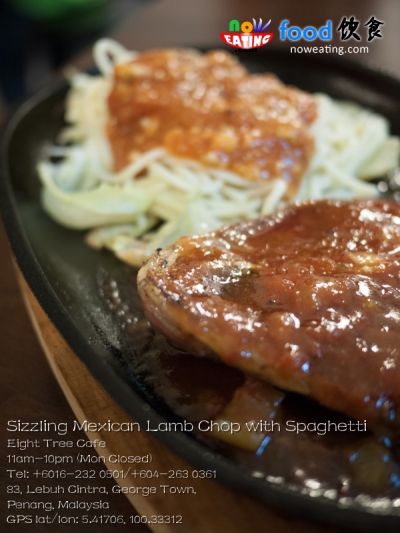 The Mexican sauce is similar to BBQ sauce minus the smoky taste. Too bad, the lamb chop was chewy and I almost cut the metal plate into half. Perhaps it was overcooked.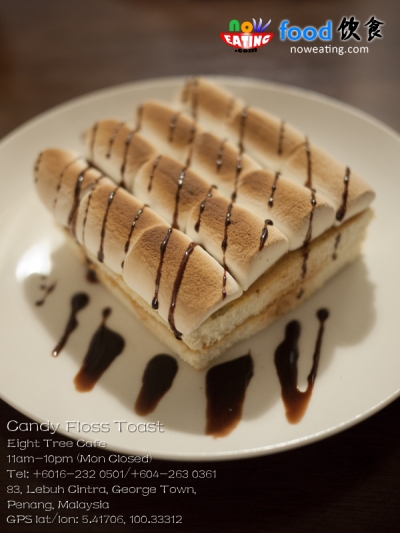 The owner also recommended us Candy Floss Toast 棉花糖烤土司 (RM6.90). It is normal peanut butter toast, topped with toasted marshmallow. The toasted marshmallow was crispy outside, soft inside. If you are a sweet tooth and tired of normal peanut butter toast, this is a must-try.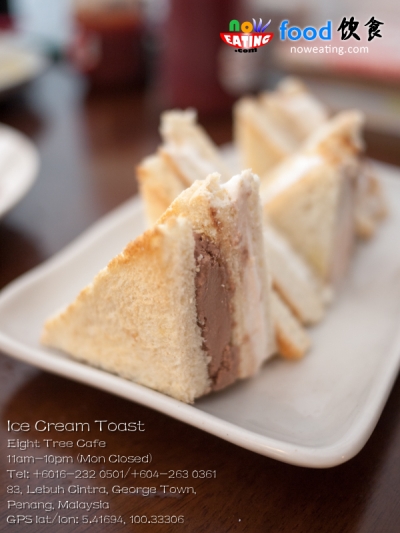 Ice Cream Toast 雪糕烤土司 (RM5.90) resembled ice cream sandwich of good-old day, except they were using toast and tasted crispy in this case.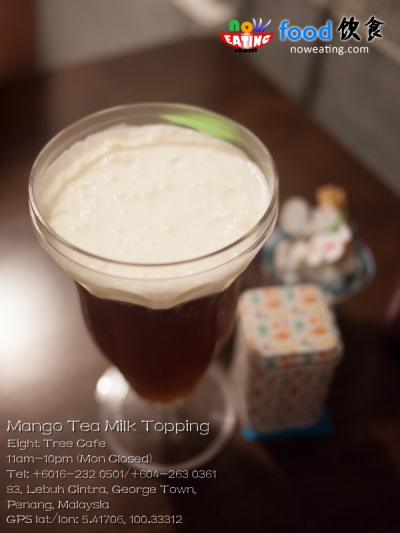 As for the drink, the owner recommended us their Milk Topping series 奶盖茶 which is originated from Taiwan. The one we ordered was Mango Tea Milk Topping 芒果茶奶盖 (RM6.90). Note the the bottom is actually a normal black tea 红茶. The mango flavour is actually coming from the salty milk topping. To consume this, DO NOT drink the milk topping as basically it is just plain salty. Instead, hold your glass at 45 degree angel until your lip touches the black tea. "Suck" the black tea instead. For freshness, finish it within an hour. Be surprised on what you will get after drinking 😉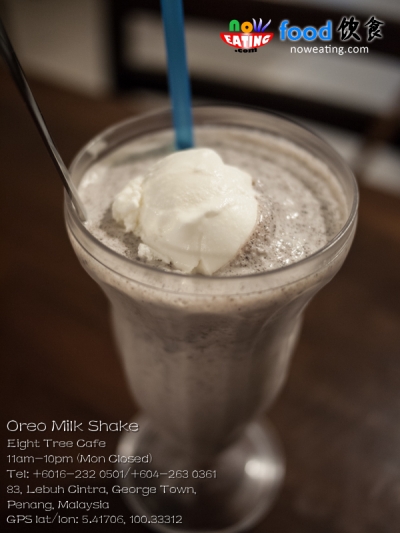 This Oreo Milk Shake 奥利奥奶昔 (RM7.90) is perhaps the best Oreo Milk Shake we ever tried. It was very THICK like you were eating Oreo alone, not something diluted into water.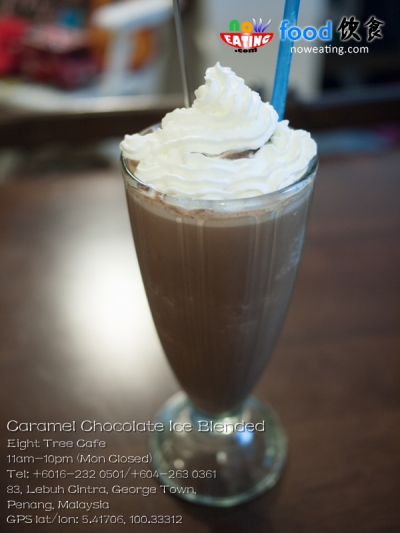 Some drinks could be just average, such as this Caramel Coco Ice Blended 焦糖巧克力冰沙 (RM6.90). It was like normal chocolate powder drink and the caramel was hardly tasted.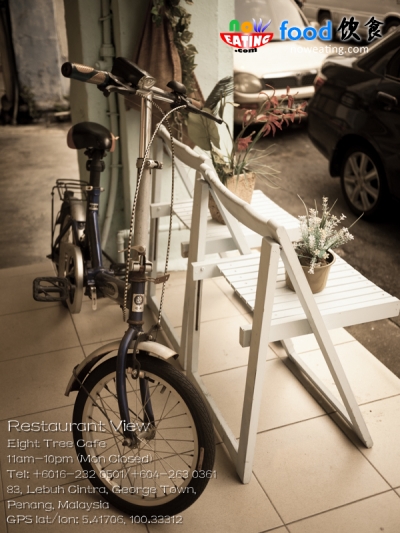 During our first and second visits, we noticed that majority of the customers are youngsters like me (self praising). One group even gave their friend a birthday surprise. For me, I will revisit it for its Oreo Milkshake and Candy Floss Toast. Another outlet is opening soon at Butterworth.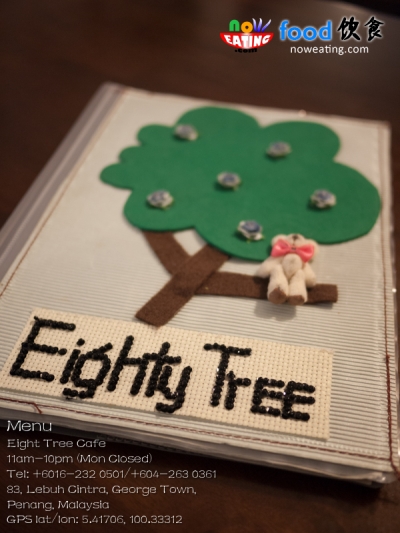 You may download an offline menu below. For latest pricing and items, always refer to the actual copy. By the way, they have set meal such that by adding RM5.90, you can get a mushroom soup and a coffee/tea/ice cream. Personally I feel that it is not worth the value considering the mushroom soup is 3rd party product (I accidentally saw its box).
| | |
| --- | --- |
| Place Name: | Eighty Tree Cafe |
| Cuisine: | Western |
| Address: | 83, Lebuh Cintra, George Town, 10100, Penang, Malaysia |
| Tel: | +6016-232 0501 / +604-263 0361 |
| Working Hour: | 11am - 10pm (Monday Closed) |
| Tax: | No |