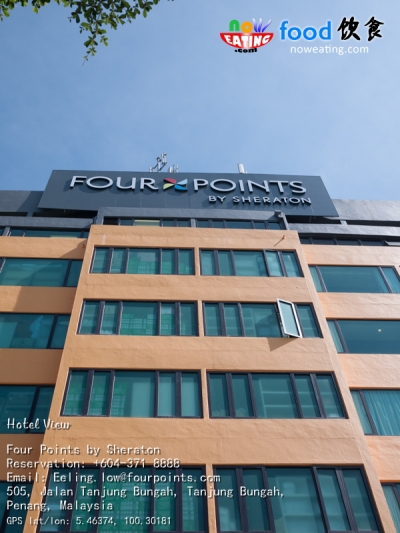 Four Points by Sheraton is a new hotel in Tanjung Bungah. It occupies the previous Tanjung Bungah Hotel premise and converted the old building into a stylish new hotel.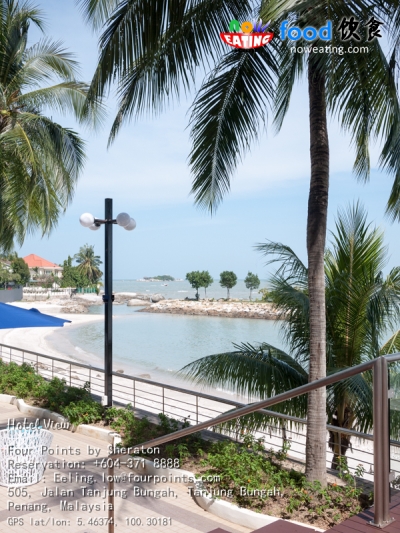 The moment I walked into their lobby, I couldn't help myself and ran to another end of the building to enjoy their breathtaking beach view. The beach is clean and well-maintained. The more I looked at it, the more I felt like I was at Sentosa Island of Singapore.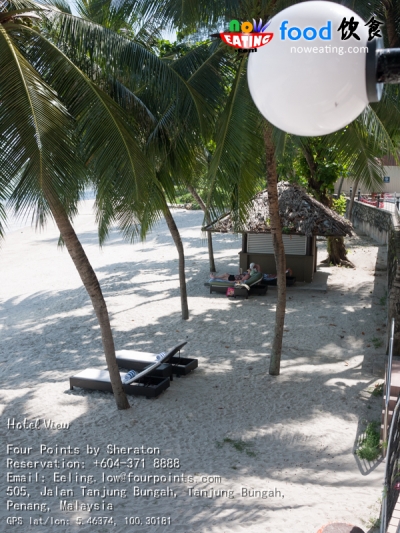 Of course, you can walk and play on the beach. A few beach chairs are provided and you can even order drinks from the beach.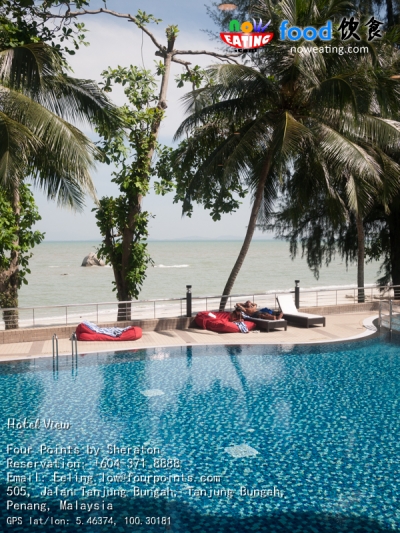 On the right hand side is a swimming pool with the depth of approximately 1.2 meters. Few guests were laying there lazily, probably spending whole day tanning and swimming.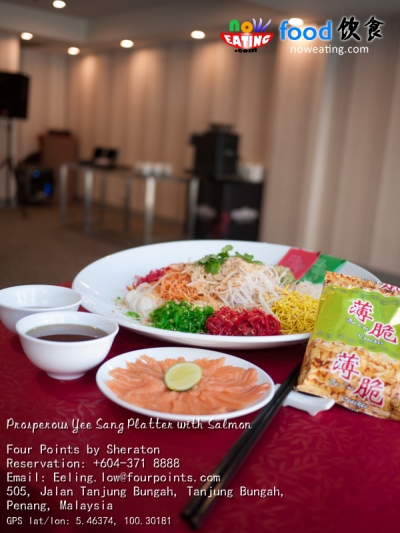 We were invited for an 8-course meal for Chinese New Year, which is available from 30-Jan until 13-Feb-2014. The price is RM850+. Note that Four Points only charge 6% government tax and there is no 10% service tax in which most restaurants usually charge. Two menus are available and the one we tried is Set B. The course begun with Yee Sang and ended with Sea Coconut and White Fungus dessert.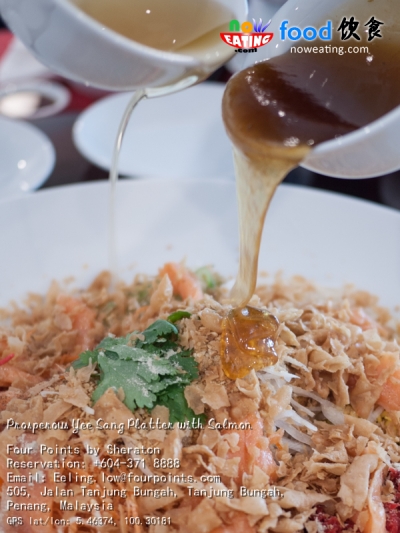 Prosperous Yee Sang Platter with Salmon 风生水起 (三文鱼生) consists of standard ingredients including two packs of crackers. The Yee Sang is also available for takeaway at RM58+. Pretty reasonable.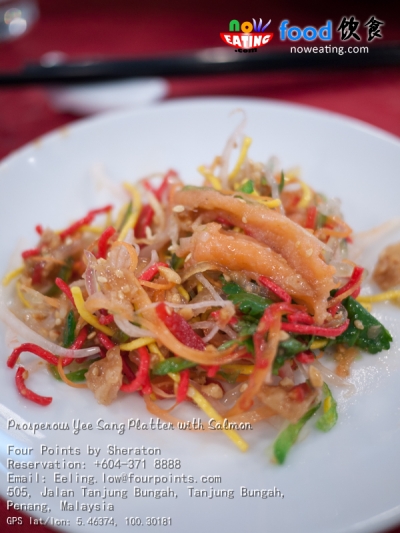 In fact you never try Yee Sang before, below are steps to enjoy:
Put everything on the big plates, including raw fish, seasoning, Yee Sang sauce, oil, and crackers.
Stand up.
Using chopstick, push the ingredients toward the centre. Then lift your chopstick up. Release so that ingredients will drop to the plate. This should be done together.
Shout some good words (e.g. 恭喜发财,财源广进,身体健康,万事如意,Huat Ah, Heng Ah, Ong Ah, etc) while toasting.
Repeat step 3 – 4 until the ingredients are well mixed (and the table get messy).
Took mixed Yee Sang to your own plate and enjoy.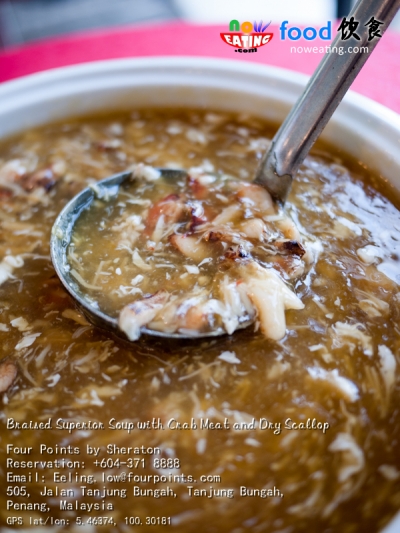 Similar to most Chinese restaurant, the second item is Braised Superior Soup with Crab meat and Dry Scallop 财通四海 (干贝蟹肉羹). Note that it does not come with Shark Fin as Starwood (the management of Four Points) practices "Anti-shark finning". Personally I prefer to have some fish maw and sea cucumber in it to make the soup richer.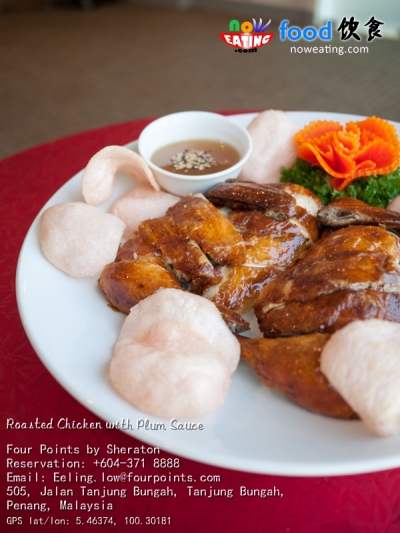 Personally I like their Roasted Chicken with Plum Sauce 凤凰报喜(梅酱烧鸡). The bird was roasted to perfection. Also, it has been a while seen I enjoyed prawn crackers.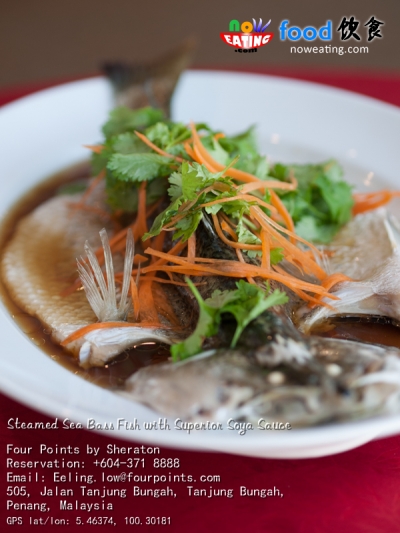 Other dishes included Steamed Sea Bass Fish with Superior Soya Sauce年年有余 (清蒸石甲鱼)…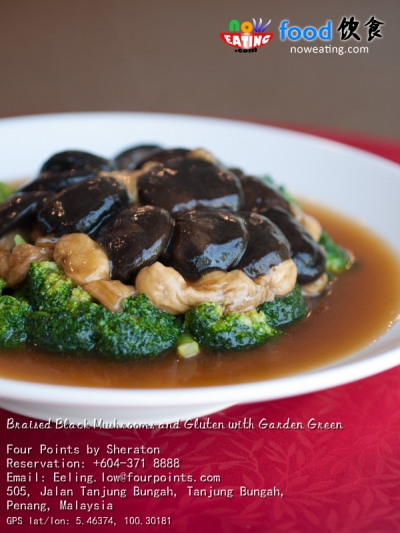 万事如意 (冬菇,豆根,时蔬)
Braised Black Mushrooms and Gluten with Garden Green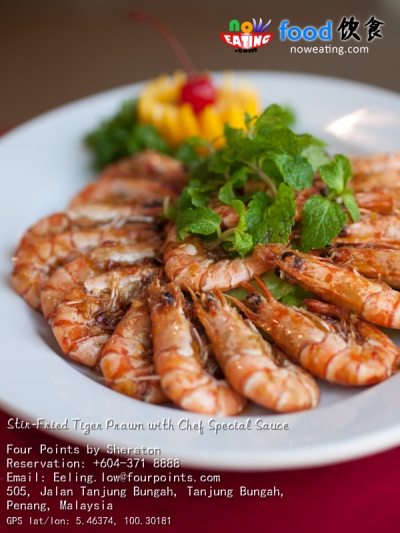 笑口常开 (特式炒虾)
Stir-fried Tiger Prawn with Chef Special Sauce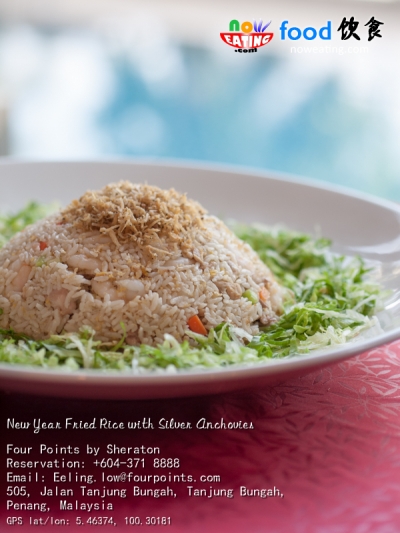 遍地黄金 (新年炒饭)
New Year Fried Rice with Silver Anchovies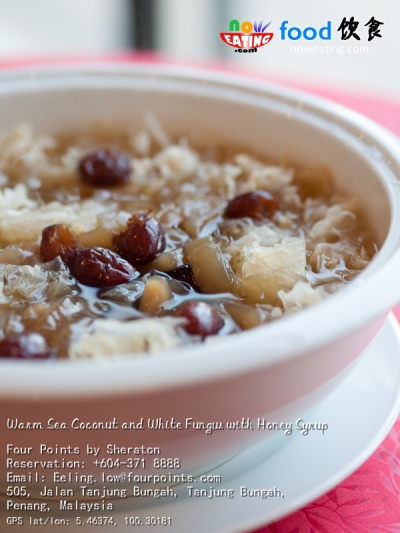 新年快乐 (蜜汁雪耳海底椰)
Warm Sea Coconut and White Fungus with Honey Syrup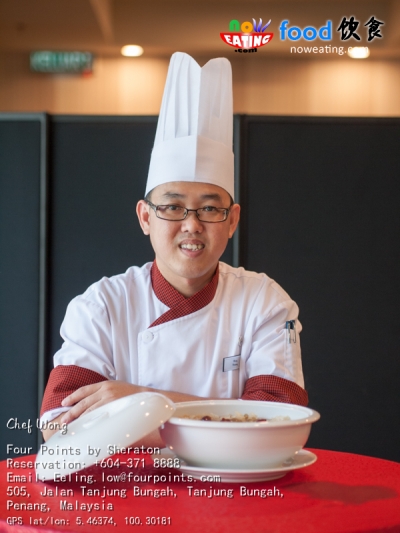 As a whole, the course meal is pretty standard like those found in most hotels. Special thanks to Chef Wong for preparing such a nice course meal. Pricing-wise it is not expensive either considering you are dining next to beautiful beach. If you are looking to pay the new Four Points hotel a visit, now is a good chance.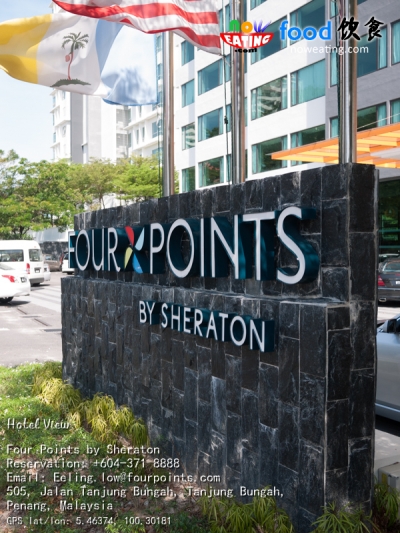 Other than course meal, Four Points also has Chinese New Year Buffet:
Chinese New Year Buffet
Date : 30 January – 1 February 2014
Time : 6pm – 10pm
Price : MYR88.00+ per person
Reservations:-
+04 371 8888 (General. Email: [email protected])
+04 371 8707 (The Eatery)
Menu:
CNY EVE DINNER BUFFET
Chinese New Year Set Lunch/Dinner
With a minimum of 10 persons, select your choice of menu and enjoy a private Chinese New Year lunch or dinner with your loved ones!
Date : 30 January – 13 February 2014
Price: MYR850.00+ per table
Reservations:-
+04 371 8888 (General)
+04 371 8833 (Low Ee Ling, Catering Manager. Email: [email protected])
+04 371 8834 (Phang Sue Ann, Catering Sales Executive. Email: [email protected])
Menu 1: CNY SET MENU (A)
Menu 2: CNY SET MENU (B)
Yee Sang Takeaways
Prosperous Yee Sang Platter with Salmon
Price: MYR58+
Servings: 10 pax
Reservations:-
+04 371 8888 (General. Email: [email protected])
+04 371 8707 (The Eatery)
| | |
| --- | --- |
| Place Name: | Four Points by Sheraton |
| Cuisine: | Chinese |
| Address: | 505, Jalan Tanjung Bungah, Tanjung Bungah, 11200, Penang, Malaysia |
| Tel: | +604 371 8888 |
| Email: | [email protected] |
| Website: | www.fourpointspenang.com |
| Tax: | 6% government tax |
| Last Visit: | 20140115 |