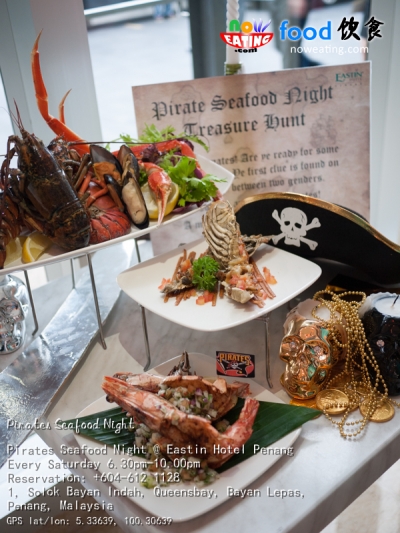 As a business hotel, Eastin Hotel Penang used to have more guests during weekdays and less during weekends. However, during our recent visit to their Saturday night buffet, I was surprised to see the restaurant was actually full house, all thanks to their new Saturday night buffet theme – Pirate Seafood Night.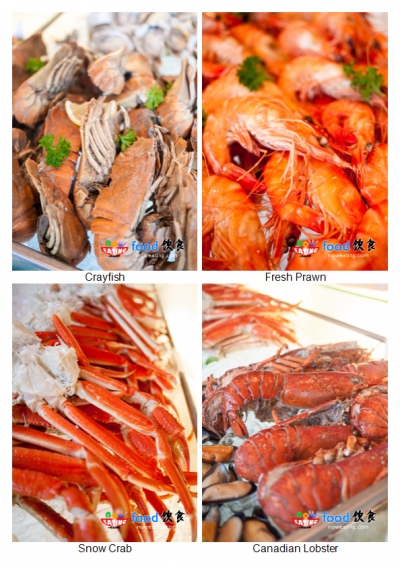 Each month, Eastin Hotel Penang has different buffet theme. One thing I notice about their buffet was that they were lacking of fresh seafood such as fresh shellfishes and sashimi. Pirate Seafood Night is a totally different story in which many fresh seafood are provided on ice tray, including crayfish, prawn, snow crab, Canadian lobster…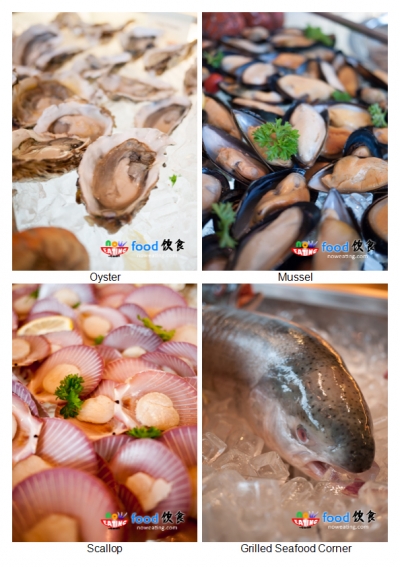 … oyster, mussel, and scallop. A live counter is also available in which assorted seafood are grilled by the crew on the spot. Overall, the seafood are fresh.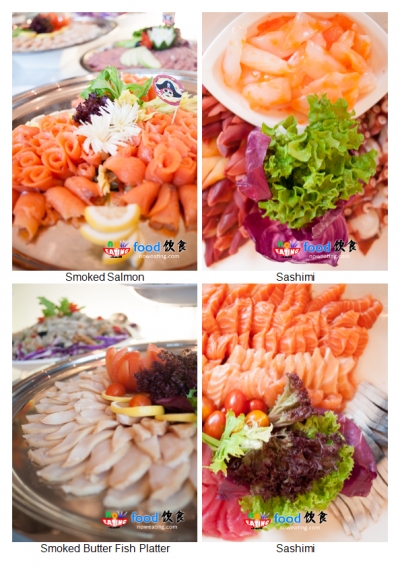 Eastin Hotel Penang also does not hesitate to present you sashimi and fish cold platter even though it is not a Japanese buffet.  Fresh salmon, tuna, mackerel and baby octopus legs are ready on big plates for you to take. Personally, I like their smoked salmon and smoked butter fish platter. Who needs Japanese buffet while you already have Pirate Seafood Night.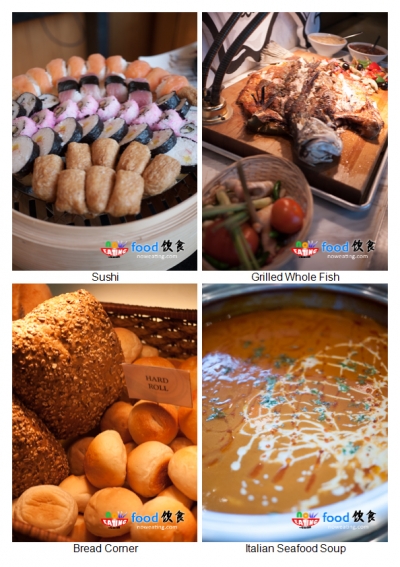 Other than sashimi, assorted maki is also available. Anyway, I skipped them including soup (e.g. Italian Seafood Soup) and bread series due to limited tummy space. I also don't have a chance to try their Grilled Whole Fish as it finished fast.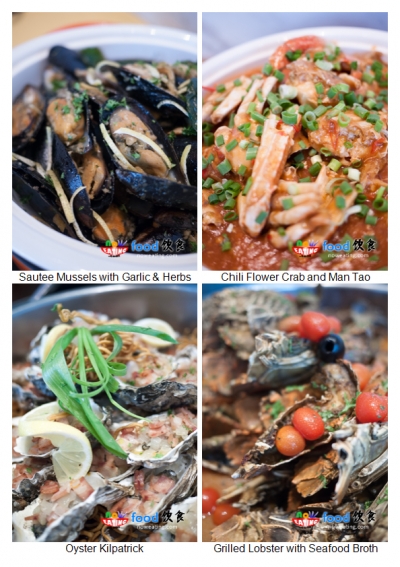 The seafood does not stop on ice trays. Eastin Hotel Penang is generous enough to offer you seafood cooked in different way as well, including Sautee Mussels with Garlic & Herbs, Chili Flower Crab and Man Tao, Oyster Kilpatrick, and Grilled Lobster with Salmon Broth. All tastes as well as those prepared by professional chefs (well, they are professional chefs anyway).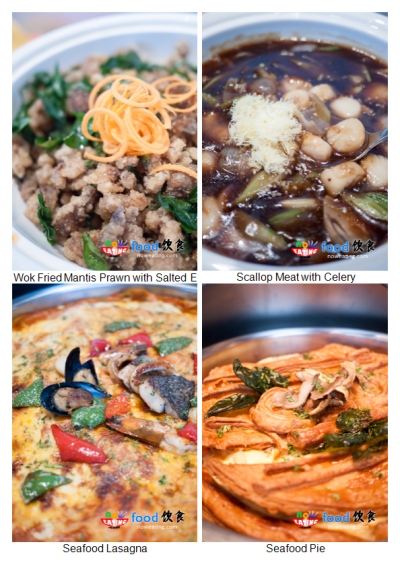 Personally, I like their seafood pie and lasagna which occasionally available during weekday buffet as well. Wok Fried Mantis Prawn with Salted Egg is another highlight of the night.  I had no chance to try out their Scallop Meat with Celery as those scallops were being scoped out by customer and left only the broth.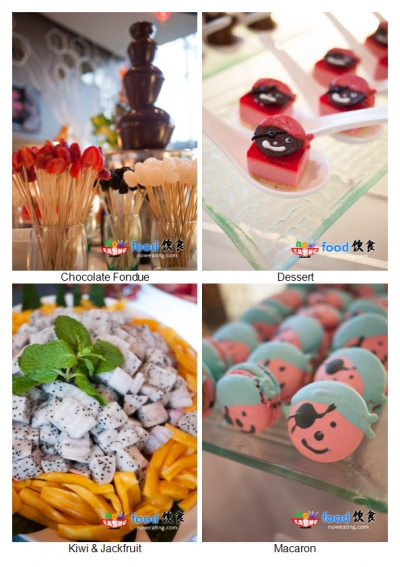 Last but not least, the dessert was quite tempting as well. Macaron finished fast  probably due to its cute pirate face. We actually asked one of the chefs to make some more for us.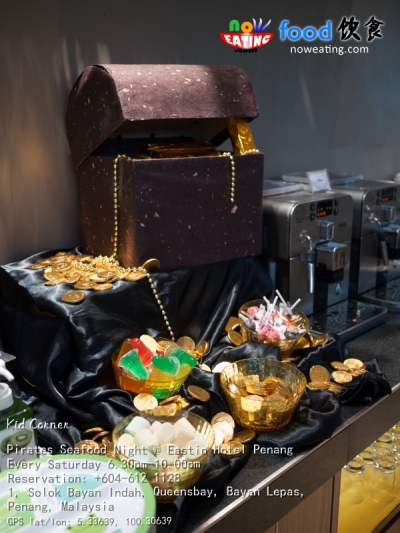 One thing special about Eastin Hotel Penang is that they do have a Kid Corner for all sort of sweet, chocolate, and ice cream.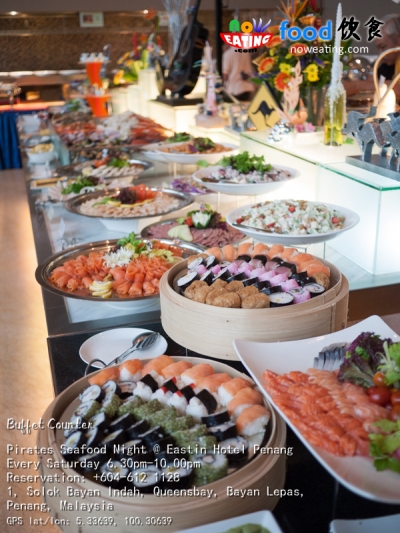 Pirate Seafood Night is available every Saturday from 6:30pm-10.00pm at the price of RM80++ for adult, and RM48++ for child. Personally I would suggest you to reach there by 6:30pm to avoid some "key items" being swiped out by other guests. With various seafood, the price is pretty reasonable. After this buffet dinner, I visited another 5 stars hotel nearby for another Saturday seafood buffet. It was a big disapointment due to the lack of fresh and cooked seafood, not to mention that the price is RM5++ more expensive than Eastin Hotel Penang.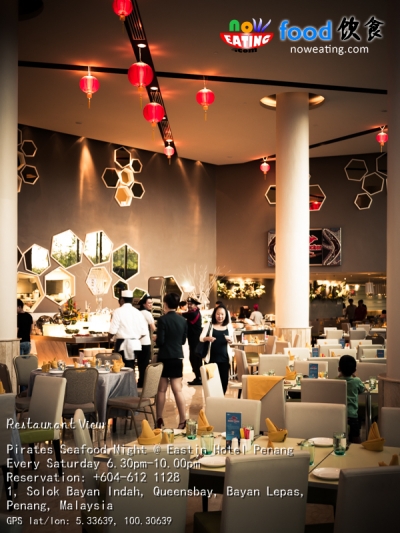 As a whole, I strongly recommend this Pirate Seafood Night buffet.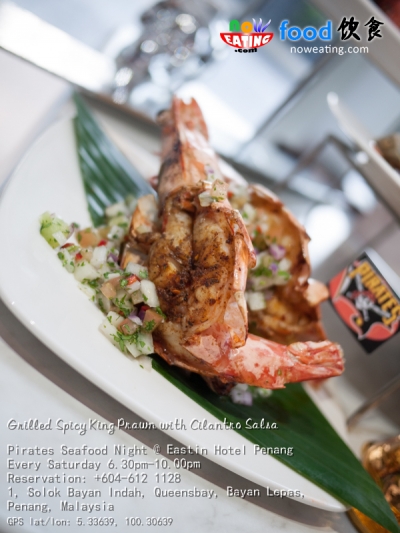 Other than Pirate Seafood Night, two more special buffets are available:
Semi Buffet Dinner (Wine and Dine): Every Wednesday
6.30pm-10.00pm
From RM95++ per person
Buffet Dinner (Free Flow Friday): Every Friday
6.30pm-10.00pm
RM128++ (adult)
RM48++ (child)
Year Long Credit Card Promotions
Standard Chartered Bank, CIMB Bank, Citibank and MasterCard Worldwide card members, guests can enjoy 15% discount for Semi Buffet Dinner (Sunday – Thursday) and Weekend Buffet Dinner (Friday & Saturday) from 6.30pm – 10.00pm.
For any inquiries, please call Swez Brasserie, Eastin Hotel Penang at +04 612 1128.
| | |
| --- | --- |
| Place Name: | Eastin Hotel Penang |
| Cuisine: | Buffet |
| Address: | 1, Solok Bayan Indah, Queensbay, Bayan Lepas, Penang, Malaysia |
| Tel: | +604-612 1128 (Swez Brasserie) |
| Email: | [email protected] |
| Website: | www.eastin.com |
| Tax: | 10% Service Tax, 6% Government Tax |
| Last Visit: | 20140112 |