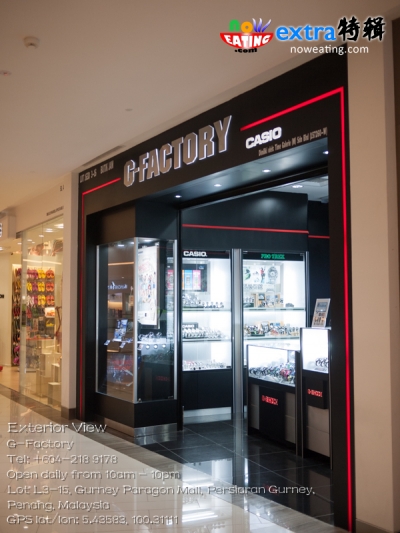 Gurney Paragon Mall was opened in year 2013. Last week, I had a chance to do some window shopping after doing a food review there, namely two shops – G Factory and Royal County of Berkshire Polo Club. (For complete Gurney Paragon directory, refer here)
Royal County of Berkshire Polo Club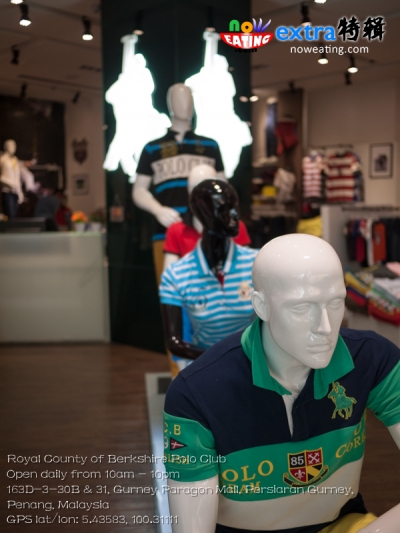 For years, I am confused with shirts with logo of a man riding on a horse and holding a hockey/golf stick. Usually, the shirts have "Polo" keyword embedded on it. Polo is a game of Eastern origin resembling field hockey, played on horseback with a long-handled mallet. Polo shirt is a casual short-sleeved cotton shirt with a collar and several buttons at the neck. I believe the reason they call it Polo shirt is because the Polo players are wearing the same kind of shirts when playing Polo.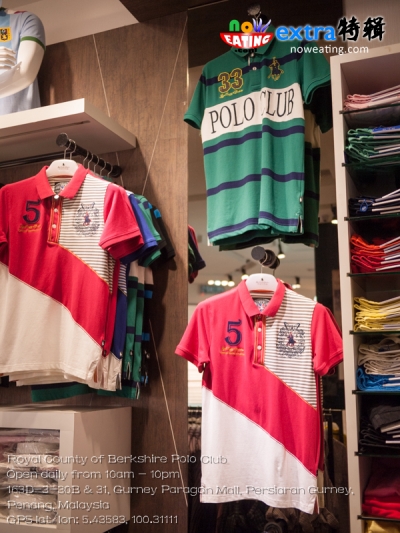 My question is, "Is there a fake Polo shirt?". After visiting Royal County of Berkshire Polo Club and googled a bit, the answer is yes and no:
There are many Polo shirts with "men riding on a horse" logo. The different is on the place of origin. Some well-known brands are such as Ralph Lauren (US), Santa Barbara (US),  U.S. Polo Assn (US), and Royal County of Berkshire (UK). Their logo is slightly different. Royal County for instance, has the stick holding 90 degree. Ralph Lauren is holding the stick at 45 degree. U.S. Polo Assn has two horsemen.
Similar to many fashion items, as things get popular, there will be fake/counterfeit product coming out. They usually can be differentiated from the quality of sewing. For safety purpose, always purchase from reputable store.
There are also local Malaysia Polo. If you see a "men riding horse" logo with just a "POLO" word, chances are they are local products.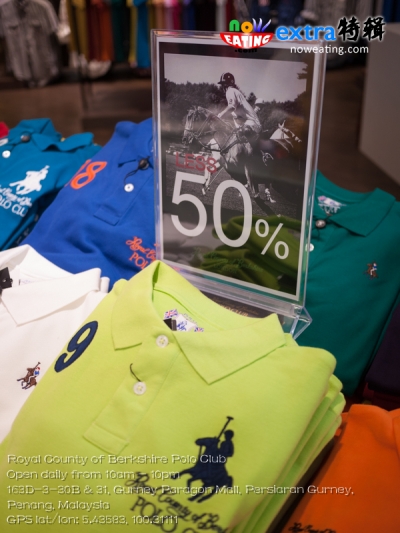 Royal County of Berkshire Polo Club is currently having 50% discount sales so it is good time to grab some for next Chinese New Year. Pricing-wise, it is not too expensive either with the most expensive one around RM199.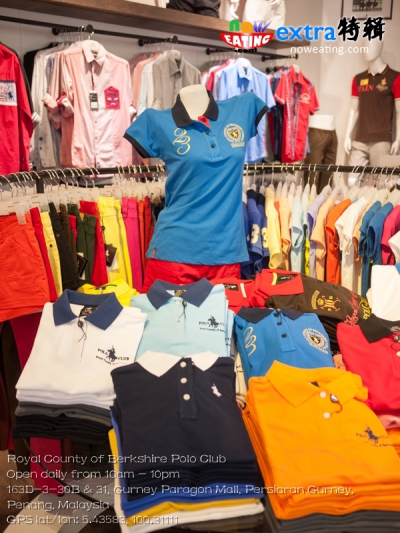 The shop also has polo shirt for female, kids, pants, briefs, and socks.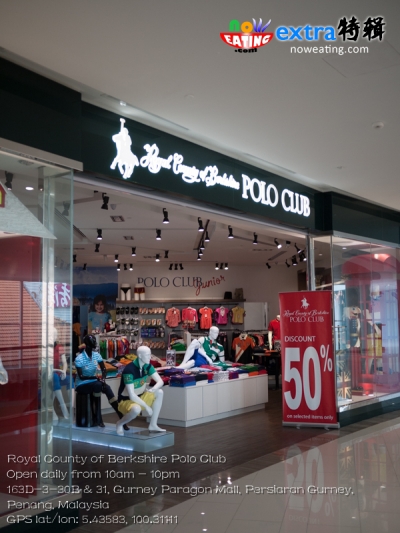 As a whole, an apparel shop worth visiting. It is located at Level 3 of Gurney Paragon Mall.
G-Factory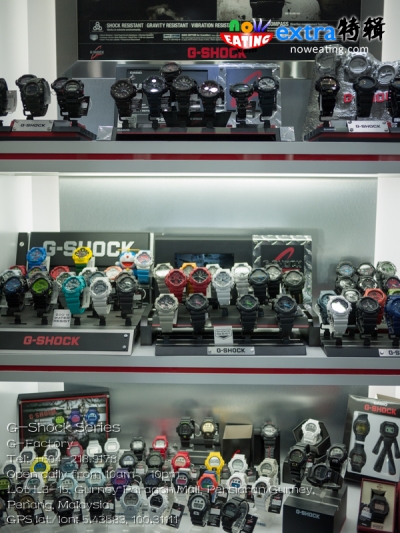 Casio G-Shock and Baby-G should not be a stranger for locals as they exists since I was studying at primary school. They are basically Casio's shock and water resistance series of watches. I myself are wearing a 10 years old MT-G 700 model which is made of metal body and strap, a rare model considering most G-Shock watches come with plastic/rubber body.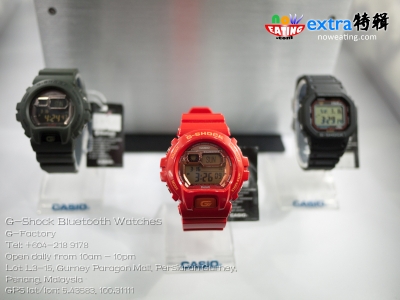 However, when asking the supervisor, the MT-G is no longer in production. In return, we found new G-Shock watches with Bluetooth feature. If you are a fan of Samsung, you may already know of Samsung Galaxy Gear watch. First question comes into my mind was the battery life. While Samsung Galaxy Gear only can run up to 6 days on full charge, Casio uses normal coin battery and can run up to 2 years! Display-wise, unlike Galaxy Gear which is using 320×320 sAMOLED, Casio is just using normal digital watch seven-segment display. It is able to receive call, message, email, calendar, and reminder alerts. Other useful features include tracking your phone and control music.  It is able to support both Samsung Note3/S4 and iPhone 5s/5c/5/4s. Did I mention that it is 200m water and shock resistance?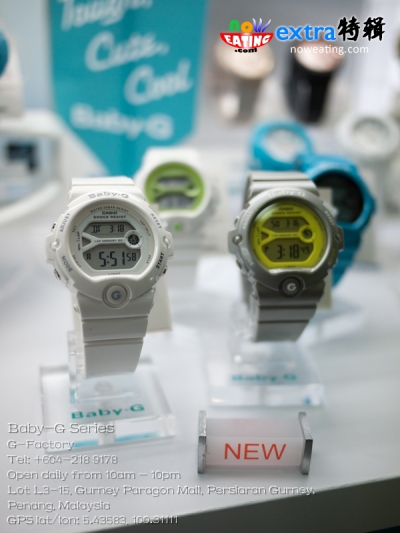 Other watches include Baby-G series for girls, SHEEN series for ladies, and Edifice series for executives. G-Factory is actually from the same Time Galerie company, in which you will find one at Sunshine Square, Bayan Baru. The different is that it has more choices for Casio watches.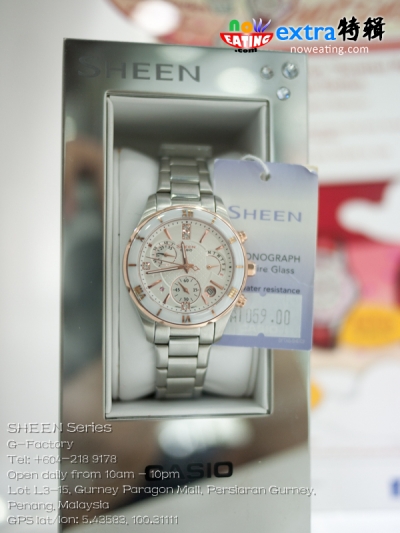 That conclude my "window shopping" at Gurney Paragon Mall. Even though I did not get to buy anything due to budget constrain, at least I learned somethings new. Special thanks to both G-Factory and Royal County of Berkshire Polo Club for explaining their products and allowing me to take photo. We hope we can spend precious and memorable time like this in near future.