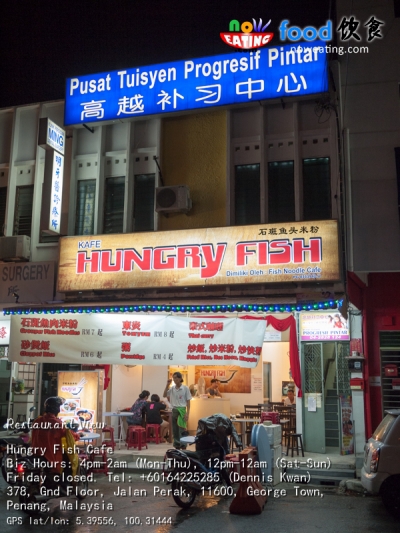 Due to distance issue and a little narrow road of Perak Road, Penang, I seldom visit restaurants there until recently. There are some changes and developments, including the bye-bye of O2Leaf (replaced with Post Cafe) and new Hungry Fish cafe which we are going to review in this post.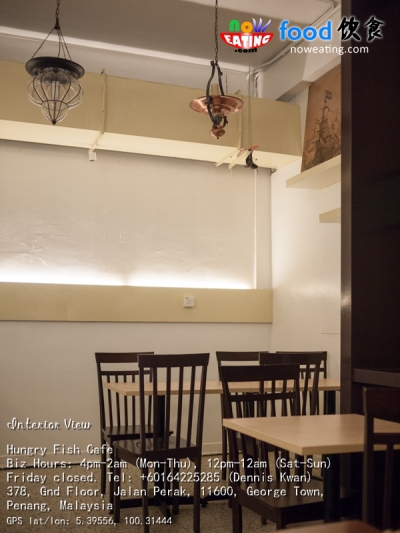 Hungry Fish is located same row with Post Cafe (nearby Old Town Coffee of Perak Road). The cafe is operated by father and son. The father is the only chef while his son taking orders and supervising the whole cafe. The cafe is specialized in fish noodle in which you will find quite a number of similar stalls along Perak Road.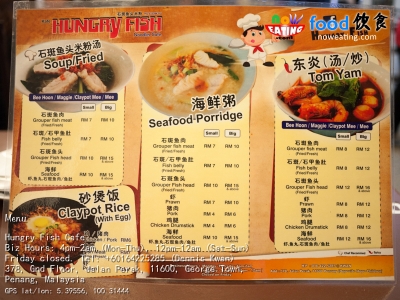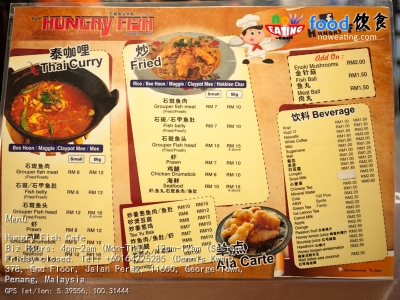 The simple menu consists of two pages. Ordering is quite simple: the waitress will approach you to take order and give some recommendation.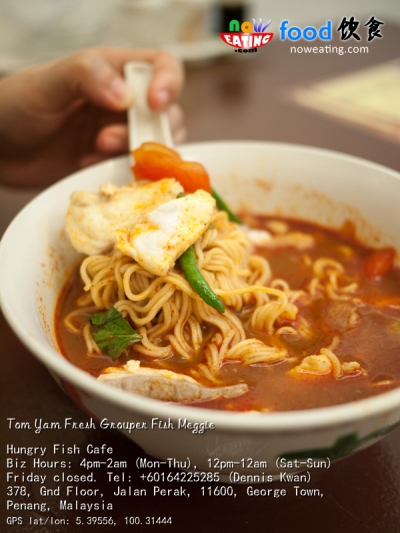 We were craving for Tom Yam during our first visit so we ordered Tom Yam Fresh Grouper Maggie. Similar to most fish noodle stalls, you are free to customize your order, such as selecting between fresh or fried fish, maggie or (thick/thin) bee hoon (rice noodle). The Tom Yam definitely has its kick. For Penangites who like spicy food, it is just perfect.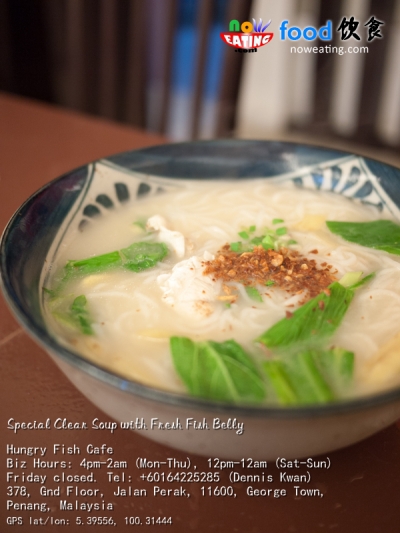 One thing special about this fish noodle cafe is that, other than fried/fresh fish meat, they do have fish belly as well. My first encounter with fish belly was when ordering Ikan Perut from a Nyonya restaurant, in which it has strong fishy taste. However, Hungry Fish strongly recommended me to try out their "kucabi" clear soup noodle with fish belly (RM8 small), which was made of thick broth without any milk (by the way, they are milk and coconut milk-free). I ended up ordering one.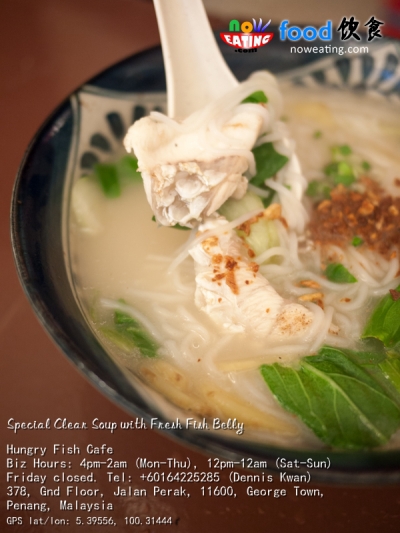 Surprisingly, it did not taste fishy at all. One reason the owner recommended fish belly is because it is easier to retain its shape after long period of cooking.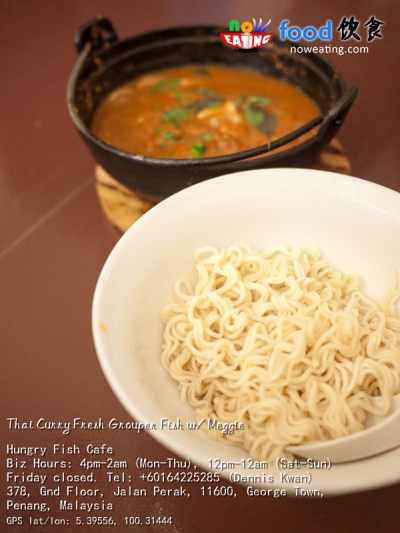 Perhaps what makes Hungry Fish stands out from others is the addition of three series: Thai Curry, Claypot Rice, and Fried Rice/Noodle series. Compared to Tom Yam, Thai Curry is less spicier and has thick gravy. It tastes a bit like Nyonya spicy sauce used in steaming fish with lemongrass, ginger flower, chili, etc ground together before cooking. Both curry and noodle/rice are separated.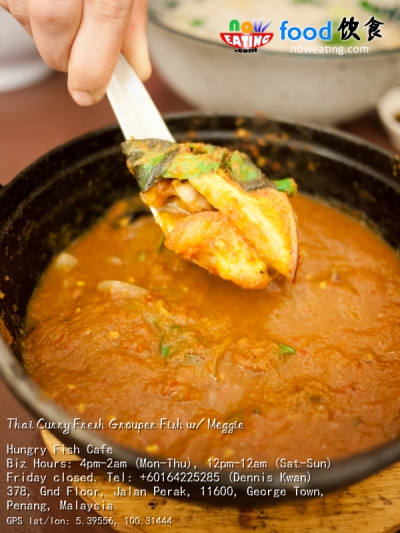 It is best consumed with rice in my opinion. Perhaps a minor drawback was that the gravy was a bit bitter, probably due to one or more herbs being used.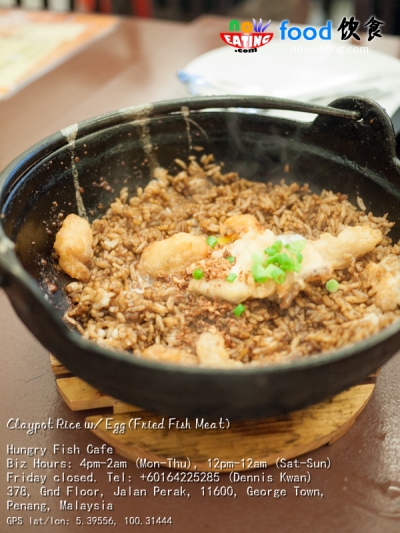 Claypot rice is not really cooked using claypot but Japanese cast iron hot pot. You can customize the topping you like, such as fish, prawn, pork or chicken. The one I ordered was Fried Fish Clayport Rice (RM7). It tastes like normal claypot rice but personally I prefer it to have mushroom added.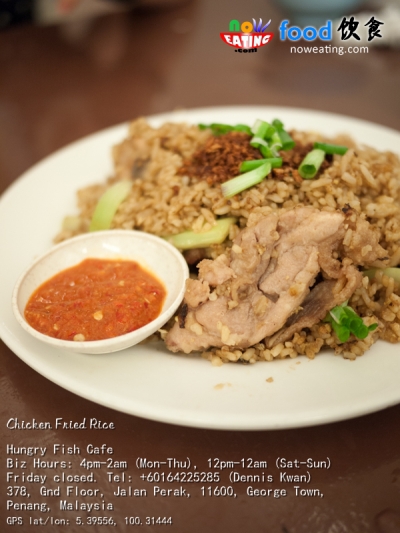 Their fried rice is not bad as well. The chicken fried rice (RM6) consisted of a chicken drumstick and was pre-fried. Juicy and had the "wok hey".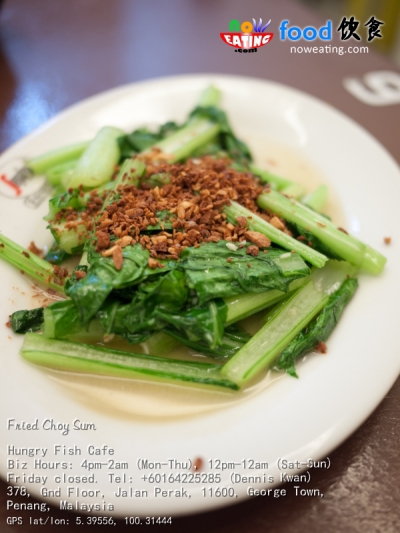 When Hungry Fish met with hungry ghosts like us, they have to spend more time preparing food for us, including side dish – Fried Choy Sum (RM4) we ordered.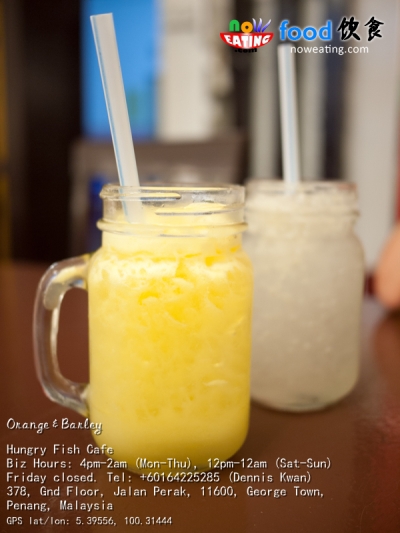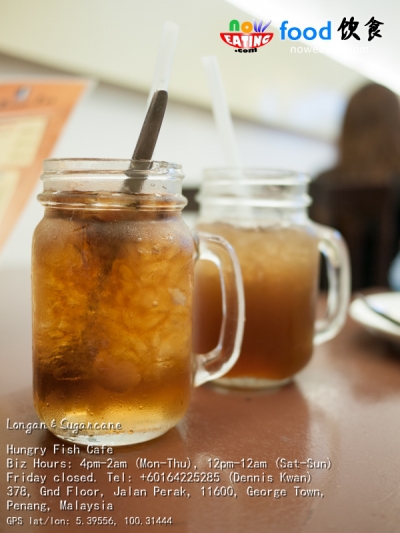 Last but not least, we had longan, sugarcane, orange juice and barley in fancy glasses. Judging on the interior, the same shop probably hosting another cafe before this and the current owner simply bought over it, together with their drinking glasses.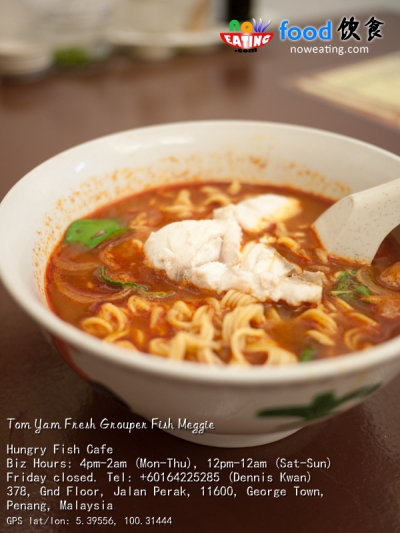 Hungry Fish is worth visiting thanks to its fresh Grouper fish and special Thai curry and fish belly. Perhaps the only drawback is long wait time if the cafe is full of customers since there is only one chef preparing the food. For us, the wait time was acceptable, probably due to right timing.
| | |
| --- | --- |
| Place Name: | Hungry Fish |
| Cuisine: | Chinese |
| Address: | 378, Ground Floor, Jalan Perak, George Town, 11600, Penang, Malaysia |
| Tel: | +60164225285 (Dennis Kwan) |
| Email: | [email protected] |
| Working Hour: | 4pm-2am (Mon-Thu), 12pm-12am (Sat-Sun). Friday closed. |
| Tax: | No |
| Last Visit: | 20140401 |