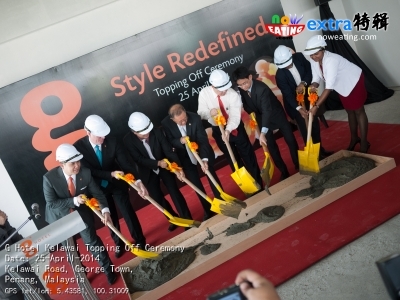 [PENANG] As a blogger, it was an honor to be invited to G Hotel Kelawai topping off ceremony, witnessed by Chief Minister, Mr. Lim Guan Eng himself on 25th-April-2014.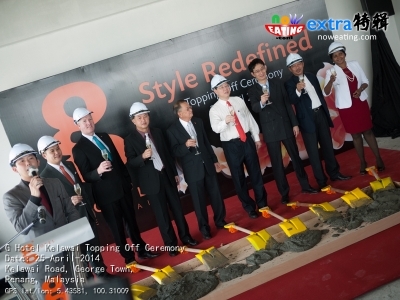 Topping off (also known as "topping out") ceremony is a builders' rite traditionally held when the last beam or equivalent is placed atop of a structure during its construction. Nowadays, it is usually turned into a media event for public relation purposes. After topping off, numerous construction elements remain, including interior finish, electrical, mechanical, and plumbing systems.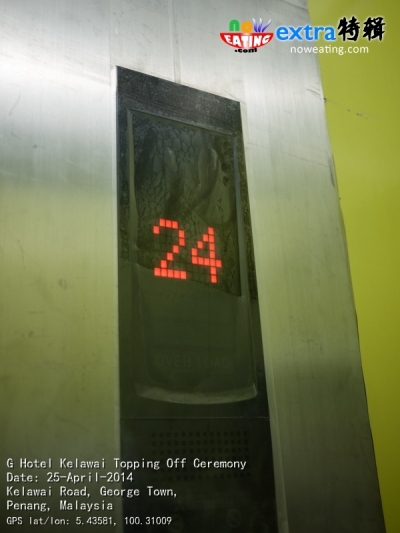 The topping off ceremony was conducted at 24th floor – the highest floor of G Hotel Kelawai hosting an infinity pool and pool bar, which are currently still under construction.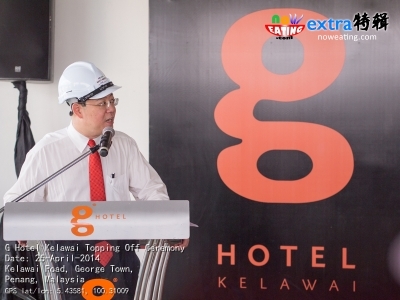 The event begun with the speech by General Manager of G Hotel, Mr. Michael Hanratty, followed by speech by Director of G Hotel, Mr. Phuah and CM, Lim Guan Eng.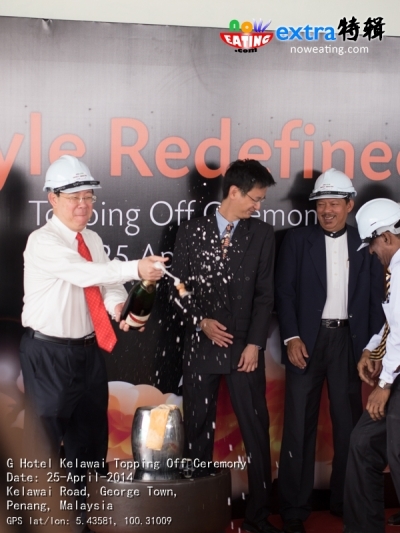 Topping off ceremony and champagne pouring events were followed. VIPs and media were then ushered back to G Hotel Gurney for press conference and buffet lunch at G Cafe. The buffet in G Hotel Gurney is well-known of its delicious desserts.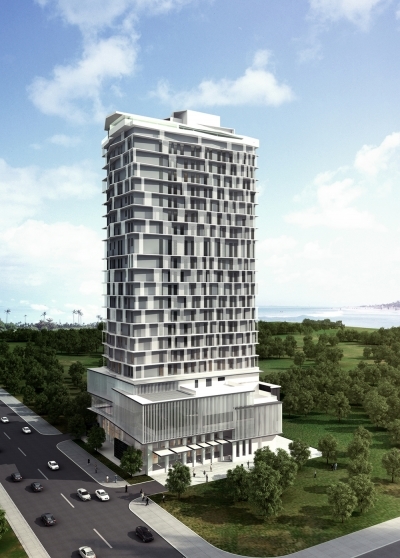 G Hotel Kelawai is located just right behind G Hotel Gurney (formerly G Hotel) at Kelawai Road with about 3 minutes walking distance from G Hotel Gurney. Currently, the building is still under construction is expected to finish in third quarter of 2014. Similar to G Hotel Gurney, it will be a 5-star hotel. While pricing-wise is yet to confirm, it is expected to be more or less similar to G Hotel Gurney. A quick check in Hotels.com shows that a standard room is priced at RM520.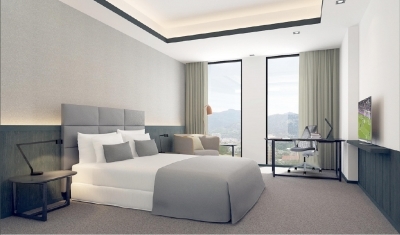 The new hotel consists of a total of 208 rooms (vs. 312 rooms of G Hotel Gurney) namely 143 Deluxe rooms, 63 Executive Rooms, and 2 units of suites with modern and stylish furniture.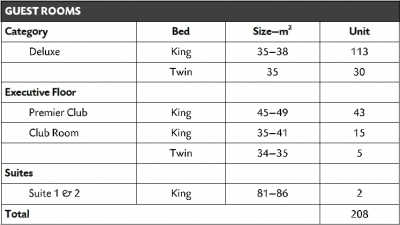 In general, consider it a smaller version of G Hotel Gurney with the same star rating and room size (e.g. around 38 sq m for deluxe rooms).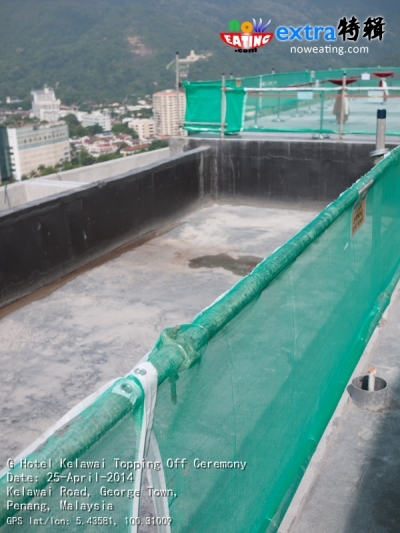 Facilities-wise, G Hotel Kelawai offers a gymnasium with personal trainers, business center, and roof top infinity pool. Three trendy food and beverage outlets namely a coffee house, lobby lounge, and club lounge combined with the roof top bar are also available. I had an opportunity to witness the building of the small infinity pool, which is located at 24th floor allowing you to have 180 degrees view  of Penang islands.

Some landmarks I noticed are Komtar, Penang Turf Club, Kek Lok Si, and Mount Erskine.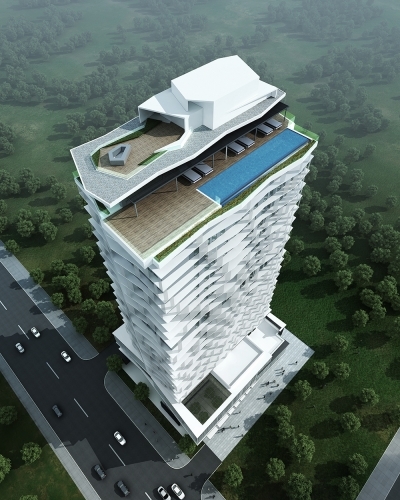 Last but not least, G Hotel Kelawai is located at crawling distance between the famous Gurney Plaza and Gurney Paragon shopping malls. For Penangites, they should not be strangers but if you are coming to Penang for the first time, both are shopping malls worth visiting with some well-known brands in it such as Coach, Omega, Rado, H&M, Victoria's Secret and many international restaurants.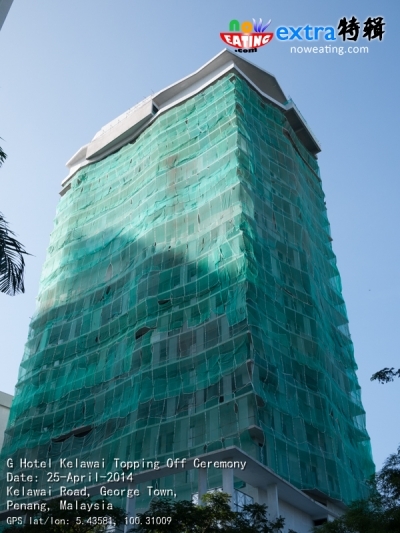 G Hotel Kelawai is expected to be opened in third quarter of 2014 and I hope to bring you more information that time. Until then, see ya.
For more information, download official data below or contact G Hotel at +604 2380 000 or access their website at www.ghotel.com.my.
G Hotel Kelawai Fact Sheet (645KB)