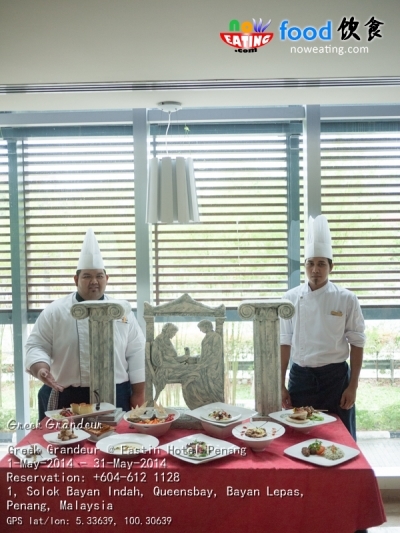 It will be a "cheesy" May for Eastin Hotel Penang in which they will be serving mainly Greek cuisine for their buffet line.
From Wiki, Greek cuisine is a Mediterranean cuisine. Some widely used ingredients included olive oil, vegetables, herbs, grains, bread, wine, fish, various meats, cheese, olive, zucchini, eggplant, and yogurt.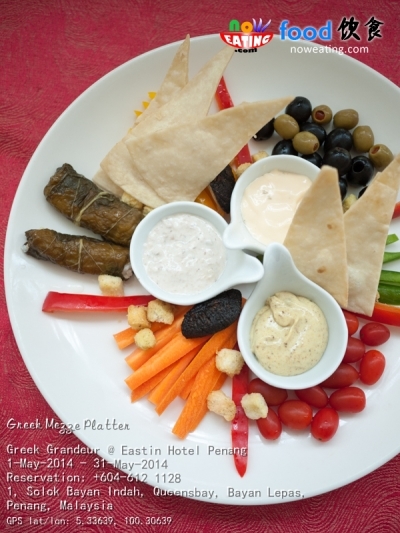 Back in Greece, many restaurants have their own house platter which can be served immediately for customers looking for quick meals. One of the appetizer to expect in Eastin Hotel Penang is Greek Mezze Platter which consists of assorted vegetables, crispy tortilla and three type of dipping sauces, namely curry mayo, yogurt tuna, and cheesy dressing.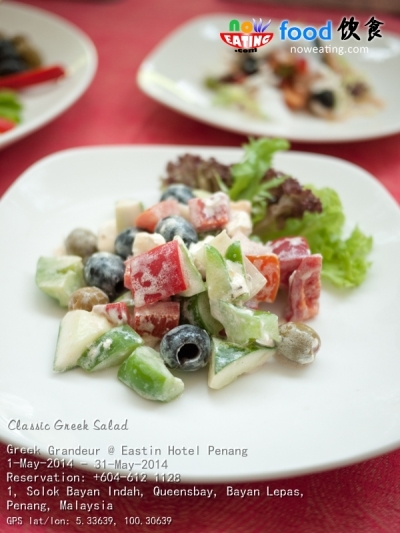 Classic Greek Salad is another classic salad found in Greece, consists of olive, capsicum, zucchini, and feta cheese to name a few.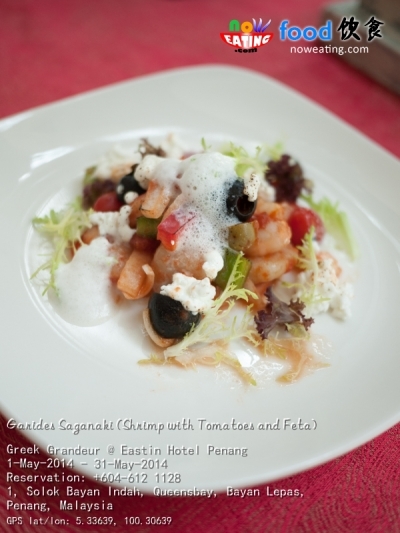 Garides Saganaki is seafood version of Greek Salad with added shrimp.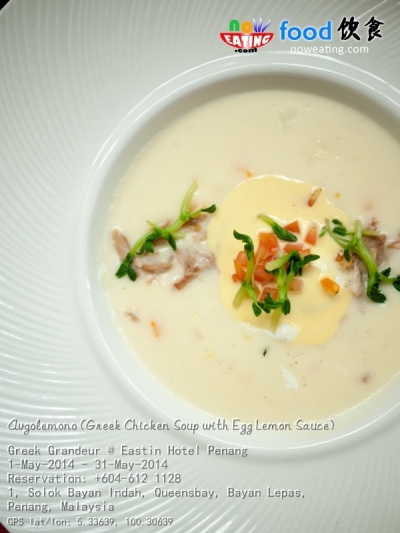 Avgolemono is Greek Chicken Soup with Egg Lemon Sauce. Taste-wise, it is like our chicken mushroom soup.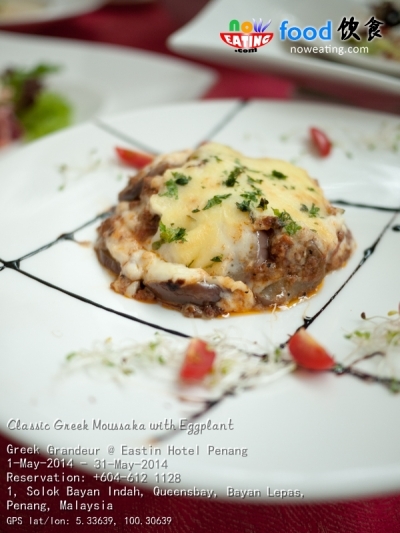 As for the main course, Classic Greek Moussaka with Eggplant is my favorite, particularly it tastes like Lasagna with added eggplant.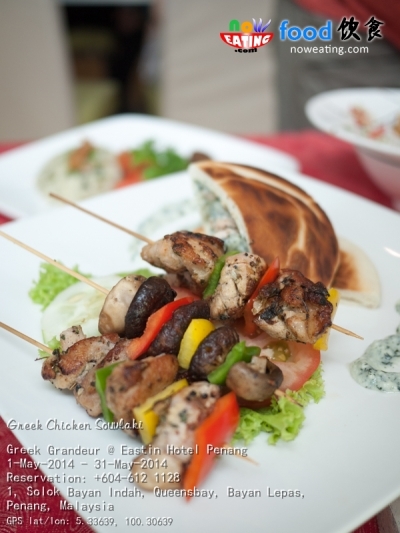 Greek Chicken Souvlaki is Greek fast food consisting small pieces of meat and vegetables grilled on a skewer. It comes with sour mint sauce for you to dip with.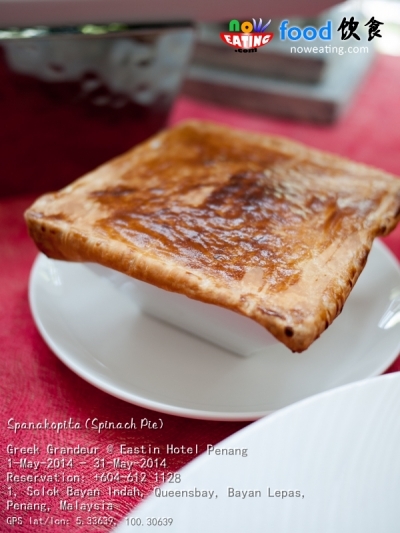 Spanakopita (Spinach Pie) is basically a pie stuffed with spinach. Popeye definitely loves this buffet.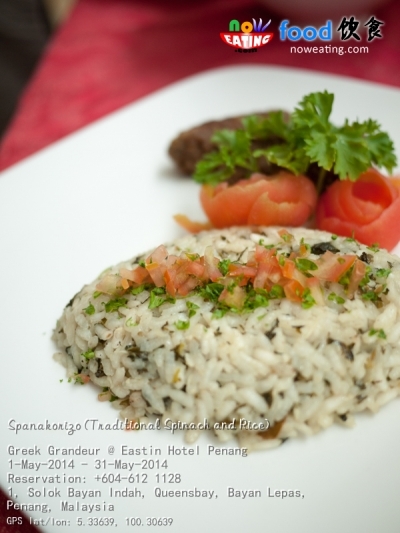 Spanakorizo (Traditional Spinach and Rice) is a Greek vegetarian dish in which the spinach and rice is cooked in lemon and olive-oil sauce. It has a bit creamy texture like Risotto (an Italian rice dish). If you already used to local rice dish, you may need some time getting used to it.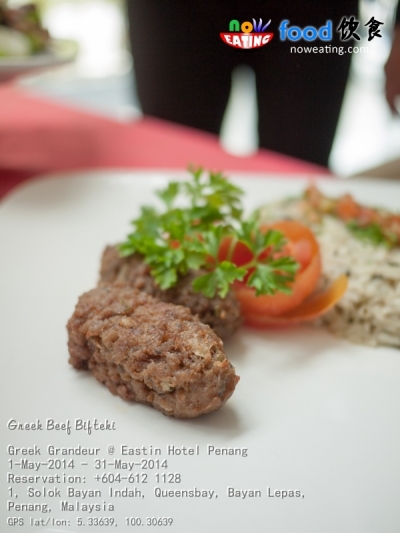 Greek Beef Bifteki. I did not take beef so no comment on this.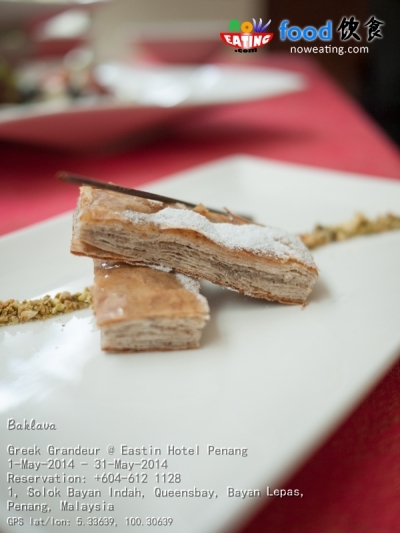 Dessert-wise, Baklava is a rich and sweet pastry made with layers of filo pastry and chopped nuts and held together with syrup or honey. It tastes a bit like Nutella.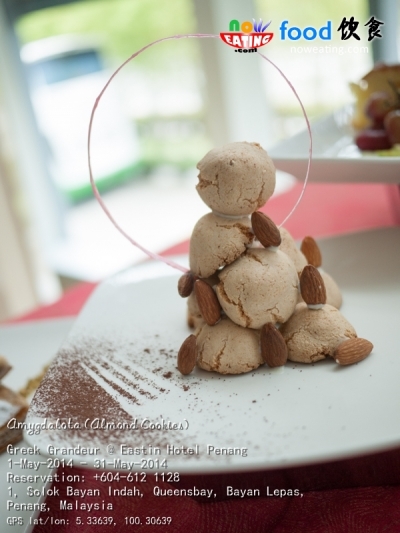 Amygdalota (Almond Cookies) is a bit too hard to my liking. It is best dipped with a cup of hot coffee in case you forgot to bring your chainsaw.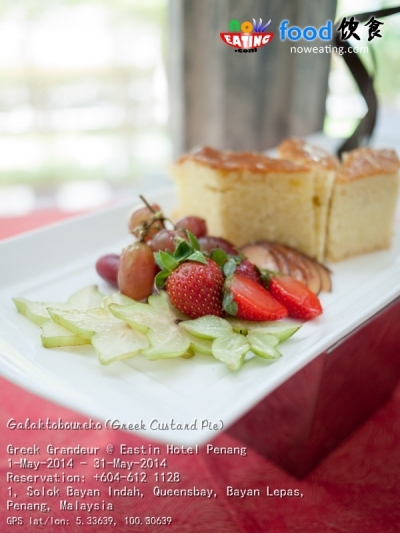 Galaktoboureko (Greek Custard Pie) is like our normal sponge cake. Personally I like it to be flavored with lemon or orange, making it a refreshing dessert after a hefty meal.
Overall, Eastin Hotel Penang took new challenge by offering you Greek cuisine hardly found in Malaysia. Do not worry if the food not suiting your taste bud as from experience, the lunch buffet is always come with some local cuisine to cater for guests of different preference. For reservation, please call +604 612 1128 (Swez Brasserie).
Greek Grandeur is available during lunch, hi-tea and dinner at Swez Brasserie from 1-31 May 2014:
Lunch: Monday – Friday
12.00 noon – 2.30 pm
RM 50 ++ (adult)            RM 25++ (Child)
Hi-Tea: Saturday and Sunday
12.00 noon – 4.00 pm
RM 68++ (adult)             RM 34++ (Child)
Semi Buffet Dinner: Sunday – Tuesday, Thursday
6.30 pm – 10.00 pm
From RM 50++ per person
May Credit Card Promotions
American Express, CIMB Bank, Citibank, OCBC Bank, Standard Chartered Bank, MasterCard Worldwide, Maybank and UOB Bank card members, guests can enjoy 15% discount for Semi Buffet Dinner (Sunday – Tuesday, Thursday) and Weekend Buffet (Saturday) from 6.30pm – 10.00pm.
| | |
| --- | --- |
| Place Name: | Eastin Hotel Penang |
| Cuisine: | Buffet |
| Address: | 1, Solok Bayan Indah, Queensbay, Bayan Lepas, 11900, Penang, Malaysia |
| Tel: | +6046121128 |
| Email: | [email protected] |
| Website: | www.eastin.com |
| Tax: | 10% Service Tax, 6% Government Tax |
| Last Visit: | 20140424 |