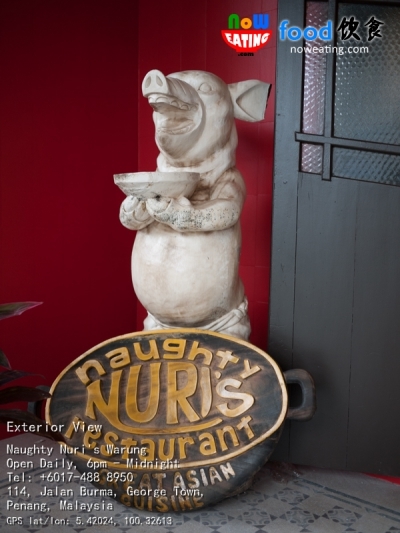 Each year, many tourists coming all the way from another side of the globe to Bali, Indonesia – a cultural and one of the world best islands for surfing, sightseeing, and the food. One of the famous restaurants being Naughty Nuri's Warung at Ubud – an urban area of Bali.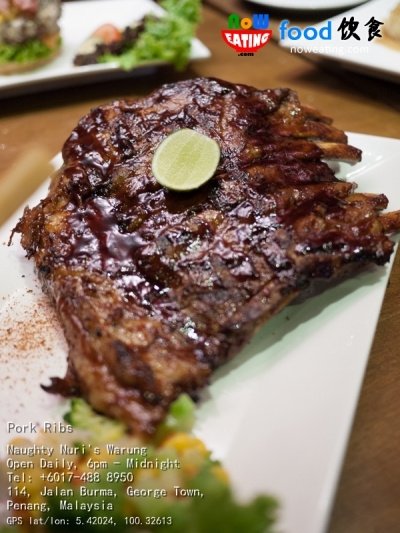 Personally, we haven't been to Bali before but we were told that the pork there was unlike those in Malaysia. For instance, their pork ribs was so tender that it melted immediately the moment you put it in your mouth. We believe it is due to the food those pigs being fed daily, making the meat more juicy and tender when it is presented on tables. We have few friends in Malaysia who still missing pork ribs at Bali after so many years.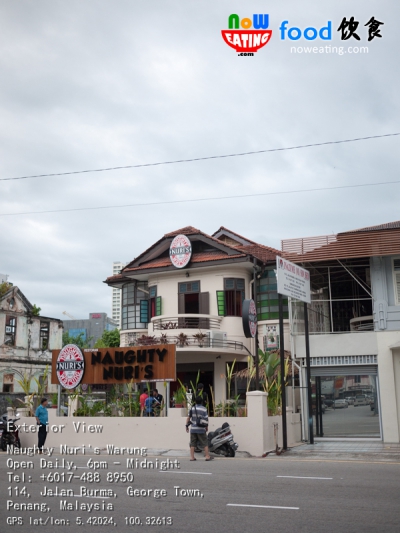 A quick check in AirAsia website shows that flying from Penang to Bali costs about RM340++ at promotional rate. Now, you can save those amount by visiting Naughty Nuri's Warung new branch at Burma Road, Penang, Malaysia. The branch is recently opened and is located at the junction between Sawtow Lane and Burma Road.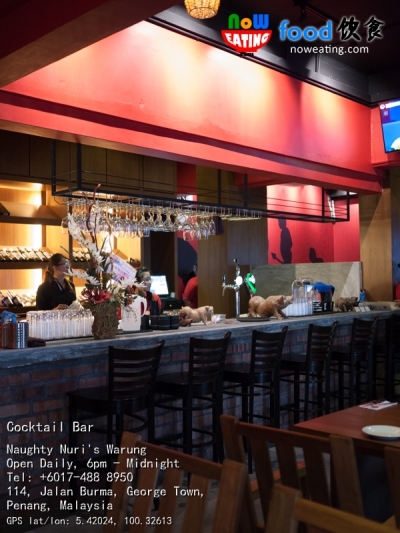 The building was used to be Kim Wah Hotel. It was then used as restaurants, including a steamboat restaurant before taking over by Naughty Nuri's. It consists of two dining floors – ground floor with a cocktail bar and dining tables…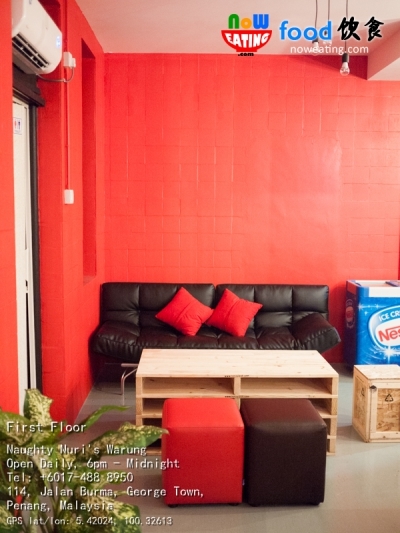 … and first floor with chillax setup suitable for group gathering.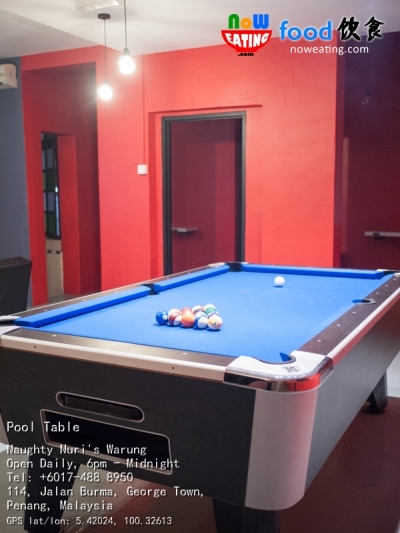 Also available on first floor is a free-play pool table which is a plus considering some cafes require you to pay more if you would like to play their pool or dart games.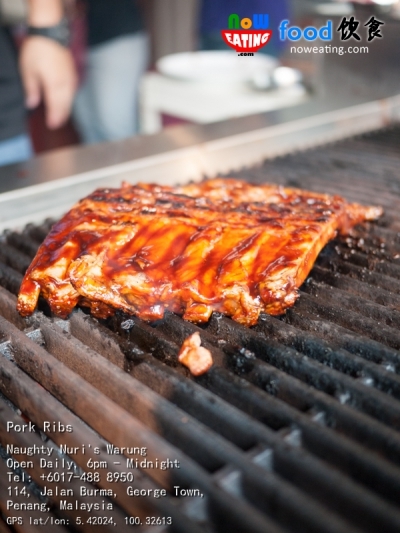 According to the managing director,  this branch is fully licensed by Naughty Nuri's Warung in Ubud using the same ingredients and cooking method to prepare the food. One of their secret ingredients being volcanic stones, in which they risked themselves "smuggling" it from Bali back to Malaysia (and we were told that Malaysia customs actually confiscated half of it).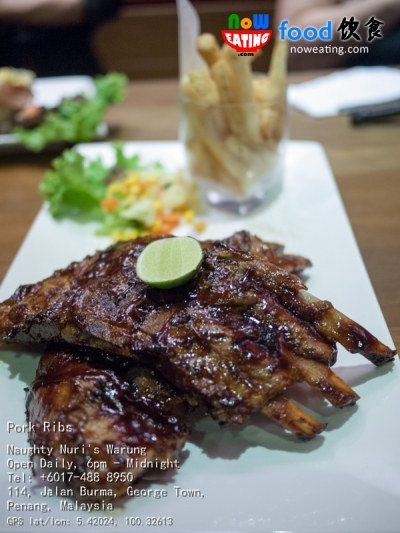 Volcanic stones work best as a heat distributor to ensure that all corners of the meat is fully covered (and smoked). We liked our pork ribs' (RM38.90++) texture and taste as it was tender in which the meat will fall off from the bone effortlessly using your teeth.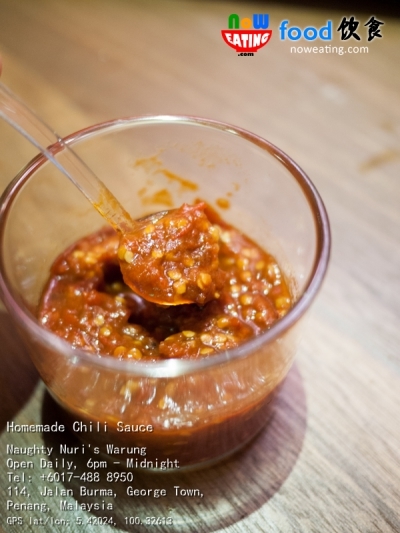 Pork ribs are best dipped with their homemade chili sauce provided on each table. Beware that it can be spicy for some. Also, a basket is provided on each table so that you can dispose bones into it.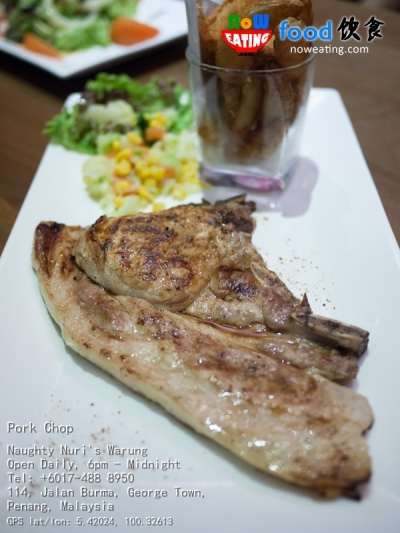 Other than pork ribs, another item we enjoyed much was their Pork Chop (RM28.90++). Our past experience with local Pork Chops was that they were too hard to consume, like cutting a rock with a knife. Nughty's Nuri version is totally in opposite way. It is seasoned with salt and spices before grilling to moist and tender results. Don't be fooled by the plain look from outside.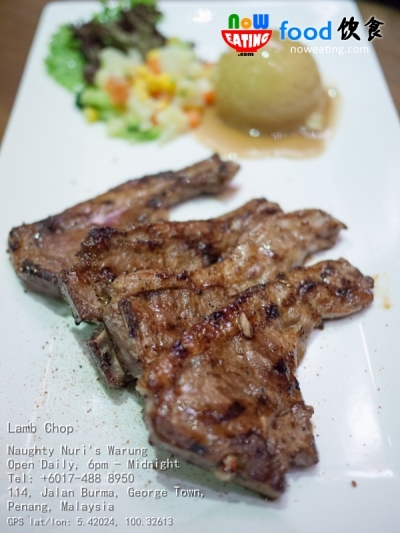 New in Penang outlet is Lamb Chop (RM35.90++) served with mashed potato and seasonal vegetables.
Naughty Nuri's food portion is generally big for locals as it is craved for foreigners who preferred bigger portion. If you are not a red meat lover or the potion is too big for you, try their BBQ Grilled Chicken (RM23.90).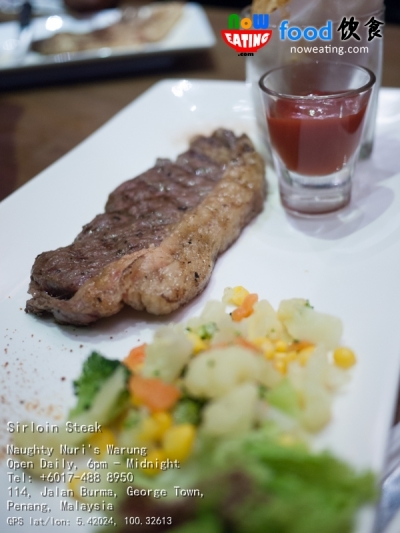 Sirloin Steak grilled to medium rare (RM32.90++). Do not discard the fat portion as it is the tastiest. For your information, you can always customize your food such as by adding more Nuri sauce for pork rib or asking for desired temperature for your steak.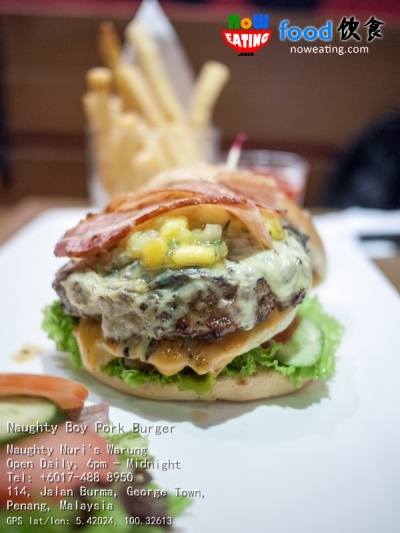 Also available is Naughty Boy Pork Burger (RM19.90++) served with Lollo (a type of lettuce), tomato, homemade pork patty, pork bacon, egg. mango salsa, onion and crispy fries. The patty is thick to an extend that you feel that you are eating bun sandwiched by patty. The mango salsa is refreshing.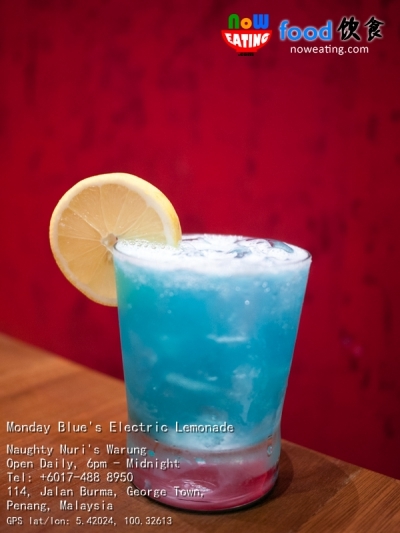 As for the drink, we were being served with some of their signature cocktails. The first one being Monday Blue's Electric Lemonade (RM24++). Taste: sour, sweet, alcoholic.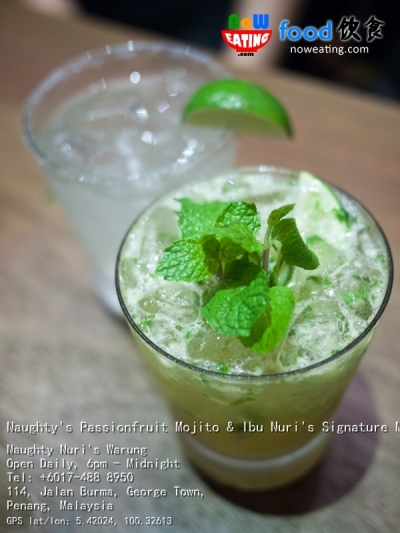 Naughty's Passionfruit Mojito (RM24++). Taste: fruity, mint. Ibu Nuri's Signature Margarita (RM24++). Taste: sweet, alcoholic.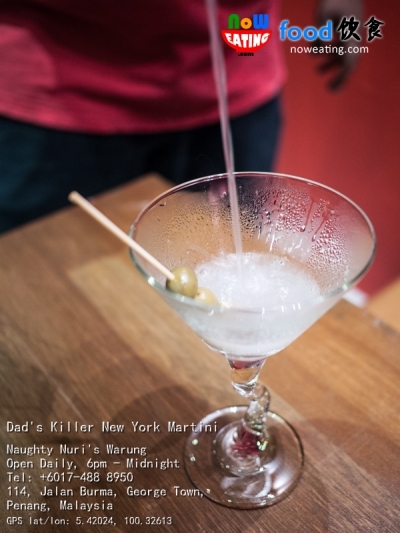 Dad's Killer New York Martini (RM30++). Taste: alcoholic, smooth, lychee. We were told that some New Yorkers spent three nights at Bali just to enjoy this glass of cocktail before kissing goodbye going back to their hometown. The bartender will perform "SHAKE SHAKE SHAKE" dance in front of you if you ordered this cocktail. Our recommendation is: Go for Naughty's Passionfruit Mojito for beginner or Dad's Killer New York Martini for hardcore. Note that cocktails contain alcohol.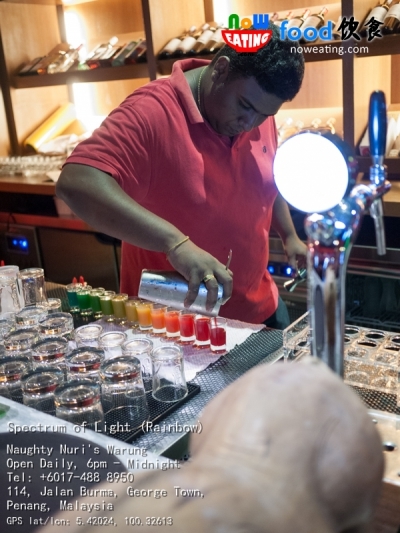 If you come in group, perhaps you should try the Spectrum of Lights (Rainbow) (RM50++). The cocktail is mixed by bartender carefully, one at a time, layer by layer without stirring it in the mixer.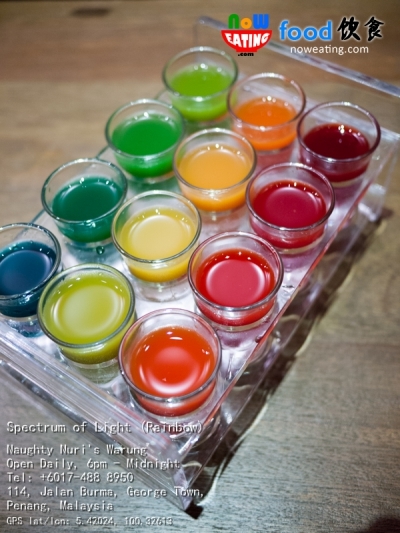 The result? Twelve cups of cocktails with different colors and tastes. We will leave it to you to experience it. As a hint, do not begin with the dark blue color.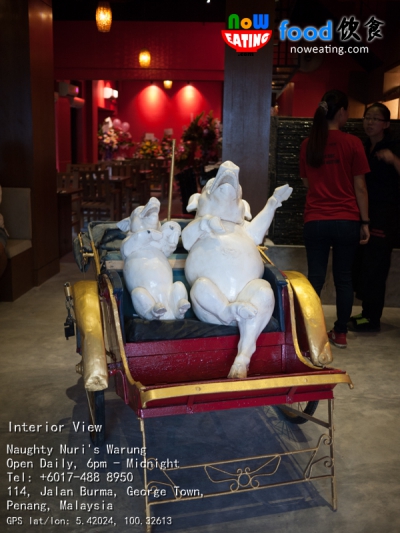 As a whole, we are very positive with this new offshore outlet of Naughty Nuri's Warung from Ubud, Bali, Indonesia. Do visit it at Burma Road, Penang, Malaysia. Reservation is recommended for groups or during holidays.
| | |
| --- | --- |
| Place Name: | Naughty Nuri's Warung |
| Cuisine: | Western |
| Address: | 114, Jalan Burma, George Town, 10050, Penang, Malaysia |
| Tel: | +6017-488 8950 |
| Email: | [email protected] |
| Working Hour: | Daily 6pm - Midnight |
| Tax: | 10% Service Tax, 6% Government Tax |
| Last Visit: | 20141218 |