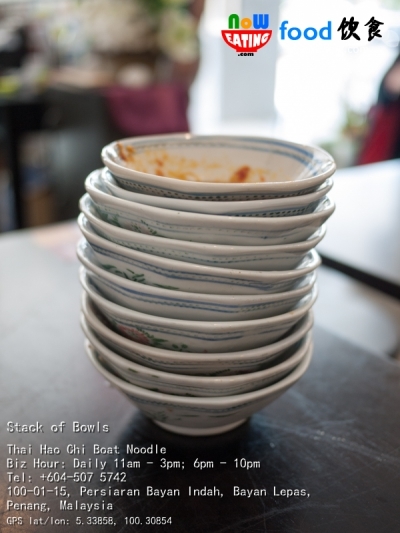 Previously, we saw some cafes in Penang offering big bowl of noodle, so big that it can become a boat for river crossing. Today, we have a new trend in Penang – small bowl of noodle also known as boat noodle originated from Thailand in which you will enjoy stacking them up more than eating them.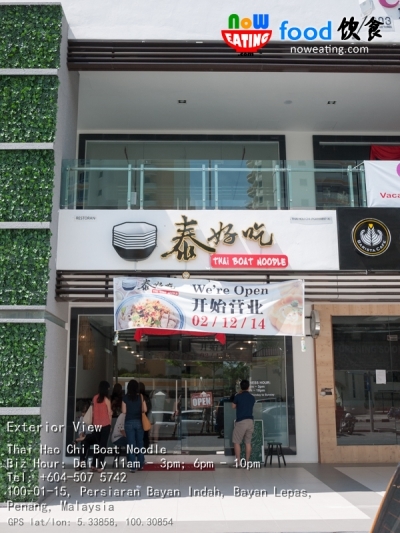 The restaurant is called Thai Hao Chi 泰好吃 Boat Noodle and is located at Summerton, Penang – a new SOHO building near Queensbay Mall, right next to the big roundabout. Currently, only few shops opened. When we arrived, the restaurant was full and we left our name to a waitress so that she would call us up when a table was ready.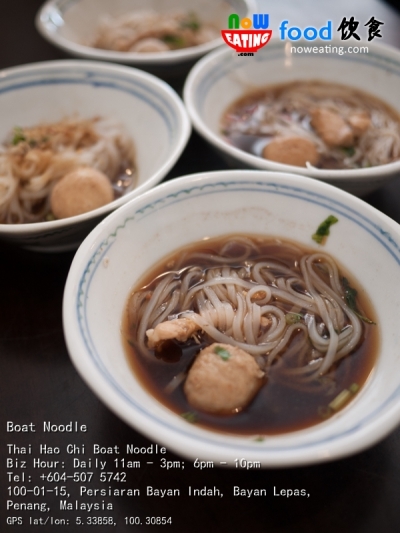 A bit history of this boat noodle. It is originated from Bangkok floating market since 1940's  in which the noodle is served from a small boat with only one merchant on it. The merchant will sit on the boat, prepare the noodle and pass to the customer on the platform using a stick. Having said that, the portion needs to be small so that the soup will not spill over.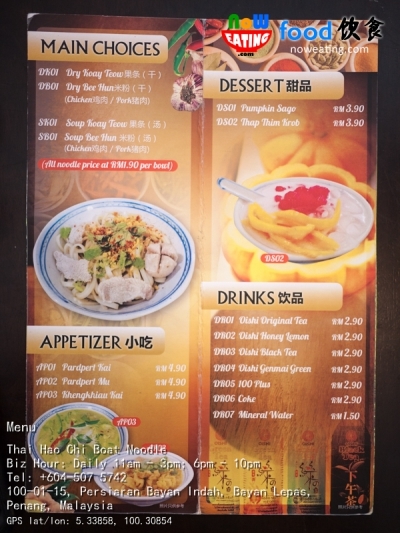 Today, many restaurants are still practicing this tradition by serving customers with small bowl of noodles. The ingredients are pretty simple. For Thai Boat Noodle at Summerton case, it consists of the following combination:
Bee Hun or Koay Teow (Thai's fine Koay Teow)
Dry or soup
Chicken or pork
During our first order, we picked few combinations to see which one we liked the most. There are total of 8 combinations.  Each priced at RM1.90. The soup tasted like Bak Kut Teh soup with herb taste. The dry version is stirred with soy sauce topped with crushed peanut.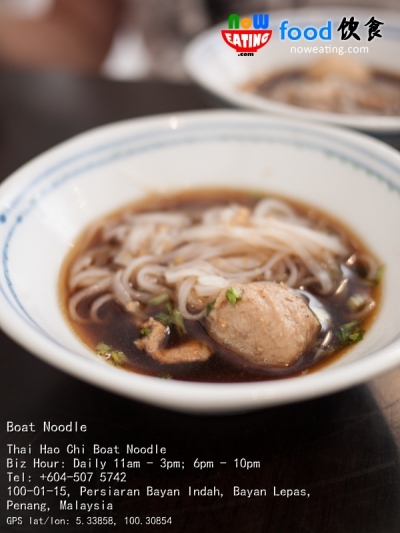 To differentiate between pork and chicken, look at the meat ball on each bowl. The darker color one is pork whereas brighter one is chicken. Figure above is Pork Koay Teow Soup.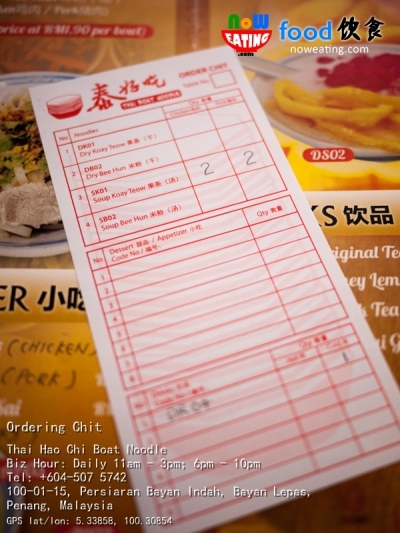 Overall, we preferred Soup + Koay Teow combination. We made our second order and the selection was pretty obvious this time.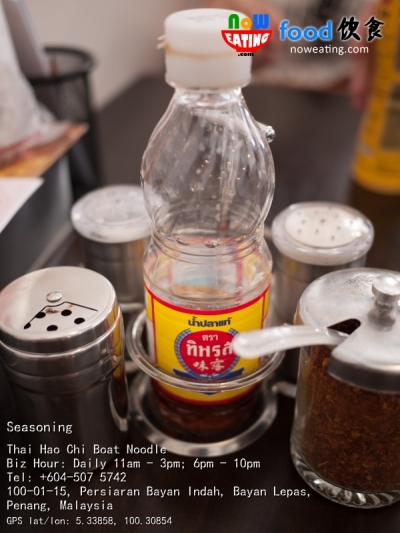 Either case, the noodle will be tastier if you add a little fish sauce which is available on each table. Be sure not to add it too much as it is just another "Ajinomoto" which will make you thirsty after the meal.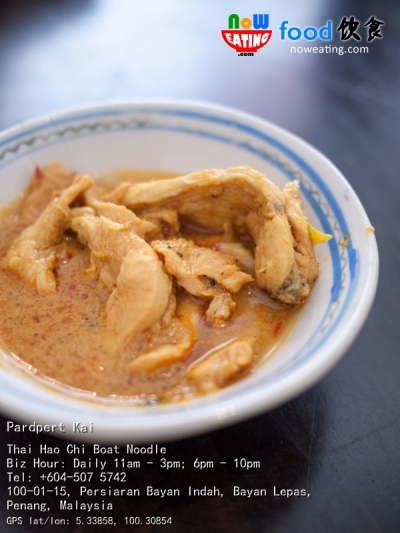 "Snacks" are also available. We ordered. Pardpert Kai (RM4.90) – curry chicken with mild spiciness and a bit salty. Best enjoy with noodles (too bad they don't have rice at this moment).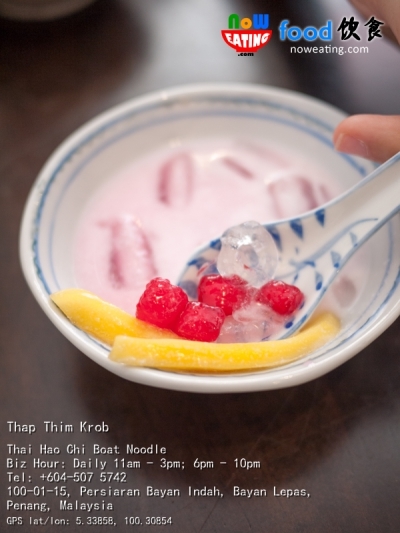 Thap Thim Krob (RM3.90) – a famous Thai dessert made of coconut milk, water chestnut, and jackfruit. Tasted good but the portion was so small that it can be finished in one sip.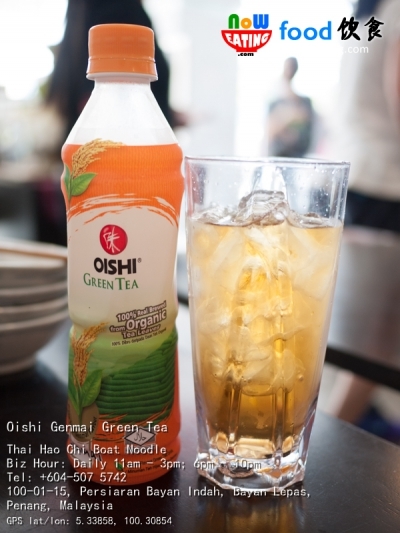 The best drink goes to Oishi Green Tea series. Oishi is a famous food and beverage company in Thailand with one of its famous restaurants being Shabushi – a Japanese buffet restaurant. We ordered Honey Lemon Green Tea and Genmai Green Tea, each at RM2.90. The first is good for sweet tooth but personally we prefer Genmai Green Tea.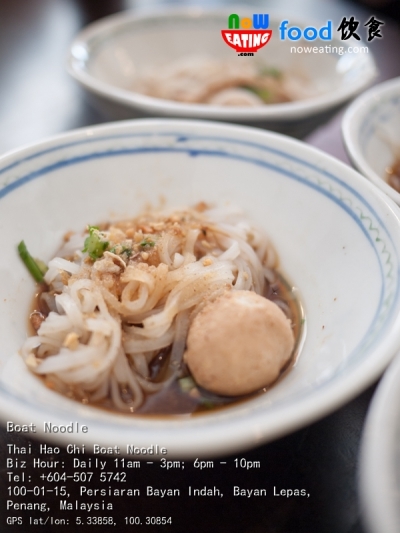 Both of us spent RM29.80 (No tax) that afternoon. Similar to big bowl ramen of another restaurant, Thai Hao Chi Boat Noodle is a good place if you would like to try something new or "cute" in Penang. Due to limited choices,  it may not be an ideal place for returning customers as they may get bored for trying the same food over and over again, unless they want to challenge themselves on how many bowls they are able to complete.
| | |
| --- | --- |
| Place Name: | Thai Hao Chi 泰好吃 Boat Noodle |
| Cuisine: | Thai |
| Address: | 100-01-15, Persiaran Bayan Indah, Bayan Lepas, 11900, Penang, Malaysia |
| Tel: | +604-507 5742 |
| Email: | [email protected] |
| Working Hour: | Daily 11am - 3pm; 6pm - 10pm |
| Tax: | No |
| Last Visit: | 20150104 |