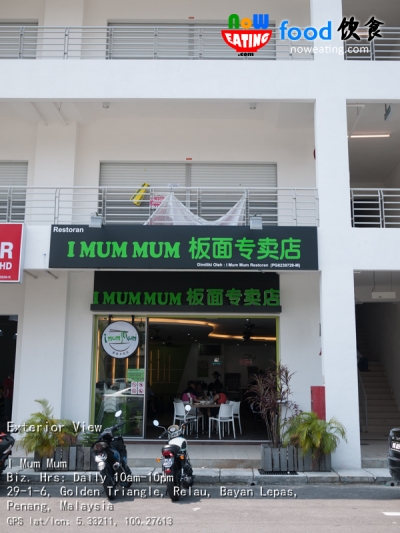 I Mum Mum is a Pan Mee specialist with its first outlet located under PDC flat at Weld Quay since year 2009. We still remember those days when we travel all the way from Bayan Lepas to Weld Quay just to have a plate of it during lunch hour. Today, there is no need to do so as the newest branch is just opened at Golden Triangle building at Relau, Bayan Lepas.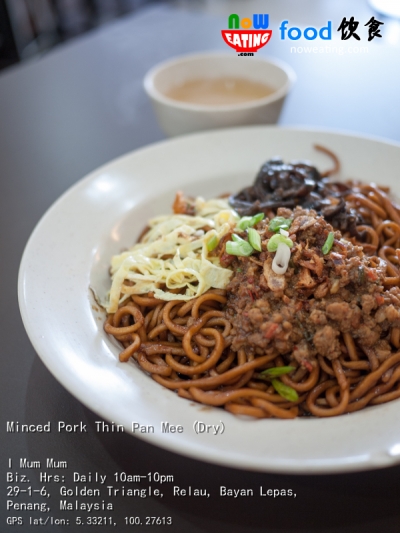 Before this, there are about five branches in Penang, including Farlim, Perak Road, Perai, Bukit Mertajam, and One Precinct at Bayan Baru. We visited the little One Precinct outlet once or twice. Early this year, the One Precinct outlet was moved to Golden Triangle, providing more spacious dining environment for customers.
I Mum Mum provides three types of noodle:
Thin pan mee with shape similar to yellow noodle
Thick pan mee with shape similar to Koay Teow
Hand tear pan mee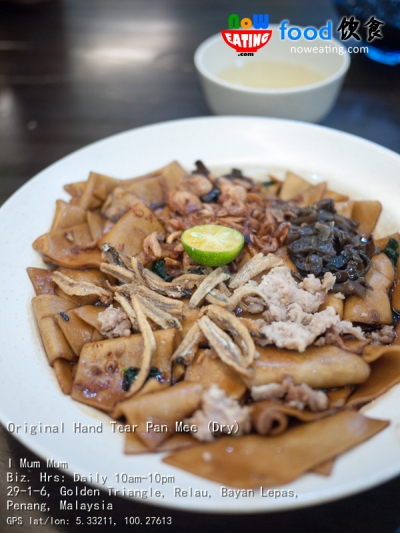 Today, Pan Mee is usually made using machine. I Mum Mum is no exception. Each day, the lady boss will deliver dough and other ingredients from its main outlet using Porsche (!!). We were very exciting when we found out that it has "hand tear pan mee" which we missed so much when we were at Malacca. At Malacca, it was called Mee Hoon Kueh 面粉糕 with added pork intestine. The "hand tear" version at I Mum Mum, however, is not really hand tear in our opinion as each piece is cut into an equal nice shape using some sorts of equipment.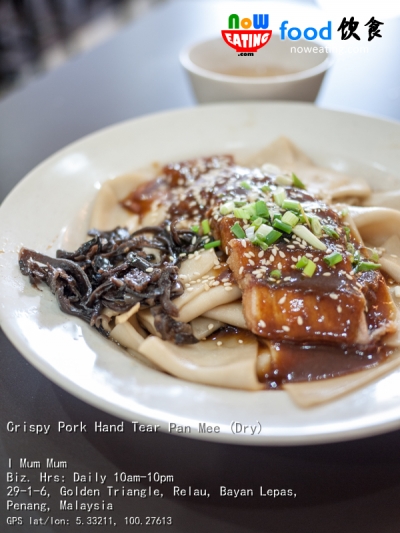 Menus and an order chit will be provided on each table so that you can write down items you'd like to order and submit to a staff. You can select between dry/soup version and the topping you like. The original topping comes with dried anchovy, black fungus, fried onion and a bit of minced pork. Other variants include:
Minced pork – with generous amount of mince pork
Crispy pork – our favorite. Come with pork slices topped with sweet sauce, turning the salty based Pan Mee to sweet based.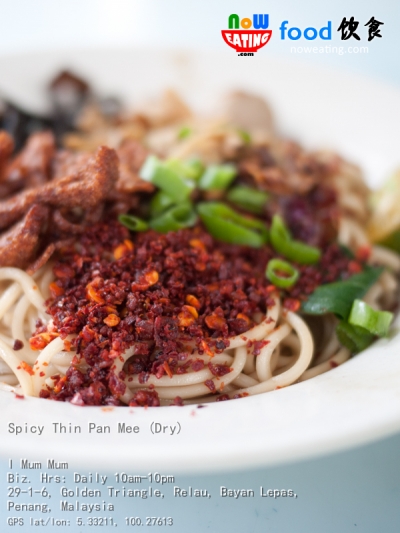 Spicy – with added chili flakes.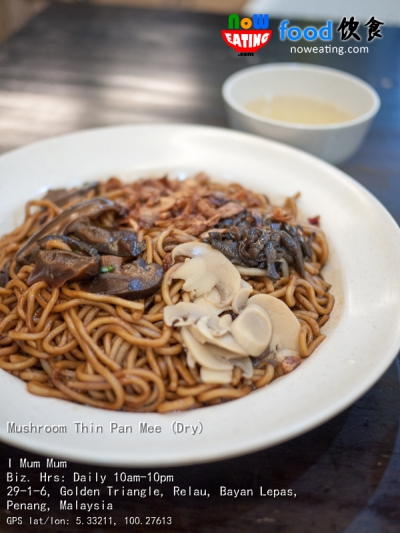 Mushroom – with added mushroom. We tried this variant at All Seasons Place outlet at Farlim in year 2014. Also note that each dry Pan Mee will be given a small bowl of plain soup without Mani Cai (Sweet Leaf). Soup with Sweet Leaf can be ordered separately from the menu.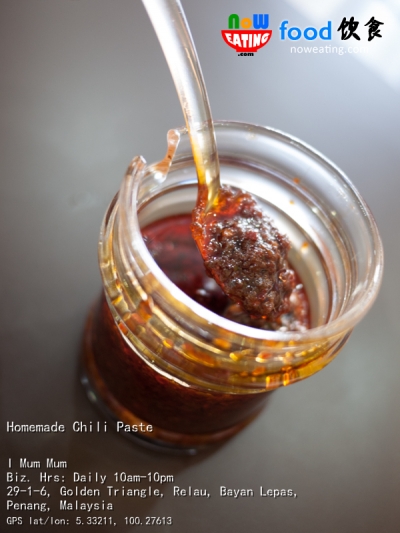 A big bowl of Pan Mee is priced at RM5.50 – RM6.00. For spicy food lover, don't forget to stir your Pan Mee with their homemade chili paste. Two types of chili paste available on each table and personally we prefer the red one.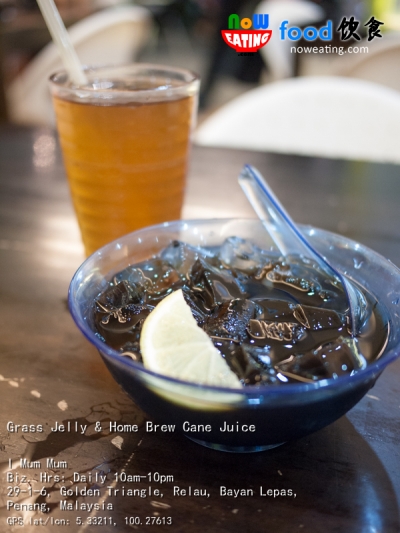 Perhaps a drawback for I Mum Mum is long wait time even with a few customers. We believe that it is unavoidable as the noodle has to be prepared based on each order. Another drawback is that occasionally we felt a bit thirsty after the meal so it is good to have a glass of home brew drink such as Cane Juice 竹蔗 (RM1.60), Lohan Guo 罗汉果 (RM1.60), or a bowl of their signature Jelly Grass (RM4.00).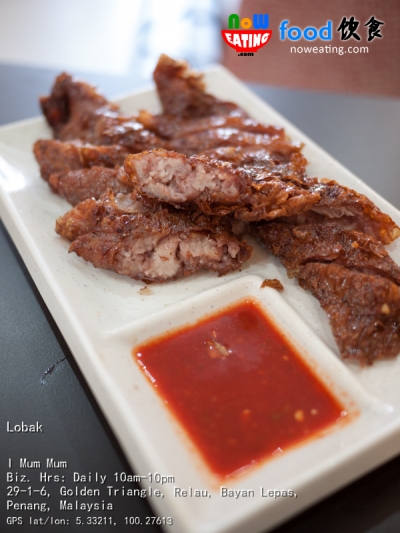 Other than pan mee, I Mum Mum also serves some snacks, including our favorite Lobak 卤肉 (RM4.00 for 2 rolls). Occasionally, it was a bit over-fried but still acceptable. Overall, if you are looking for a good quality of Pan Mee and don't mind of little wait time, try I Mum Mum.
| | |
| --- | --- |
| Place Name: | I Mum Mum Pan Mee |
| Cuisine: | Chinese |
| Address: | 29-1-6, Golden Triangle, Jalan Paya Terubong, Relau, Bayan Lepas, 11900, Penang, Malaysia |
| Working Hour: | Daily 10am - 10pm |
| Tax: | No |
| Last Visit: | 20150126 |