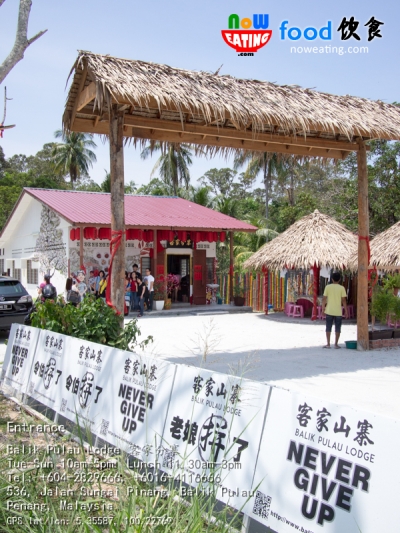 Staying in Penang island during weekend and thinking of trying some Hakka food, we went to the new Balik Pulau Lodge 客家分寨. Reaching there is quite easy. Assuming you coming from Paya Terubung, after reaching Balik Pulau Town's small roundabout, take the second exit (2 o'clock) to Teluk Bahang. Drive about 1km and the new lodge is on your left. Remember to drive slowly because we almost missed the entrance, drifted our car and scared the shxx out of a patrol there.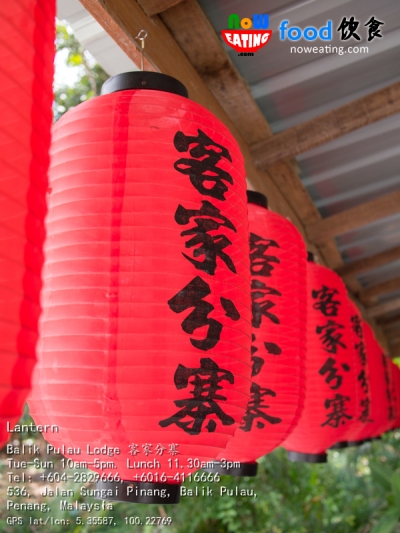 A bit history of Balik Pulau Lodge. The initial lodge is called 客家山寨 in Chinese and is located in Pulau Betong, Penang. It is a 300-feet altitude forest recreational village founded by an entrepreneur – Dr. Maggie Fong. We came across some news about this old Hakka house in newspaper, including a case involving a farmer of the same hill collecting ridiculous "toll fee" from visitors. Still, it did not stop tourists from visiting this cultural village accessible by their own pickup truck. In year 2015, Maggie obtained another land near Balik Pulau town, and named it as… Balik Pulau Lodge or is better known as 客家分寨  in Chinese.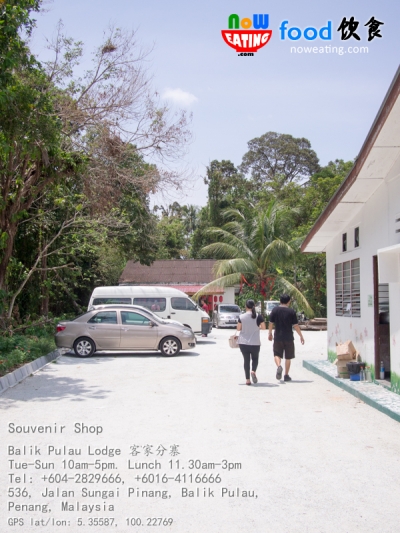 Not to be confused with two outlets, the owner now dedicated the original outlet (客家山寨) for accommodation and team building activities, while the second outlet for Hakka cuisine, souvenir shop and cultural center. The new outlet consists of three brick houses – one for restaurant, one for souvenir and the one behind souvenir shop is a cultural center.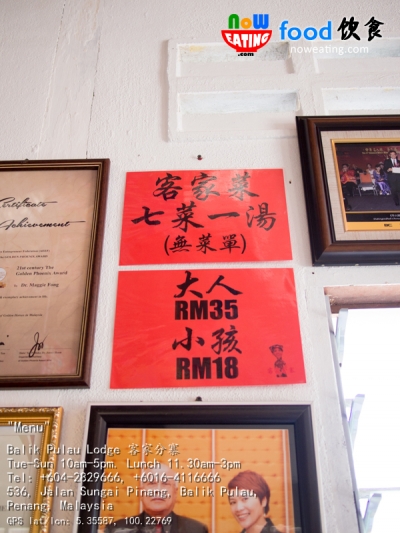 The restaurant was crowded that weekend and most customers came with reservation and in groups. Both of us actually walked into it without any reservation and fortunately the host still welcoming us. Our legs became soft when we noticed that there is no menu at all and each adult is charged with RM35 with 7 dishes and 1 soup, that's RM70 for two adults!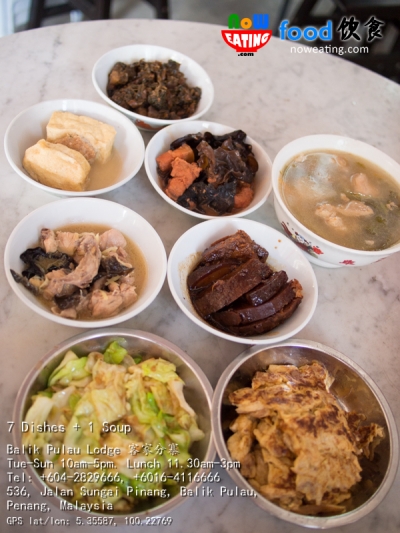 Good things are, the dishes are "free-flow", including rice and drink. Even though you are presented with 8 Hakka dishes, if you are in love with some of them, feel free to ask the friendly crews for more. Also, depend on the height and other criteria, some children can eat for free. Serving speed is super fast as dishes are pre-cooked in kitchen. Just imagine this as a buffet lunch.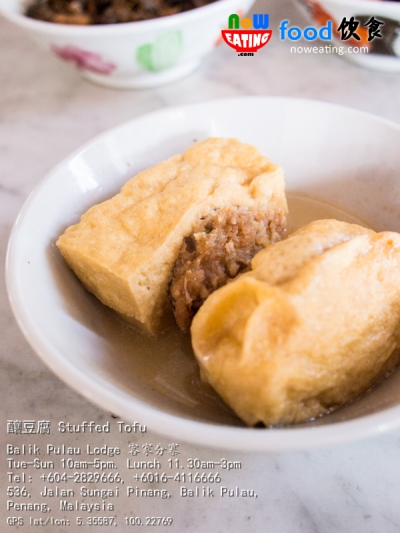 The moment the food were presented on our table, we knew that they were more than enough for two. As a starter, we had 釀豆腐 Stuffed Tofu. The bean curd is stuffed with minced pork before slightly deep fried it.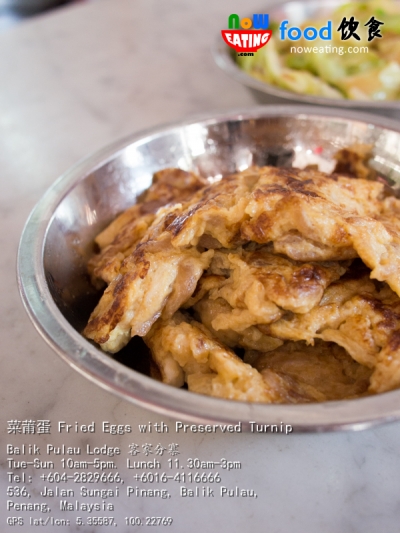 We liked the oily texture of 菜莆蛋 Fried Eggs with Preserved Turnip. The sweet turnip made it a good appetizer.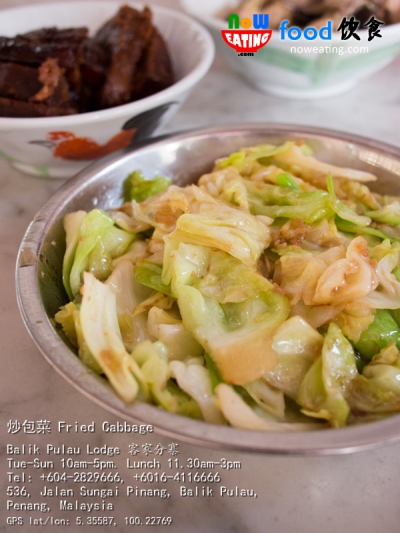 We used to fry cabbage at home, and the fried cabbage here was similar to our version which is fried with medium flame with wet texture. After all, this is all about home cook cuisine. Note that not all items are fixed for each day and is subjected to ingredients availability.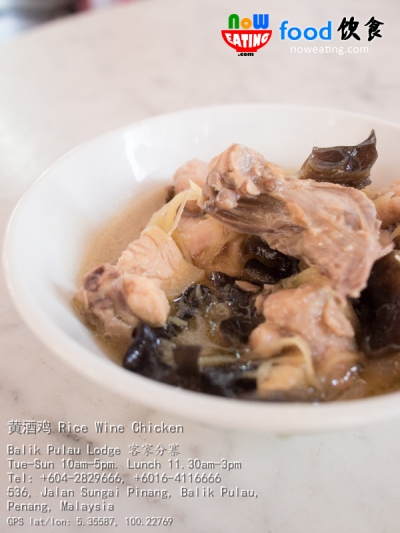 Our top pick was 黄酒鸡 Rice Wine Chicken. This dish is usually a hit or miss. A slight miscalculation will cause the rice wine broth to become bitter. Balik Pulau Lodge's version, however, is just perfect with sweet broth while keeping the aromatic rice wine flavor intact.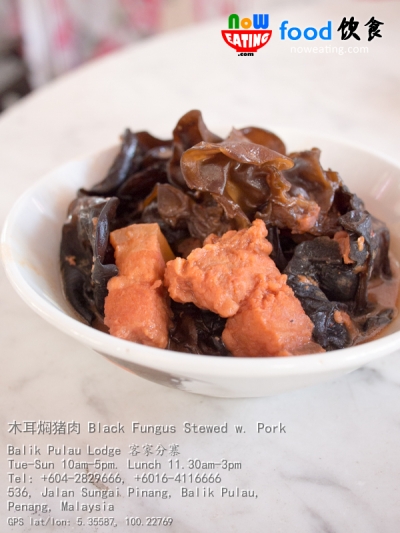 Another top pick was 木耳焖猪肉 Black Fungus with Stewed Pork. We particularly like the rich yet not too salty fermented soy bean curd which penetrated into pork belly and yam after long period of cooking.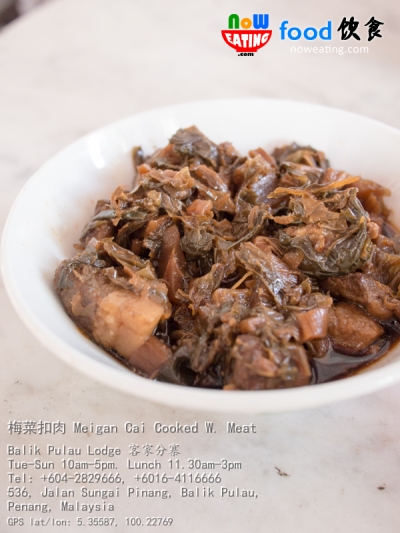 梅菜扣肉 Maigan Cai cooked with Meat is our favorite when having economic/mixed rice or porridge. The same item was found during our visit to Balik Pulau Lodge. Taste-wise was up to the standard as well.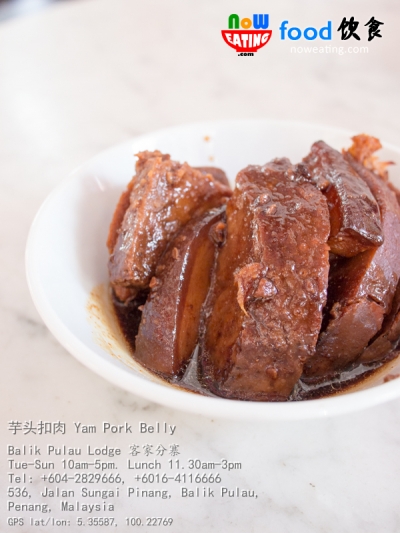 Still not enough? 芋头扣肉 Yam Pork Belly will sure satisfy you. Comes with big chunk of yam and pork belly stewed with dark soy sauce.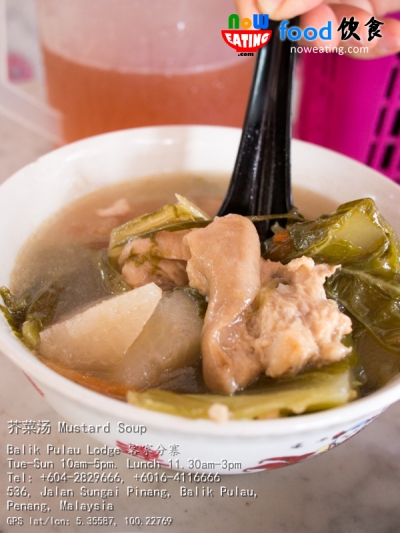 As for the soup, we had 芥菜汤 Mustard Soup. Note that this is not the Chai Boey (Spicy Mixed Vegetable Soup) usually found as complementary soup for chicken/duck rice. This version is not spicy at all and with added white radish and pork knuckle. As a whole, most of the food are authentic Hakka cuisine. For those coming from villages or perhaps they are Hakka people themselves, it may not create big excitement compared to those living in big cities. The food can be mild especially for Penangites (we heard some customers kept on asking for chilies) but for us who came from neighbor state, the taste is fairly acceptable.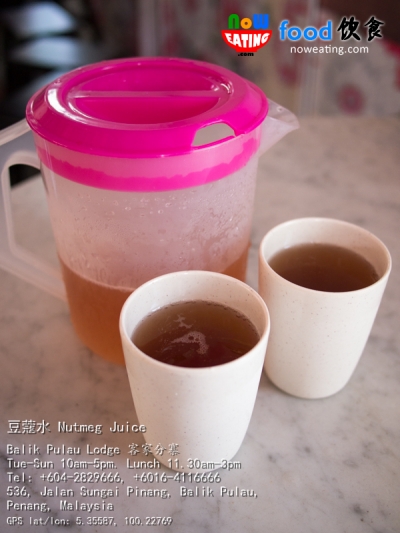 Fortunately, we were able to finish all the food without wasting any of it. Last but not least, each table is served with a jar of homemade nutmeg juice. Again, feel free to ask for refill.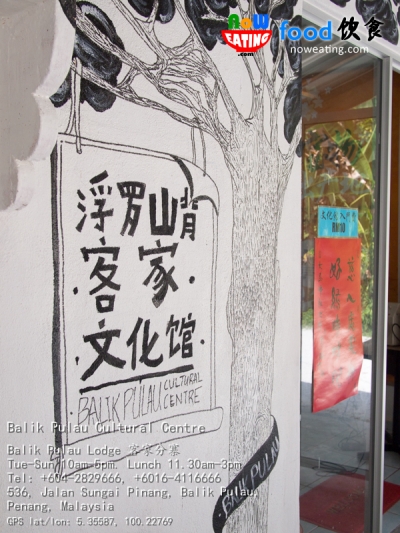 With a tummy like four month pregnant, we begun our digestion by walking around.  Behind the restaurant is a souvenir/local product shop with many nutmeg products including nutmeg ice cream. Since it was crowded with customers, we continued our way to another house behind – Balik Pulau Cultural Center.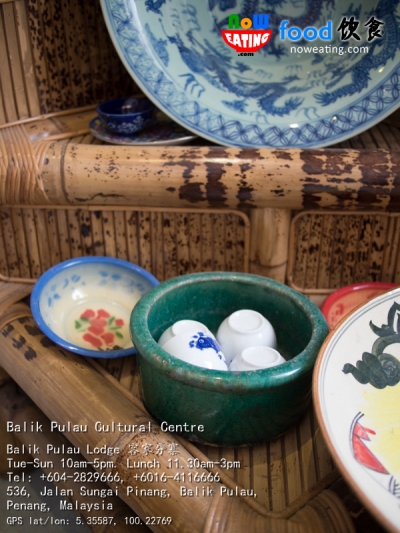 Note that if you are dining here, the entrance fee to Cultural Center is free instead of normal rate of RM10 per pax. In other words, your meal is only RM25 per pax with free-flow food. Not bad at all! If you need a tour guide, the owner – Maggie, is more than happy to assist you.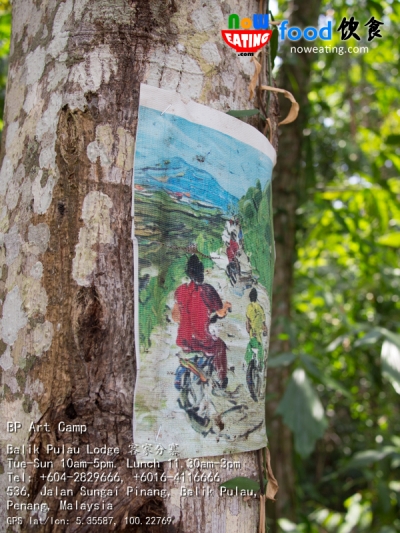 Inside the Cultural Center, you will be introduced with the history of Hakka people migrating from the north, the attraction of Balik Pulau, local products, and of course, the Hakka culture. Apart from those, paintings from a local artist – Ah Koh 古天发 who is also a friend of Maggie, are also displayed around the building.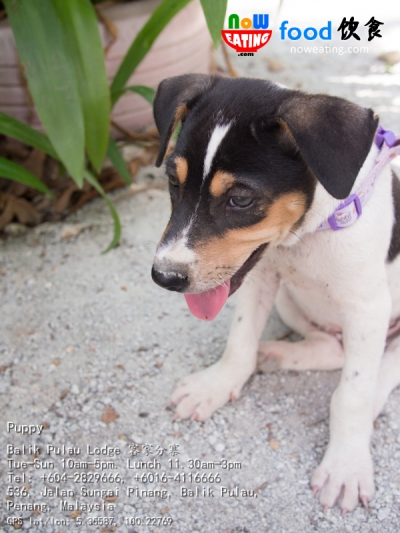 Balik Pulau is all about floral and fauna. We were having fun time playing with a puppy there, even though it looks sad because it was the only puppy there tied to a bench, whereas others were happily wondering around. Some areas are still under construction and we believe that this place will be more exciting in future.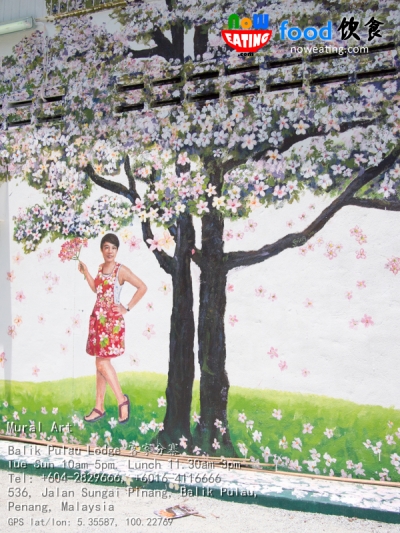 Overall, we were satisfied with our trip to Balik Pulau Lodge. Before leaving, make sure to take some photos with mural arts there. All of them are hand-drawn by talented artists. Balik Pulau Lodge is opened daily except Monday from 10am – 5pm. Lunch hour is at 11.30am – 3pm. Reservation preferred for lunch.
We also grabbed its brochure for your reference:
| | |
| --- | --- |
| Place Name: | Balik Pulau Lodge 客家分寨 |
| Cuisine: | Chinese |
| Address: | 536, Jalan Sungai Pinang, Balik Pulau, 11000, Penang, Malaysia |
| Tel: | +604-2829666, +6016-4116666 |
| Working Hour: | Tue-Sun 10am-5pm, Lunch 11.30am-3pm |
| Tax: | No |
| Last Visit: | 20150308 |