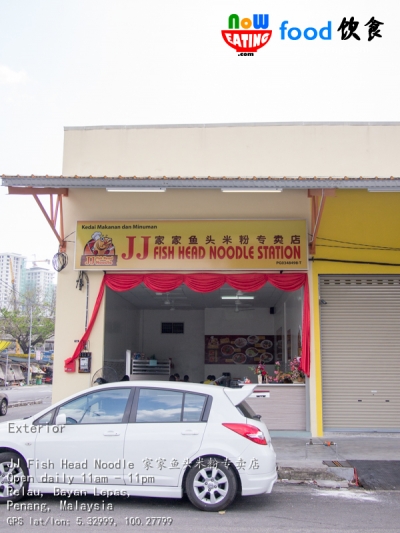 Located right next to PISA Corner Food Court at Relau, Penang is a new commercial lot with a wet market and another food court. Most shops remain unopened but today, we bring you to a new noodle station there, namely – JJ Fish Head Noodle Station 家家鱼头米粉专卖店.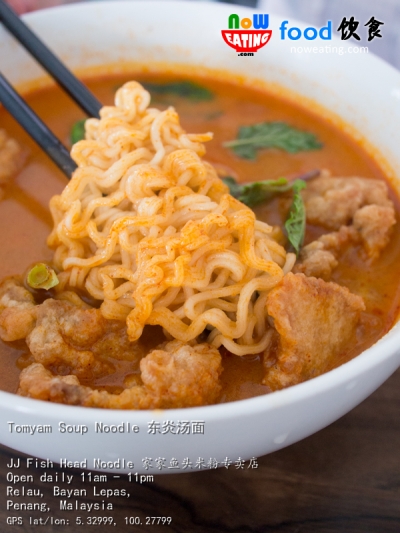 Compared to other states, Fish Head Noodle appears to be a famous noodle in Penang, probably more popular than Wonton Noodle and Hokkien Noodle.  Most stalls offer two types of broths – clear soup and Tomyam soup. JJ is not exception. The spicy Tomyam Frid Fish Instant Noodle (RM7.80) will sure tantalize your taste buds.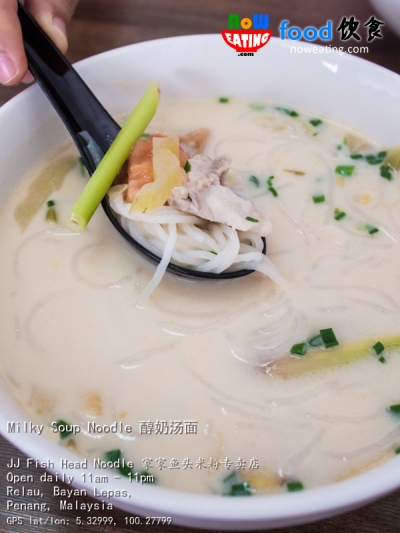 Here comes the special part of JJ. In addition to both standard broths, JJ also offers Milky Soup and Spicy and Sour Soup. Milky Soup, as the name applies, is made of milk. Is it going to be stuffy, just like the oat+milk breakfast? The answer is not at all. Imagine it as a clear soup version with added milk. Price is much depended on the topping and fresh fish fillet is usually more expensive than fried fish. Our Milky Soup "Slippery" Bee Hoon with Fresh Fish is market-priced at RM10.80.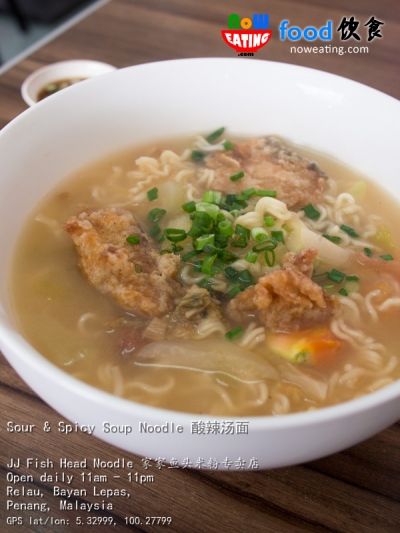 Sour and Spicy Soup Fish Noodle 酸辣米粉汤 used to be a famous Sungai Ara food, specifically, the stall next to Sungai Ara Police Station. Sadly, with the change of owner, we have to travel to George Town for the best Sour and Spicy Soup (also known as Wang Zhaojun 王昭君). Thanks to JJ, we have another option nearby Sungai Ara. With added lemongrass, tomato, chilies and salted vegetable, the soup has the same kick, even though the one at town is still slightly better. Figure above shows Sour and Spicy Soup Fried Fish Instant Noodle at RM7.80.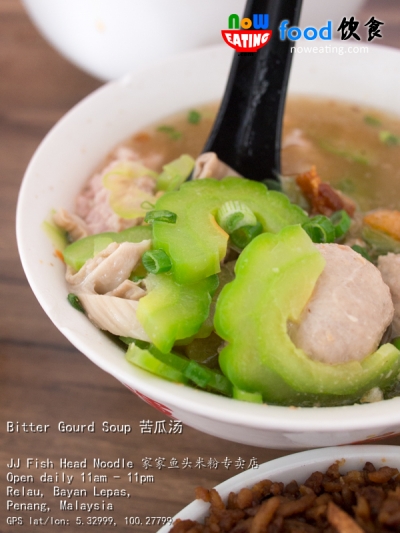 Other than soup noodle, JJ also serve Bitter Gourd Soup 苦瓜汤 with pork intestine, meat ball, minced pork, and sinful pork rinks. The bitter gourd is not bitter at all and is suitable for first timers. Anything better you have to travel to JB (Johor Bahru) for the signature Bitter Gourd Soup.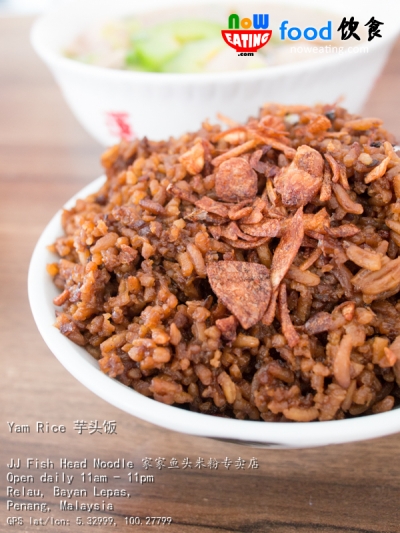 Bitter Gourd Soup is best accompanied with a bowl of yam rice (RM7.00 for both rice and soup). Of course, Bitter Gourd Soup Noodle is also available. Porridge series are also available.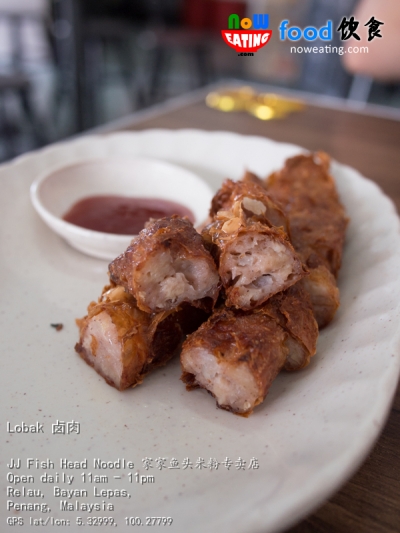 JJ also serves some snacks, including our favourite Lobak (RM3.00 for two pieces).
Perhaps the most interesting item is this Kuan Jiang 灌煎 – a traditional Teow Chew cuisine made of glutinous rice, yam, peanut, minced meat, mushroom and spices.  We usually only found this item during Chinese New Year Miaohui (temple fair). As a whole, JJ Fish Head Noodle provides almost all soup noodles one can find in Penang. It may not be the best, but after adding the advantage of having them under one roof and ample (and currently free) parking, it is worth a second visit.
| | |
| --- | --- |
| Place Name: | JJ Fish Head Noodle 家家鱼头米粉专卖店 |
| Cuisine: | Chinese |
| Address: | Relau, Bayan Lepas, Penang, Malaysia |
| Working Hour: | Daily 11am-11pm |
| Tax: | No |
| Last Visit: | 20150303 |