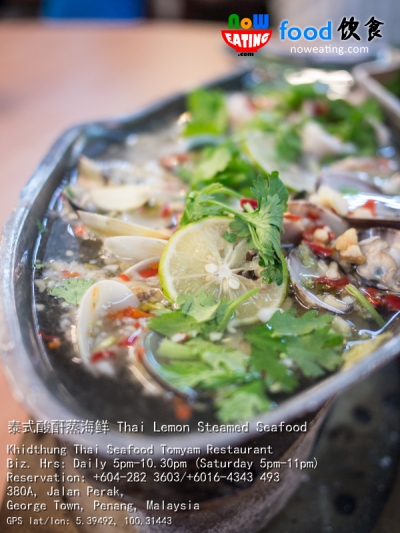 泰式酸酐蒸海鲜 Thai Lemon Steamed Seafood – the dish you will find in almost all table of Khidthung Thai Seafood Tomyam Restaurant 想你泰 at Perak Road, Penang. Yes, it is their best seller. The Kapa clams and squid are steamed in sweet, sour and spicy broth using charcoal. The longer it boils, the sweeter the broth.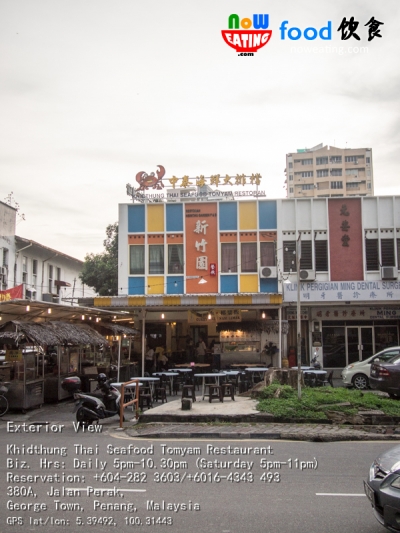 Perak Road is a place we seldom passing by due to its narrow road with the number of traffic lights more than the whole Kuala Lumpur. Hsinchu Garden新竹园 is located nearby Perak Road's Friday night market, at the shop lot where previous Post Cafe/Hungry Fish are located. Parking-wise is a bit difficult (a common problem in Perak Road) and usually we park opposite of the restaurant and walk across the street.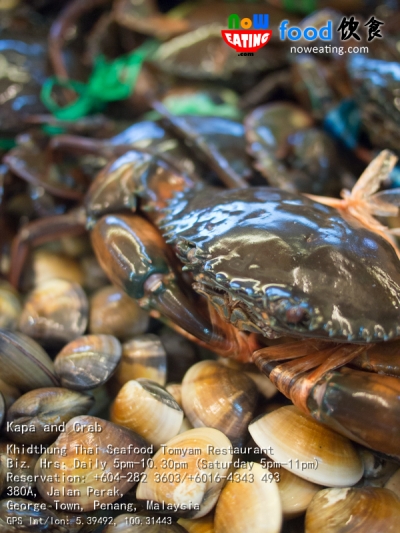 Hsinchu Garden 新竹园  serves curry rice in the afternoon and Choo-Char + Tomyam Seafood Noodle in the evening.  Both Choo-Char and noodle stall are from the same owner and this review is about the "Choo-Char" by Khidthung Thai Seafood Tomyam. Occasionally they do have live stocks in their aquarium so be sure to ask for daily recommendations.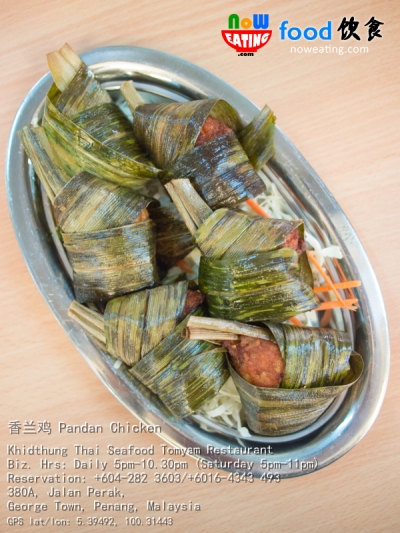 Nine items were served that evening but first, let's start with a piece of Pandan Chicken (RM13 small). Compared to some restaurants which were either too oily or too small for our liking, Khidthung's Pandan Chickens were less oily and bigger in size. At the same time, they were a bit dry and personally we prefer to have some chicken fat added for moister feel.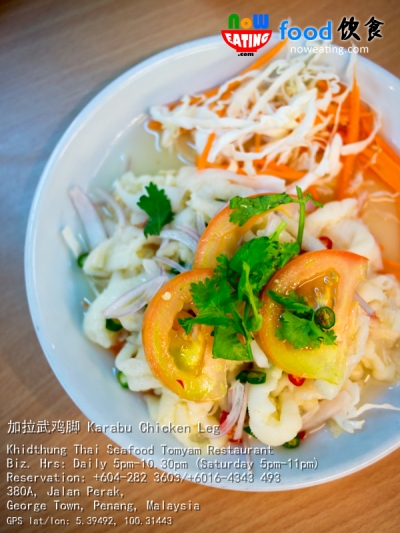 Next appetiser was saliva-drooling Karabu Chicken Leg (RM13 small). Note that even though with smallest size, the portion is suitable for 3-4 persons. According to the owner, they prefer to make the portion bigger so that all customers can enjoy the food instead of "staring" on the last piece on the plate.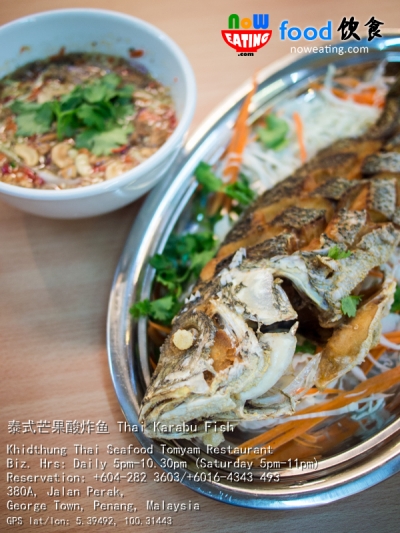 Missed the Karabu Mango?  Instead of ordering Karabu Mango, we recommend Thai Karabu Fish (Market Price) in which the snapper/grouper is sliced, deep-fried and is best dipped with the Karabu sauce provided.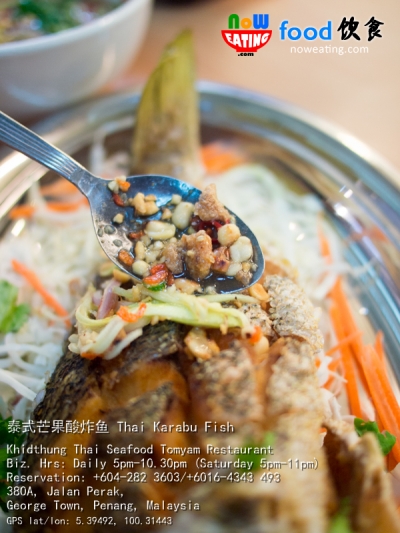 The Karabu sauce is made of mango, peanut, chili, dried shrimp, garlic, lime and sugar. It is so appetising that it can be consumed on its own, perhaps with a bowl of rice.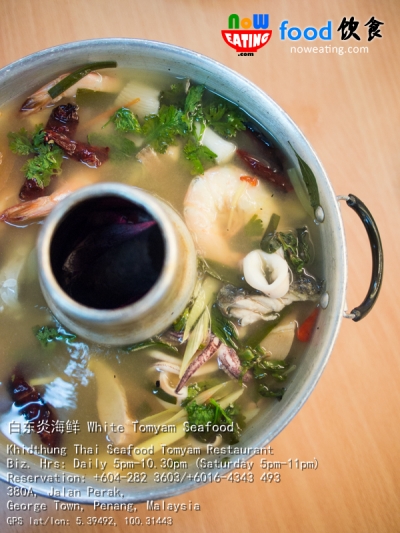 White Tomyam (RM22 small) at Khidthung is pretty unique compared to others such as it has strong galanga (南姜) taste with added basil leaves. One can opt for seafood version (fish, squid and prawns), prawns, fish, chicken or pork leg! Pork leg Tomyam is definitely something new.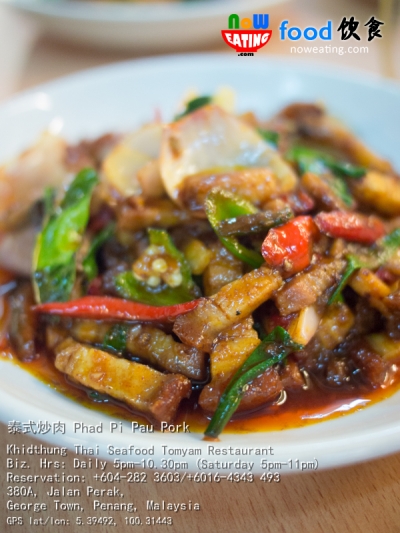 Speaking of pork, not all Thai restaurants serve pork. Khidthung is an exception. If you are a roasted pork 烧肉 lover, you should try the Phad Pi Pau Pork (RM15 small). Sinful but delicious.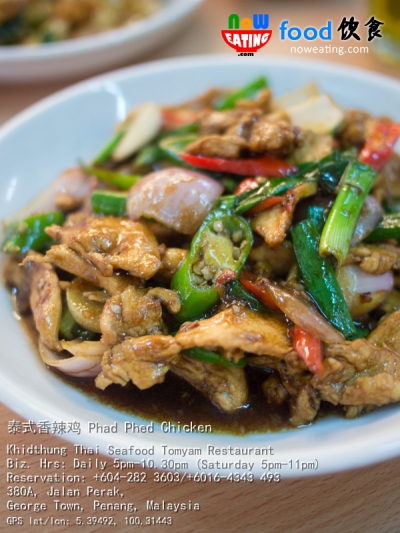 Both Phad Pi Pau Pork and Phad Phed Chicken (RM14 small) look similar but actually no. Phad Pi Pau Pork is stir-fried with great amount of Thai Chili Paste with a thick layer of chili oil, whereas Phad Phed Chicken is stir-fried with moderate chili paste with added Thai soy sauce.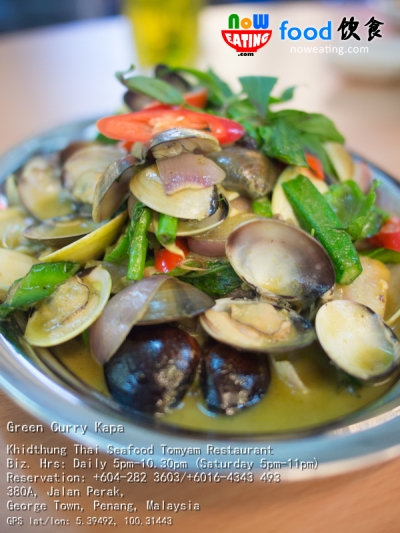 For the first time, we found out that Green Curry tastes better with clams instead of chicken, and stir-fried with ladyfingers, winged bean, and French bean. This 3-in-1 Green Curry Kapa is a new item and is a must-try.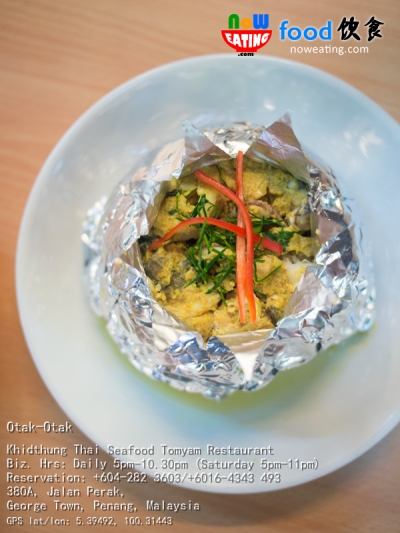 Compared to Southern Thailand cuisines which are usually very spicy and heavily depended on coconut milk, the spiciness at Khidthung is acceptable and herbaceous. Otak-otak, for example, has mild spiciness and stuffed with generous amount of squid, fish and prawns.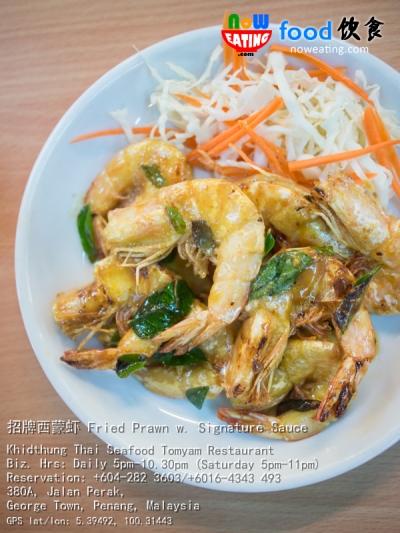 招牌西蒙虾 Fried Prawn with Signature Sauce (RM20 small) is Khidthung's signature dish in which the prawns are coated with delightful Sunquick sauce. An item usually found in Chinese fine dining restaurant and as a matter of act, the owner worked in a Chinese restaurant in KL previously and the recipe was further modified from there.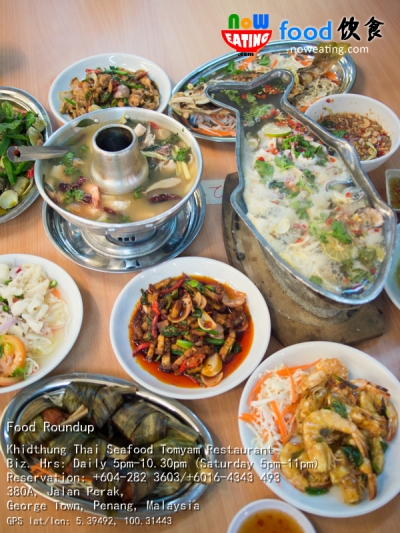 As a whole, Khidthung Thai Seafood Tomyam restaurant is perhaps the best Thai restaurant in Perak Road and can easily outperform some big kitchens in Penang island. The restaurant opens daily from 5pm until 10.30pm (11pm on Saturday). For special occasion, we strongly recommend customers to make a call to the restaurant for reservation (Tel: +604-282 3603/+6016-4343 493).
| | |
| --- | --- |
| Place Name: | Khidthung Thai Seafood |
| Cuisine: | Thai |
| Address: | 380A, Perak Road, George Town, 11600, Penang, Malaysia |
| Tel: | +604-282 3603/+6016-4343 493 |
| Working Hour: | 5pm-10:30pm daily. 5pm-11pm Sat. |
| Tax: | No GST, No Service Charge |
| Last Visit: | 20150714 |