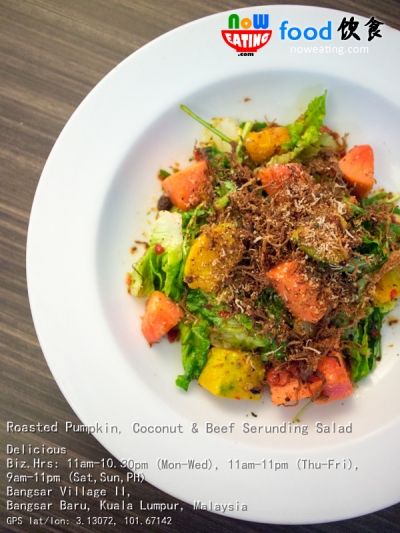 Travelling 350 km from Penang to KL for a plate of salad? This is not an ordinary garden salad, but Roasted Pumpkin, Coconut & Beef Serunding Salad with Papaya in a Spicy Lime Dressing (RM26.50) – an amazing light salad in Delicious.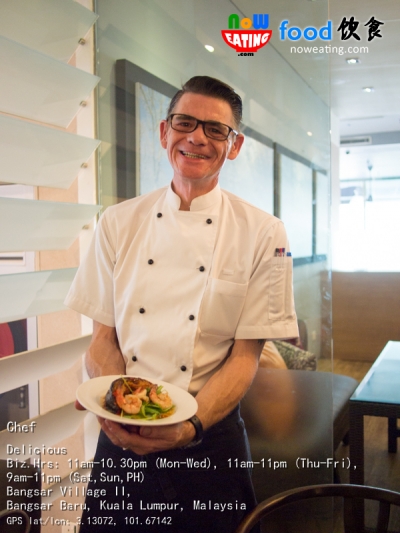 Under the management of E&O, the kitchen of Delicious is like a hotel's kitchen in which senior chefs, including Delicious' CEO Steve Allen and Executive Chef Sandy Alan Lowe (figure) travel around the world to look at food trends and bring back the delicious to Malaysia. With the recent research trip to UK and Barcelona, Spain, Steve brought back "Inspired by Tapas" specials.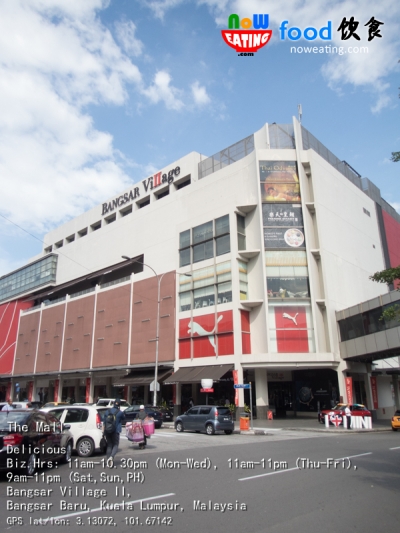 Our first visit to Delicious was back in year 2011 in which there was an outlet at Straits Quay, Tanjung Tokong, Penang. We were tempted with its desserts which were rich and sweet in flavor. Unfortunately, the outlet is no longer there but it does not stopping us from visiting other outlets in central region of peninsular Malaysia, including the one in Bangsar Village II.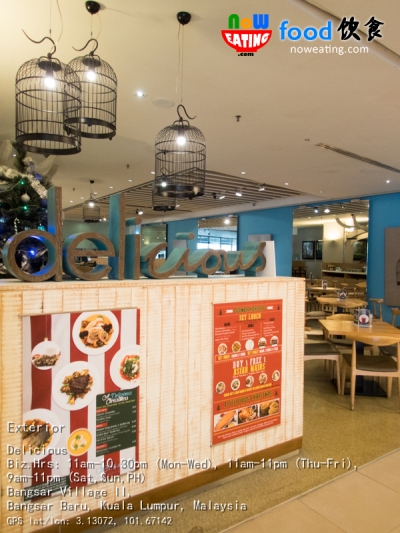 With the first outlet established in 1 Utama Shopping Centre in year 2004, Delicious current has 6 outlets in central region:
Mid Valley Megamall
Bangsar Village II
1 Utama Shopping Centre
Sunway Pyramid Shopping Mall
Setia City Mall
St. Mary Place
We visited Delicous at Bangsar Village II with two purposes:
To try out the new menu recently introduced
To preview "Inspired by Tapas" menu which will be running from 4-Jan-2016 to 31-Mar-2016.
Delicious New Menu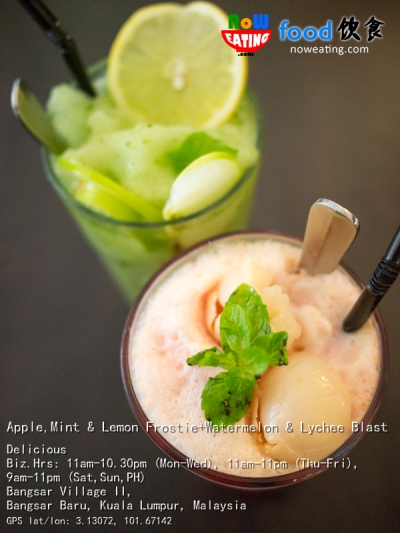 Despite of our visit to Delicious few years ago, the current menu is totally different  to an extent that we feel that we are dining in a totally new restaurant. Other than desserts, snacks, brunch, pasta, mains, burgers are just few other options Delicious is providing but first, let's have a glass of Apple, Mint and Lemon Frostie (RM13.50) and Watermelon and Lychee Blast (RM12.50) since we were pretty dehydrated after a long journey.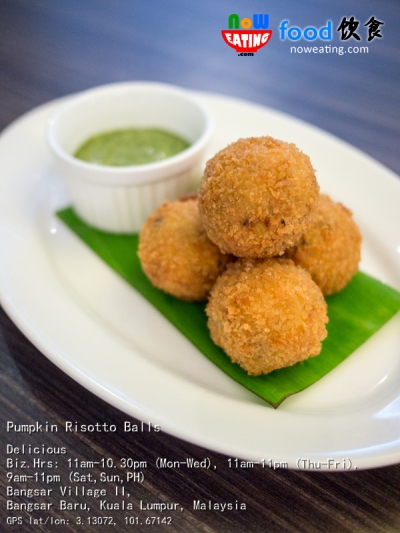 Other than the Serunding salad as mentioned in first figure in this post, Pumpkin Risotto Balls (RM13.50) is another best sellers and is also a vegetarian dish. The non-oily pumpkin, mushroom and rosemary risotto balls are best dipped with homemade pesto mayonnaise.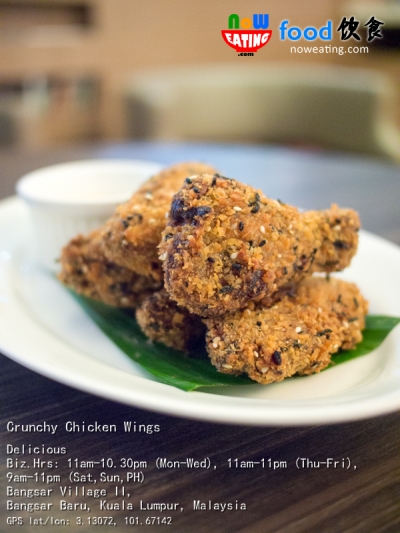 Another appetizer in which we felt rather unique was the Crunchy Chicken Wings (RM18) with a sesame and seaweed crust. We were told that the chicken wings were marinated with Teriyaki sauce before deep frying to golden. Best dip with mustard mayonnaise provided.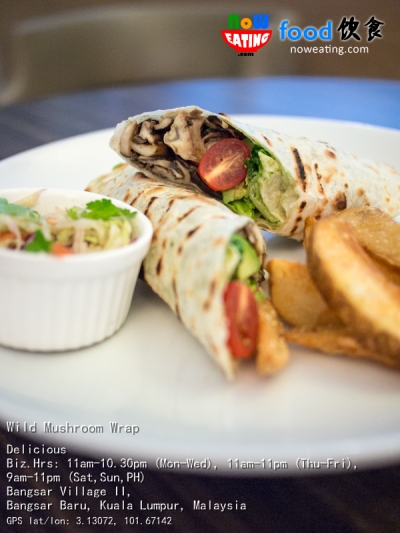 Our top pick of the day was Wild Mushroom Wrap (RM26.50) with Cherry Tomatoes, Parmesan, Cucumber and Pine Nut. Compared to meaty wrap, this vegetarian wrap is more delightful to enjoy. Somehow the juicy texture of the mushroom went well with Parmesan cheese and wheat flour tortilla.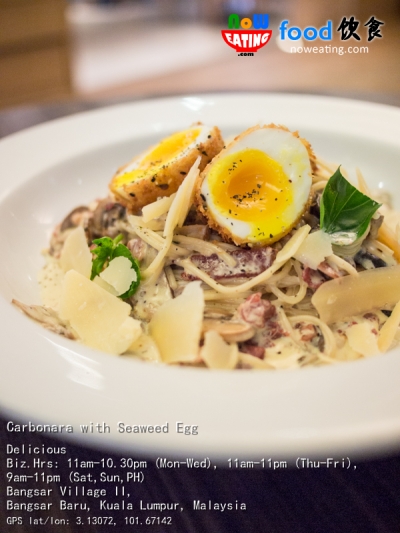 Carbonara with Seaweed Egg (RM28) is just one out of nine paste items available in the new menu. Cooked with mushrooms and Parmesan cream, guests can choose between beef bacon or shredded chicken for this dish.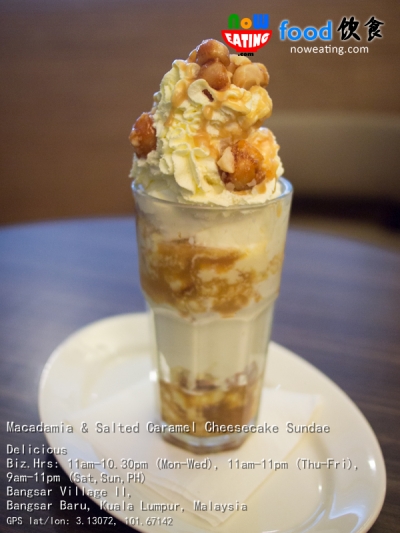 Delicious never disappoints us with their desserts. Macadamia and Salted Caramel Cheesecake Sundae (RM17.50) is a "heavyweight" sundae in which every scope is a surprise. It could be the sticky caramel, the crunchy nuts, the cheesecake, or the chilling ice cream.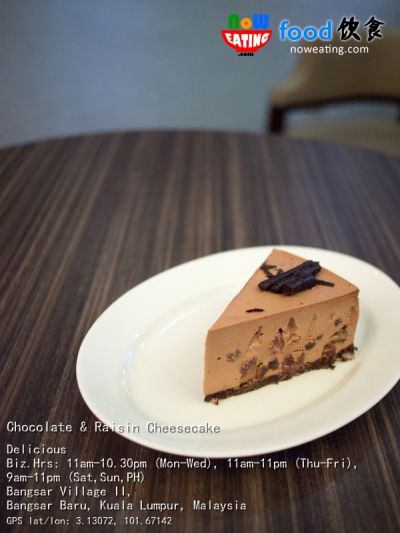 Delicious also offers 8 types of cakes and cheesecakes in their new menu and the one we sampled that day was Chocolate and Raisin Cheesecake (RM15). The sweetness is fairly acceptable and best served chilled.
"Inspired by Tapas" Menu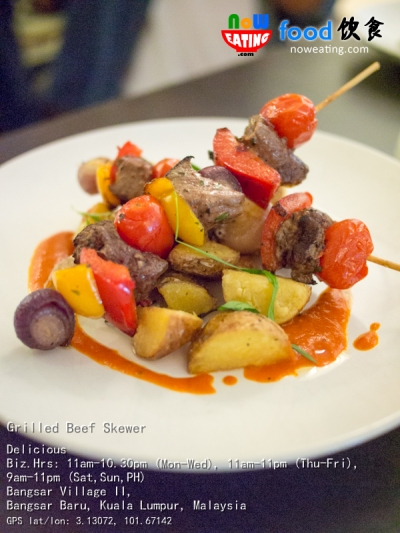 Tapas refers to wide variety of appetizers and snacks in Spanish cuisine. "Inspired by Tapas" menu is 10 small dishes created by Steve and Sandy Alan Rowe after receiving feedback from guests such that their food is sometimes too big and they don't have much variety when dining in. The result is: smaller in size, more choices without breaking the bank. Figure shows one of the new Tapas items – Grilled Beef Skewers (RM18) with tomatoes, red onions, red peppers and garlic fried potatoes.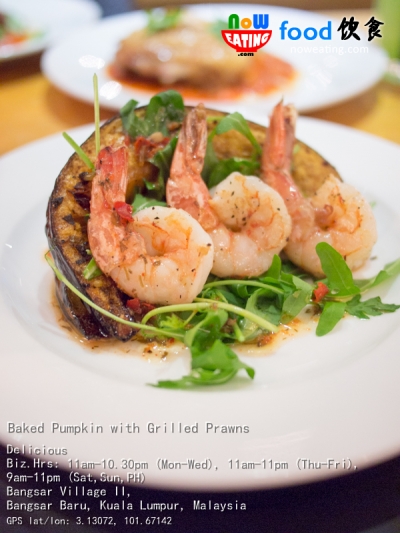 Delicious is perhaps the first restaurant we visited in which the kitchen is able to turn pumpkin into various dishes, including Baked Pumpkin with Grilled Prawns (RM17.50).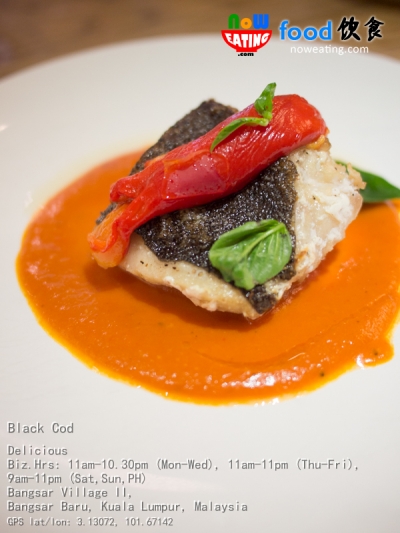 Another new item which is going to be introduced in January 2016 is the Black Cod (RM18) with a capsicum sauce. Cod fish is always a premium seafood in restaurants and we usually "skip" it due to budget constraint. Thanks to the Tapas series in Delicious, now everyone can enjoy it without creating a hole in the pocket.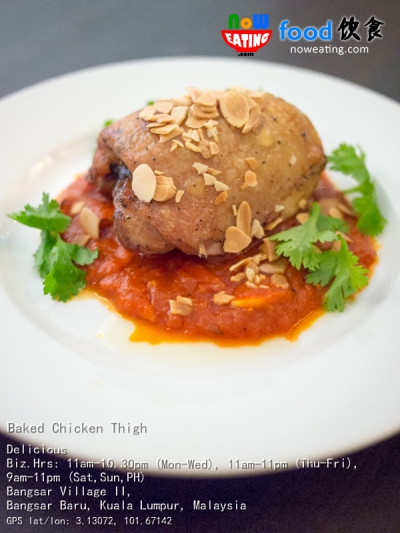 Romesco is a nut and red pepper sauce originated from northeastern Spain in which fishermen there use the sauce to eat with fish. Delicious made a twist on it and introduced Baked Chicken Thigh (RM15.50) with Romesco sauce and toasted almonds.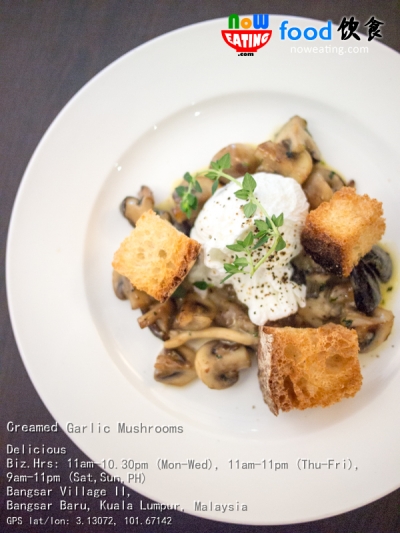 We liked the new Creamed Garlic Mushrooms (RM13) just like the way we liked Wild Mushroom Wrap. Comes with croutons and poached egg, it is more delightful compared to cheesy counterparts and is easier to share with other guests.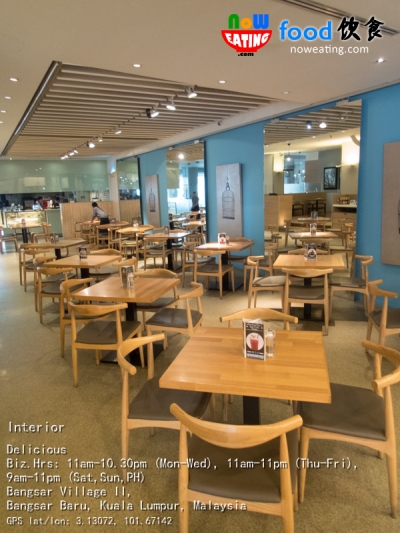 As a whole, the new Delicious menu really did surprise us with many creative dishes from appetizer to main course to desserts. Pricing-wise, it is now more tailored for guests from different age group. Do visit one of refreshing turquoise blue Delicious outlets if you happened to be in one of the shopping malls as mentioned above.
| | |
| --- | --- |
| Place Name: | Delicious |
| Cuisine: | Western |
| Address: | Lot GF-1, Ground Floor, Bangsar Village II, Bangsar Baru, Kuala Lumpur, Malaysia |
| Website: | www.thedeliciousgroup.com |
| Tax: | All price inclusive GST. No service charge. |
| Last Visit: | 20151212 |