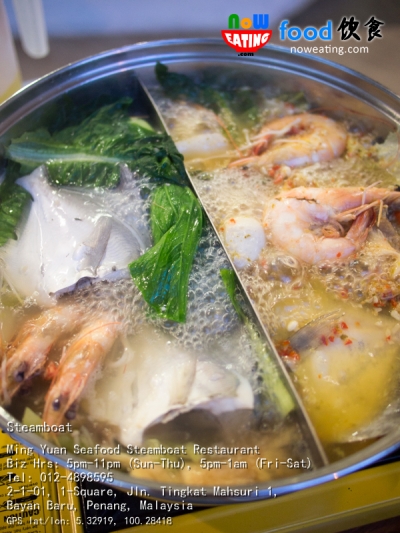 Steamboat is always our favorite especially during Chinese New Year and cold weather. Whether it is gas stove or classic charcoal steamboat, it is always fun to cook and net your food in the boiling soup with a group of friends or relative. With that, we recently visited the newly opened Ming Yuan Seafood Steamboat Restaurant 明苑自助海鲜火锅 …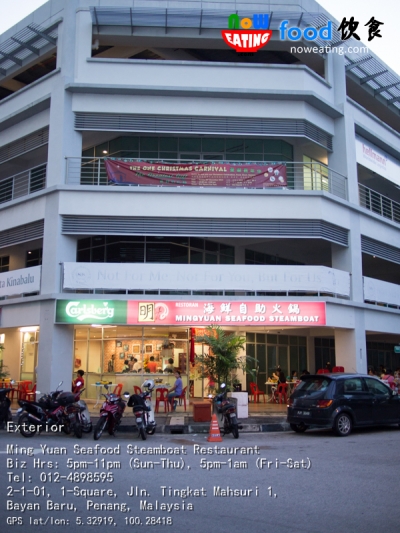 Ming Yuan Seafood Steamboat Restaurant 明苑自助海鲜火锅 is located in 1-Square, Bayan Baru, Penang (opposite of D'Piazza/Mayang Mall). It was recently opened on 27-Nov-2015. We stumbled upon it when we were having dinner at another restaurant nearby and decided to give it a try one day due to the crowd we observed.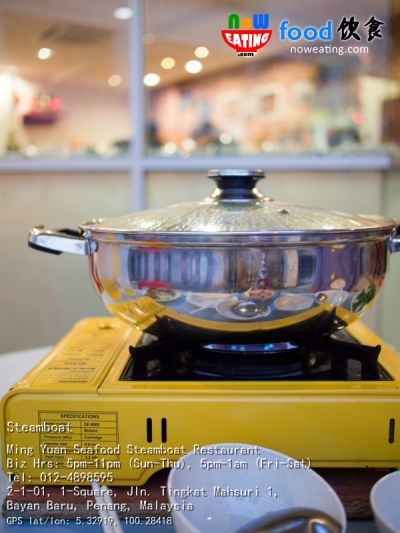 We were greeted by the owner himself when arriving. When asked whether any reservation was made, we shook our head. Since there were only two of us, the owner welcomed us but suggested us to make reservation for larger group in future (Tel: 012-489 8595).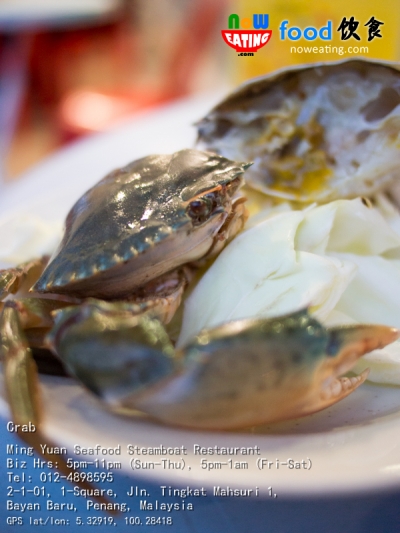 Our initial intention was to have some greens outside since we felt sinful of having too many meat recently. After seeing the buffet spread, we decided to eat first and worry about uric acid later. The seafood corner was like buying seafood in wet market. From the pictures on the wall, we believe that the owner was a fish supplier previously and the seafood here are came from fishermen directly.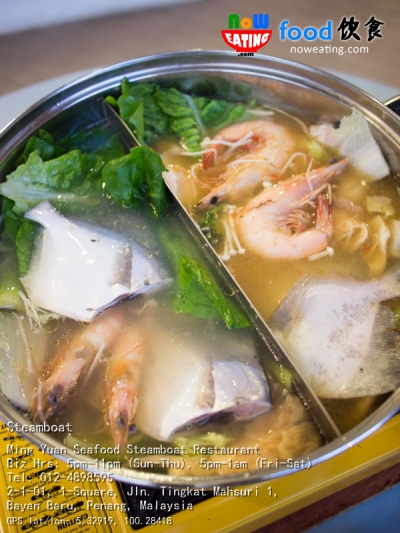 As for the soup, similar to most steamboat restaurants, customers can choose from clear soup, spicy soup or both. Surprisingly, both clear and spicy soup in Ming Yuan are pretty outstanding with clear soup has added black pepper whereas the spicy soup is called White Tomyam. For us, it is more like the garlic chili lime sauce used for steamed squid or clam in some Thai restaurants (酸柑蒸).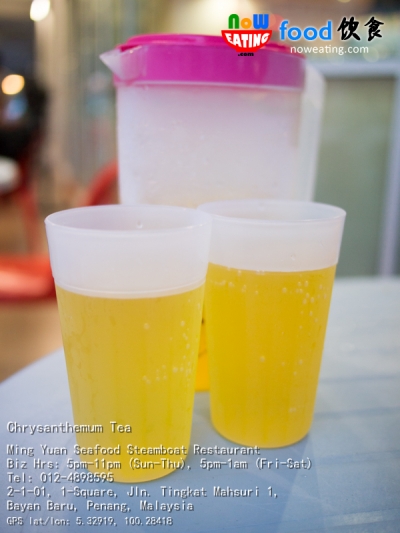 Note that the "White Tom Yam" can be quite spicy. Furthermore, majority of the dining area is open air so be sure to prepare some "fire extinguisher" such as a jar of Chrysanthemum Tea (RM6). Note that the drink is charged separately.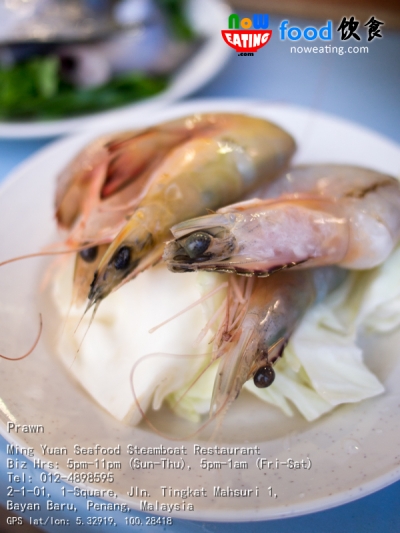 It had been a while since we had large size prawn as steamboat ingredient. It is usually a premium item in most buffets and Ming Yuan is not exception. We overheard that some customers ate 3kg of prawns during their visit.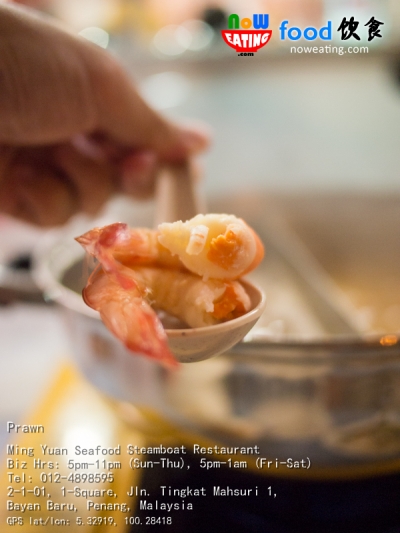 Rest assure on the freshness and the size of the prawns as some of them even have roes in it.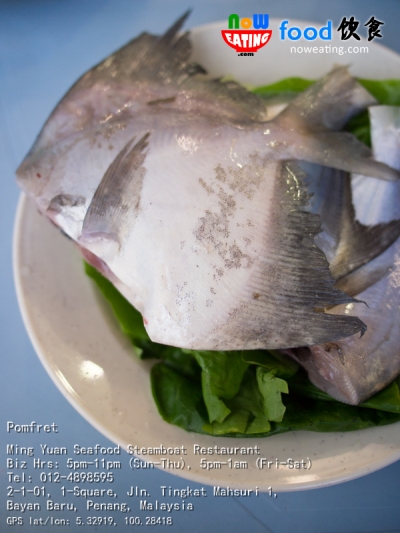 To be honest, we were a bit disappointed with some steamboat buffet in Penang due to the fact that low quality seafood are usually provided. For instance, some of them provided frozen Dolly fish as an alternative to fresh stocks such as pomfret, grouper or seabass. Ming Yuan, however, provides white pomfret on the buffet spread without any hesitation.
Grouper fish fillet are also available. In wet market, a plate of grouper fillet like this can easily costs RM10.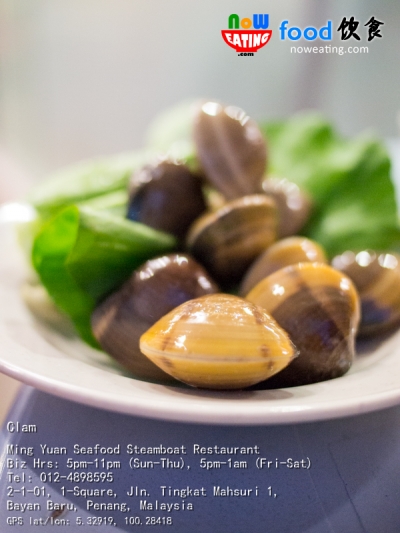 Clams are also ready at your disposal. As a rule of thumb, enjoy it once the shells are opened. Overcooking it will cause the content to shrink.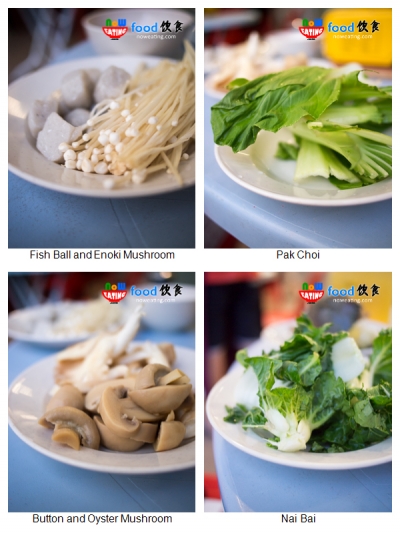 Our main objective was fulfilled when vegetables such as cabbage, Nai Bai, Pak Choi, lettuce and mushrooms were readily available at the counter. Other items included commercial products such as assorted fish balls and sausage. We put them as lower priority as we were more interested on fresh seafood.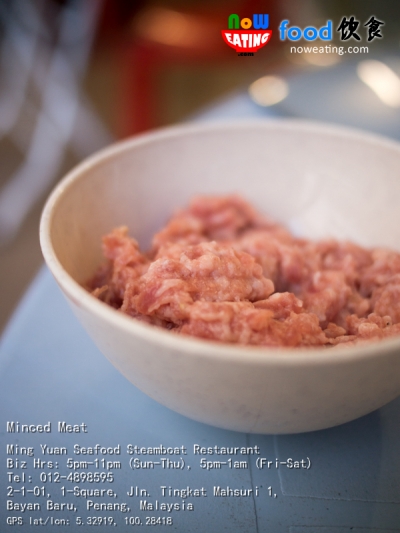 Before we were able to return to those products, we were already full. We almost forgot that we still had a bowl of minced meat. Best to stir and mix with a raw egg before cooking as this will give soft texture to the meat when cooking.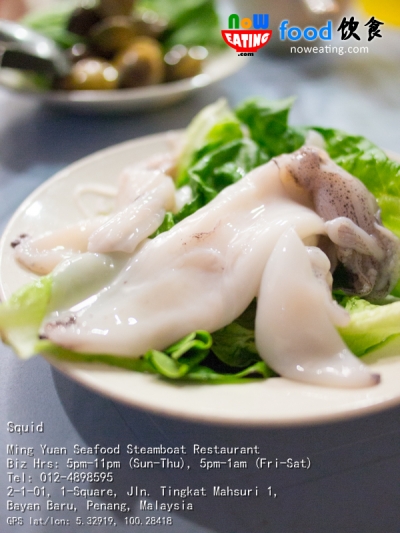 Other seafood included whole squid and mantis prawns. Perhaps a minor drawback is that dessert such as fruits and ice cream are not provided. The buffet is priced at RM38 per person and you must make your payment before your meal. The restaurant opens daily in the evening from 5pm-11pm from Sunday to Thursday, and 5pm-1am from Fri-Sat. As a whole, Ming Yuan is a place for fresh seafood and anything fresher you have to catch them your own.
| | |
| --- | --- |
| Place Name: | Ming Yuan Seafood Steamboat Restaurant 明苑自助海鲜火锅 |
| Cuisine: | Chinese |
| Address: | 2-1-01, 1-Square, Jalan Tingkat Mahsuri 1, Bayan Baru, 11950, Penang, Malaysia |
| Tel: | 012-489 8595 / 016-406 7015 / 016-492 5886 |
| Working Hour: | Sun-Thu 5pm-11pm, Fri-Sat 5pm-1am |
| Tax: | No |
| Last Visit: | 20151215 |