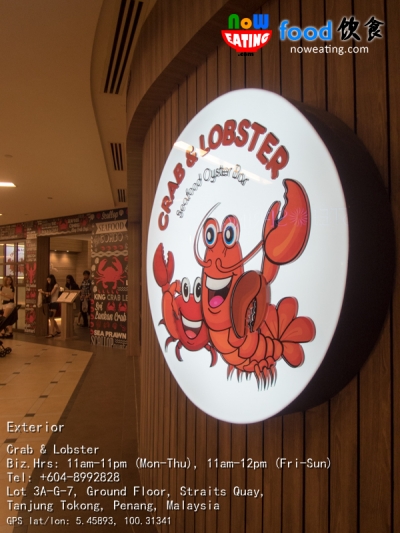 Crab and Lobster is located at the ground floor of Straits Quay in Tanjung Tokong, Penang. Before this, the same shop lot was a fine dining Chinese restaurant. The restaurant is open daily from 11am until 11pm. During weekend (Friday-Sunday), it will open until 12am or later subjected to customers in the restaurant. Let's find out products it is offering…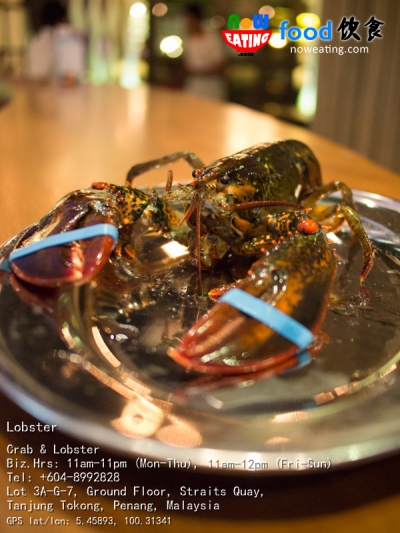 As the name applies, Crab and Lobster is specialized in crabs and lobsters but in actual fact, it serves varieties of seafood including shrimps, mussels, clams and oysters. Most of their ingredients are live stocks kept in aquariums or refrigerator to ensure that seafood delivered to customers are the freshest they can get in the market.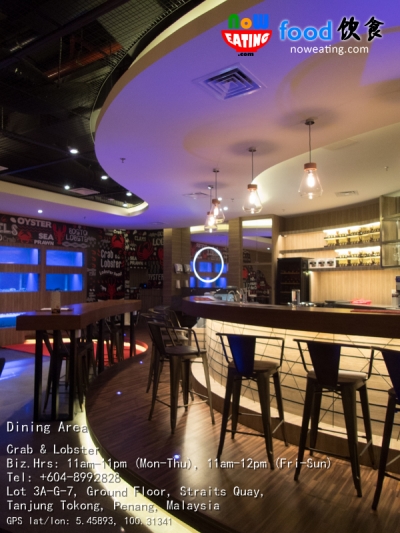 Crab and Lobster has an oyster bar. During our visit, we had a chance to try their fresh oysters. When we mean "fresh", it is really fresh that the live oysters are kept in a refrigerator. An unopened oyster can last for 7-10 days in a 1-4 degree Celsius environment. Oysters from Crab and Lobster are sent directly from the sea and as a result, they taste a bit salty due to sea salt.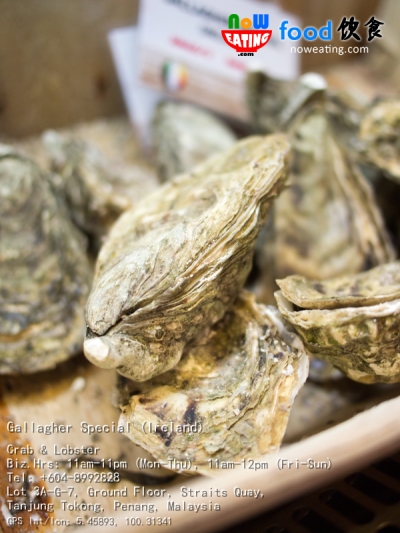 Most of us think that all oysters are the same but in fact they are not. Crab and Lobster provides an "oyster tasting guide" on each table and there are 10 types of seasonal oysters served by the restaurant. Each of them is rated based on flavor, saltiness, sweetness, and umami. Umami is a loanword from Japanese which means "pleasant savory taste". In Chinese, it is called 鲜味.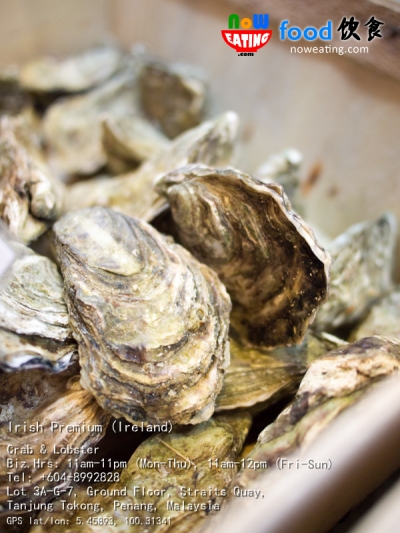 During our visit, 3 types of oysters were available – Gallagher Special, Irish Premium and Fine De Claire. Gallagher Special from Ireland is on top of the list and is priced at RM63 for 3 pieces. Irish Premium is priced at RM42 for 3 whereas Fine De Claire from France is priced at RM45 for 3.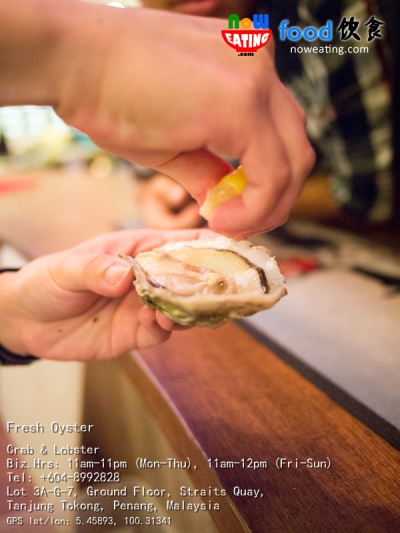 The oyster will be sliced opened on the spot upon order. Occasionally, you will notice that the body squirms when the acidic lemon juice where sprinkled on it.
Will it move in your mouth if you consume it right away? The answer is no. Oyster dies the moment someone forcefully opens its shell. Freshness-wise, it is the freshest oyster we've ever tried, far fresher than any oyster served in hotels. It does not taste fishy at all and more important, it is juicy, light and fresh in flavor.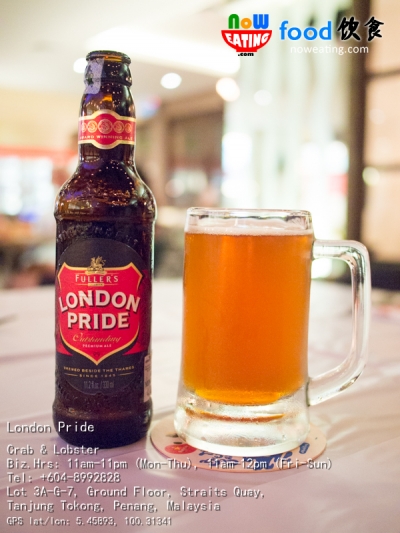 According to the manager, Mr Teoh, oysters are best consumed with a glass of London Pride – an award-winning and well balanced beer from UK. Yup, we had a bottle of it that evening and we really liked its smooth texture.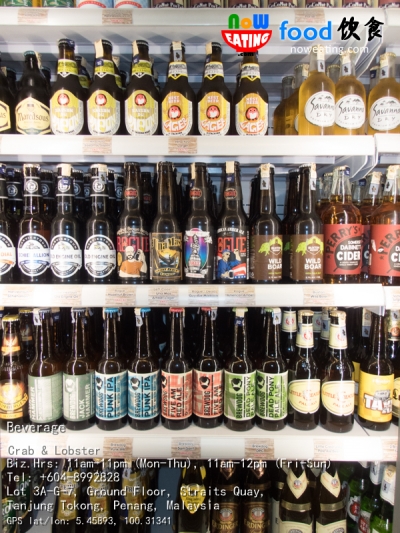 You will be surprised on the total number of beverages Crab and Lobster serves. To date, there are nearly 100 types of beverages including beers, ciders, carbohydrate drinks, fruit juice, mineral waters, and etc. It is just like a beverage cooler in premium hypermarket with imported products.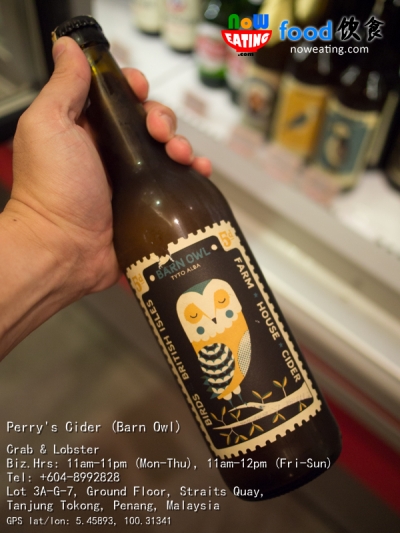 Mr. Teoh introduced us quite a number of bottled drinks we never seen before, including Perry's Cider which is an apple cider from UK fermented using "wild yeast" (and it is still fermenting in the bottle). We particularly like the design on the sticker.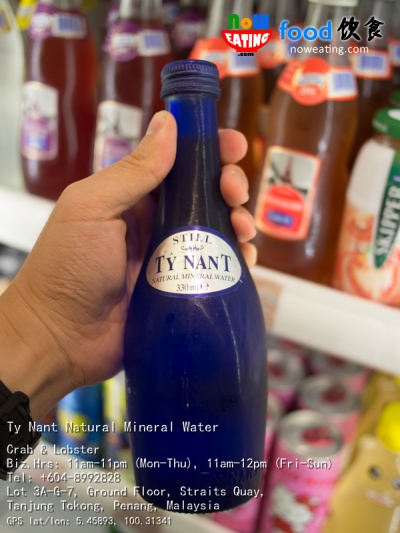 Just that you think Evian is the most premium plain water you will ever get, we welcome Ty Nant (RM18) from Wales. The mineral water with its signature blue bottle is extracted from unpopulated area in Wales, beneath high permeability rocks. It is usually served in fine dining restaurants or five-star hotels.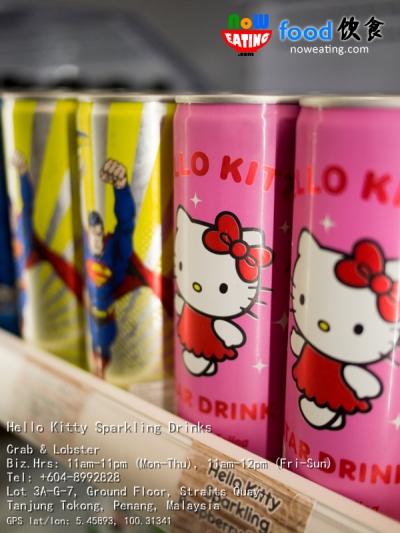 Crab and Lobster is actually designed for the whole family to dine in. Assorted sparkling drinks are also available in the cooler. With so many drinks, you are also welcomed to come over and just grab some drinks from the cooler.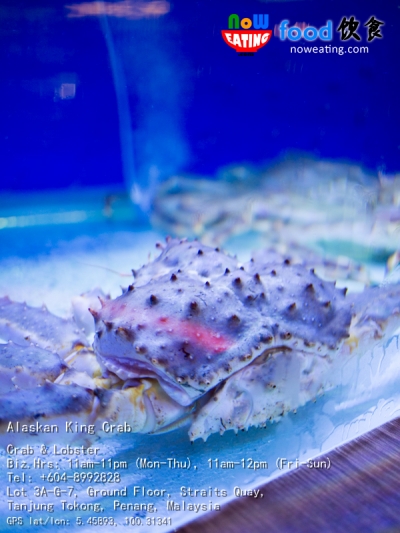 At first, we were a bit skeptic about Crab and Lobster. Do we really need another seafood restaurant in Penang island as there are many seafood restaurants with live stocks? It turns out that we were wrong. First of all, it is air conditioning environment meaning that customers do not need to sweat their back when cracking open shell fishes.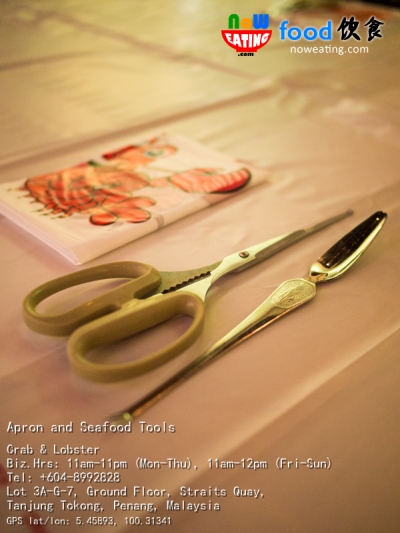 Secondly, Crab and Lobster totally changed the dining rule. Instead of serving in plate, seafood is first served in a bag before "pouring" it on table. No plate is provided and customers have to enjoy the seafood by bare hand (disposable apron, hand glove and seafood tools will be provided). The concept is adapted from Louisiana, US – a melting pot of French, African, and US cuisines. In other words, Crab and Lobster is serving Louisiana cuisine.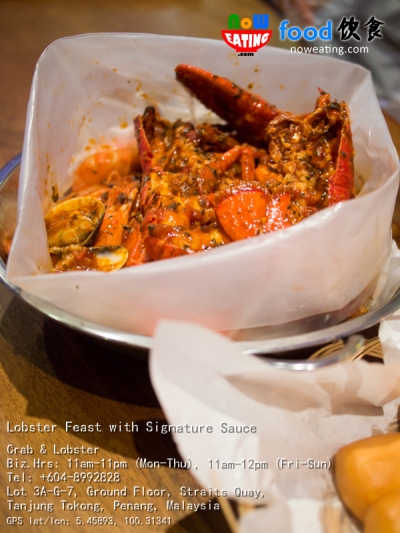 Customers can select their seafood from the menu. One good thing about its menu is that all seafood already have their price fixed instead of  showing "market price" as seen in most seafood restaurants which occasionally can get "bill shock". Not sure on which items to choose? Crab and Lobster has 4 pre-defined sets including: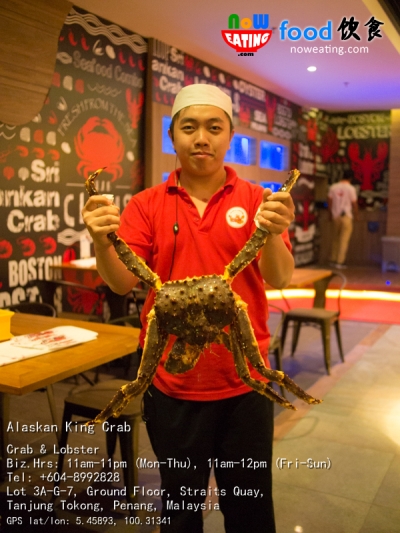 Live Alaskan King Crab Leg Combo (RM368) – 750g Alaskan King Crab Legs, 300g Prawn, 250g Clams, Potatoes, Corn, Sausages.
Lobster Feast (RM208) – 1 Lobster, 300g Prawns, 250g Clams, Potatoes, Corn, Sausages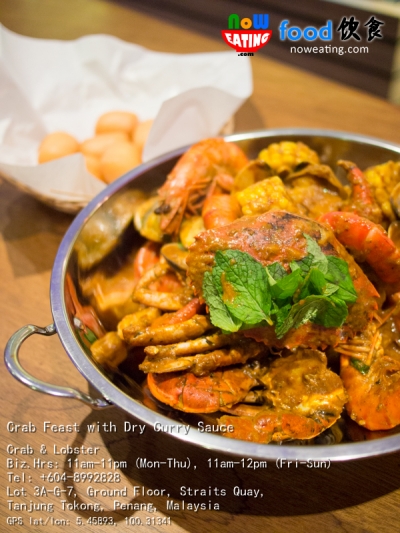 Crab Feast (RM98) – 1 Mud Crab, 300g Prawns, 250g Clams, Potatoes, Corn, Sausages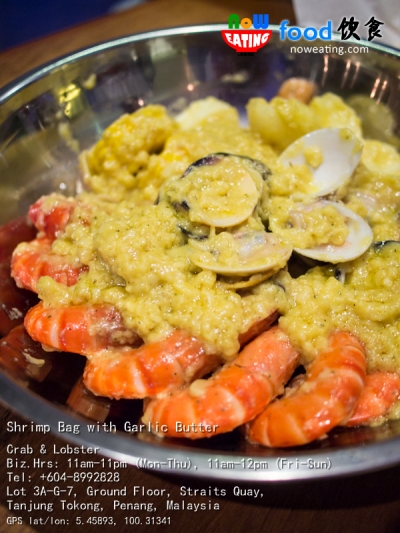 Shrimp Bag (RM68) – 300g Sea Prawns, 250g Clams, Potatoes, Corn, Sausages
All combos and seafood are served with a choice of sauce:
Crab & Lobster Signature (Mild spicy, spicy or extra spicy)
Black Pepper
Chili Crab Sauce (Mild spicy, spicy or extra spicy)
Garlic Butter
Dry Curry Sauce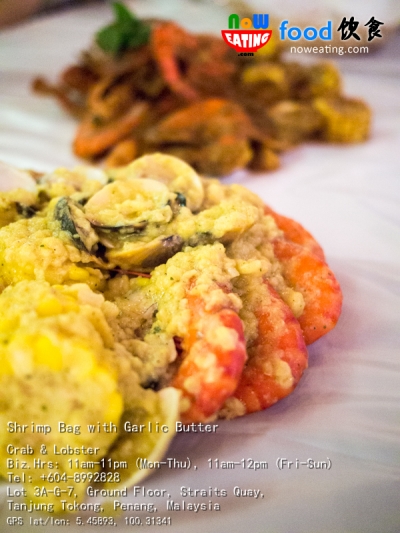 Among all sauces, Crab & Lobster Signature is the most unique one as it tastes exactly like Bolognese Sauce with added truffle oil. The aromatic non-spicy Garlic Butter sauce reminded us of garlic grilled fish in some cases and is suitable for the whole family looking for a mild meal.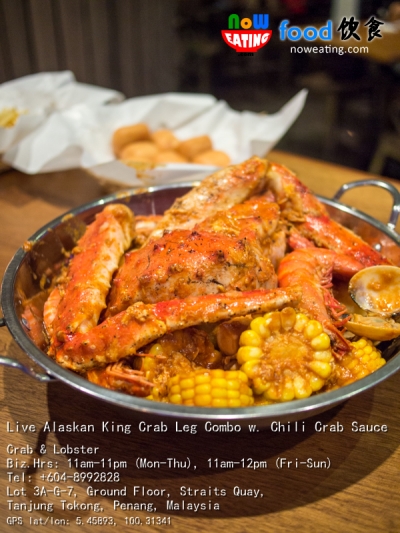 Not sure which one to choose? Chili Crab Sauce is your best bet as it is the most popular sauce to go with any crab.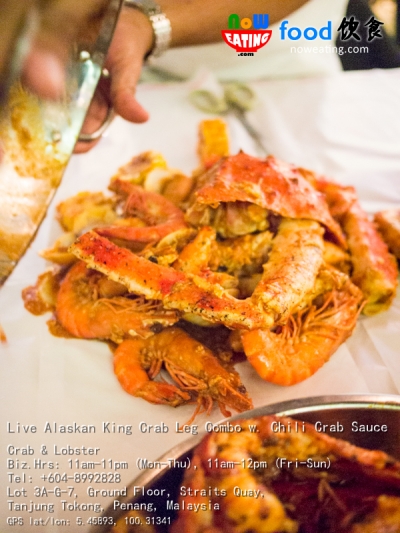 For best experience, the host strongly recommended us to pour them on our dining table which is already covered by food grade disposable plastic sheet.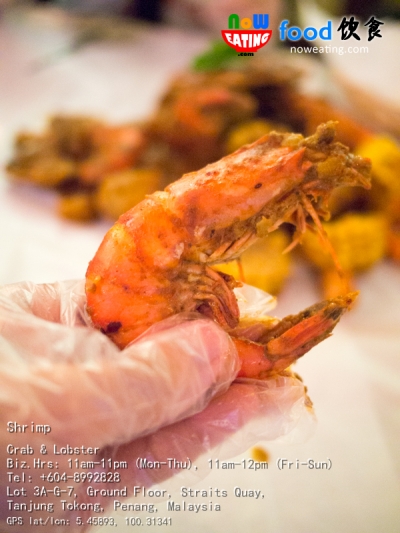 Wear your apron and glove and be ready to get your hand "dirty" (during childhood time, we were already beaten to dead if we "spoiled" food like this). Put your smart devices away (after all, your hands are too dirty to use them) and start eating and chatting with your partners.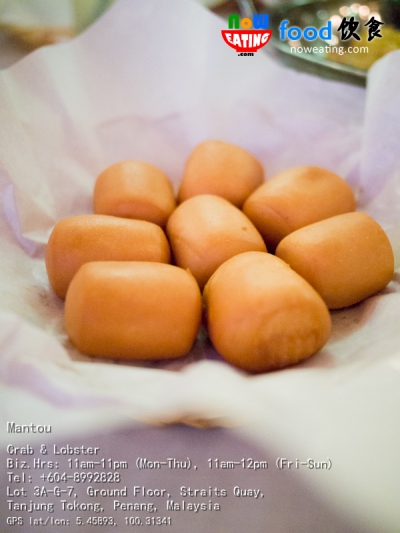 Crab & Lobster Signature, Chili Crab Sauce and Dry Curry Sauce are best dipped with Mantou. Fortunately, each combo set comes with complementary Mantou or Fries. The deep fried crispy buns taste so good that we can just eat it on its own.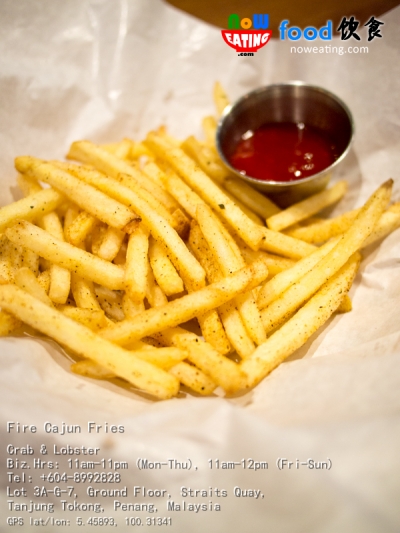 Both Mantou and Fries can be ordered separately as well. Mantou is RM3 for 3 pcs whereas Fire Cajun Fries is RM8.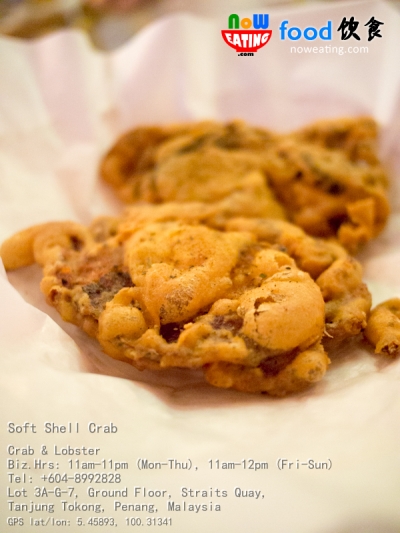 Last but not least, Crab and Lobster is continuously improving their menu and we were lucky enough to try out their soft shell crabs which is yet available in their current menu.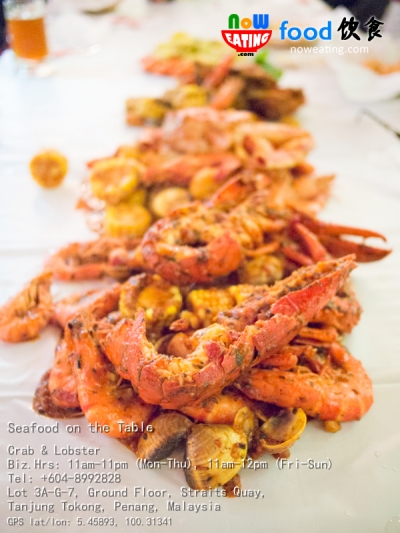 As a whole, Crab and Lobster changes the dining rule in Penang by providing customers the exquisite taste of Louisiana and requiring you to pick up your food from table using bare hand. It is actually quite fun and is suitable for groups of different ages. Only freshest seafood will be used in food preparation and anything fresher you have to catch it yourself. Oh, do not forget the near-100 types of drinks in their cooler.
| | |
| --- | --- |
| Place Name: | Crab & Lobster |
| Cuisine: | Western |
| Address: | Lot 3A-G-7, Ground Floor, Straits Quay, Tanjung Tokong, 10470, Penang, Malaysia |
| Tel: | +604-8992828 |
| Working Hour: | 11am-11pm (Mon-Thu), 11am-12am (Fri-Sun) |
| Tax: | 10% Service Charge, 6% GST |
| Last Visit: | 20160105 |