In conjunction with Chinese New Year, Eastern & Oriental (E&O) Hotel is pleased to offer you buffet dinner, both in hot trays and steamboat styles. Yes, we were told that tables for certain days during CNY were fully booked so please pick up your phone and dial +604-222 2000 Ext: 3601/3602 (Sarkies) for buffet dinner, or +604-222 2000 Ext: 3175 (Sarkies Corner).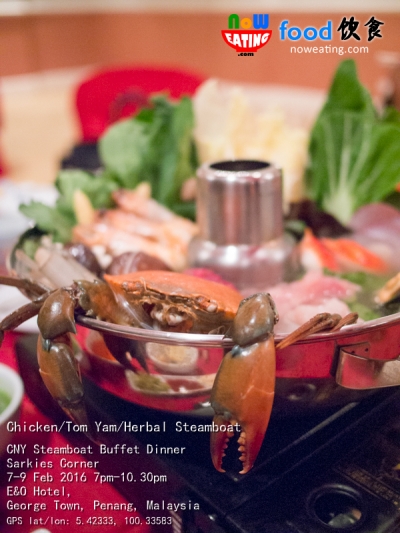 For those following our blogs, E&O Hotel is a no stranger to Now Eating. We have covered few reviews on it with the most recent one being steamboat set at Sarkies Corner.
Steamboat Buffet @ Sarkies Corner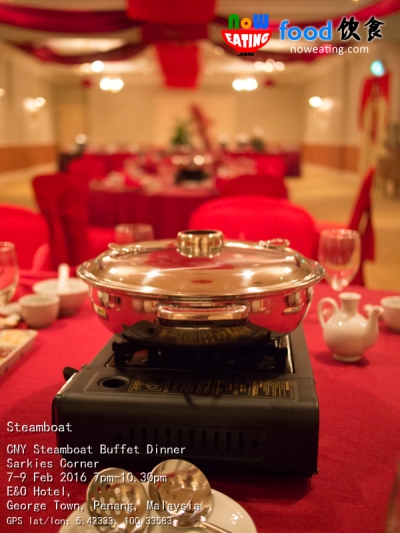 As mentioned in our previous post, steamboat set is currently priced at RM88 nett per adult and is available daily in Sarkies Corner. Great news is that, during CNY, guests can "free upgrade" to steamboat buffet at the same price (e.g. RM88 nett per adult, RM44 nett per child).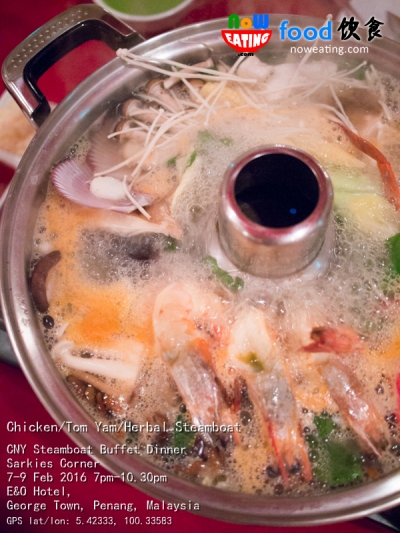 Similar to our previous visit, three types of broth will be served including chicken, Tom Yam and herbal. You can choose one of them and our personal favorite being the herbal broth.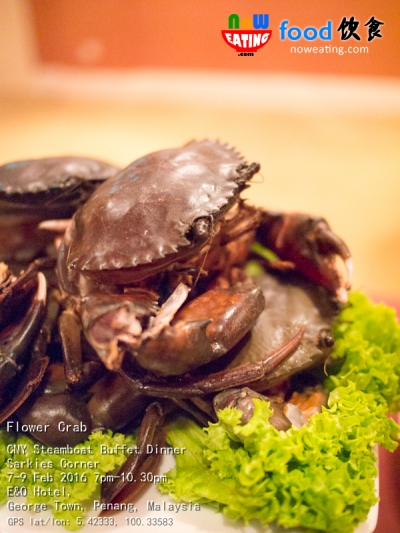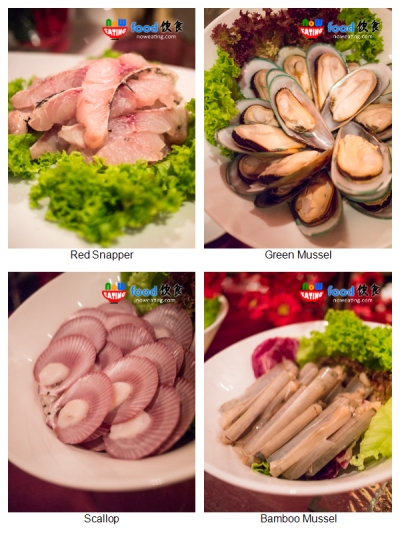 Ingredient-wise, Sarkies Corner serves premium seafood including flower crabs, red snappers, mussels, and scallops to name a few.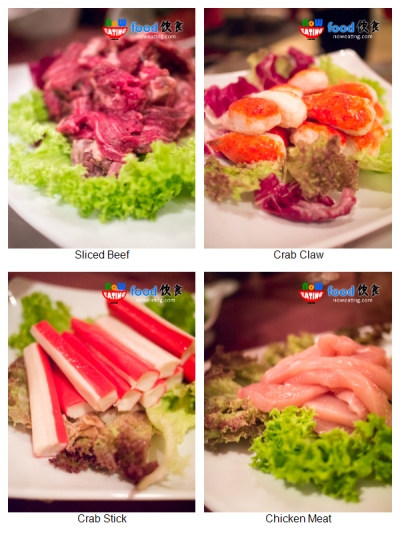 Meat and instant food such as sliced beef, chicken meat, crab stick and crab claw are also available.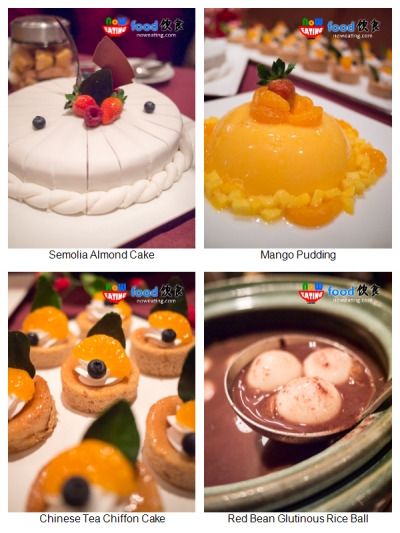 Other ingredients include vegetables, mushroom, noodles, and even dessert such as egg tart, and even desserts such as Almond Cake, Mango Pudding, Chiffon Cake and Red Bean Glutinous Rice Ball. From the menu we received, there are about 60 items available for the steamboat buffet.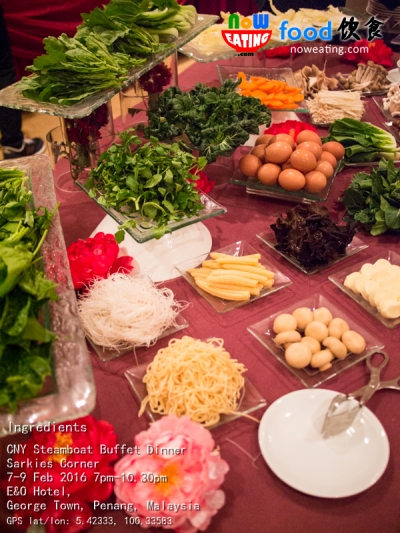 Steamboat buffet is available at Sarkies Corner at heritage wing of E&O Hotel from 7-Feb (廿九) to 9-Feb (初二). Only 80 seats are available per day so please call for reservation ASAP.
Gong Xi Fa Chai Buffet Dinner @ Sarkies
From 7-Feb (廿九) to 13-Feb (初六), 7pm – 10:30pm, guests can enjoy Gong Xi Fa Chai Buffet Dinner at Sarkies located at the new wing of E&O Hotel.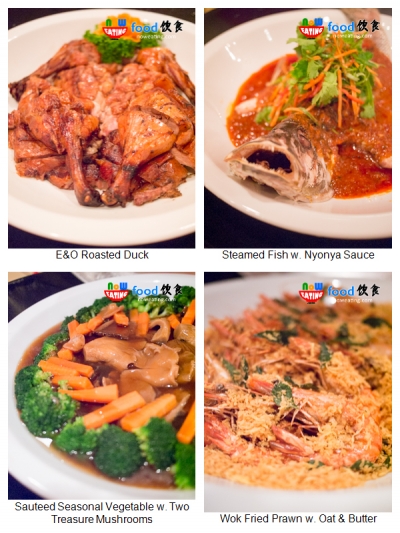 During normal days, Sarkies serves International Buffet including Malays, Chinese, Indian, Japanese and Western cuisines. In conjunction with CNY, more Chinese dishes will be added to already-abundant buffet spread, including the famous E&O Roasted Duck, Steamed Fish with Nyonya Sauce, Sauteed Seasonal Vegetable with Two Treasure Mushrooms, and Wok Fried Prawn with Oat and Butter.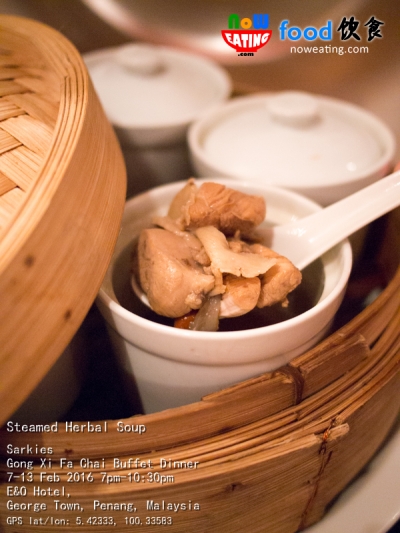 Perhaps the item which impressed us most is the Individual Steamed Herbal Soup. This is one authentic Chinese herbal soup we usually double-boiled at home using generous amount of herbs.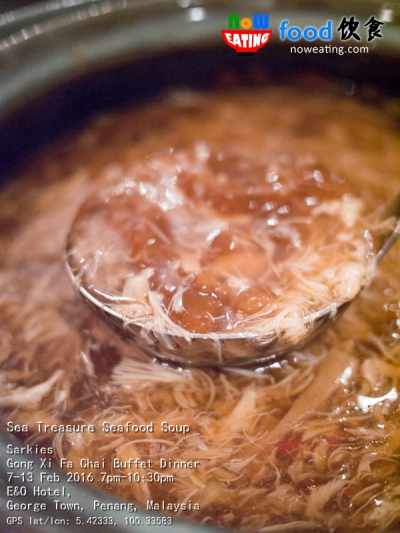 Meanwhile, Sea Treasure Seafood Soup is a good alternative to shark fin soup for the sustainability and welfare of sharks. Taste-wise, it is identical to the later, if not better.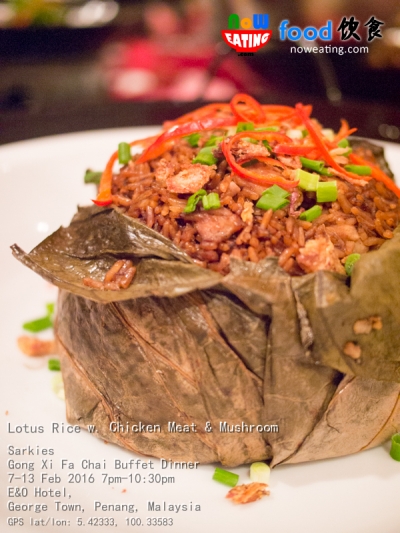 Rice plays an important role in Chinese culture and we really enjoyed the aromatic Lotus Rice with Chicken Meat and Mushroom in the buffet spread.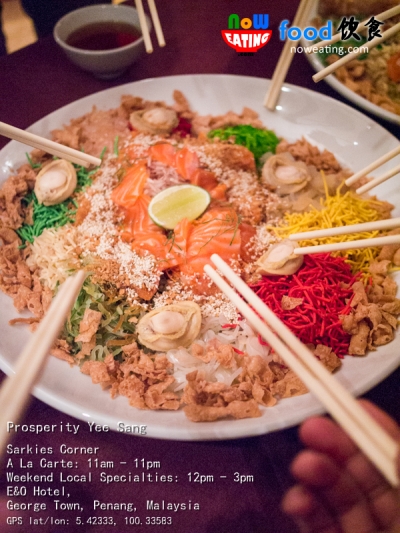 Gong Xi Fa Chai Buffet Dinner is priced at RM133.30 nett per adult and RM60.95 nett per child. By adding RM66 nett, guests are entitled for free flow of wines and beers. For steamboat buffet and Gong Xi Fa Chai buffet dinners, a plate of Salmon Yee Sang will be prepared individually for every table with minimum booking of 6 pax and above (request upon booking). Abalone is available as an add-on.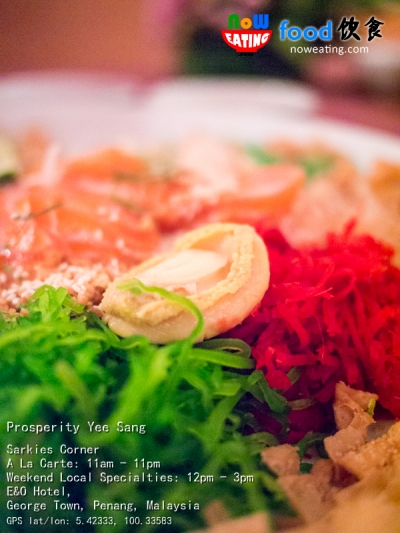 Last but not least, Chinese Tea is on complimentary for the Chinese New Year Steamboat Buffet Dinner at Sarkies Corner, and Fruit Punch is on complimentary for Gong Xi Fa Chai Buffet Dinner at Sarkies.