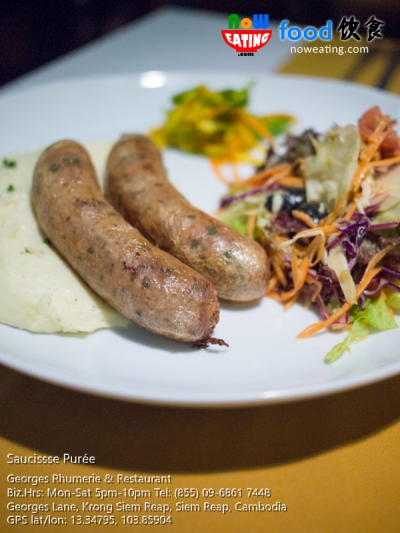 It was a hot and humid afternoon when we returned to our hotel in Siem Reap, Cambodia from temple hopping. After a refreshing bath, we decided to reward ourselves with a fine dining experience at Georges Rhumerie & Restaurant.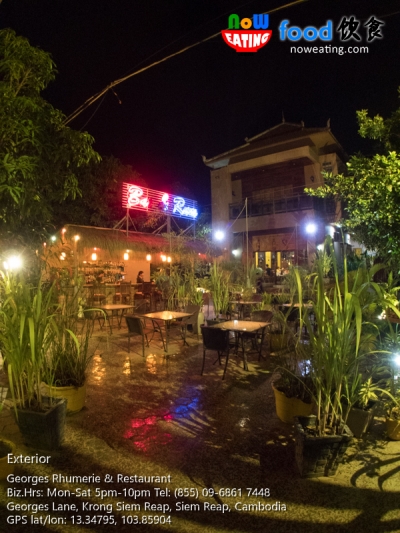 Georges Rhumerie & Restaurant is located at Georges Lane (GPS: 13.347553, 103.858986) in Siem Reap town. The best transportation to get there is by Tuk Tuk (usually USD$2 around town area). We walked from our Cafe Lodge Boutique Hotel via small alley and it was a bit too dark for us. The restaurant only opens during evening time (5pm-10pm) and is closed on Sunday.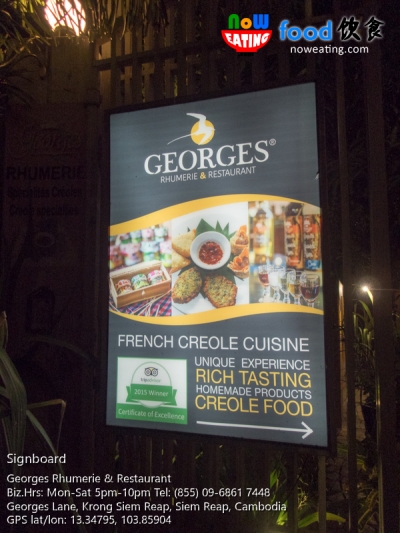 A bit history about Georges… Georges Rhumerie & Restaurant is a father-and-son restaurant in which the family traveled from La Reunion Island to Siem Reap 5 years ago. The old French colony (yes, Siem Reap was conquered by French) is very similar to Georges' homeland – sunny and fruity. Soon, Georges found himself returning to his old habit – infusing rum (an alcoholic liquor distilled from sugar-cane residues or molasses) in the evening.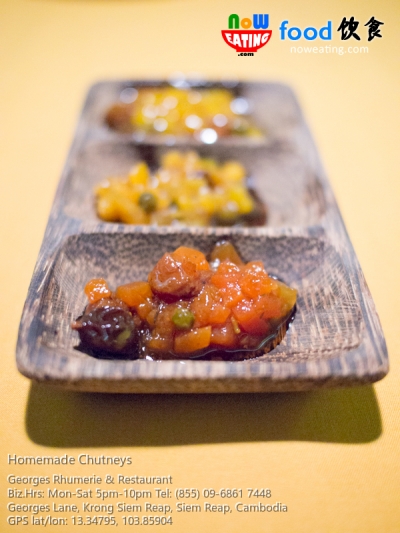 Quickly, a passion of fruits and chilies together with the need to share a piece of his country lead Georges to create of a full range of preserves (jams, chutney and chilies pastes) to accompany the infused rums production. Two years ago, Sebastien Fevrier – son of Georges, joined his father to work in the kitchen as well as manage the restaurant. Occasionally, you will see him serving food to guests personally.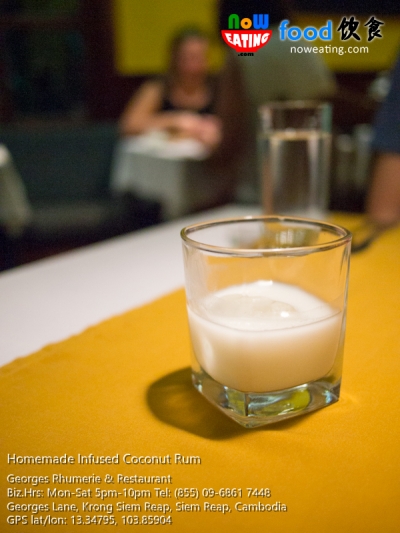 Each guest is welcomed with a shot of coconut rum worth USD$1. Being a signature and recommended drink, we straightaway ordered a single glass (USD$2). As stated in the menu, it is "deliciously creamy, almost like drinking from a cloud!". Our body turned warm on our first sip but still we were able to finish it.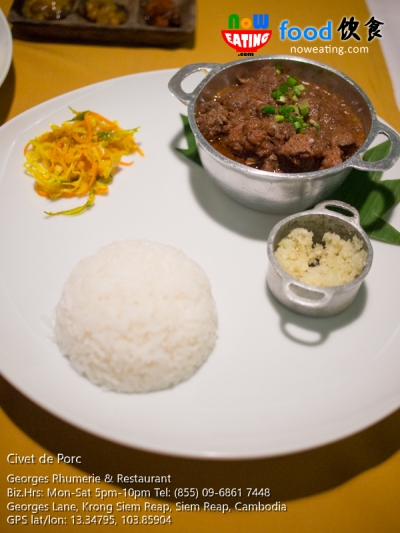 Georges offers unique French Creole cuisine which is more like a fusion cuisine. Each main dish comes with rice or salad and free tasting of 3 kinds of homemade chutneys and chilies. The first item we ordered was Civet de Porc – stewed pork trotter cooked in red wine (USD$8).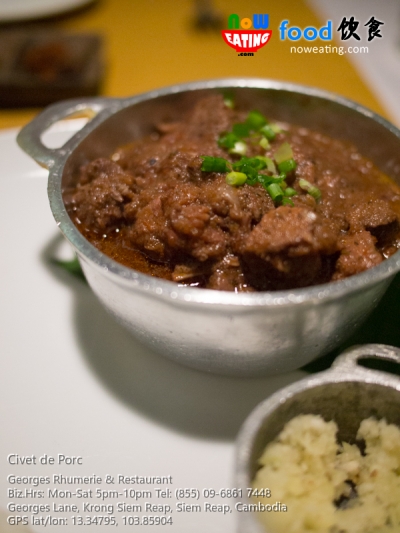 Pork trotter was cooked over a low fire for hours before it was served. It tasted mild, aromatic with a hint of red wine. Personally, we found it quite unique as it looked like a Chinese dish yet prepared in Western way. The pork trotter mainly consisted of meat portion. An addition of fat/gelatin portion would be perfect.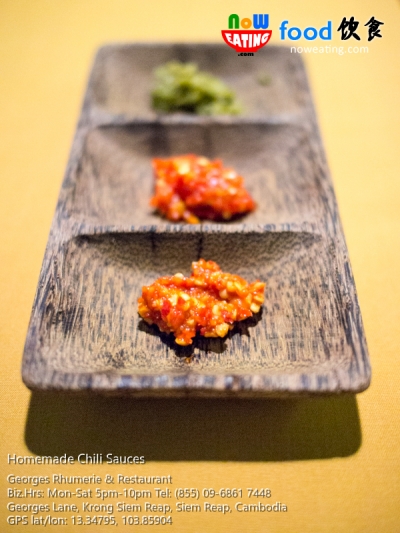 Civet de Porc is best consumed with homemade chili pastes. As a side note, Georges is also making and selling jams.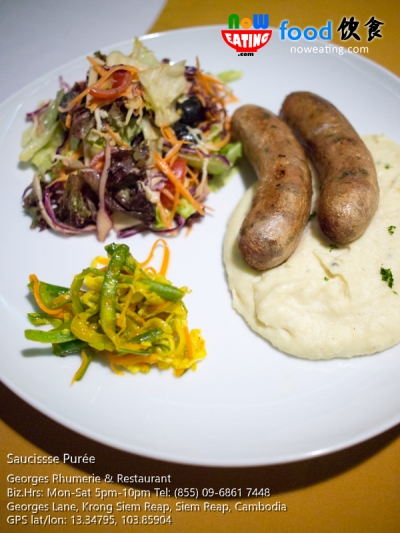 Our second dish being a sausage dish which came with creamy French mashed potato and a small green salad. Saucissse Purée (USD$7.50) is a homemade pork sausage with Frankfurter size except it is hand-stuffed with minced pork instead of machine made with more refined texture.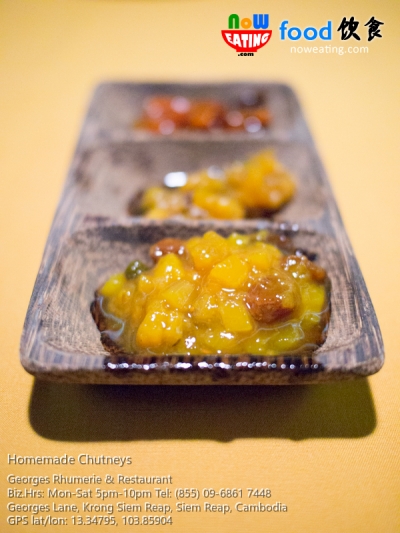 Taste-wise, again, it is mild and aromatic. We found that the whole dish was a bit dry to our liking and best consumed with homemade chutneys. Mashed potato is one of the best. An addition of brown (mushroom) sauce would be perfect.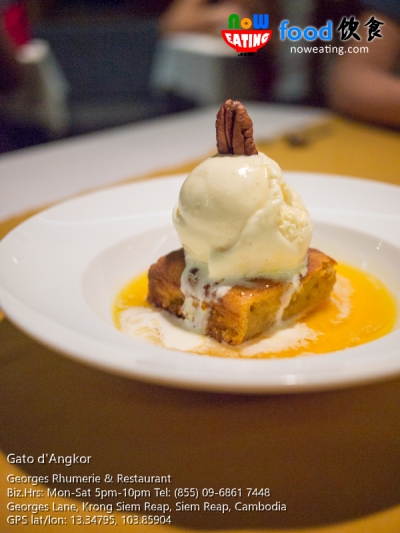 We ended our lovely evening with mouthwatering dessert – Gato d'Angkor (USD$5) – sweet potato and mango cake with coulis of passion fruit topped with vanilla ice cream. It reminded us of sizzling chocolate brownie back in Malaysia and a mango/passion lover, we preferred the Georges creation than the later.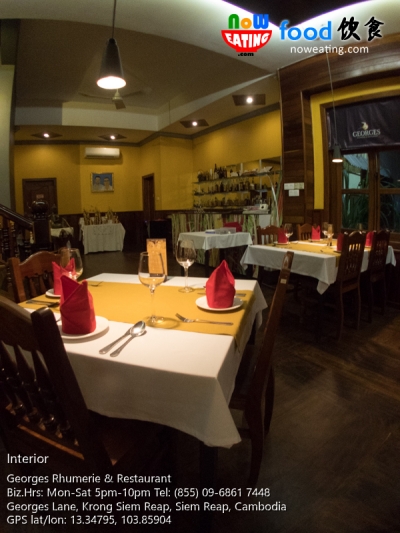 As a whole, with unique cuisine and friendly crew members, Georges Rhumerie & Restaurant is a great place for dinner in Siem Reap – be it a normal dinner or special events such as birthday celebration.
| | |
| --- | --- |
| Place Name: | Georges Rhumerie & Restaurant |
| Cuisine: | Fusion |
| Address: | Georges Lane, Krong Siem Reap, Siem Reap, Cambodia |
| Tel: | (855) 09-6861 7448 |
| Working Hour: | Mon-Sat 5pm-10pm |
| Tax: | No |
| Last Visit: | 20160827 |