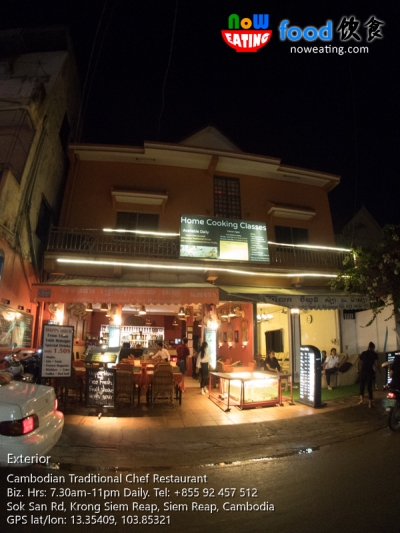 Pub Street/Night Market in Siem Reap town is a famous tourist spot with restaurants mushrooming in that area. Most of them, however, are not cheap compared to local restaurants in other regions (after all, Pub Street/Night Market are meant for tourists). We, however, found a Cambodian restaurant with reasonable price and decent food quality – Cambodian Traditional Chef Restaurant.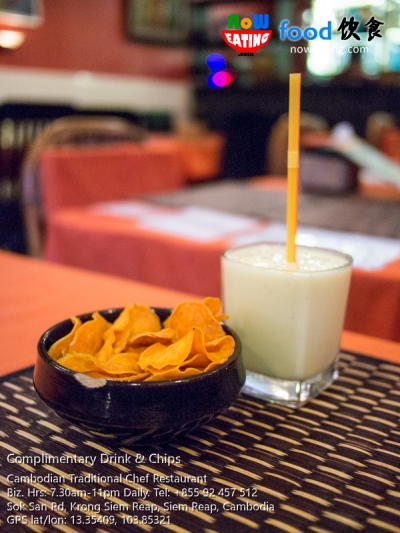 Cambodian Traditional Chef Restaurant is located at Sok San Road which is east of Pub Street and south of Night Market Street (Google Map) (GPS: 13.35409,103.85321). The restaurant opens as early as 7:30am until 11pm daily. Unlike other restaurants, CTC provides complimentary chips and fruit shake (mango/coconut/banana/pineapple/apple/carrot) for each guest once order is made.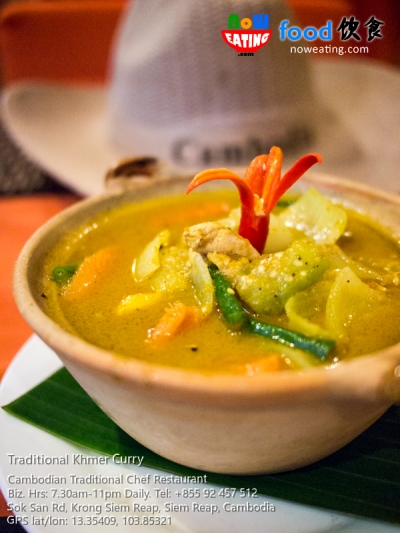 Unlike some restaurants in Pub Street which are over-commercialized, CTC is run by a family. Being in a new territory, the first thing we would like to try is definitely local cuisine and thus we ordered Traditional Khmer Curry  – a curry in a pot with gravy made of long bean, red chili, coconut milk, sweet potato, pineapple, onion and chili oil to name a few. As for the main ingredient, guests can select among chicken, pork, vegetable, tofu, fish, beef, shrimp, and seafood.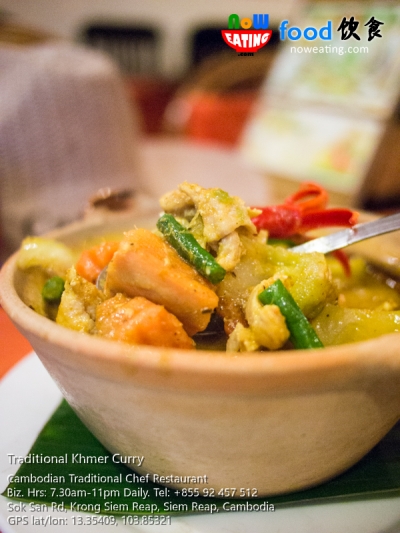 Traditional Khmer Curry resembles Nyonya's Masak Titik taste which is creamy, sweet with mild spiciness. It is best consumed with Jasmine rice which comes together with the item. Pricing-wise, it is fairly affordable at USD$3.50 in which other restaurants nearby can easily double the price for the same dish.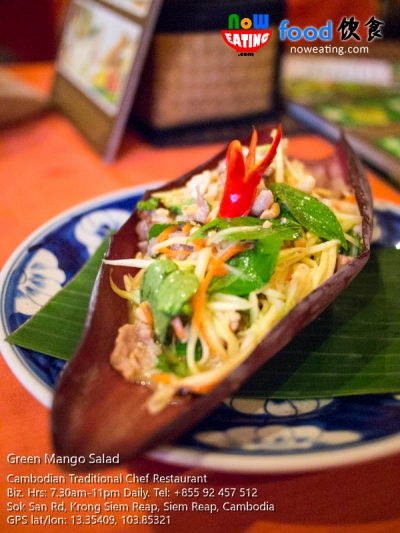 From our observation, Cambodian cuisine is a combination of northern Thai cuisine with Vietnamese cuisine. After all, Cambodia is located between them. Occasionally, you will find some Thai cuisine here such as Green Mango Salad (USD$2.50) made of young mango, onion, carrot, basil, peanut and fish sauce. A little surprise for us is that it even has premium ingredient such as chicken, pork, vegetable or tofu and guests can select one of them for their salad.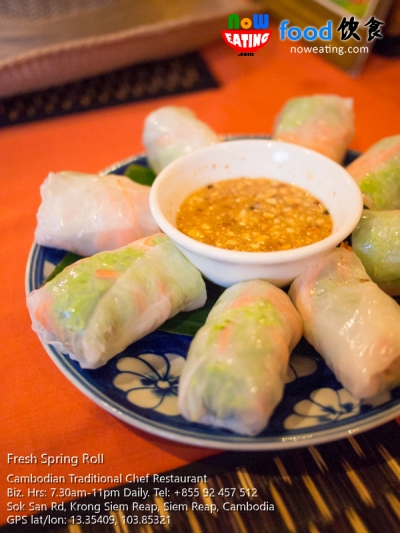 Fresh Spring Roll (USD$2.50) with transparent rice wrapper is a common Vietnamese appetizer and we are happy to see it again in Siem Reap.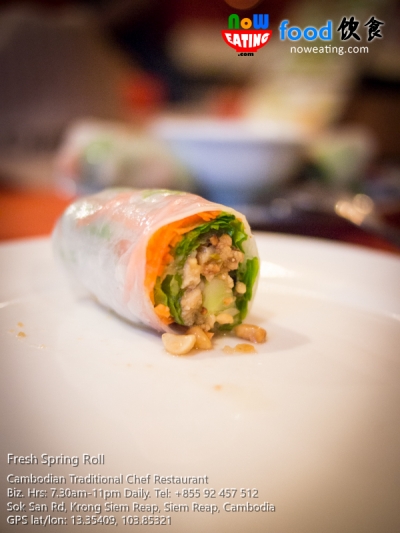 Made of fresh long bean, carrot, lettuce, cucumber, basil and garlic, the rolls are best dipped with homemade peanut sauce. For the premium ingredient, guests can choose between chicken or vegetables.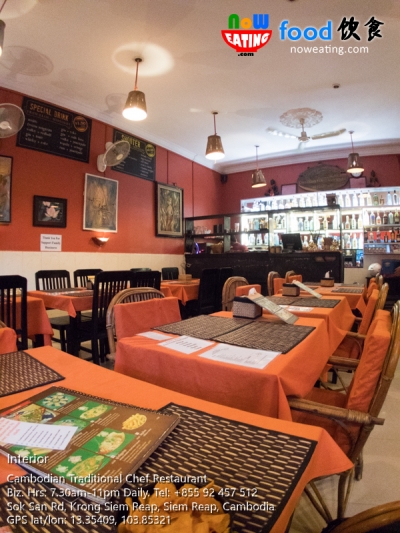 As a whole, we were pretty impressed with Cambodian Traditional Chef food and service qualities, not to mention that it allows us to enjoy authentic Cambodian cuisine at reasonable price. If you are having trouble finding a pocket-friendly Cambodian restaurant in Pub Street/Night Market area of Siem Reap, do give this one a try.
| | |
| --- | --- |
| Place Name: | Cambodian Traditional Chef Restaurant |
| Cuisine: | Cambodian |
| Address: | Sok San Road, Krong Siem Reap, Siem Reap, Cambodia |
| Tel: | +855 92 457 512 |
| Website: | http://www.cambodiantraditionalchef.com/ |
| Working Hour: | 7.30am-11pm daily |
| Tax: | No |
| Last Visit: | 20160825 |