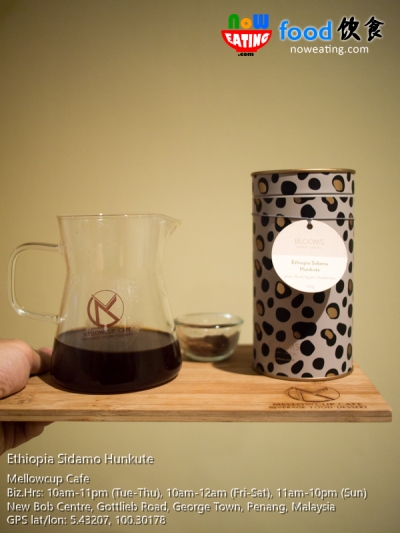 Ethiopia Sidamo Hunkute coffee with notes of plum, floral, fig jam, and blueberry carefully hand dripped by barista. Sidamo is an exclusive Arabica coffee from Ethiopia (an Africa country) and this is just one of the handcraft coffees by Mellowcup Cafe.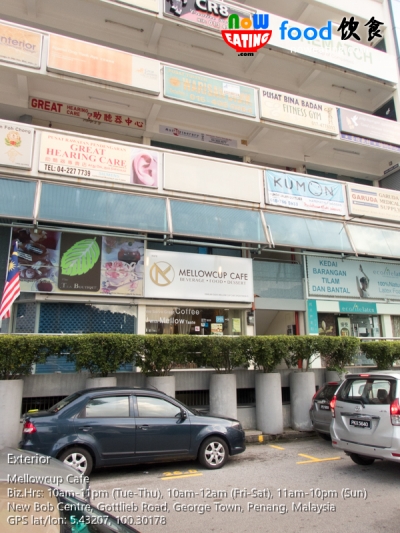 Mellowcup Cafe (GPS: 5.43207,100.30178) is located at New Bob Centre (opposite of Penang Chinese Girls' High School), Gottlieb Road, Penang. Parking-wise, you may try your luck in front of the building or a basement parking is also available. The cafe opens from 10am-11pm from Tuesday to Thursday, 10am-12am on Friday and Saturday, and 11am-10pm on Sunday. Note that the cafe is closed on Monday.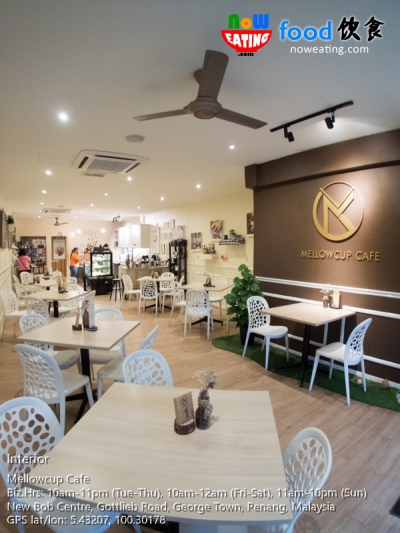 The cafe can accommodate about 40 customers at one time. The bright and cozy dining environment is suitable for a sip of coffee or proper meal.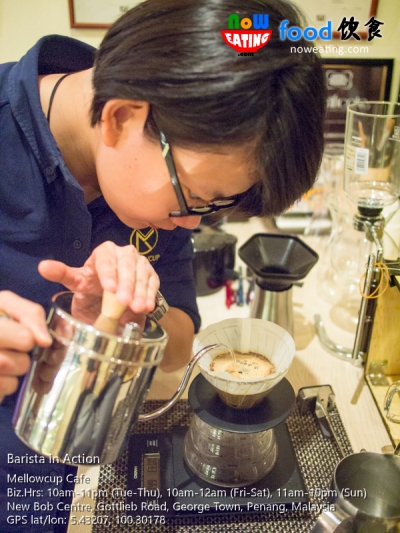 Mellowcup Cafe has come a long way since it was founded on 10-August-2015. Behind the scene is Hui Chuen 慧娟 – the young founder and also the barista in the cafe who had went through challenges an entrepreneur could ever encounter, from capital to partnership to staffing issues. Thanks to her perseverance, she manages to overcome the issues and the business is much stable now.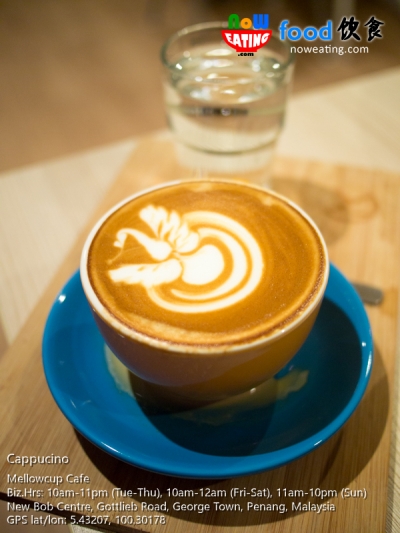 Hui Chuen addicted to coffee since she was 10 and continued doing so when studying in Taiwan. She then attended coffee classes in Taiwan before coming back to Penang as a barista. As part of continuous improvement, she frequently attends coffee classes in Kuala Lumpur. Occasionally, she is also promoting coffee in schools and conducting small classes.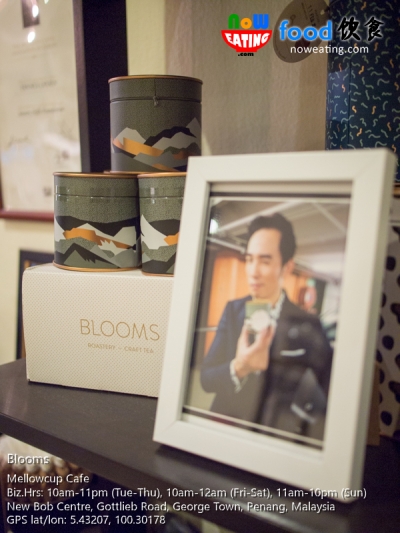 With cafe mushrooming in Penang, Mellowcup Cafe is not the only cafe specialized in handcrafted coffee on the island. However, Mellowcup Cafe is perhaps the only cafe in Penang offering Blooms Roastery and Craft Tea from Hong Kong. If "Blooms" sounds new to you, how about Moses Chan Ho 陈豪 – the famous actor from TVB Hong Kong? Yes, the "Prince of Coffee" is also the founder of Blooms.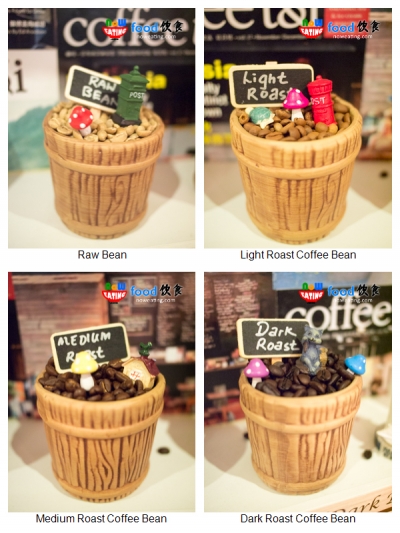 Mellowcup Cafe mostly use medium roasted coffees with medium brown in color exhibiting more balanced aroma, flavor and acidity allowing coffee lovers to enjoy the original taste of the coffee bean as much as possible without overly acidic.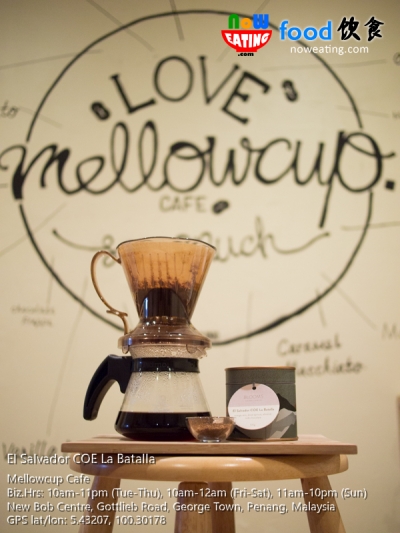 For those aiming for the best of the best, goes for El Salvador COE La Batalla (RM20) by Blooms. COE stands for Cup of Excellence and is an award for high quality coffees. Blooms managed to secured the trading with La Batalla farm in El Salvador country, providing outstanding coffee beans with notes of orange zest, dried apricot, almond, and milk chocolate.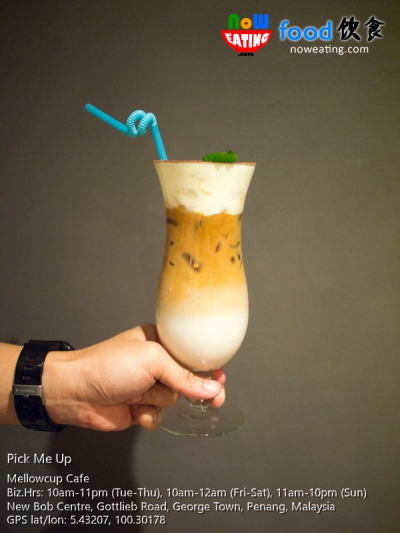 Of course, if you are just looking for a cold drink under the hot weather, cold coffee and frappe are also available. A unique coffee we tried that evening was Pick Me Up (RM13) – a Tiramisu coffee so creamy like drinking in the cloud.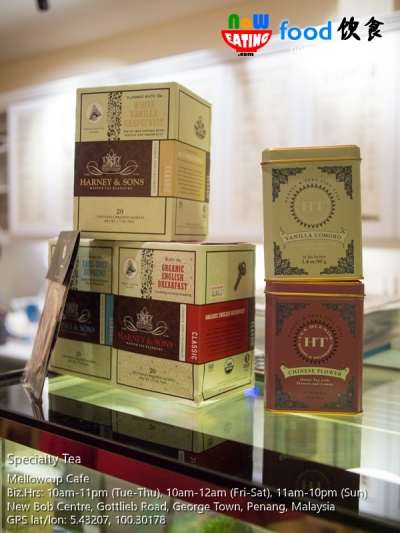 Not a fan of coffee? No worry, try the tea series from Harney & Sons of New York, US.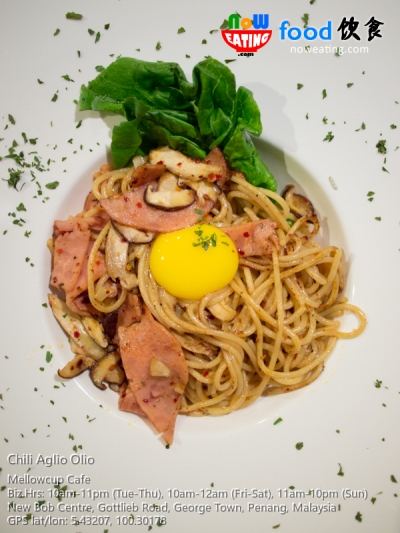 While Hui Chuen stressed that Mellowcup is a place for coffee, in our own opinion, their main course is not bad either. Chili Aglio Olio (RM13.80) is kind of unique compared to ordinary Aglio Olio with added egg yolk and herbs. The al dente spaghetti is stir-fried with turkey bacon, roasted garlic, mushroom, and chili flakes.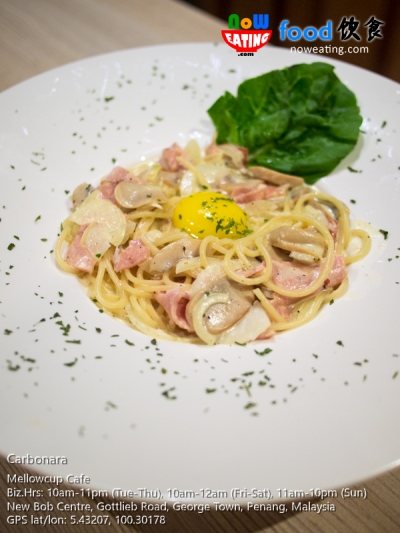 Looking for something creamy? Try Carbonara (RM14.80) with creamy white sauce, turkey bacon and egg yolk.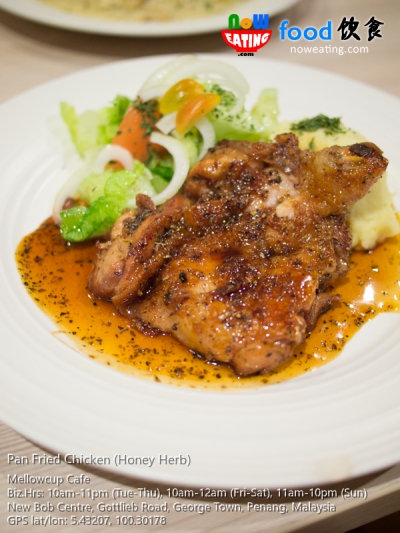 Pan Fried Chicken (RM16.80) served with mashed potato and vegetable. Guests can select honey herbs, black pepper, cheese, or Sour Thai as the sauce.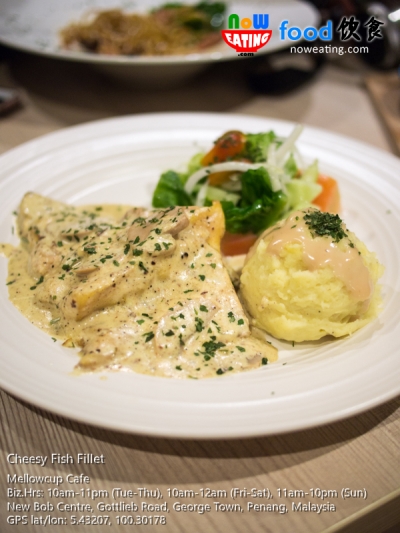 For cheese lover, we recommend Cheesy Fish Fillet (RM16.80) dressed with Lemon Butter Cheesy Sauce and mashed potato. Best consumed when hot.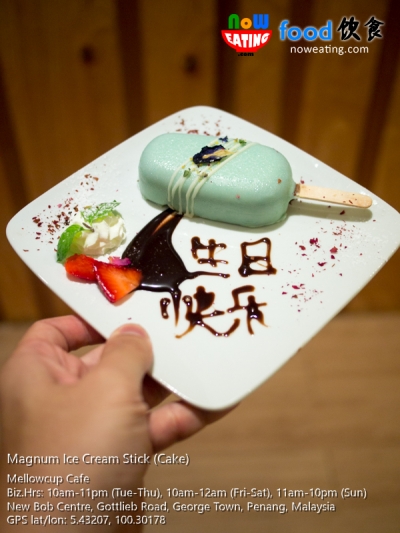 We ended our evening with a "Magnum Ice Cream" (RM11.90) – a homemade Magnum-lookalike cake dessert with assorted flavors. Figure: chocolate banana flavor.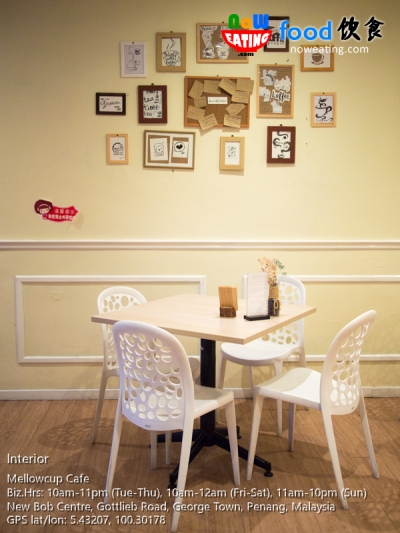 As a whole, Mellowcup Cafe is no doubt a great place for a cup of handcrafted coffee prepared by experienced barista and is the only place in Penang for Blooms premium coffee. Whether you are having gathering with friends, returning from work or just waiting to pick up kids from school, do visit Mellowcup at Pulau Tikus for some decent meals and coffee.
| | |
| --- | --- |
| Place Name: | Mellowcup Cafe |
| Cuisine: | Western |
| Address: | 11-G-4, New Bob Centre, Gottlieb Road, George Town, 10350, Penang, Malaysia |
| Tel: | +6016-4630182 (Hui Chuen) |
| Working Hour: | Tue-Thu: 10am-11pm, Fri-Sat: 10am-12am, Sun: 11am-10pm |
| Last Visit: | 20160923 |