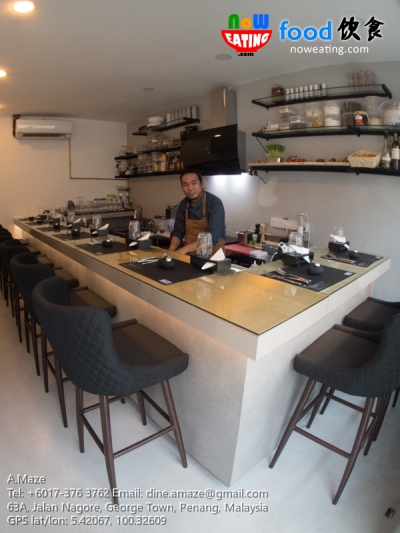 If A.Maze (GPS: 5.42067,100.32609) is going to participate in Malaysia Book of Records, it probably will walk away with few awards, including:
Probably the smallest "restaurant" in Penang with

only one staff and

has no menu.
Welcome to the world of Omakase – a Japanese dining concept with dishes selected by chef for you.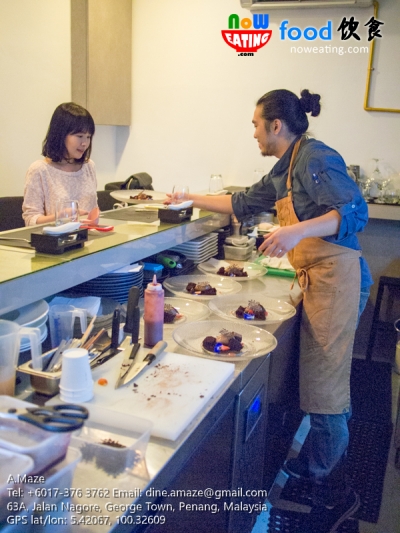 "Omakase" is a Japanese word meaning "I will leave it to you". In other words, the chef will choose your order and the dishes are prepared based on his/her creativity (Thinking back, it actually solves a Malaysian issue in which many are having difficulties in selecting their restaurants and food when dining out). This fine Japanese tradition has few things in common, including:
No menu
Sit near to the chef
Be socialise. Ask chef questions, especially those related to food
In A.Maze, you will be seated next to Chef Wei – the chef and owner of A.Maze. Chef Wei has more than 10 years experience in culinary industry and is previously working in a 7-star hotel in Singapore before returning to his hometown – Penang to start his very own A.Maze business.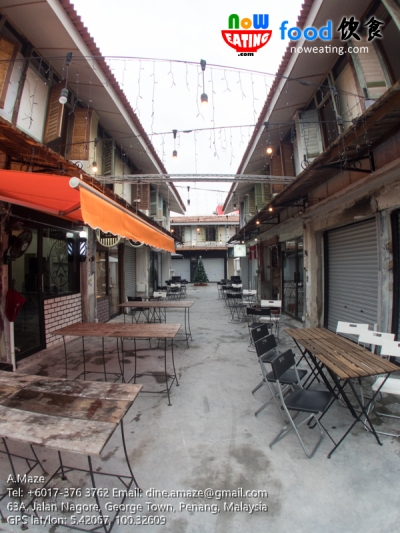 Reward is only given to those spending efforts in finding the place. Yes, A.Maze is hidden in Nagore Road, Penang. To be more specific, it is inside Nagore Square which is only operational in the evening. A.Maze opens daily from 6.30pm to 11.30pm and is closed on Tuesday.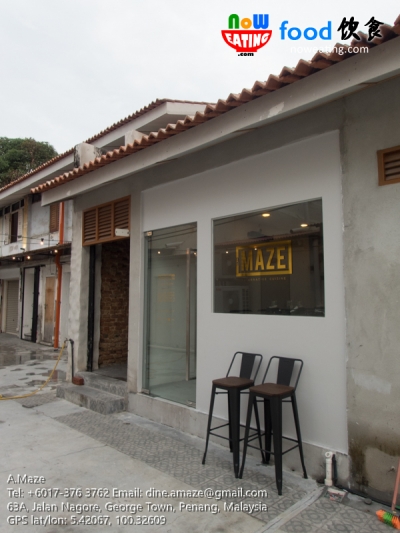 Before starting your car engine, we strongly recommend our readers to make reservation first (Email: [email protected], Facebook: a.maze, Instagram: amaze.penang) as the restaurant is only able to cater for one group of customer per evening. Furthermore, only 8 seats are available.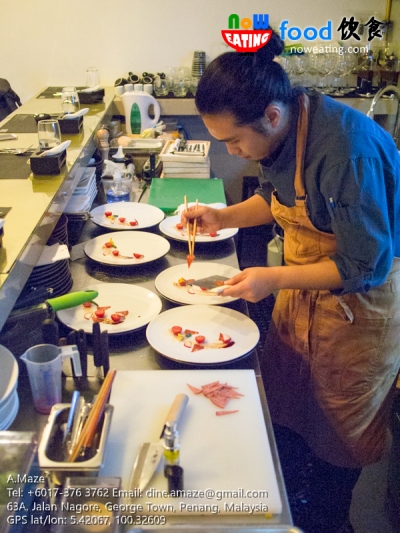 As mentioned, Omakase is all about trust with the chef in selecting orders for guests. Still, the friendly Chef Wei will ask guests a few questions before "compiling" his menu of the evening, including allergy problems, religious practices and so on. Currently, A.Maze serves 8-course meal including beverages which will take minimum two hours to complete so be sure to plan your dinner accordingly. Again, dishes are based on creativity of the chef and subjected to ingredients available on that day.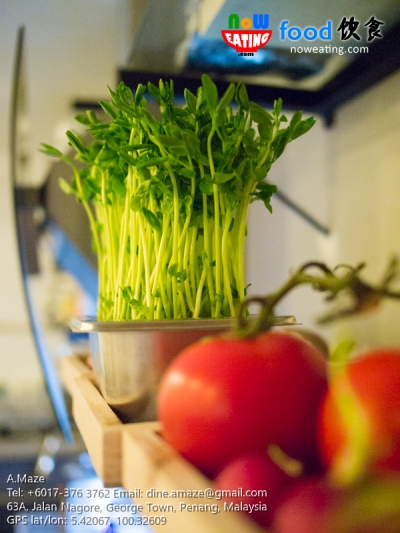 It is worth mentioning that Chef Wei is a supporter of local farmers. Instead of importing ingredients from oversea like some fine-dining restaurants, he purchases ingredients from local wet market whenever possible as according to him, some world-best ingredients are actually come from Malaysia. Chef Wei is also knowledgeable in science and we are like attending chemistry class when he is explaining the chemical reaction among ingredients.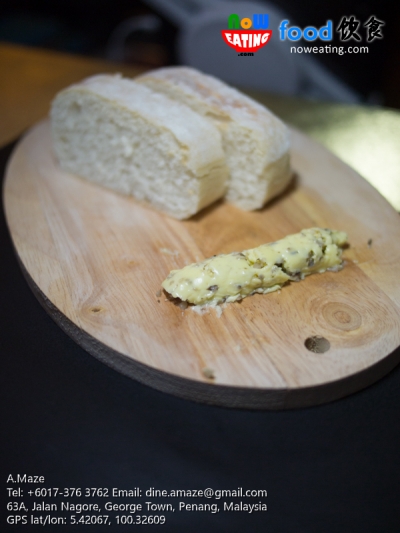 We were welcomed by pre-meal homemade Ciabatta with Mushroom Butter made of Shitake, Maitake, Eryngii, Button Mushrooms and Truffle.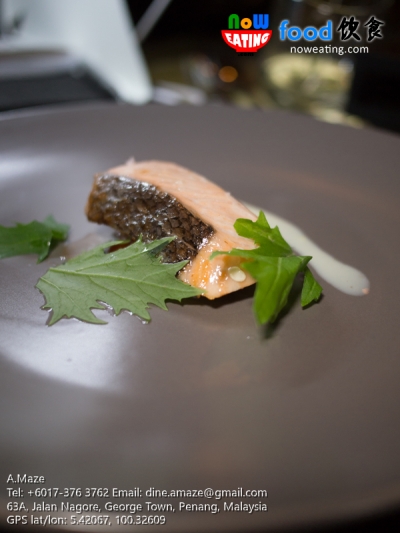 A.Maze is specialised in modernist cuisine in which food is prepared using state-of-the-art cooking method and gadget including sous-vide cooking method, immersion circulator, whipping siphon and induction cooker. Our sashimi-grade salmon served with Chacee Sauce, Mizuna Leaves and Dill Milk, for example, is the outcome using cooking method and gadgets above.
In general, we were presented with the following 8-course meal during our visit:
Amuse Bouche
Beef/Pork Salami
Braised quail eggs
Soba
Salmon
Steak/Chicken Breast
Palate Cleanser
Reconstructed Black Forest Cake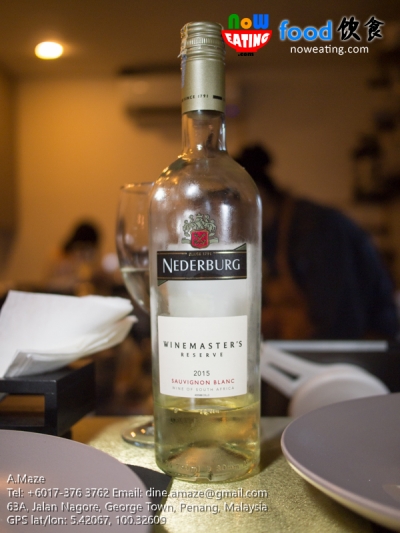 Furthermore, the main courses come with wine pairing selected by Chef Wei. For instance, salmon was paired with a New World White Wine (Sauvignon Blanc- 2015). Special for A.Maze, guests are also allowed to bring their own wine.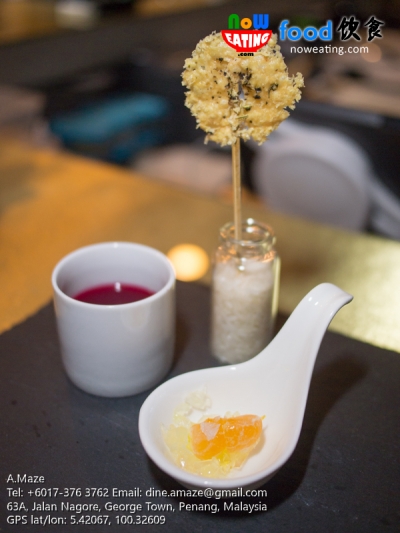 Amuse-Bouche is a French term for single, bite-size "appetizer" with the different that the later is in the menu whereas Amuse-Bouche is based on chef's selection. Our Amuse-Bouche comes with a spoon of lemon jelly, baby tangerine and sea salt, a glass of beet root & watermelon consommé, and a stick of baked Parmesan cheese with Sichuan Pepper which will sure wake up your taste buds.
Next is Beef Salami/Pork Chorizo with Buffalo Mozarella, Balsamic Reduction, Dried Black Olives and Baby Cucumber.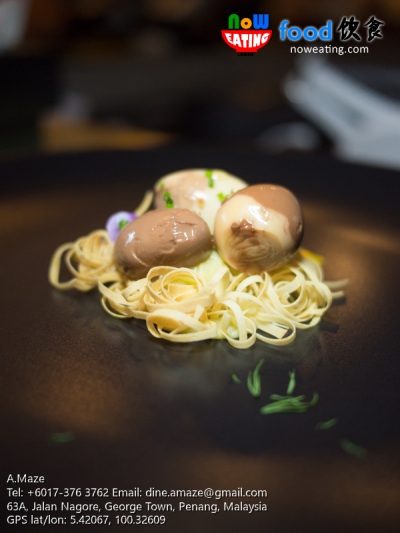 Braised Quail Eggs served with Pastry Nest and Mashed Sweet Potato. The quail eggs were infused with tea leaves for hours before serving. Unlike normal tea leaf eggs, the egg yolk was still oozing the moment you sliced it open. It can be consumed in at least three ways: egg + nest, egg + mashed potato, or egg + nest + mashed potato.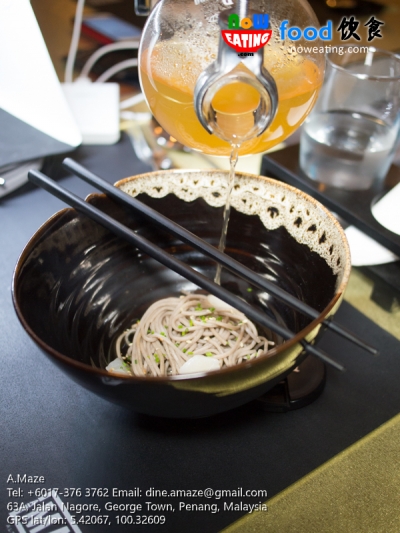 As a matter of fact, do not feel shy in throwing Chef Wei some questions, including "How to consume this dish?" and "WTF you are doing?". For example, this soba may look simple with few fresh scallops threw in but you will be blown away once you witness the making of the soba broth.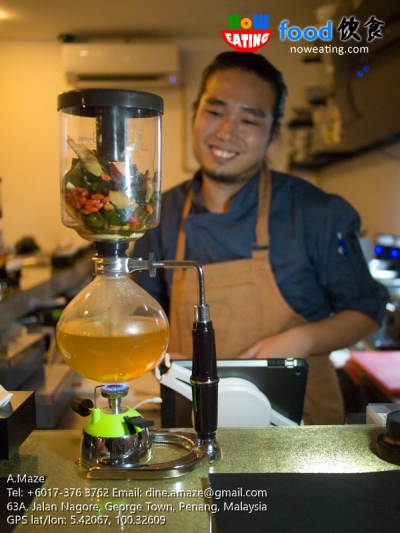 Chef Wei brought out a siphon from his magic kitchen. The siphon is similar to coffee siphon in which there are two chambers – the lower chamber with golden soup, and upper chamber with essences from Kombu/Wakame seaweed, wolfberries, lemon, lemongrass, ginger, Katsuobushi, dried shitake and dried chilies.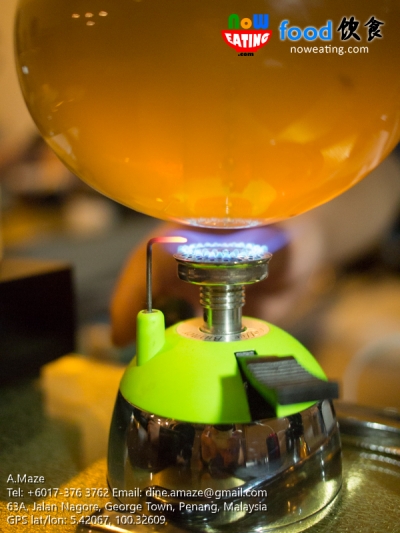 When the lower chamber is warmed by a heat source, vapor pressure increases in the lower chamber, forcing the soup flow through the central pipe into the upper chamber where it is mixed with the essences. When the heat is removed, the soup flows back down with enhanced flavour. By the way, the scallops are perfectly cooked thanks to Chef Wei who is able to control the cooking temperature like the back of his hand. An uncooked scallops will taste fishy whereas an overcooked scallops will become rubbery.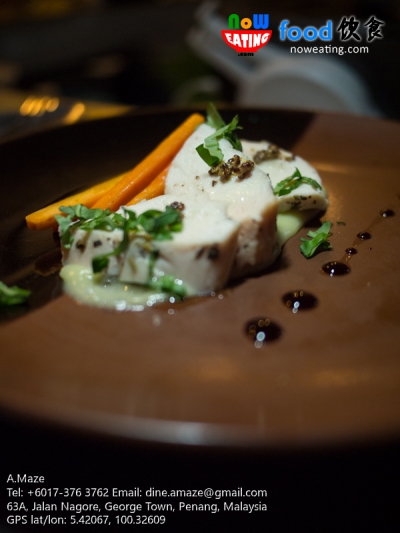 Forget about chicken drumstick or thigh, the sous-vide chicken breast is probably the most succulent chicken breast we've ever tried, and slicing it was like slicing a cod fish. According to Chef Wei, he is using Brazilian chicken breast as Brazil produces one of the best chicken breast in the world and surprise enough, you can find it in local Tesco. Our chicken breast is paired with aged Red Wine (Cabernet Sauvignon- 2013).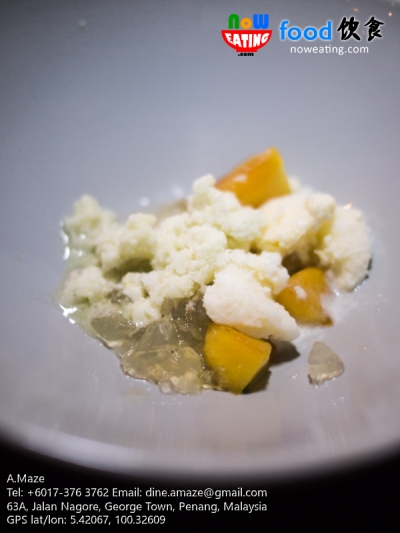 Before jumping into our dessert, palate cleanser with a mix of Olive Oil Sorbet, Jasmine Sorbet, Caramelized Apple and Mercato Agar-Agar was served.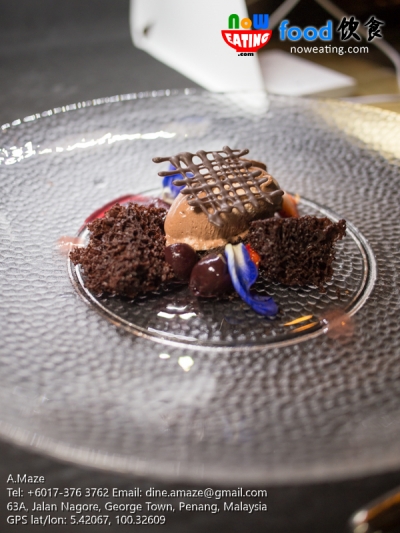 Chef Wei spent about 15 minutes in preparing the last dish – Reconstructed Black Forest Cake. He basically reverse-engineered Black Forest Cake in Chocolate Siphon Cake, Chocolate Air, Chocolate Mousse, and Cherry Compote. A dessert worth dying for especially for chocolate lover.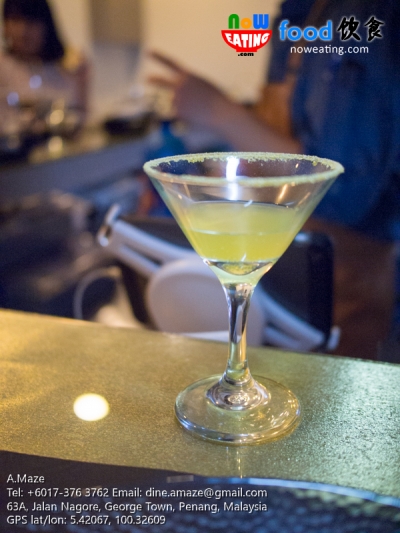 We ended our evening with sweet memory – Vodka Orange Cocktail.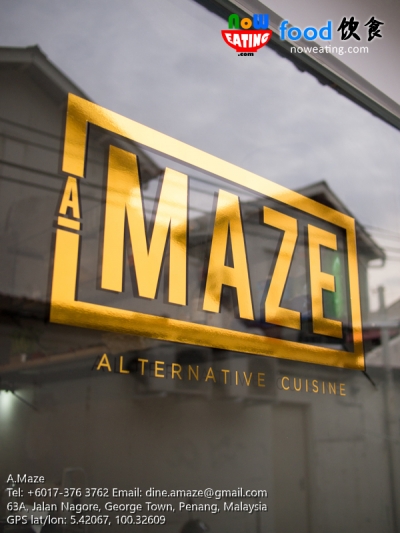 Opened since November 2016, A.Maze is truly an eye-opener for us. Currently, the 8-course meal is priced at RM128 nett. Is it worth the value? The answer is definitely yes. Portion-wise, it may not everyone's cup of tea especially for big eaters but more important, it is the social interaction with the chef in which for our case, we learned much from Chef Wei and we loved to hear more stories from him if it is not due to overdue parking ticket (yes, MBPP is efficient around Nagore Road area).
| | |
| --- | --- |
| Place Name: | A.Maze |
| Cuisine: | Other |
| Address: | 63A, Jalan Nagore, George Town, 10050, Penang, Malaysia |
| Tel: | +6017-376 3762 |
| Email: | [email protected] |
| Tax: | No |