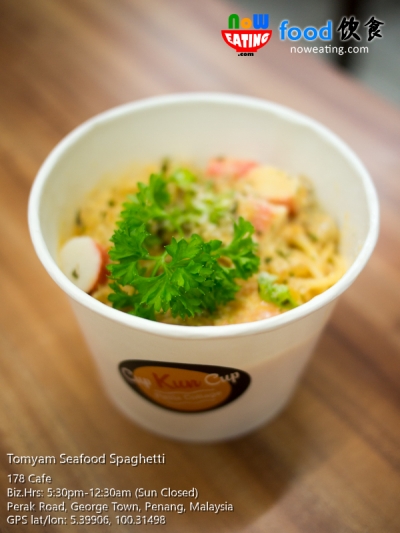 …. This is probably the first time we are consuming pasta in a paper cup just like a take-away Chinese food. Our parents have thought us that "Do not judge a book based on its cover" so let's try our Tomyam Seafood Spaghetti from 178 Cafe before giving comments.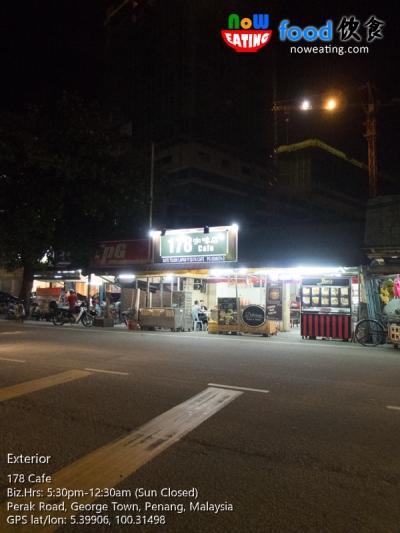 178 Cafe (formerly Ocean Kopitiam) (GPS: 5.39906,100.31498) is located along the busy street of Perak Road, George Town, Penang. We were having difficulty in finding it at first as the cafe was still new to Waze. It is located opposite of Giant Panda shop 大熊猫神料超级市场. Parking-wise, you may try your luck opposite of the cafe. The open air 178 Cafe currently has three stalls including a burger stall, pasta stall and beverage stall. Each of them run by young entrepreneurs probably at their early 20's. The stalls open daily from 5:30pm to 12:30am and is closed on Sunday.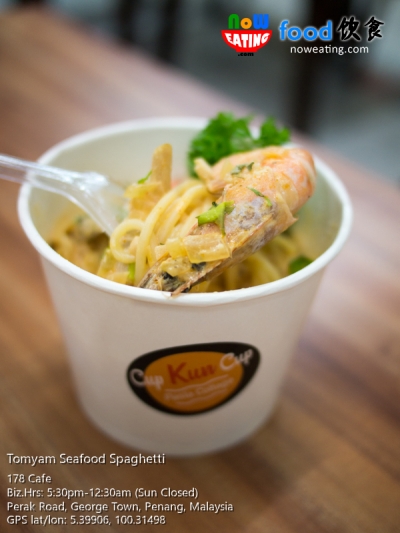 Back to our pasta, our Tomyam Seafood Spaghetti (RM8.00) served with a medium size prawn was a positive one with creamy texture and mild spiciness. Portion-wise, it was slightly smaller than normal spaghetti but we really couldn't complain much at such price.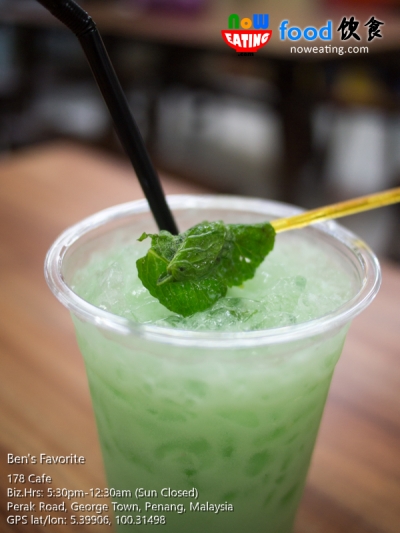 Instead of traditional "kopitiam" style beverages made from "kitchen", 178 Cafe does have a beverage stall serving mocktail, soft drink, sprite drinks, coffee and tea. The mocktail is definitely something new compared to normal coffee shops so we ordered Ben's Favorite – orange/mint yogurt drink.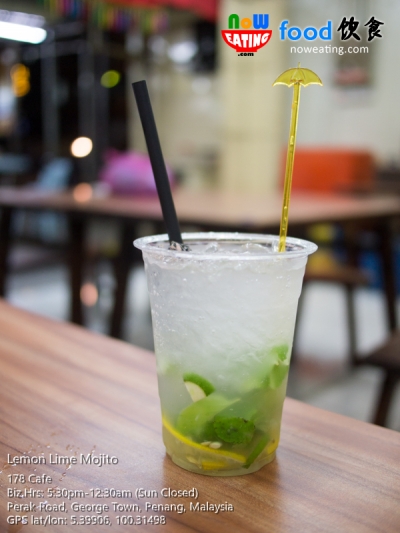 Each glass of mocktail is priced at RM4.50. Feeling a bit thirsty under the hot weather, we ordered second glass – Lemon Lime Mojito. As a whole, the mojito we ordered were acceptable, at least not overly sweet.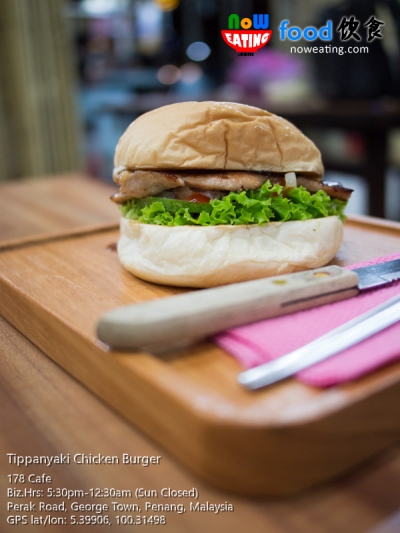 Another best seller is the burger stall offering chicken/pork burgers and snacks. Unlike overpriced burgers in some cafes, burgers here somehow reminded us of "Ramly Burger" during our good childhood day with chicken thigh patty grilled on griddle before topping with mayonnaise, onion, lettuce, and tomato. This "roadside burger" taste is somehow recherché in the metropolitan of Penang.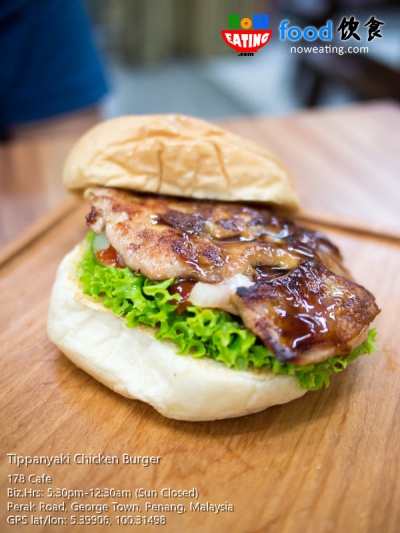 Pricing-wise, it is fairly acceptable with a classic burger priced at RM6.50. Our (first) burger of the evening was Teppanyaki Chicken Burger.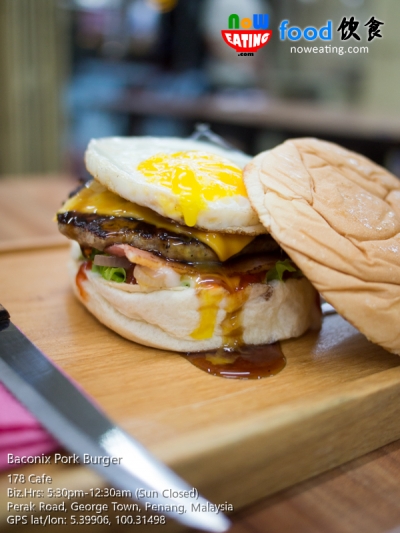 Arrived with empty stomach, we were still hungry thus we ordered second burger – Baconix Pork Burger (RM10.50), a deluxe version of pork burger with minced meat patty, cheese, egg and bacon. Not bad at all and we thanked the owner in using wooden plate for dining-in customers. In fact, our wooden plate was so new that the owner just unwrapped it that evening.
As a whole, 178 Cafe is a good place to grab some bites in Perak Road. It may not be everyone's cafe especially when ambient and coffee machine are your concerns. For us, it is supporting local young generation that matter (this also reminds us that we are getting older).
| | |
| --- | --- |
| Place Name: | 178 Cafe |
| Cuisine: | Western |
| Address: | Perak Road, George Town, Penang, Malaysia |
| Working Hour: | 5:30pm-12:30pm daily. Close on Sunday. |
| Last Visit: | 20161218 |